The winter is coming and pumpkin soup will be on the menu. This inexpensive squash is often overlooked because without a good recipe it can cloy the mouth and taste rather meh! Well, let's bring some cheer and taste to the humble pumpkin with this quick and easy creamy spicy Thai style recipe.
Video on How to Make Thai Style Spicy Pumpkin Soup
Thai Style Spicy Pumpkin Soup with Coconut Milk, Red Curry & Special Spices (Easy & Quick to do)
If you can't see the video you will find it here
Pumpkin is actually a pretty good vegetable for roasting but we want a quick and easy recipe and roasting is just not necessary. Add a little spice, a little zing, a little creaminess, and a little love and you will be amazed at the results.

If you like food adventures, you'd be glad to try our Pumpkin in coconut milk dessert after eating this soup to settle down the spice. Or perhaps our simple Thai coconut and chicken curry with pumpkin?
Links disclosure: Some links on this page go to affiliate partners where, without cost to you, we may receive a commission if you make a purchase.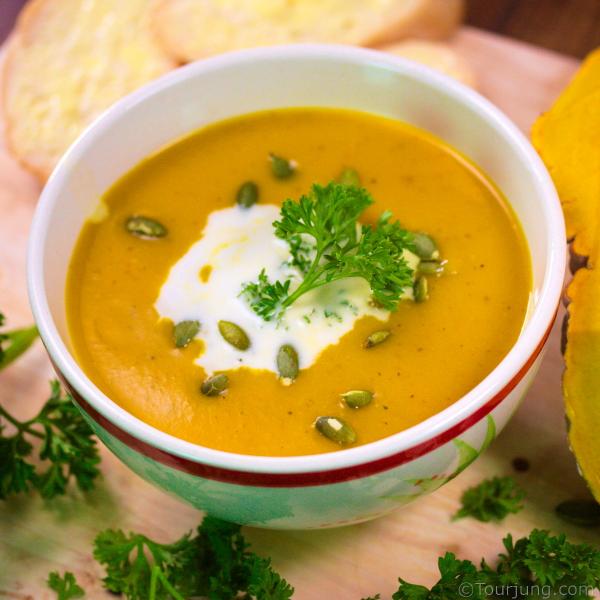 Why You Want to Make Spicy Pumpkin Soup (Thai Style) at Home
Short Hands-on Attention from You and Easy to Make
Easy to Adjust the Spiciness
Tastes Amazingly Creamily Complex
Nice & Filling & Rich in Fiber
Lots of Vitamin-A and Other Antioxidants1
No Fancy Ingredients Required
Can Swap out the Pumpkin for another squash, eg. Butternut Squash
What to Eat with Spicy Thai Style Pumpkin Soup
The best thing to eat with Spicy Pumpkin Soup is freshly cut, gorgeous smelling, crusty just-baked bread and butter.
Wash it down with a glass of cool water! Simple and elegant but wickedly indulgent!
How to Order Spicy Pumpkin Soup in Thai
If you see pumpkin soup in the menu you will be ordering soup fak tong (ซุปฟักทอง). it is transliterated with an 'a' rather than a 'u' so as not to offend!
Pretty easy right but maybe sounds a little weird. Soup ( ซุป ) is just as you would say it only said rather short without a drawn-out vowel.
Take a deep breath for the fak ( ซุป ) because that is said rather like the crude word which I am not writing here, but again is pronounced shortly but with more of a 'u' sound than 'a' – like 'fuk'.
The tong ( ทอง ) is sounded as it is written though this time with a slightly longer sound.
Pretty simple. So to order it is just 'kor soup fak tong ka' for girls or 'kor soup fak tong khrap' for guys.
What to Know About the Spices in Thai Style Spicy Pumpkin Soup
Ordinary pumpkin soup tastes rather bland and for Thais that just will not do.
We need to bring in the tastes of savory, sweet and salt though for this soup we will replace the sour with deliciously creamy coconut milk or cream. Since it is a savory soup we'll add a little spice in the form of red curry paste, coriander seed, cumin seed, and a few black peppercorns
The difference these extra ingredients bring to the finished soup is astounding.
We use vegetable stock to add a little extra depth to the soup and is well worth the 5 minutes it needs to throw a few veggies in some water and simmer them up for a bit.
I tend not to add salt into my stock because a lot of Asian style food contains fish sauce which is already very salty. If you add the salt to the stock then you run the risk of the dish you use it in becoming overly salty. better to season later I think.
The Interaction of Salt, Spice and Coconut Milk or Cream
Most of the spicy heat comes from the red curry paste in this spicy pumpkin soup recipe.
If you look at 8 cups of vegetable stock compared with a little tablespoon of red curry paste you might be led to the false conclusion that 1 tablespoon of paste will be simply overwhelmed by the stock, adding little to the taste.
You will be surprised how far the spice goes in this soup. Even I was surprised and had to tone down the amount of curry paste from my first recipe attempt. So be careful not to under-estimate how much spiciness will come from just one tablespoon.
The spiciness that comes from the red curry paste will also depend a lot on the brand you use, whether it is packeted or made in-store as well as the recipe used. Packeted paste tends to be significantly less spicy than homemade or handmade pastes made at the store.
I suggest you stick to one source so that over time you will be able to get an understanding of how much paste is enough and anyway adjust to the spice level you love.
Note that salt offsets spiciness but too much will make the dish taste too salty. Another way that you can offset spiciness is with sugar but this is actually not quite as efficient as salt but is a great back up.
The best way is to use coconut cream because the coconut cream fat (or, generally speaking, any other dairy fat such as a nut butter2 even) binds to the spice molecules (capsaicin) to take them off your tongue and reduce the level of heat you feel. I love food science!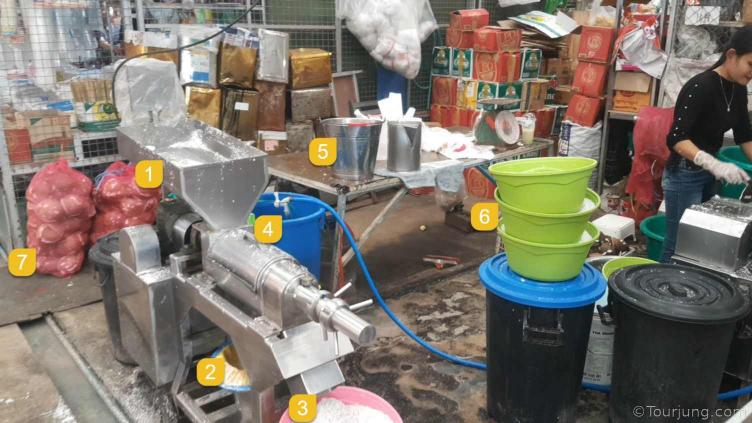 As for coconut cream and coconut milk – there is no consistency over the thickness and so you can find coconut milk that is quite thick and coconut cream that is quite thin.
Coconut milk and cream are made by pressing water through the white flesh from the inside of coconuts. The amount of water affects the thickness and you will find that the cream from the first water passing through will result in the thickest milk/cream.
If you order fresh coconut milk, which may or may not be available in your location, then you can ask for the thickness you want – for thicker cream they will use less water and for the milk, they will use the normal amount.
They will also likely split the milk to first pass and second pass milk and label the bags accordingly – at least that is what you will get in Thailand. Bag 1 is the thicker milk and the unmarked bag or bag 2 the thinner second water press.
Cooking Thai Style Spicy Pumpkin Soup for Children
Since most children do not much like their mouths to burn when they eat food, they are more often than not picky about how spicy their food is.
Even Thai children start eating food that is not spiced at all or very lightly spiced.
If you want to make this soup for children then you will need to reduce the curry paste by at least half and test whether they like the taste of the cumin. With my children, there is a wide range of how much spice and what spice is liked. But at least they have learned to compromise ha ha.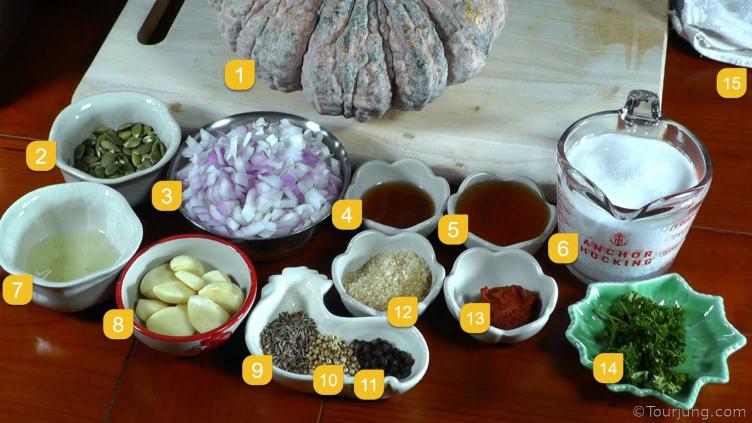 Making Thai Style Spicy Pumpkin Soup Step by Step
I am not going to explain making the vegetable stock step by step since it is explained in the recipe below and is childishly simple. Just chop up the vegetables, add water and simmer with the heat on for about 45 minutes. Strain and you have made vegetable stock.
The addition of the lemongrass and the other popular Asian ingredients make a slightly aromatic vegetable stock that is well suited to Asian themed cooking. You can omit these if you want or even make the stock using a stock cube or bought stock.
You'll just end up with a slightly different taste – it is not critical to the overall dish. Anyway, part of the fun is testing different ingredients.
You could also use chicken broth but why mess up a recipe that you can easily turn into a vegetarian or vegan version by switching out the fish sauce (and for vegans checking the red curry paste is suitable). Anyway, vegetable broth is better!
Step 1 Preparing the Pumpkin
Cut up the pumpkin into manageable sized pieces and remove the stringy, pappy inside section holding the seeds.
You can reserve some of these seeds for toasting as a garnish but every time I try this they turn out a bit soft and frankly naff. I think if I dehydrated the seeds first it would work but hey, they are cheap so I just buy a ready to eat packet from the shops – so much easier.
Take your pumpkin segments and use a vegetable peeler or a knife to peel away the hard skin from the flesh. I find it easiest using the peeler and just use the knife to get the skin deeper inside. That said you may find a knife easier.
After taking out the seeds and peeling off the skin, cut into small pieces – an inch or so in size. Drop these in saltwater to help soften the flesh and begin the seasoning process. Let them wait while you follow on with the rest of the recipe.
Step 2 Pounding the Spices
Here we go again with the mortar and pestle. You should know I am pretty lazy really and don't like doing stuff manually if I can do it another way just as well.
Sadly, pounding ingredients uses some energy but the benefits in taste so far outweigh trying to avoid it that even laziness is no excuse.
So get the cumin seed, coriander seed, and black pepper and grind away at them until they are well and truly ground and take in that smell as compensation.
Heat up a dry frying pan (or skillet) and drop in the spices for a quick toasting. After about a minute they will be done.
Simply empty them out into a little bowl and set aside until you are ready to use them.
Step 3 Caramelizing the Onions
Heat a pan with about 1 tablespoon of olive oil and sizzle your chopped or sliced onions until they start to go translucent which will take a couple of minutes.
Then add in the brown sugar and stir around to coat the onions which will caramelize as you go.
Empty them out into another small bowl or with the spices if you want as they will all be added to the soup as we go later.
Step 4 Making the Curry Paste with Coconut Milk
We use coconut milk or coconut cream rather than heavy cream because it is healthier and gives a lovely faint coconut taste to add to the complex flavors of this simple soup.
Take the garlic and crush it a bit in your mortar and pestle, then scrape it into your pan with a little cooking oil.
Heat and stir until the garlic starts to sizzle and then add the 1 level tablespoon of red curry paste. Stir to mix in adding a little coconut milk to help the ingredients into a paste.
Continue to add the coconut milk until you have used up about half a cup and have a thin curry mix which will take about a minute.
Note that you can just leave the onions in the pan and carry on with the garlic and red curry paste. Cooking is all about choice so I choose to do it in different ways as I please – it makes no difference to the end result really anyway.
Step 5 Cooking the Spicy Pumpkin Soup
Add in your vegetable stock, the pumpkin pieces drained from the saltwater, and all the rest of the ingredients holding back 1 cup of coconut cream. Stir to combine all the ingredients.
Bring to the boil and then reduce the heat, cover and simmer for 45 minutes.
Step 6 Seasoning Part 1 and Blending
After your 45 minutes is up, lift off the lid and take a taste of your soup.
You will almost certainly need to add at least a teaspoon of sea salt and then taste again, adding more in one half teaspoon steps. Mix in and taste again, repeating the process until the saltiness is not quite yet salty enough but nearly so.
You will also test for creaminess and spiciness, adding in more coconut cream or coconut milk to suit your taste. It is hard for me to be precise with the quantity of coconut cream because a) I don't know how thick your cream is and b) I don't know how creamy or spicy you want your soup.
Anyway, the thing is to undersalt at this stage and understand that the soup will get a bit more creamy when it is blended. So our aim is to get somewhere near the taste and consistency we want and then to finish our seasoning after we blend it.
It is best to let the soup cool before blending to avoid an accident. I do not recommend blending hot soup because it has a tendency to explode out of the lid of the blender.
If you must blend it hot then for pities sake please at least take these minimal precautions:
Blend hot soup in small batches
Only fill the blender half full maximum
Fit the lid securely and cover with a towel or thick cloth holding the lid on through the cloth
Start the blender on its lowest setting to chop the ingredients into a smooth consistency
Increase the speed to high only after the ingredients are mostly blended already
Scalding hurts for a long time – please, please take care.
Step 7 Finish, Garnish, and Serve
After blending you need to make a final taste of the soup.
This is the stage to get the salt taste perfected and add more coconut cream to adjust spiciness and creaminess. You can simply give the soup a good stir to incorporate any additions.
Pour your soup carefully into serving bowls and drizzle on a little reserved coconut cream to make it look pretty. Sprinkle on a few tasty roasted pumpkin seeds you secretly bought from the shop and add a sprig of parsley for perfection.
Recipe for Thai Style Spicy Pumpkin Soup
Spicy Pumpkin Soup Thai Style
The Video showing this recipe being cooked is near the top of the page – A convenient Jump Link to the video is below the description under here.
Pumpkin Soup can be horribly bland and taste cloying in your mouth. This Thai Style Spicy Pumpkin Soup is the opposite.
Creamy, full of flavour and with a little side kick, it will warm your cockles and fill your tummy with hearty goodness.
Not much hands-on time required.
NOTE: Any In-recipe images can be toggled on and off with the camera icons next to the Instructions header.
Ingredients  
Making Vegetable Stock
8

Cups

Drinking Water

4

Cloves

Garlic

2

Large

Onion

2

Sticks

Chinese Celery

1

Stem

Chinese Parsley

3

Medium

Carrots

2

Tbsp

Chopped Ginger

3

Stick

Lemongrass

3

Leaves

Bay Leaf

1

Tbsp

Olive Oil
Instructions 
Making The Vegetable Stock
Slice the lemongrass into 1 inch lengths and slice or chop up everything else

Feel free to add vegetables from the fridge which are likely to go in the bin. Just chop off then ends, cut out any nasty bits and chop or slice it up and add it to the mix. Don't add vegetables with a lot of carbohydrates such as potatoes or similar root crops – they will turn the stock cloudy.

I recommend not adding salt or other seasonings though if you do please season very conservatively. Then the stock can be used in any dish which is seasoned later.

Top up with water level with the top of the vegetables and bring to the boil.

Simmer for 45 minutes with the lid on the saucepan to reduce evaporation.

Strain the stock from the vegetables and store in 2 cup freezer bags for up to 3 months in the freezer or use immediately. Storing in smaller bags is much more convenient both from the storage and use point of view.!
Making Thai Style Spicy Pumpkin Soup
Cut your pumpkin into manageable sized segments and scoop out the stringy central part containing the seeds.

Cut away the hard outer skin with a knife or a vegetable peeler and cut into pieces about 1 inch or so thick.

Take a large bowl and part fill with water. Dissolve 2 tablespoons of sea salt into the water and drop in the pumpkin pieces while continuing with the recipe.

Place the cumin and coriander seeds and black peppercorns into a mortar and grind with a pestle to release the aromas. You can also use a spice mill or electric spice grinder but it is not quite the same.

Heat your soup pot and roast the ground spices without oil in the dry pan for about 1 minute – until you can start to smell the aroma. Remove from the pot and set aside for a minute.

Slice or chop the onions. Heat the oil in the bottom of your soup pot and cook until they turn slightly translucent. Add the brown sugar and caramelize. Set aside for a minute.

Crush the garlic or slice and cook in a little oil for about 1 minute and then add in the red curry paste and stir. Add in a little coconut cream to form a paste.

Continue to add the coconut cream to thin the paste into a sauce-like consistency, until you have added about half the coconut cream.

Add back in the caramelized onions and the spices you toasted earlier.

Add in the vegetable stock, the fish sauce and the honey and bring to a simmer.

Simmer with the lid on for 30-45 minutes until the pumpkin is soft and yields easily when poked with a fork.

Taste the soup. You will almost certainly need more salt to adjust. I prefer to add sea salt 1/2 teaspoon at a time about 1 minute apart to avoid over-salting. Stop adding salt a little before you think it is perfect because when blended the taste will change.

Allow the soup to cool and then blend in small batches to a smooth consistency. If you blend the soup hot take extreme care. At the very least ensure you do not fill the blender more than half full, ensure to cover the entire top with a thick cloth or towel and start blending at the lowest speed and increasing gradually. This is important to avoid scalding which WILL happen if you overfill the blender and do not hold fast the cover safely.

After blending taste the soup again adding more salt if necessary. If the soup is too spicy then you can temper this a little with more coconut cream which you can also use to make the sauce even more lovely and creamy.

Pour into bowls and drizzle in coconut cream to make a pretty pattern, gently sprinkle roasted pumpkin seeds on top and finish off with a sprig of parsley.

Cut up a few slices of fresh bread and butter and enter pumpkin heaven!
Nutrition
Serving:
8
oz
Calories:
649
kcal
Carbohydrates:
90
g
Protein:
13
g
Fat:
33
g
Saturated Fat:
23
g
Sodium:
1883
mg
Potassium:
2585
mg
Fiber:
8
g
Sugar:
47
g
Vitamin A:
52493
IU
Vitamin C:
66
mg
Calcium:
234
mg
Iron:
11
mg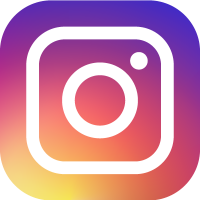 Planning on Making this Recipe?
It would be great if you could take a picture of your finished creation and share it out on Instagram. Tag me with #TASTYTHAIEATS – I love to see your ideas!
I really hope you enjoy this dish and if you cook it I would love to hear your comments below so please come back and let me know how it turned out for you.
Other Recipes You Might Like to Try:
I am a Thai mum and love cooking for my children. Over the years, I have taken my family recipes as well as ones borrowed from friends and adapted them to make them even tastier. I publish my authentic Thai Food Recipes here for all to enjoy around the world. When I get a chance to travel I publish information to help others visiting Thailand.