Thai food ingredients are the first thing you will need to consider before you can even begin to take your first steps on the culinary journey to explore what Thai cuisine has to offer.
The sheer variation of ingredients you will come across as you start to research which dishes to try can be simply overwhelming when all you have stocked in your pantry are the staples of the American Standard Diet.
The Most Basic Thai Food Ingredients – Staples You Can Stock in Your Pantry Now
You'll see what we consider are the most basic ingredients you need to get on order or search out at your local Asian market if you are going to cook up a Thai food recipe.
These are the very basics that are so common through Thai dishes that you will really struggle without. You might also get some value from our article on Thai cookware for what untensils are worth having.
There are three lists in the tables to look at:
One has stuff to buy now that will last a while.
One has ingredients that you should know where you can pick them up from at short notice (they will last a week or two).
One lists stuff you probably already have but should just check through.
Table of Basic Thai Ingredients You Probably Haven't Got If You've Never Cooked Thai or Asian Food
Here are the essential ingredients for cooking Thai food that are long lasting so you can grab these now and they'll keep in the pantry.
Long lasting and sometimes difficult to source items. Image & Titles link to Amazon and other online sources for a better view of the ingredient.

| Product | Ingredient | Note |
| --- | --- | --- |
| | Cumin Seeds | Cumin seeds have a wonderful smell & many health benefits. Bring shop bought pastes to life by dry roasting and pounding. Long lasting. |
| | Cardamom Pods | Used to make curry pastes in in various curry recipes. They last long so can be stocked. |
| | Coriander Seeds | Like cumin, coriander seeds are used to bring shop bought pastes to life by dry roasting and pounding. Long lasting. |
| | Coriander Root Powder | Better to use this than nothing if fresh coriander/cilantro root is unavailable. Fresh is better. Must keep dry once open. |
| | Fish Sauce | Absolutely essential to Thai cooking. Adds a little umami as well as saltiness to a dish. Buy the best you can get. |
| | Oyster Sauce | Absolutely essential ingredient to add richness and umami to a dish and very extensively used. Buy a good brand. |
| | Soy Sauce Light | Like fish sauce it's essential and used in very many recipes for Thai food. |
| | Mushroom Soy Sauce | A lighter seasoning taste with a nice mushroom twang used quite often. |
| | Soy Sauce Dark & Sweet | This thick, sweet, dark soy sauce is used to create dipping sauces. Used not so often but lasts for ages. |
| | Wide flat dried noodles | These will last for months and are used to make a few dishes like rad na so good to keep on hand. |
| | Narrow flat dried noodles | Another dry noodle but this time used more often than the wide kind and in several popular dishes like pad thai. |
| | Dried egg noodles for soups | My favorite. These yellow noodles are great in Thai broth soups and can be stir fried as well. Made with wheat flour so contain gluten. |
| | Red Curry Paste | Absolutely essential and the base paste that you can adapt to make many other pastes with added ingredients if you care to. |
| | Green Curry Paste | Essential to green curry if you intend to make that - and you should at least give it a try - but otherwise it can be skipped. |
| | Rice flour - non-glutinous | Rice flour is used as a thickener and to make noodles as well as in crispy coatings on fried dishes. |
| | Sticky Rice | Sticky rice is used to make toasted rice powder as well as steamed to eat with many dishes and a real Thai favorite |
| | Jasmine Rice | Jasmine rice - the King of rices. It is substantially better than plain white rice, smells and tastes great and complimetns Thai food perfectly. |
Table of Somewhat Perishable Items That You Should Know Where to Get Locally
These items are used often but do go off when stored for a long time. These are basics that you need to be ready to pick up just before making a dish.
Of course that dish will have other specific ingredients that may be required that may also need looking for – but this table should cover the most common you'll need when starting out.
These ingredients will only last a little while so you will need to buy just before you plan to cook a Thai meal. Image and Links go to Amazon or other online sources for you to better see the ingredient.

| Product | Ingredient | Note |
| --- | --- | --- |
| | Jinda Chili | Find a source so you know where to buy chilies similar in heat to the Thai Jinda Chili for your chili heat. |
| | Lemongrass | Find a source for fresh lemongrass which provides a lovely smell and taste which falls away as it gets old |
| | Tamarind Pulp | Tamarind pulp is used for fruity sourness. It lasts quite long refrigerated but buy just before you intend to use. |
| | Galangal | There is no substitute for this wonderful ingredient and you need it fresh - find a reliable source now. |
| | Seasoning Sauce | Not essential but this suggested seasoning is commonly used but can be subbed with soy and oyster sauce |
| | Palm Sugar | Palm sugar adds a depth and nuance to the sweetness. You can use brown crystalline sugar until you get this. |
| | Turmeric | A wonderful spice that adds color and a heap of healthy nutrients. Fresh is so very much better than powder. |
| | Coriander incl. root | Coriander root is something you need if you really want to cook Thai. Using powder isn't even near. |
| | Thai Sweet Basil | There is much confusion and misnaming with basil. Sweet basil is a very common ingredient having an anise or liquorice like taste. Fresh is best. |
| | Holy Basil | A different tasting basil, slightly stonger with less liquorice and a more peppery tasting basil. Probably available at the same place |
| | Dill | A fresh herb that is used a lot in soups mainly. Not difficult to find - just check your source. |
Table of Basic Ingredients That You Also Need But Probably Already Have Most in Your Pantry
You probably already have most of the ingredients in this table but it would be a good idea to check anyway in case you are out of stock or just don't use a particular ingredient.
Just check through the list to make sure you have everything. Some people will have all and others may not ordinarily use the odd ingredient. You need these.

| Product | Ingredient | Note |
| --- | --- | --- |
| | Black Pepper | Black peppercorns for fresh grinding are best but if you use ground pepper make it coarse. |
| | Lime | Used to add sourness to a dish. A simpler sour ingredient than Tamarind which balances spice and umami. |
| | Shallots | Extensively used in Thai cooking and sweeter with a more subtle taste than brown onion. You can interchange but if so reduce quantity of brown onion. |
| | Garlic | Used extensively in Thai cooking. Fresh garlic bears little comparison to powdered but you can chop or mince with oil and freeze. |
| | Sriracha | Sriracha sauce is used in soups, in dips and as a dip and has a spicy tangy flavor used to add kick to a recipe. |
| | Black Peppercorns | Black peppercorns are very frequently used, often crushed fresh in a mortar and pestle with other ingredients to add grist. |
| | Flaked Dried Chilies | Flaked dried chilies are used to add heat to a dish and frequentlyserved at the table along with other condiments. |
| | White Peppercorns | White peppercorns have a less harsh peppery taste than black peppercorns and are gentler. Grind fresh though. |
| | Tapioca Flour/Starch | Often used in gluten free baking but more commonly used to thicken sauces or as a substitute for wheat flour. |
| | Rice Vinegar | White rice vinegar is another common Thai ingredient used to make dips and to add piquancy to dishes. It's cheap and lasts. |
| | Pork or Chicken Seasoning | Seasoning powder is all the rage in Thailand. Once it was MSG but now non-MSG powders are used. Look in Asian stores. |
| | Olive Oil (NOT Extra Virgin) | Extra virgin olive oil is great for salads but not for cooking. Buy the pure or light for higher smoke points even for light frying. |
| | Spur Chili or Sub | This is the larger chili pepper with a milder taste used for visual delight which has a pleasant taste when eaten. Like Serrano chile. |
| | Evaporated Milk | Evaporated milk is used in place of dairy milk in very many drinks and most Thai cooking. There is dairy milk here but it's rarely used in cooking. |
| | Sweetened Condensed Milk | Sweetened condensed milk is added to drinks and soups adding sweetness and creaminess - extensively used in Thailand. |
| | Brown Crystalline Sugar | Brown crystalline sugar is a good substitute for palm sugar when you start out. The taste is a little different though. |
| | Coconut Milk | Coconut milk is the base for a number of dishes and another common ingredient adding light creaminess and a little coconut taste. |
| | Coconut Cream | Coconut cream is to coconut milk what heavy cream is to dairy milk. More creaminess and richness from coconut cream. |
| | Ginger | Frequent addition to Thai dishes adding a little spiciness as only ginger can. Lasts a few weeks in the fridge kept dry. |
| | Curry Powder | Curry powder is used surprisingly often to add the mix of spices for more curry taste. Spices can be mixed into red curry paste in lieu. |
| | Sea or Coarse Salt | Coarse salt is used in the mortar and pestle to provide a grit to help break up the ingredients being pounded. Also tastes different to table salt. |
TastyThais Guide to Thai Ingredients by Classification & Overview of Usage
I urge you not to skip the Guide because there are many pointers included to build out your foundation of knowledge in building a Thai dish.
We hope your reading time will be rewarded by helping you to cook superb Thai dishes through a better-rounded understanding of what makes Thai food tick.
Here are the Classifications we will use which are expanded with our definitions and further explanation below:
Thai Food Ingredient Classifications
Thai Spices,
Thai Herbs,
Thai Seasonings,
Thai Condiments,
Oils,
Noodles & Wrappers,
Thai Staples,
Thai Vegetables,
Thai Fruits,
Other Special Ingredients
Thai Spices
What is a Spice?
A spice is a fragrant, aromatic, or pungent part of a plant that is in broken or dried form which may also be ground into a powder. The primary function of a spice is to enhance the flavor of a dish rather than add nutritional value although many spices are nutritional.
We classify rhizomes as spices such as ginger, galangal, turmeric, etc. even though they may be not in their dried form.
Other exceptions are stronger-tasting and longer-lasting leaves, stems, and dried bulbs such as garlic.
Kaffir lime leaves and lemongrass that are common but which would otherwise stand out as outliers you'll find in Special ingredients.
When you prepare a Thai dish you will have one or two main ingredients that define the dish to which other ingredients are added to build depth and complexity of taste.
In most cuisines, a spice will practically never be the main ingredient of a dish.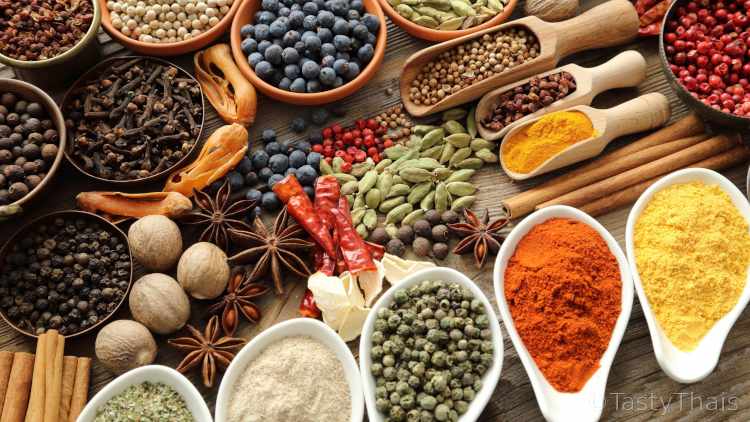 However, in Thai cooking, a spice based compound may be a prominent ingredient.
For example, Duck Red Curry has both the duck and red curry paste (a compound of spices) as core ingredients without which the dish would become something other than Duck Red Curry.
So spice is an enhancer.
Some examples would be garlic powder, garlic cloves, dried chili flakes, cinnamon, cardamon.
Visit our expanded article on Thai spices for a fuller explanation.
Thai Herbs
What are Herbs?
Herbs are the flowers, leaves, stems of plants that are used fresh and often chopped but for practicality are often dried, flaked, or frozen. They serve to enhance the flavor of the combination of main ingredients in a similar way to spices.
You will note that there is an overlap with spices in the function of these ingredients in a dish – that being to add something extra rather than to take over, the main flavors of a dish. for this reason, we often refer to herbs and spices together in recognition of that partnership.
Herbs are similar to spices but generally milder tasting and come from the leaves and stems growing above ground with a shorter shelf life than spices.
Roots of plants that are also herbs such as coriander (cilantro), we also class as herbs although they have merit to be called spices too!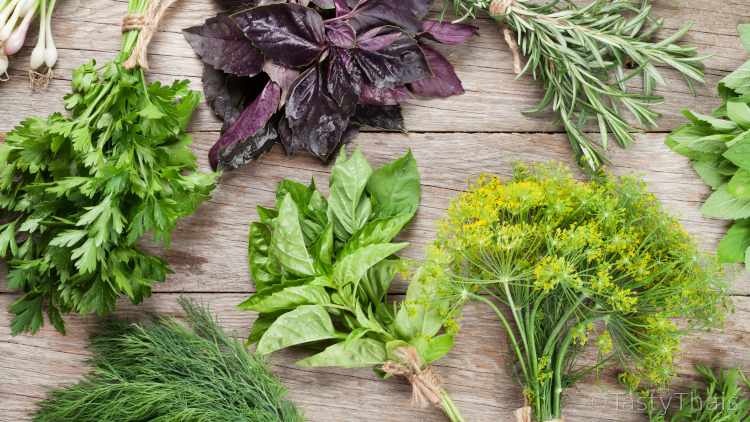 In Thai cooking, fresh herbs are a very common essential ingredient such as Thai basil (Thai basil is often called sweet basil with an anise flavor and used in many dishes), holy basil (spelled so many different ways gra prow, ga prao, kaphrao, etcetera, used for Pad Gra Prow).
Dried herbs are less commonly used. This is partly due to the fact that fresh herbs are readily available at local markets and taste so much better.
Herbs are enhancers of a dish.
Some examples would be Thai basil, holy basil. coriander/cilantro root, onion tops, scallions, mint.
Visit our expanded article on Thai herbs for a fuller explanation.
Thai Seasonings
What are Seasonings?
Seasonings are spice compounds or extracts of spices that are usually in liquid or powdered form and added to a dish to enhance flavor a little rather than introduce a substantial new flavor.
You're probably thinking our definition for seasonings overlaps somewhat with our definition of herbs and spices.
The main difference is that seasonings mostly comprise several different spices or herbs and spices together as a blend and are more often than not liquids manufactured for the purpose.
The common thread, as a general rule, is that herbs, spices, and seasonings are added without the intention of creating a prominent new flavor but rather sit in the background to the main flavors.
But in Thai cooking, seasonings can be very strong in comparison to most other cooking styles!
Salt and pepper you'll find in Thai Staples (although black peppercorns are also considered a spice) as both are single ingredients.
We also recognize that palm sugar as a seasoning but you'll find palm sugar along with the other sugars in staples too.
There is a slight lack of scientific clarity here but then we are cooks, not alchemists.
Seasonings are enhancers to a dish.
Some examples would be fish sauce, soy sauce, oyster sauce, Chinese rice wine, salt, pepper, Maggi, pork, or chicken seasoning powders or cubes.
Visit our expanded page on Thai seasonings for more information.
Thai Condiments
What are Condiments?
A condiment is a pickle, sauce, dip, mixture, or prepared compound of one or more spices or spice extracts which is added to enhance the flavor.
The Western definition of condiments would be that they are served at the table rather more often than referred to as a condiment used in the cooking process.
In the Far East, quite a few seasonings, such as soy sauce used to eat as a dip with dumplings, make it to the table and could be here.
Where the basic seasoning's primary use is as a seasoning during the cooking process we have listed them there.
Special types, such as Shoyu, that are premium quality (and so expensive) and used mainly at the table are listed here as they are more a condiment. Classification is an art more than science though cooking needs both!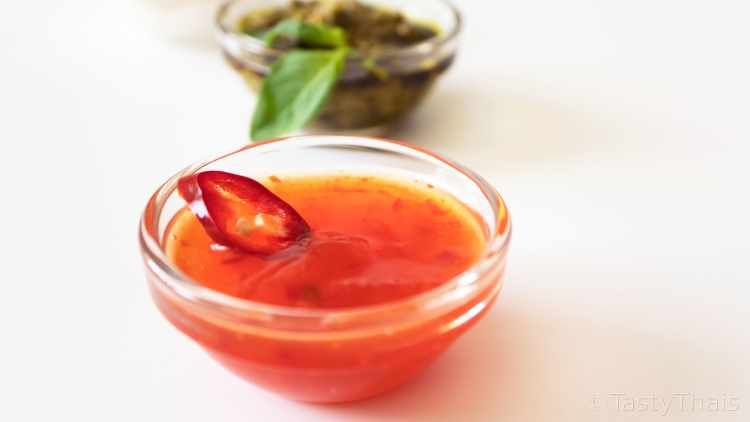 Other times, seasonings and spices that would, in the West, normally simply be reserved for the cooking process are made into dips such as Tamarind Dipping Sauce, Sweet Fish Dipping Sauce (Nam Pla Wan) or Nam Jim Jeaw (a brown dipping sauce for pork sticks and sticky rice) and the green Nam Jim commonly called seafood sauce.
These are clearly condiments as they are served at the table and outside the cooking process itself.
Oils
We don't need to define oils here except to say that there are a few specialty oils used in Thai cuisine, but not uniquely so.
Oil can form an integral part of the dish such as in stir-frys where the oil mixes with the seasonings and sauces that are in turn absorbed into what is being cooked or coat it externally and then eaten.
Oil can also be simply a means to ease things along such as a minimal amount used to season a wok before use or simply to stop food sticking to the hot pan surfaces.
A third use is for deep frying where oil is the medium through which food is heated and cooked in contrast to it being in contact with the surface that is directly heated.
Another use is for oil to be used as a partial conduit in the cooking process of what is known as sautéing in western climes.
Yet another use is used directly such as extra virgin olive oil used in salad dressing – it's not a good oil to use for regular cooking because it has a low smoke point where toxins are produced.
We have a full post on types of cooking oil which explores this subject much more thoroughly which you might find of help.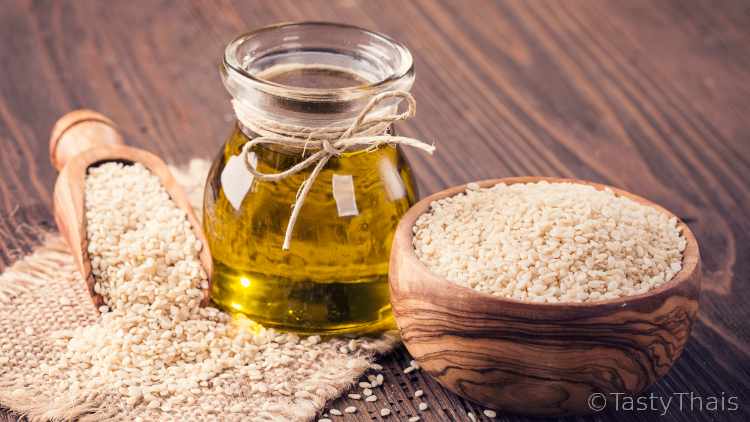 Lastly is the use of oil to impart a flavor enhancement such as peanut oil or more often sesame oil. These oils are added specifically to add flavor. A western equivalent would be truffle oil that is often sprinkled as an indulgence on pasta dishes in Italy.
Visit our expanded article on Thai oils for a fuller explanation.
Noodles & Wrappers
Southeast Asia is well known for its noodles and dumplings.
Given about 88% of the world's rice is grown in the Asia region, it is no surprise that it forms the main staple for the people who live here.
Thai food is awash with noodles used to make dumplings (kiew) which are fried or steamed (just like gyoza) and often added to ba mee soup (egg noodle soup), crab curry (with thin white rice noodles), little wrapped dumplings eaten with dips, rad na with gravy immersed, wide flat noodles and a lot more.
Rice is eaten by everyone almost every day in the form of basic steamed rice, rice made into noodles or used as wrappers for dumplings.
The biggest producer of rice is China and over the millennia cuisines across the region have to some extent absorbed each other's cuisin
Even though steamed rice is predominant, Thais eat gyoza, wonton, sushi, dim sum, and other forms of dumpling regularly – especially people living in Bangkok which has a vast range of dishes openly on offer.
Food does get it's labels though – gyoza and sushi being thought of as Japanese, Wonton and Dim Sum as Chinese but these are broad generalizations of origin rather than dishes exclusive to nations!
We have rad na which is a dish made with wide flat noodles cooked in a souplike gravy, ba mee which is a soup broth with egg noodles, meat & vegetables, crab curry served with thin rice noodles etc.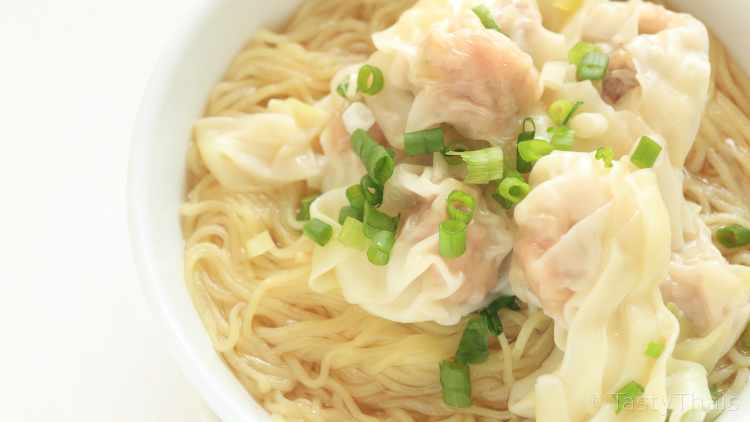 Noodles and wrappers are an important main ingredient which could also live grouped with Thai staples.
Examples are ba mee (egg noodles usually made with wheat flour), sen yai (wide flat rice noodles), sen lek (thin flat rice noodles often used for pad thai), sen mee (very thin vermicelli like rice noodles) and many more.
You can have fun making gyoza wrappers or homemade egg noodles or take the easier route and buy them done
Thai Staples
You could make an argument that the prominent members of each grouping above are really Thai staples but it would not help us organize our ingredients much.
The main staple ingredient in Thai cooking is, of course, rice in its various forms. Sticky rice, jasmine rice, white, black (sticky rice and jasmine types), and brown rice are common. We don't list every type of rice though if you want more information you'll find that in our Types of Rice article.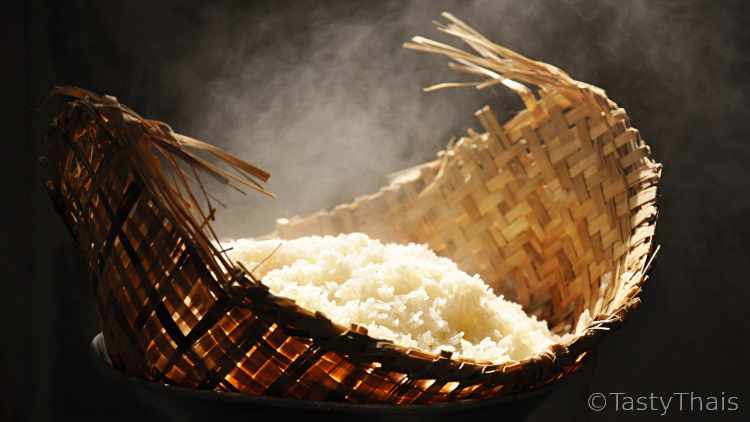 The other ingredients in this grouping are the various flours used to make noodles, coconut milk and coconut cream, salt, pepper, palm sugar and cane sugar.
Fish sauce should probably be in here too as it features in so many Thai food recipes but it seemed to fit more happily in the seasonings group so we left it there.
Curry pastes are a very common ingredient and live in here for that reason. These pastes do not quite fit in the other categories as we have defined them and are so common they really are staples that are used in the cooking process.
Examples rice flour, tapioca flour (same as tapioca starch), and wheat flour grouped here.
Thai Vegetables
Thai cuisine uses many of the vegetables that are common in the West such as greens, broccoli, tomatoes, and sweetcorn.
There is little point in listing the most common vegetables used in Western and Thai cooking as our list would end up rather less useful.
But there are some vegetables that are found more in Thai and other Asian dishes and not so much across the whole of the West and as a result be less easy to source.
These are what you will find in this group.
Examples are bitter gourd, pea eggplant, types of chili, bamboo shoots, shitake mushrooms, bok choi, and more.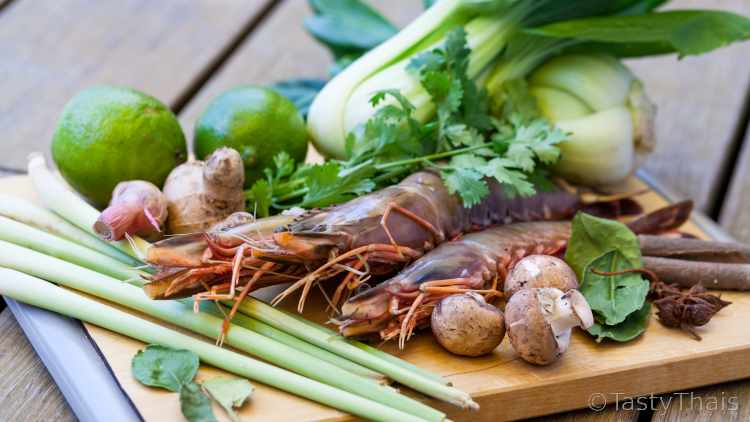 Thai Fruits
Along the lines of our culling of the vegetable list, the Thai fruits you will find here are those that are not so commonly found eaten in Western cooking.
Many fruits are of course common to both the many and varied Western cuisines to some extent or another. We are talking apples and oranges here.
But, just as for vegetables, there are a number of fruits used in Thai cooking that might be considered a little unusual in the West.
Examples are green mango, durian, longan, rambutan, mango, coconut, etc. Hardly unique to Thailand but easier to find fresh here though fairly common to be found canned or dried as well as freshly imported perhaps in the supermarket depending where you live.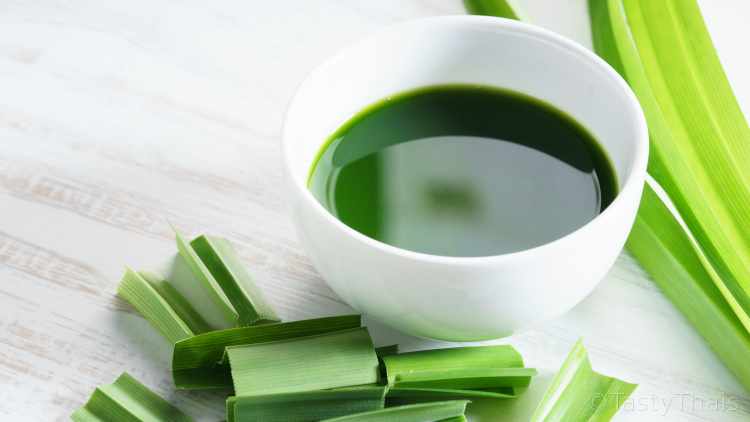 Special Ingredients
Lastly, we have special ingredients.
In this small group, we have both common and less common oddities that would feel odd in other groups.
Examples are kaffir lime leaves and lemongrass which are commonly found in Thai recipes, pandan leaf, banana leaf, banana flower (found in the Thai recipe Yum Hua Pli), dried shrimp and so on.
Also crickets, and beetles, included for the sake of completeness and info rather than with an expectation that you will be rushing out to buy them.