Drunken noodles may sound rather debauched but they are not what the man of this house described as 'Girlfriend's Revenge' – a dish served so spicy to punish the boyfriend (or worse, husband) with the temerity to return home drunk. (Not a bad idea though).
Drunken Noodles in Thai reads Pad Kee Mao, or stir fry for those who like a few too many drinks. Its name has nothing to do with revenge cooking but rather an idea rather similar to the munchies people get enjoying a few drinks with friends.
How to Make Homemade Pad Kee Mao Video
Thai Drunken Noodles Recipe - Pad Kee Mao Seafood Homemade
Here's some jump links if you just want to skip to the recipe or check out the step by step tips.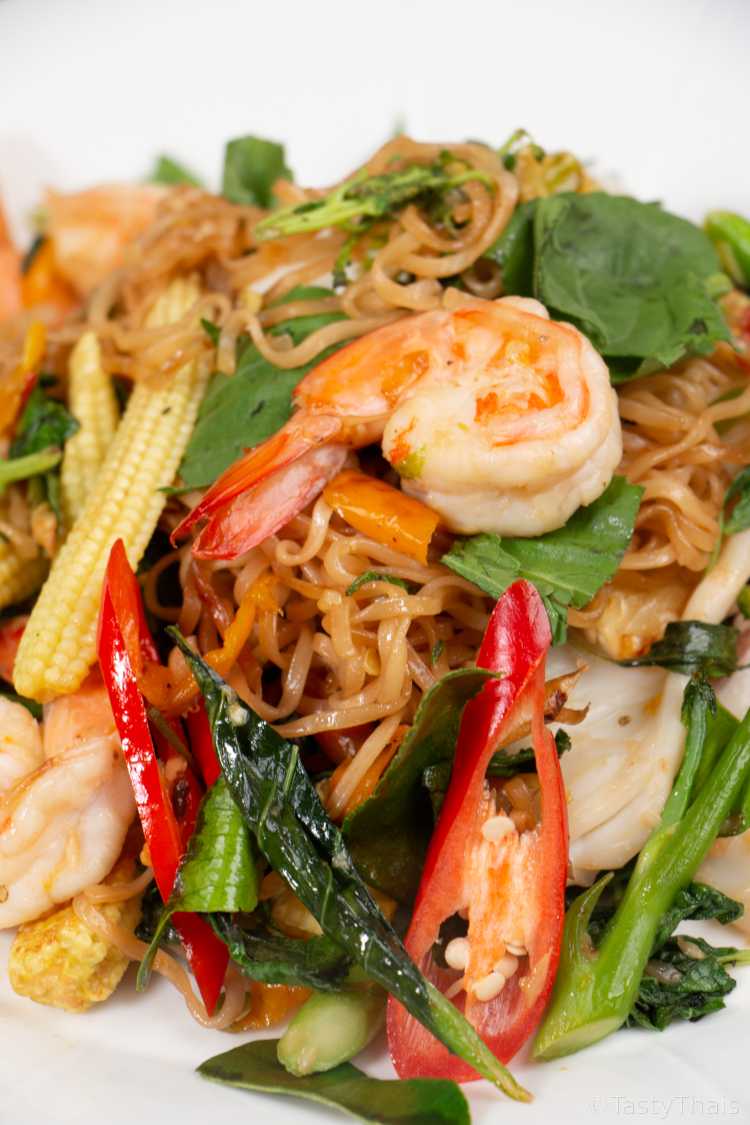 Since Thais are a social bunch and enjoy a drink or three in a social gathering scenario, Pad Kee Mao was born being a quick semi-dry and rather spicy stir fry cobbled together from ingredients hanging about to munch on while drinking.
So it turns out to be a sort of 'do as you please' noodle dish where any type of noodles will do. It's going to be spicy so if you want a non-spicy wide noodle dish try Rad Na.
The only requirement for drunken noodles is that the dish must be really quite spicy (though that doesn't stop you taming it by reducing the chili content), must be a semi-dry style stir fry and comply with the tasty, pretty, nice smelling, and well-balanced requirements Thai cuisine.
So you'll now understand that the exact ingredients are not specific and that there are as many different recipes for this dish as there are people with different sets of ingredients hanging around their fridge and pantry.
Ingredients You'll Need
Instant noodles
Shrimp / Prawns
Squid – or swap seafood items 2 & 3 for another protein of choice
Baby sweetcorn
Green peppercorn strings (optional but authentic)
Yellow or orange, and red spur chili
Brown Sugar
Fingerroot (or sub ginger)
Garlic
Oyster sauce
Seasoning sauce
Fish sauce
Bird's eye chili (or sub a hot style chili)
Kale (or sub another green such as broccolini, Chinese broccoli etc.)
Basil leaves
What is Pad Kee Mao?
Pad Kee Mao is a Thai stir-fried noodle dish that has a versatile ingredient list and cooked in a semi-dry and spicy style.
Reduced to the bare bones, it comprises stir-fried noodles, some form of protein, green vegetables such as kale or Chinese broccoli, some spices, and plenty of seasoning sauces for a nicely balanced but deep flavor profile.
How Many Calories in Pad Kee Mao?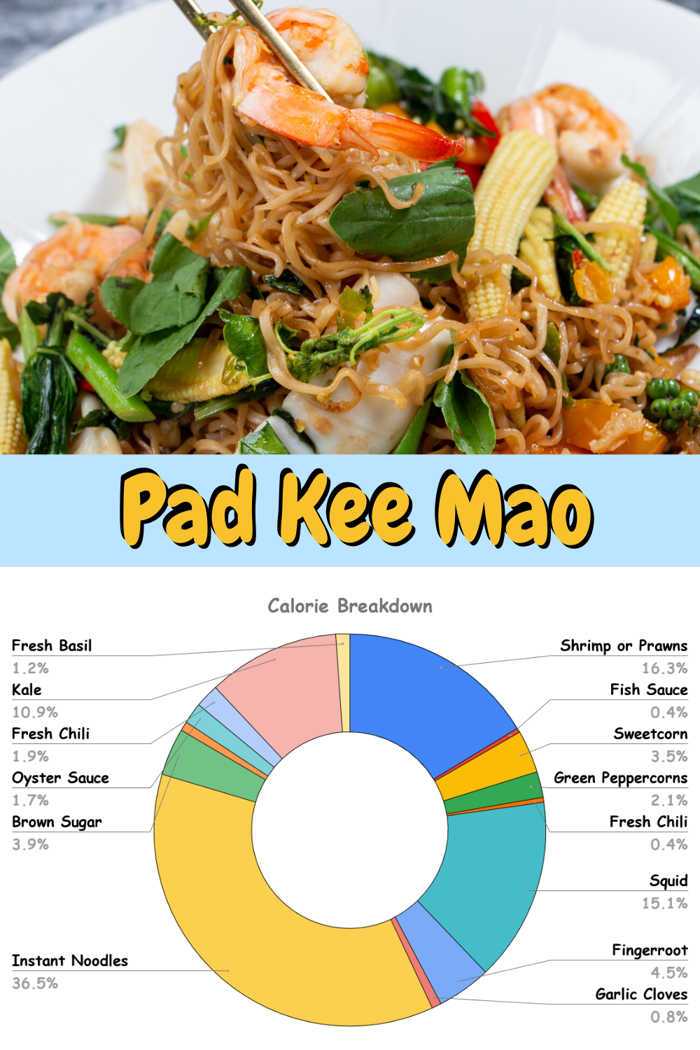 Most of the calories come from the instant noodles and source of protein.
If you are looking to reduce calories then the easiest gains will be made by cutting down the noodles which have about double the calorific content than the protein in this dish.
It is meaningless to quote a figure for the number of calories in the dish really as it is so dependent on which type of noodles and which meat you use, how fat it is and so on. A generous portion will come in somewhere around 7-800 calories with a wide range of error.
Other Thai Stir-Fried Noodle Dishes
If you are confused over which stir-fried noodles dish is which then here's the rub. Pad Thai is made with thinner style rice noodles and has a nutty taste, Pad See Ew has a taste dominated by the savory seasoning and more often than not uses fresh flat wide rice noodles, and Pad Kee Mao is much spicier than the other two dishes using any sort of noodles.
These are the three main Thai stir fry dishes.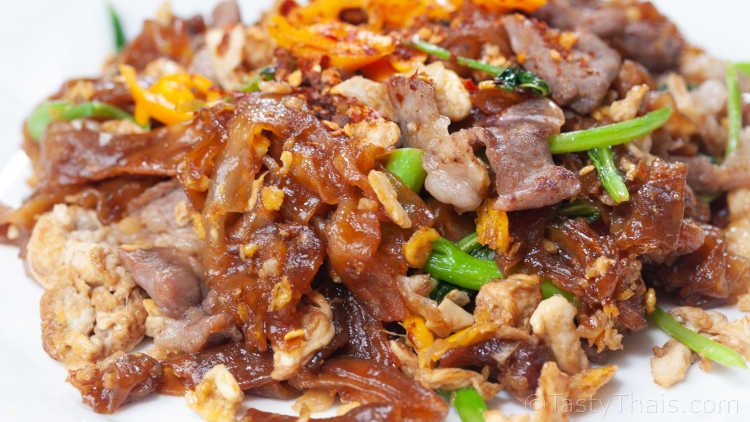 Drunken Noodles vs Pad See Ew – Pad See Ew is a dish that centers around wide flat rice noodles (recipe here) cooked with dark soy sauce which has a strong flavor and which gives the dish its name. It is a moister stir fry cooked without chili (that's added later), whereas drunken noodles are quite spicy.
Drunken Noodles vs Pad Thai – Pad Thai is a mildly spiced dish whereas drunken noodles or Pad Kee Mao is spicy to very spicy and more of a drier style. Pad Thai contains nuts that also influence its flavor making it significantly different.
So if you love Thai food but are not a fan of hot chili then Pad Thai or Pad See Ew will suit you better – you can add a little chili at the table to suit your taste.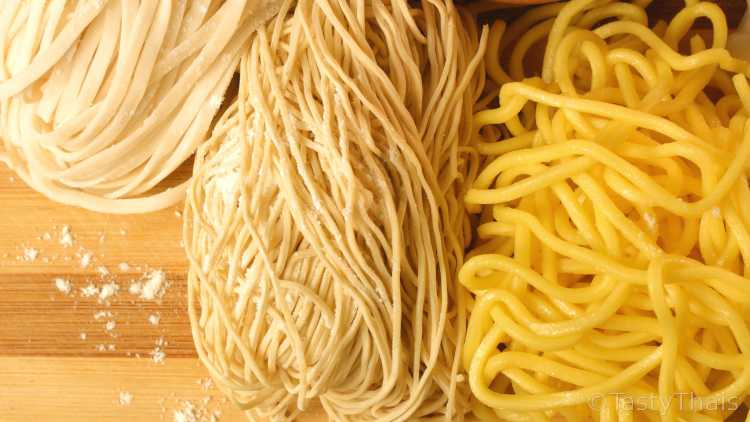 Which Noodles for Pad Kee Mao?
You can use pretty much any common noodles to make this recipe. There is a huge variation across recipes as it is really a dish thrown together with whatever you have available whilst keeping to the high chili content for spiciness, semi-dry cooking style, and using plenty of seasoning for taste.
The other necessary thing is keeping a good balance between the sweet, sour, savory tastes to the finished food with less emphasis on sweetness and more on salt – which is what helps people drink more hence the salted crisps, peanuts and potatoes served in bars and pubs.
So you can use flat wide rice noodles, pad Thai style noodles, Japanese noodles, instant noodles such as Mama – a popular Thai brand but the brand is not important here. You can use spaghetti or pasta as well. Each will give a slightly different taste and consistency.
How to make Drunken Noodles Step by Step
A guide to each step with notes on why we are doing what we are doing.
Step 1 – Prepare the Vegetables
If you are using kale or Chinese broccoli or something similar, then you want it to provide two things aside from the taste and goodness of the vegetable. They are to provide color in the dish, to provide a bit of crunch from the harder stems.
We can intensify color by blanching for a minute in hot water but we do not want the stems to be too hard. So trim off any hard sections of the stems to leave the younger and more tender parts of the stemsReduce
For the other vegetables, cut them into to nicely shaped, bite-sized pieces. I like to cut corn in half or sometimes diagonally. You have plenty fo free reign to allow your creativity a chance to show itself.
Remove the hard spine from kaffir lime leaves and I like to scrape the skin off the fingerroot or ginger – it helps increase the flavor and aroma.
Cut the basil leaves roughly for adding at the end of cooking.
Crush the chilies, garlic, and yellow spur chili in a mortar and pestle or if you don't have one then use a rolling pin or mini blender to quickly chop a bit – roughly!. The red spur chili is for coloring so we don't crush that but add it later for effect.
Step 2 – Blanching
Blanch your green vegetables to improve the color which will help make the finished dish look more appetizing.
If the vegetable stems are harder than you would like then add them to the blanching water before the rest of the leaves and cook for a minute or two extra to tenderize them more.
If using seafood then blanch this as well to reduce the smell of the seafood and to give a better fresh and clean taste.
If using meat then you can blanch this too which helps reduce impurities, reduce strong odors, and generally gives a cleaner, nicer taste. Since you already have the water boiling you might as well.
Blanch the vegetables before the meat or seafood and you can use the same water.
Step 3 – Boil the Noodles
If using dry noodles then you need to boil them until they are about 80% cooked. Follow the packet instructions and knock a minute or so off the time so they are still a little al dente.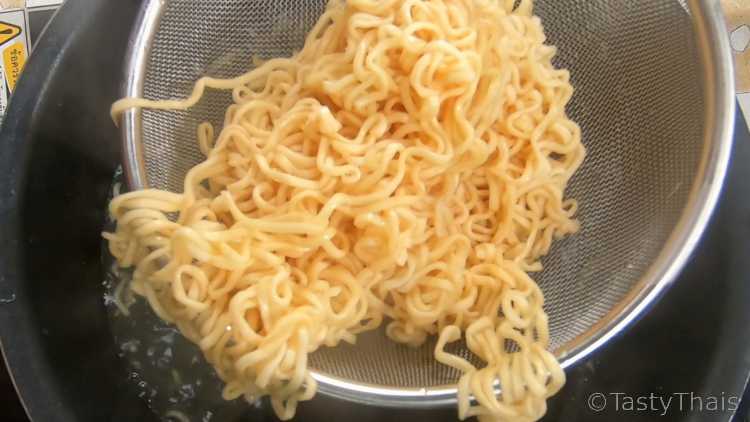 Step 4 – Stir Fry the Seafood (Meat or other Protein)
Use half of the crushed spices to stir fry the seafood or whatever other protein you are using. Season with a little fish sauce to add a little saltiness.
We stir fry this separately so as not to overcook seafood and for meat to part cook it before the quick final stir-frying to create the final drunken noodles,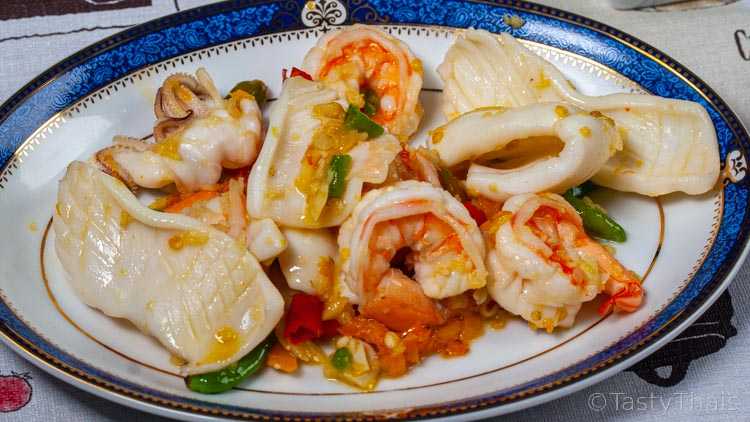 Step 5 – Stir fry Drunken Noodles
Use the rest of the crushed spices and quickly stir fry the vegetables. We are trying to get the vegetables hot and only cook them slightly rather than fully cook them through and lose all the crunchy texture.
Add in the mostly cooked noodles, seafood, or meat you part cooked earlier and season with Oyster Sauce, Seasoning Sauce such as Golden Mountain, and add in the green peppercorns (if using), kaffir lime leaves and stir fry for a few seconds.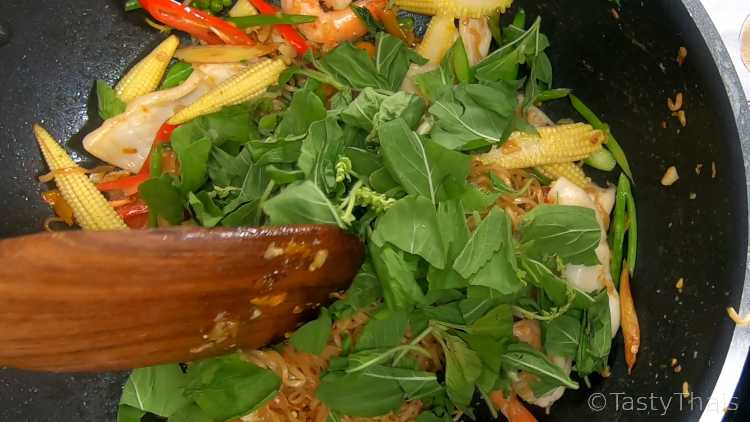 As with all Thai food you need to taste and adjust seasoning for balance. In this case, the balance is light on the sweetness and sourness but heavy on the spiciness and umami.
Right before the drunken noodles are finished, add in the roughly chopped basil and mix in until it just starts to wilt.
Serve Immediately.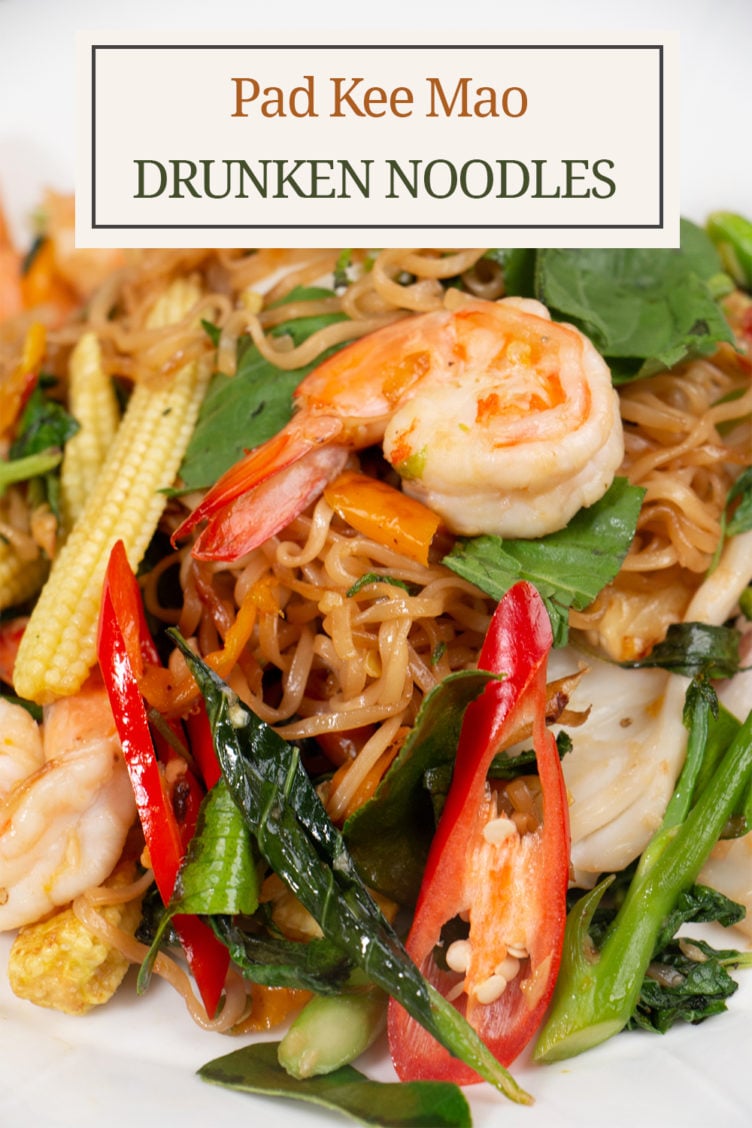 Authentic Homemade Pad See Ew Recipe
Seafood Drunken Noodles (Instant) – Pad Kee Mao Mama
The Video showing this recipe being cooked is near the top of the page – A convenient Jump Link to the video is below the description under here.
This very popular spicy and semi-dry Thai noodle dish has a few basic requirements but otherwise there is no set recipe. This recipe uses seafood but you can swap for the protein of your choice using the exact same steps.
The set requirements are that it is spicy, semi-dry, contains basil and seasoned with soy sauce and oyster sauce. Other than that you can swap out and change the ingredients to taste.
It will take most forms of protein – seafood, pork, beef, and chicken are the most common though. It usually contains noodles, often wide noodles but also fairly common are the pad thai style noodles along with other types including ba mee.
The type of noodles will change the consistency and taste of the dish but there is no right or wrong noodle to use. This is an UP TO YOU dish!
Mama are a branded curly dry noodle that are very inexpensive and are available everywhere. Pad Kee Mao is often cooked using Mama noodles because they are sitting around in every Thai home.
In our recipe we try to introduce a nice texture contrast along with the more commonly found ingreients.
NOTE: Any In-recipe images can be toggled on and off with the camera icons next to the Instructions header.
Ingredients  
1

pack

instant noodles

See Note 1

3

oz

prawns or shrimp

3

oz

squid

3

baby sweetcorn

3

strings

green peppercorns

(optional)

1

yellow or orange spur chili

1

red spur chili

1

tsp

brown sugar

3

fingerroot (type of ginger)

See note 2

4

cloves

garlic

1

tbsp

oyster sauce

1

tbsp

seasoning sauce

See Note 3

1

tsp

fish sauce

10

bird's eye chili

4

oz

kale

1

cup

basil leaves

loose & chopped roughly
Instructions 
Preparing & Pre-Cooking
Get your ingredients together and wash, peel, shell, chop, slice or cut in readiness for cooking. Boil a pan of hot water as you are doing so.

Crush the garlic, birds eye chili and sliced orange chili spur in a mortar with your pestle.

If you are using harder type green vegetables in your dish – in ours we use kale for color and a crunchy texture – then blanch in boiling water for about a minute to improve color and texture.

Remove the greens and boil your instant noodles until about 80% cooked (al dente). They should retain a bit of bite. Set to one side.

Drain the noodles and blanch your seafood for a minute (if using) to reduce the fishy odor and clean.

You can blanch meat in the same way if using a different protein such as seafood.

Set to one side.
Cooking the Pad Kee Mao
Use half of the pounded spices with a small amount of oil to stir fry until aromatic. Then stir fry the seafood or protein of choice and quickly stir-fry adding a little fish sauce on high heat until almost cooked. Set aside.

This step adds extra flavor before combining into the final dish.

Add the other half of the pounded spices and stir fry the kale stems for a minute or so to soften the stems slightly. Add the sweetcorn and stir fry for another minute.

Next add in the noodles, sliced red spur chili (for color), sugar, seasoning sauce, oyster sauce and soy sauce along with the seafood. Toss together thoroughly.

Taste and adjust seasoning.

Finally add in the basil and stir fry until wilted – less than a minute – and serve immediately.
Notes
Note 1 – Instant noodles can be any type such as pad thai style, Japanese noodles, egg noodles, white flat noodles, spaghetti etc.
Note 2 – Finger root is a long fingerlike variation of ginger that has a slightly different taste – you can readily substitute for ginger if unavailable in your area. 
Note 3 – Seasoning sauce can mean a variety of types and you can choose your favorite. Golden mountain sauce is one alternative or one of the Thai manufactured sauces will work well. Check out the link in the ingredients list for just one example. 
Nutrition
Calories:
791
kcal
Carbohydrates:
100
g
Protein:
50
g
Fat:
24
g
Saturated Fat:
9
g
Cholesterol:
415
mg
Sodium:
2884
mg
Potassium:
1569
mg
Fiber:
7
g
Sugar:
12
g
Vitamin A:
13430
IU
Vitamin C:
296
mg
Calcium:
428
mg
Iron:
11
mg
Planning on Making this Recipe?
It would be great if you could take a picture of your finished creation and share it out on Instagram. Tag me with #TASTYTHAIEATS – I love to see your ideas!
Some Frequently Asked Questions About Pad See Ew
Why do they call them drunken noodles?
Just as Westerners like to eat salted fried potatoes, crisps, and salted peanuts when they are enjoying drinks with friends, Thais also like to eat but prefer the semi-dry spicy stir-fried noodles when drinking with friends which is usually around a table rather than at the pub! The spicy dish of Pad Kee Mao hence gets its name.
Are Drunken Noodles Spicy?
Drunken noodles or Pad Kee Mao as the dish is called in Thai is quite a spicy dish by Western standards. You can of course reduce the spiciness by using fewer chilies in the recipe as well as by removing the chili seeds.
What is the difference between Pad Thai and Drunken Noodles?
Pad Thai is cooked with spur chili – the larger red chili which is quite mild amongst chilies and so is not a very spicy dish and comes with nuts. Drunken Noodles is cooked with Bird's Eye chilies for heat as the dish should be spicy, and has no nuts normally in the ingredients.
How do you make drunken noodles from scratch?
Follow the recipe on this page to make drunken noodles but if you also want to make the noodles from scratch then make your own flat rice noodles with this recipe and cutting to the width you like or make egg noodles at home with this recipe.
I am a Thai mum and love cooking for my children. Over the years, I have taken my family recipes as well as ones borrowed from friends and adapted them to make them even tastier. I publish my authentic Thai Food Recipes here for all to enjoy around the world. When I get a chance to travel I publish information to help others visiting Thailand.