If you wander down any soi in Thailand you'll probably come across a Thai street food vendor selling some form of noodles or soup dish, invariably made with the vendor's own Asian chicken stock recipe or pork broth.
Where the cooking liquids are intended to be eaten instead of used simply to cook and then be drained away, then taste will be hugely increased by using a stock or broth instead of water for the cooking base.
Unless you are cooking something where you do not intend the taste to be affected, such as a steamed jasmine rice to be served with a meal then most of the time you can improve taste a lot by using stock instead.
How to Steam Sticky Rice in a Saucepan or Cheap Regular Steamer
Link to Making Asian Chicken Stock Video in case it does not load for you.
Links disclosure: Some links on this page go to affiliate partners where, without cost to you, we may receive a commission if you make a purchase.
Ingredients You Will Need
chicken carcasses
water
carrots
white radish
coriander or cilantro roots
garlic cloves
star anise
cinnamon stick
white pepper
lemongrass stalks crushed
bay leaves
white peppercorns
Which Stock to Use?
A simple rule of thumb is to use a stock similar to the main protein ingredient for the meal. So pork broth for pork dishes, chicken broth for chicken dishes and fish stock for fish dishes and so on.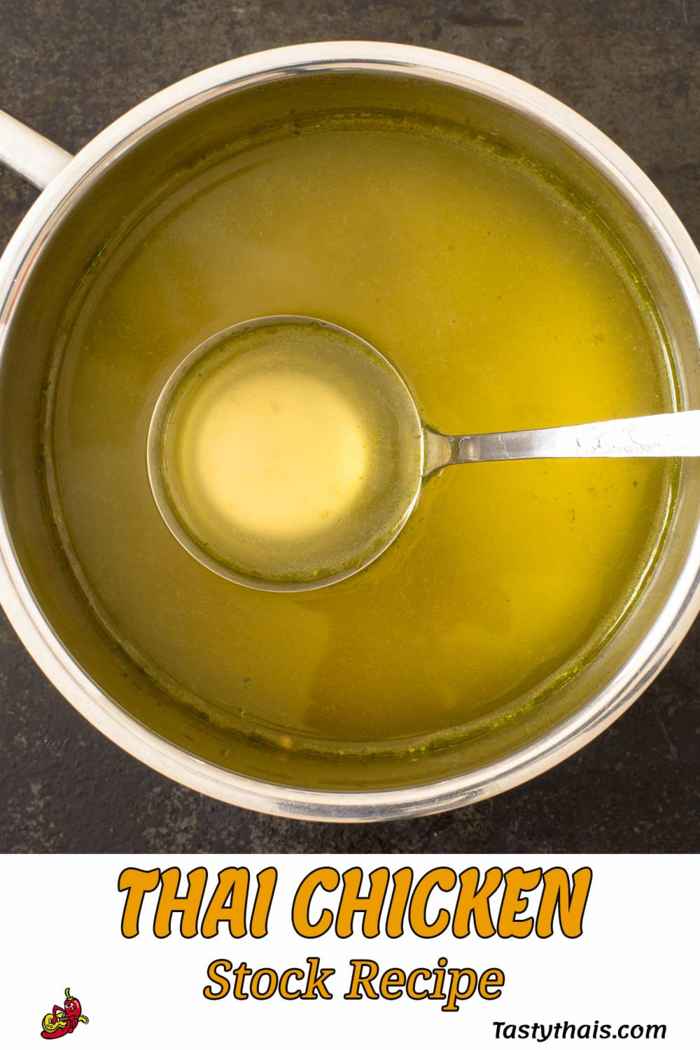 How long to Cook Chicken Stock?
Chicken stock made from chicken carcasses can be cooked in 90 minutes to two hours. You can cook a little longer but the bones are thin and release their flavors more rapidly than the denser beef and pork bones which need longer.
You can cook it for longer but all you will end up doing is boiling away the water with a slightly stronger tasting stock as a result. We prefer to get the stock cooked quickly as it is a taste enhancer and should not overpower the main ingredients.
What About Chinese Chicken Stock?
Chinese chicken stock is quite similar to the stock the Thais use. However, many Chinese dishes use chicken broth which differs in that the whole chicken is used and boiled for a longer time to produce a stronger tasting broth.
The meat is often shredded back to make soups because after boiling most of the taste is lost from the meat.
How is Thai Chicken Stock Different from Western Chicken Stock?
The difference is in the addition of typically Asian spices such as cinnamon and star anise and other plentiful ingredients found in the region.
These ingredients give a pleasant taste to the stock which combines well with the spices that will be used in the main dish.
The overall recipe for chicken stock varies between cooks so there is no perfect recipe. You can use this stock in most western recipes as well as the taste is not strongly spiced.
How to Make Asian Chicken Stock Step by Step
Step 1 Cooking the Chicken to Remove Excess Fat & Foam
Simply take the chicken carcasess and add to a pot large enough to hold all the following ingredients and water with enough excess to allow for boiling without overflowing.
Add in the water and bring to a boil, then reduce to a simmer for 30 minutes.
Step 2 Removing Excess Fat & Foam
You will probably not have much fat or foam resulting but it depends on what is left on the carcasses you use.
Simply use a kitchen spoon to scoop away any foam or excess fat if there is any.
Step 3 Adding the Other Ingredients
Add in your other ingredients which should be roughly chopped except for the garlic, cinnamon and star anise.
Stir to submerge and add enough water to cover by about half a thumb length – a little more or less is neither here or there so don't stress it.
Simmer for at least an hour or up to two hours to suit your schedule.
Step 4 Straining & Storing
After the time is up, turn off the heat and allow to cool for a short while before removing the solids using a slotted spoon or spider strainer.
Use a ladle to transfer to storage containers until you have removed enough to make the cooking pan light enough to strain off the remainder. It's a good idea to strain the last part of the stock through a fine mesh strainer to catch any residual small solids.
You can store the stock in the freezer very well for several months (though it's unlikely to last that long), and for three to four days in the refrigerator. Do allow to cool further before transfer to the fridge or freezer though to reduce the load on the fridge and avoid warming chilled food inside.
If you will freeze the stock then freeze it in small quantities that suit the amounts you are regularly using. That way you do not have to thaw too much more than you need at any one time as it should not be refrozen once thawed.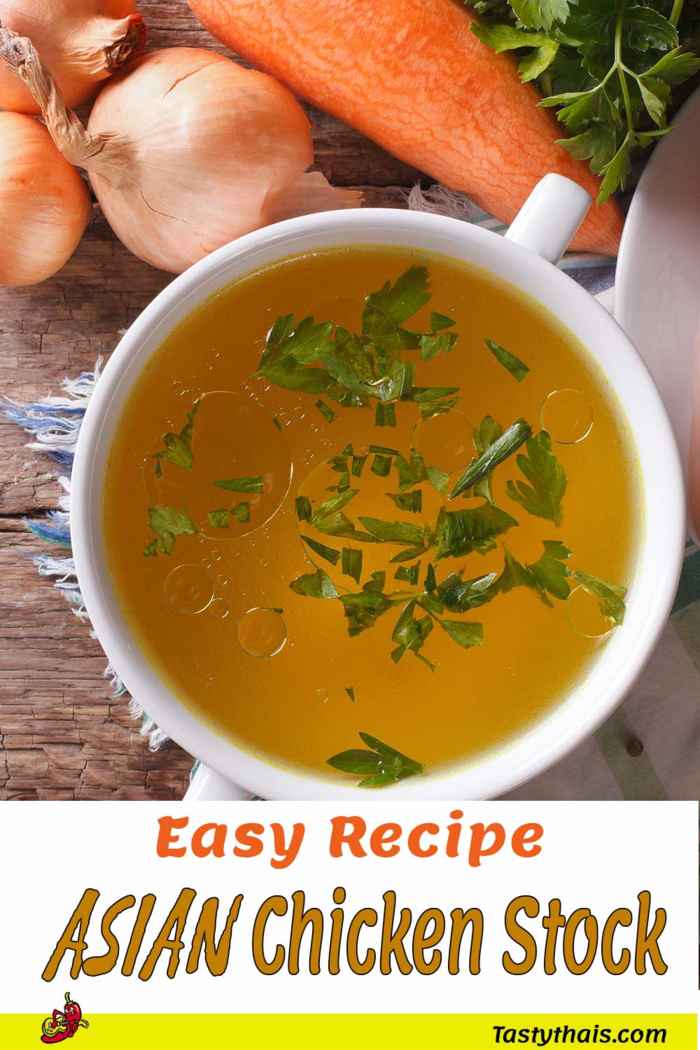 Asian Chicken Stock Recipe
Basic Thai Chicken Stock
The Video showing this recipe being cooked is near the top of the page – A convenient Jump Link to the video is below the description under here.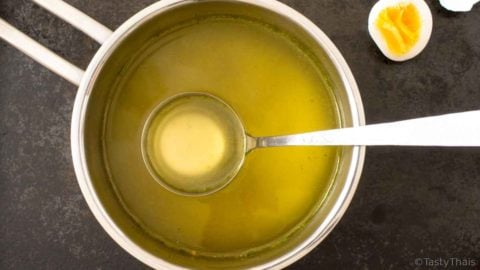 Chicken stock the Thai Tasty way
NOTE: Any In-recipe images can be toggled on and off with the camera icons next to the Instructions header.
Ingredients  
2

chicken carcasses

12

cups

water

6

garlic cloves

4

bay leaves

1

cinnamon stick

2

carrots

sliced

2

onions

quartered

2

lemongrass

crushed

4

cilantro root

roots crushed

1

white radish

sliced into large medallions

1

oz

(30g) ginger

sliced

½

tsp

white peppercorns
Instructions 
Place chicken carcasses into a large stock pot add the water and bring to a simmer for 30 minutes. Cover the lid to allow partial escape of the steam either through holes already in your lid or by leaving the lid slightly displaced.

Turn off the heat and wait 5 minutes before skimming any scum, foam or froth that may have accumulated on the surface.

Add in all the rest of the ingredients, recover and simmer for about one hour, again with the pot covered to allow partial escape of steam.

Remove from the heat and allow to cool for 30 minutes before removing the solids with a slotted spoon or draining through a colander or large guage sieve into another container..

Use immediately or allow to cool to room temperature before transfering to freezerproof containers. I find 500ml to 1 pint containers a good size.
Nutrition
Serving:
1
cup
Calories:
32
kcal
Carbohydrates:
7
g
Protein:
1
g
Fat:
1
g
Saturated Fat:
1
g
Sodium:
36
mg
Potassium:
204
mg
Fiber:
2
g
Sugar:
3
g
Vitamin A:
2325
IU
Vitamin C:
12
mg
Calcium:
41
mg
Iron:
1
mg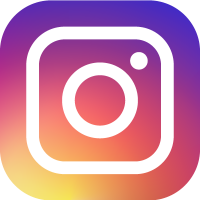 Planning on Making this Recipe?
It would be great if you could take a picture of your finished creation and share it out on Instagram. Tag me with #TASTYTHAIEATS – I love to see your ideas!
I really hope you enjoy this dish and if you cook it I would love to hear your comments below so please come back and let me know how it turned out for you.
I am a Thai mum and love cooking for my children. Over the years, I have taken my family recipes as well as ones borrowed from friends and adapted them to make them even tastier. I publish my authentic Thai Food Recipes here for all to enjoy around the world. When I get a chance to travel I publish information to help others visiting Thailand.