If you're looking for an awesome and delicious recipe to learn how to make the best authentic Thai massaman chicken curry recipe that is quick and easy, then you have come to the right place – you'll absolutely love this!
How to Make Thai Chicken Massaman Video
Quick & Easy Authentic Thai Chicken Massaman Curry Recipe - Massaman Gai
Link to Thai Massaman Curry video in case it does not load for you
You can make your own Thai massaman curry paste from scratch but it uses a lot of ingredients that are not very common. So we have adapted a basic store-bought massaman paste with a couple of extra spices added to boost flavor and aroma. It's quick and it's easy!
Links Disclosure: Some links on this page go to affiliate partners where, without cost to you, we may receive a commission if you make a purchase.
Thai Massaman Curry with Chicken Main Ingredients
Chicken Meat from the Thigh
Massaman Curry Paste
Coconut Milk
Potatoes
Cardamon Pods
Bay Leaves
Palm Sugar
Tamarind Paste
Fish Sauce
Coriander Seeds
Cumin Seeds
You can use light brown sugar as a substitute for palm sugar if necessary but you will introduce a significant variation in taste if you use dark brown sugar. If that is all you have then mix 50/50 with the white granulated sugar at a push. 
You can also swap out the chicken with beef, pork, fish or seafood such as prawns. For fish and seafood, you should half cook the potatoes before adding the fish/seafood to avoid overcooking.
This page may contain links to affiliate partners. At no cost to you, we may receive a small commission should you purchase from our partner.
What is Thai Massaman Curry?
Thai massaman curry is an adaptation of Malaysian & Indian curries incorporating potatoes, cumin, and coriander prevalent in those cuisines.
The southern border of Thailand (formerly Siam) with Malaysia has changed hands a few times. The northern Malay states were under Siamese control, then Malay control (under British rule) and given back to Siam under the Anglo – Siamese Treaty of 1909.
It is still an area of conflict today but so far as Thai massaman curry is concerned, we can confidently say the current recipe style originated with the peoples in that area. Hence the connection of the dish with Malaysia.
Naturally, the original dish has been adapted and changed to make it into the Thai dish that is enjoyed across Thailand, though more so in the Central and Southern regions.
You can cook this easy Thai chicken massaman recipe in less than 30 minutes.
It is a recipe enjoyed throughout Thailand today and is a wonderful and filling curry thanks to the blend of Indian, Malay and Thai spices and hearty potatoes.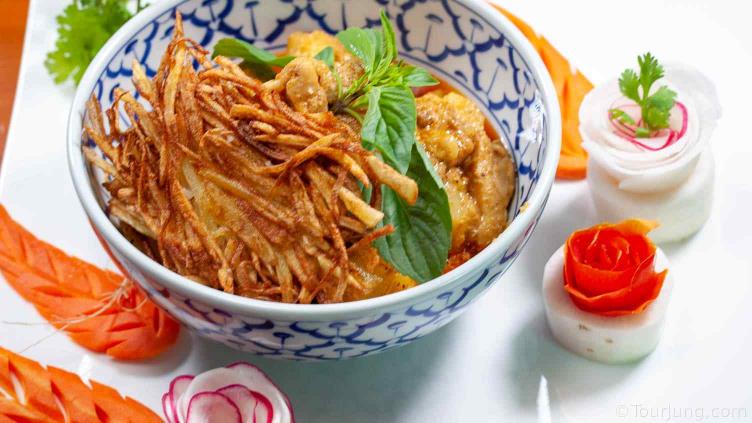 Thai Massaman Curry Paste
Most Thais will buy massaman curry paste from the local market where vendors make up a wide range of pastes for use in cooking.
Massaman paste shares many ingredients with red curry paste. Although you can make up massaman curry paste yourself, it is more convenient to buy and adapt a base paste if you cannot source a freshly made paste locally.
If you are reading this outside of Thailand then you will either have to buy a lot of spice ingredients to make your own or buy a mass-produced paste.
The best of these is Maesri Thai Massaman Curry Paste but it is still worth adding a few freshly ground spices to bring the tastes to life. If you cannot get hold of Maesri brand paste then Mae Ploy brand is the next best.
You'll love the taste improvement you can achieve by simply adding a couple of ingredients we can turn the shop-bought paste into something much more aromatic
How to Make One Pot Authentic Thai Massaman Chicken
Step 1 Prepare the Potatoes
Peel and cut the potatoes into bite-sized chunks and place them in water to stop them from going brown.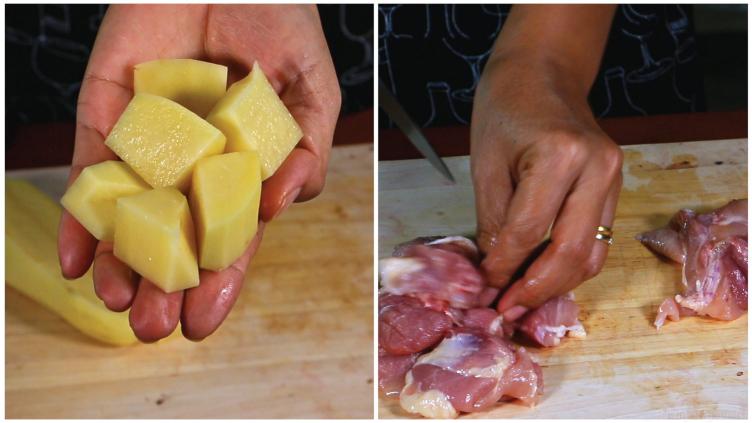 Step 2 Prepare the Chicken
Remove the bones and cut the chicken into small bite-sized chunks too. You can remove the skin if you prefer. Give it a rinse and dry it with paper towels.
If you prefer you can use sliced chicken instead of chicken pieces – it is just a matter of preference.
Step 3 Improve Shop-Bought Massaman Curry Paste
To improve shop-bought massaman paste, toast the cumin and coriander seeds and then grind up with a mortar and pestle for aroma.
Mix together the shop-bought massaman paste with the toasted spice powder.
Step 4 Prepare the Curry Soup for Cooking
Pour some of the coconut milk into your cooking pan and bring to the boil. Mix in the massaman paste from Step 3 and bring back to a fast simmer and stir to incorporate.
Note that we are using no vegetable oil but rather the vegetable fat contained in coconut milk.
Reduce the heat to medium / low and simmer, stirring occasionally until you see the oil begin to separate in the mix.
Step 5 Completing the Massaman Curry Soup for Cooking the Chicken
Add the remainder of the coconut milk and stir, add in most of the palm sugar, tamarind paste, bay leaves & cardamon pods.
Add in some of the fish sauce to improve umami flavor but add gradually so as not to make the dish over salty.
Step 6 Tasting for Balance
Taste the massaman curry soup and adjust the sugar and fish sauce to get a good balance between sweet, salty and sour. The sour is from the tamarind and the salt from the fish sauce.
The sweet obviously from the sugar!
Step 7 Cooking the Curry
Add chicken pieces or sliced chicken with the potato pieces into the sauce and add the heat to high.
Simmer together with the lid on until the potatoes and meat are cooked. The cooking time should be about 15 to 30 minutes, depending on how fast you simmer and the size of the chicken pieces.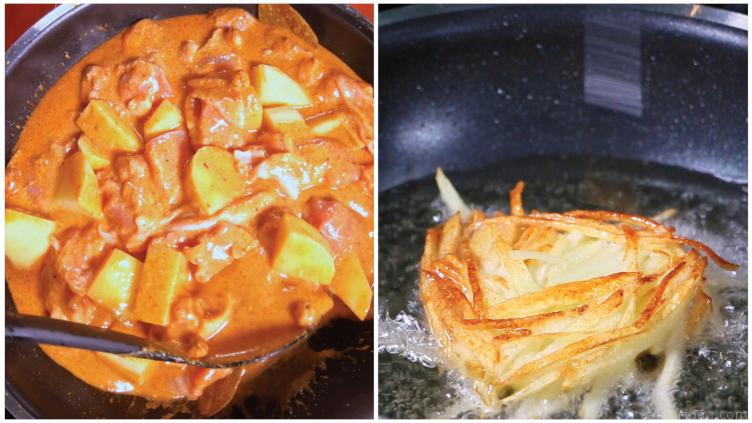 Bonus Making a Potato Nests
If you want to serve with a yummy potato nest, julienne potato and place into a shaped container as you can see in the video above.
Dab off any dampness with paper towels. Heat oil until very hot and fry until golden brown by sliding the container into the pan slowly and with great care not to splash the oil.
Fry for a few minutes until golden brown and then flip over to fry the other side. Serve your massaman curry topped with your potato nest and with a portion of freshly steamed jasmine rice.
The easiest way to cook jasmine rice is in a rice cooker.
Thai Chicken Massaman Curry Recipe
Authentic Thai Massaman Chicken Curry Recipe
The Video showing this recipe being cooked is near the top of the page – A convenient Jump Link to the video is below the description under here.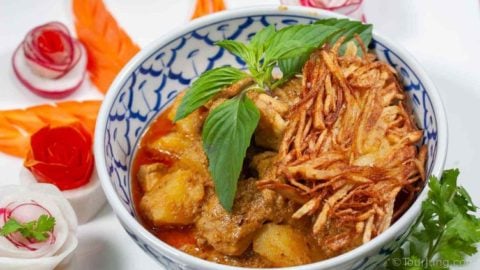 A quick and easy but still authentic Thai chicken massaman that you can knock up for dinner in about 30 minutes – about as long as it takes to cook the jasmine rice!
NOTE: Any In-recipe images can be toggled on and off with the camera icons next to the Instructions header.
Ingredients  
Massaman Paste with Extra Spices
Instructions 
Improved Massaman Paste
Heat a skillet and add the coriander and cumin seeds. Toast in the dry pan until the seeds just start to jump.

Tip the seeds out into a mortar and grind with a pestle until you have a mixed spice powder neither coarse nor fine.

Add in the shop-bought massaman paste and stir together with the pestle until thoroughly mixed together. Voila – a quick and much improved massaman paste
Preparing the Chicken & Potatoes
Remove the skin if you prefer, and cut around the chicken thighs with a sharp knife to remove the bone.

Chop the chicken meat into bite sized pieces. If you cut into thinner slices then the chicken will cook much quicker than if cut into thicker pieces. Thin pieces also taste better because there is more surface area to absorb the massaman sauce!

Peel the potatoes and chop into bite sized pieces about an inch thick and set aside in a bowl of water.
Cooking the Massaman Curry
Add half the coconut milk into the pan you toasted the spice seeds in and bring to a boil, immediately reducing the heat medium high for a fast simmer.

Add the massaman paste and stir thoroughly to incorporate through the coconut milk and continue cookign for a minute or two until you see the oil from the massaman paste start to separate from the milk.

Add the remainder of the coconut milk and stir.

Add the palm sugar and cardomon pods and tamarind paste and about half the fish sauce and stir to dissolve the sugar and mix in the ingredients.Then add the bay leaves and taste. Adjust the sugar and fish sauce to get your desired taste.

Add in the chicken and the potato pieces and stir in. Cover the pan and cook for about 15-20 minutes until the chicken is cooked through and the potatoes give minimal resistance to being prodded witha fork.
Optional Potato Nests
Fried potato nests are a nice addition to this dish. Simply shred potato, arrange and fry in hot oil until golden brown.
Notes
Some Thai people prefer to eat the dish minus the potato, eating extra rice instead. Omitting the potato from this massaman curry recipe does not affect the overall flavor.
You can swap out the chicken for pork, beef or shrimp but if using seafood and potatoes then cook the potoates for about 15 minutes before adding in the shrimp as it needs little time to cook through.
Nutrition
Calories:
906
kcal
Carbohydrates:
44
g
Protein:
46
g
Fat:
63
g
Saturated Fat:
32
g
Cholesterol:
222
mg
Sodium:
934
mg
Potassium:
1726
mg
Fiber:
7
g
Sugar:
10
g
Vitamin A:
1653
IU
Vitamin C:
28
mg
Calcium:
129
mg
Iron:
13
mg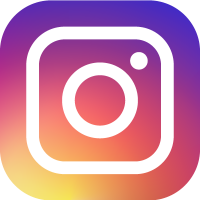 Planning on Making this Recipe?
It would be great if you could take a picture of your finished creation and share it out on Instagram. Tag me with #TASTYTHAIEATS – I love to see your ideas!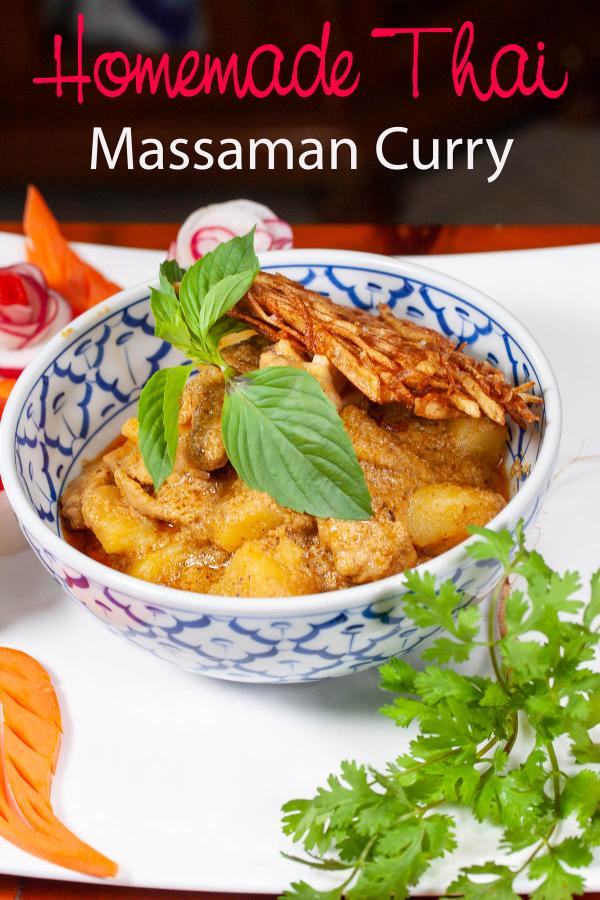 FAQ
Does massaman curry have fish sauce?
Thai massaman curry has fish sauce to provide some umami flavor as well as salt seasoning to the dish. Regional variations may use alternatives or just plain salt instead (which does not add umami flavor).
Where does massaman curry come from?
Massaman curry is a blend of Indian and Malaysian cusines which have been further refined in Thai cuisine for Thai massaman. Different regions will have slightly different ingredients as will different chefs.
Is massman curry paste hot?
Massaman curry paste is a variation of red curry paste and can be hot or less hot depending on the quantity and type of chili and other spices used. The heat level varies widely between home made recipes sold locally.
Is massaman curry red curry?
No, but it is a curry that shares many ingredients with red curry. Massaman curry typically contains cardamon and cumin spices more common in Indian cooking as well as potato, bay leaves and more coconut milk than most varieties of red curry.
I really hope you enjoy this dish and if you cook it I would love to hear your comments below so please come back and let me know how it turned out for you.
I am a Thai mum and love cooking for my children. Over the years, I have taken my family recipes as well as ones borrowed from friends and adapted them to make them even tastier. I publish my authentic Thai Food Recipes here for all to enjoy around the world. When I get a chance to travel I publish information to help others visiting Thailand.