This Thai coconut chicken curry recipe with pumpkin can be made in a total time of 25 minutes start to finish. With Thai red curry paste providing the spice and coconut milk to balance you can easily make adjustments for it to be as spicy or mild as you like.
Short Video Showing How to Make this Thai Coconut Chicken Curry Recipe
Link to video in case it does not load properly in your browser.
This coconut curry is really filling too since the pumpkin provides plenty of body to the curry and fills up those tummies so it makes a great recipe for the family for lunch or dinner.
We kept this recipe simple so that you won't need too many ingredients from your pantry to make it up. It's pretty adaptable too, once you have the basic curry under control.
It's really filling too since the pumpkin provides plenty of body to the curry and fills up those tummies. We have a pumpkin soup recipe too you might like.
Links disclosure: Some links on this page go to affiliate partners where, without cost to you, we may receive a commission if you make a purchase.
Ingredients You Will Need – You Have Some Flexibility
Chicken meat
Pumpkin
Coconut Cream and/or Coconut Milk
Red Curry Paste
Kaffir Lime Leaves (not exactly essential)
Sweet Basil (pretty much essential)
Palm Sugar or Brown Sugar or both
Fish Sauce
Seasoning Powder
You should make a few choices ahead of time such as whether to use chicken thighs which have a bit more taste, or chicken breast which needs no boning.
Should I leave the Chicken Bones and Skin On?
You'll see in the video we made this curry chicken recipe using chicken thighs with the bone left in because this is the authentic way the dish is made locally in Thailand.
To be honest, leaving the bone in does not add much beyond tradition and you can get small shards of bone left when it's chopped. Most non-Thais will take the bones out.
So you have the choice of chopped up bone in thighs with teh skin on, boned chicken thighs with the skin on or off or boneless skinless chicken breasts. Either way chop the chicken into bite sized pieces.
Then there is the chicken skin. Again it is usual for local Thai cooks to leave the skin in but I know many people prefer to remove it because it becomes a bit chewy when cooked in a curry. Not the same at all as the crispy, yummy skin that you get from air fried chicken or when it is fried in the pan.
How to Adjust the Spiciness of the Coconut Chicken Curry
Bear in mind that the spiciness comes from the red curry paste and every brand varies in how hot their pastes are. Even homemade pastes vary widely in chili heat level.
So use a little less red curry paste than you think to start with and add more in at the tasting stage if necessary. It's very hard to reduce chili heat once you have added it in.
Can I use Coconut Cream for Thai Red Curry?
Coconut cream is to coconut milk as top of the milk is to the milk underneath.
Coconut cream contains more vegetable fat compared to an equal quantity of coconut milk and so your curry will taste a little creamier if you use coconut cream rather than coconut milk.
You will see that this curry is made with coconut milk diluted with water as well as coconut cream. You could equally use all coconut milk or more water to adjust how creamy you want the finished curry.
Coconut milk tones down the spiciness in coconut curry, perhaps the reason coconut chicken curry is a favorite menu choice.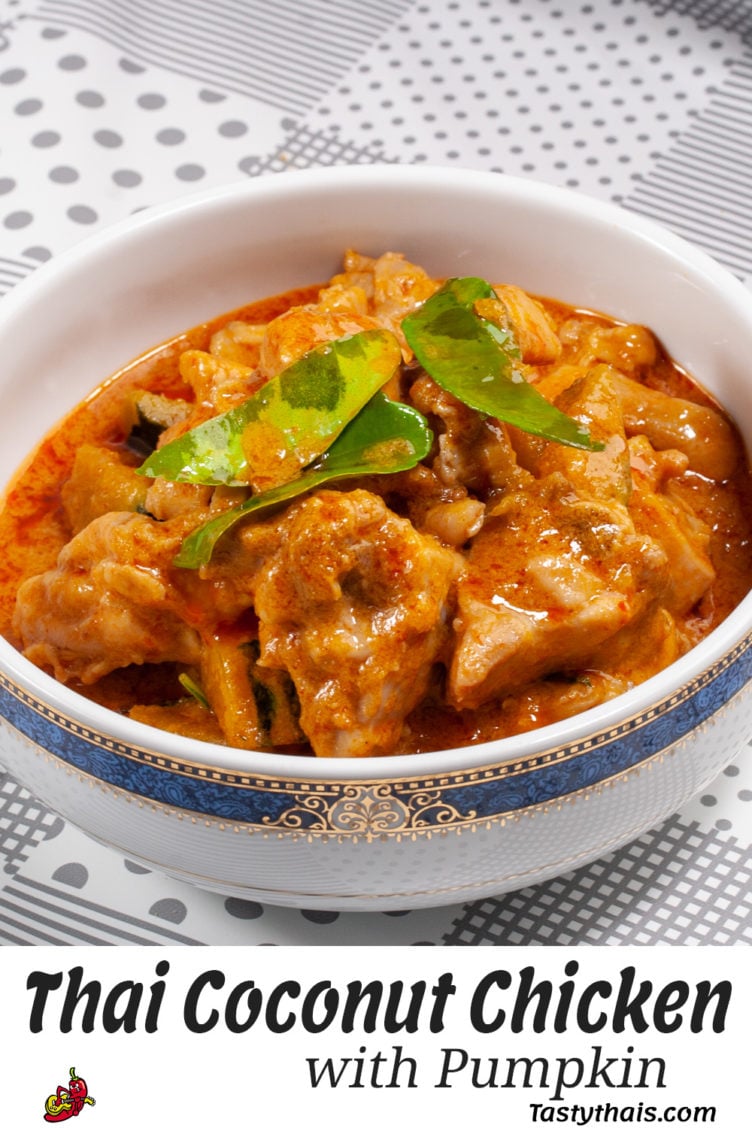 What Does Fish Sauce Add to the Curry?
You don't want to skip the fish sauce as it adds the salt and umami taste to Thai food a bit like western food is often seasoned with salt and pepper. But if you really do not have any to hand then you can use soy sauce with a little added salt.
You will get a slightly different savory flavoring ,and need to carefully check by tasting to get it right.
What Does the Pumpkin Add?
Pumpkin is an inexpensive vegetable when it's in season and adds plenty of bulk to the soup making it a lot more filling.
Not only that but it packs plenty of vitamins, especially vitamin A as well as antioxidants to boost immunity. If you want to check out the benefits of pumpkin then check out this Healhtline article.
How to Make Thai Coconut Chicken Curry Recipe with Pumpkin Step By Step
Please make minor adjustment to the recipe steps below depending on your preferences for bones, skin and spice as discussed above.
Step 1 Prepare the Pumpkin & Chicken
In Thailand we do not peel all the skin off the pumpkin but leave a little on for some extra bite. That is a choice for you so peel off the skin of the pumpkin as we show in the video at the top of the page or peel it all off if you prefer.
Remove the pithy part along with the seeds and chop into bite sized chunks.
Decide on how you want to handle the chicken either bone in or out, skin on or skinless and chop into bite sized pieces too.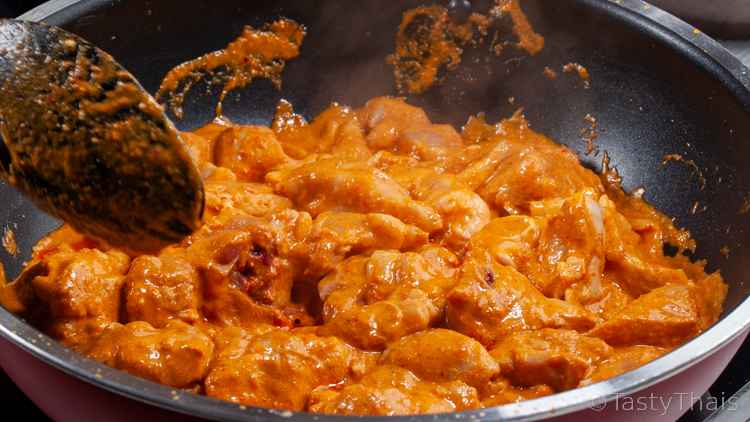 Step 2 Make the Thai Red Curry
Add coconut cream (or equivalent quantity of coconut milk if using all coconut milk) to a large pan and heat under medium heat. As soon as the coconut cream starts to bubble, add in the red curry paste (using a little less than the full quantity to start with).
Mix the curry paste into the coconut to make a red coconut curry sauce stirring to remove all the lumps – takes about 2 minutes.
Add in the chopped chicken and cook for about 6 minutes before adding in the chopped pumpkin. If the sauce starts to look a little thick just add a few tablespoons from your coconut milk to dilute and continue to cook.
Mix the pumpkin together with the chicken to coat well with the coconut red curry sauce and then add in the fish sauce and diluted coconut milk (or neat coconut milk if not using coconut cream).
Stir it all up and cook for another 8 minutes, Then check the pumpkin is about cooked and if not cook for a little longer. The pumpkin should gently give resisting a little when being poked with a fork similar to a cooked boiled potato.
When you are happy with the pumpkin add in the seasoning powder, palm sugar, and brown sugar (or just brown sugar if you don't have palm sugar). Stir it all around and taste test adding in more sugar or fish sauce or both to get the taste just right. Adjust to the thickness you like by adding water to thin if you prefer a slightly soupier curry.
Once you have the taste right add in the kaffir lime leaves if you have them and the basil which you really can't miss out.
Stir around for another minute to wilt the basil.
Serve with freshly steamed jasmine rice. Check out our post on steaming rice if you need a hand with that.
If you like fruity curries then try out our recipe for Duck Red Curry becasue it's awesome!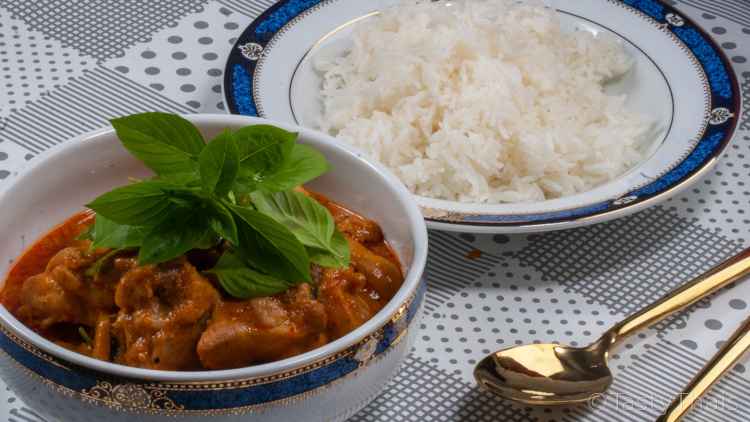 Simple Thai Coconut Chicken Curry Recipe with Pumpkin
Simple Thai Coconut Chicken Curry Recipe with Pumpkin
The Video showing this recipe being cooked is near the top of the page – A convenient Jump Link to the video is below the description under here.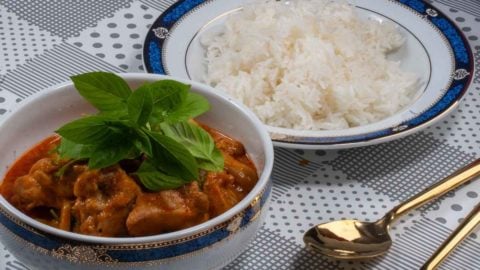 This is a simple Thai red curry made with red curry paste, coconut milk, chicken and pumpkin. You can make it start to finish in 25 minutes and it is really inexpensive as well as super tasty.
NOTE: Any In-recipe images can be toggled on and off with the camera icons next to the Instructions header.
Instructions 
Instruction
Peel pumpkin skin (you can leave a little on for extra bite) and cut into bite sized pieces.

Chop chicken into bite sized pieces with bone or remove the bone and chop the meat. You can leave teh skin on or take it off as you please

Add coconut cream in the pan on low to medium heat until coconut oil separates a bit and then add the red curry paste, Stir under heat until the curry sauce is fragrant and smooth.

Turn the heat to high, add chicken and continue cooking for 6 mins. With the chicken part cooked add pumpkin and stir to coat with the curry sauce. When it begins to boil add the seasoning powder with the fish sauce. Continue stir fry until fragrant.

Add coconut milk mixed with water, reducing the heat to a simmer as soon as the curry boils. After 8 mins taste pumpkin if cooked then season with seasoning powder, palm sugar and brown sugar.

Have another test and if happy with the taste add kaffir lime leaves, and sweet basil. Served with steamed Jasmine rice.
Nutrition
Calories:
917
kcal
Carbohydrates:
33
g
Protein:
43
g
Fat:
71
g
Saturated Fat:
39
g
Cholesterol:
221
mg
Sodium:
1276
mg
Potassium:
1605
mg
Fiber:
2
g
Sugar:
18
g
Vitamin A:
21899
IU
Vitamin C:
23
mg
Calcium:
120
mg
Iron:
9
mg
Planning on Making this Recipe?
It would be great if you could take a picture of your finished creation and share it out on Instagram. Tag me with #TASTYTHAIEATS – I love to see your ideas!
I am a Thai mum and love cooking for my children. Over the years, I have taken my family recipes as well as ones borrowed from friends and adapted them to make them even tastier. I publish my authentic Thai Food Recipes here for all to enjoy around the world. When I get a chance to travel I publish information to help others visiting Thailand.