Thai people do have a sweet tooth to balance our love for spicy and strong tasting food, and so it is no surprise that many Thai desserts are quite sweet just like this dessert made with pumpkin in coconut milk which is known as Kaeng Buat Fak Tong in Thai.
We also like to use ingredients that are commonplace, mostly because they are cheaper and the fun is all in making cheaper ingredients taste amazing. You also might like to take a look at the most famous Thai dessert – Mango with Sticky Rice some time!
Video on How to Make This Thai Sweet Dessert
Pumpkin in Coconut Milk Sweet Thai Dessert - Kaeng Buat Fak Tong - Easy & Quick Recipe
If the Pumpkin in Coconut Milk video isn't loading, you can watch it by clicking this
Links Disclosure: Some links on this page go to affiliate partners where, without cost to you, we may receive a commission if you make a purchase.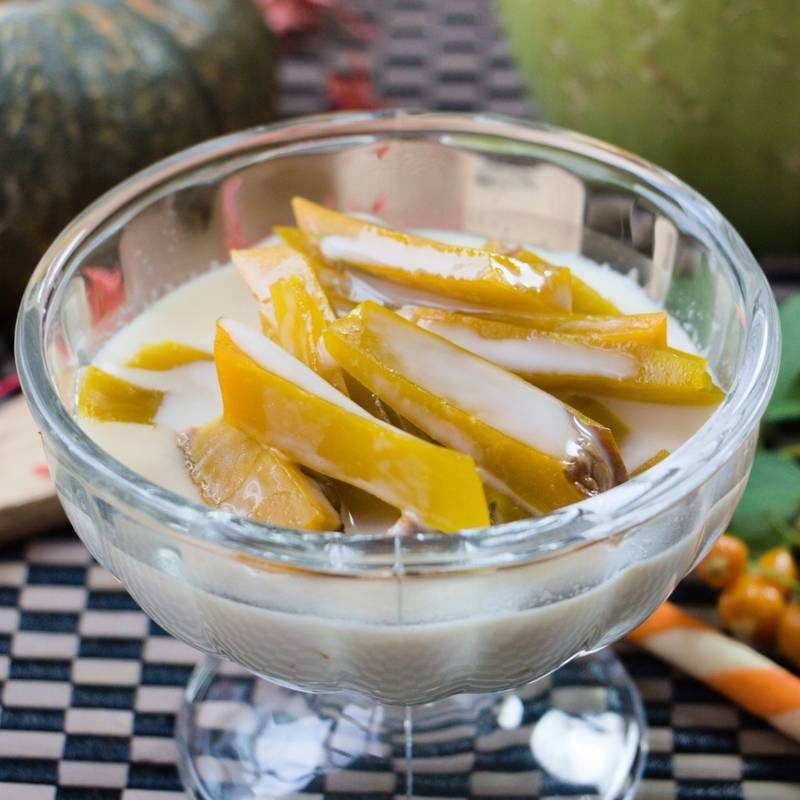 Ingredients for Making Thai Sweet Dessert Pumpkin in Coconut Milk
Water
Red Lime Paste
Pumpkin
Coconut Milk
Coconut Sugar or Brown Sugar
Why You Want to Make This Thai Sweet Dessert
Easy and Quick to make, as always
Delicious, especially for people who love pumpkin
Very few ingredients required
Thai folk also associate sweet desserts with richness and wealth and they are a popular draw in the markets, and not just for the children.
Pumpkins are actually a fruit but more often referred to as a vegetable and quite a cheap one at that. I think they are very under-rated and less used than they deserve because they are rich in potassium which helps the heart, have some vitamin C which helps boost the immune system and is quite fibrous which is good for your intestines and bowels.
The type of pumpkin most commonly encountered in Thailand is the thick, rough-skinned sort which you can find in every local market and sell, cut to recipe sized portions. They have greenish-grey outer skin and orange-tinted flesh and of course seeds.
Pumpkin flesh is, most-often, partially cut off and the seeds and softest flesh near the seeds is cut away. The idea is to have firm fruit (or vegetable if you prefer) to eat in preference to a mushy consistency like overcooked vegetables.
Red Lime Paste is a chalky paste made from baked ground shells that are mixed with water to make slaked lime which is used to harden the outer surface of the sliced up pumpkin slightly to give it a pleasing texture with a bit of bite. It is an edible paste that you can buy online.
Once the pumpkin is ready it is cooked briefly in coconut milk with added sugar which provides sweetness as well as taste and coordinates wonderfully with the pumpkin for a cheap and unusual dessert – unless you are Thai in which case it won't be unusual at all!!
I like to leave a little of the outside skin on the pumpkin for texture – it is perfectly edible is fiber-rich – as you can see in my video above. It also adds some depth and color to your presentation at the table.
The result will be a light and a tasty sweet dessert with a little richness from the coconut milk and pleasing to the eye from the orange pumpkin, fragments of green-grey skin and milky coconut milk.
If you are going to make this dessert then you should stick to the type of pumpkin shown as it does not substitute so well with other squashes that have thinner, smoother skins like butternut or regular squash.
Pumpkins are not just for Halloween!
Recipe for Pumpkin in Coconut Milk
Pumpkin In Creamy Coconut Milk
The Video showing this recipe being cooked is near the top of the page – A convenient Jump Link to the video is below the description under here.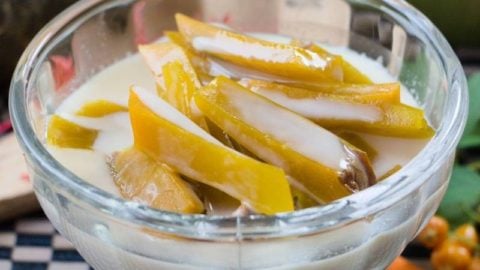 A sweet, colorful and deliciously easy authentic Thai dessert that will amaze you with it's simplicity and taste.
This creamy dessert is not too heavy to finish off a meal and is inexpensive to make as well as quick.
The Red Lime Paste can be bought online or if you are lucky at your local Asian store.
NOTE: Any In-recipe images can be toggled on and off with the camera icons next to the Instructions header.
Instructions 
Stir red lime paste in water, mix leave it to settle out.

Cut away most of the skin, remove seeds, and cut middle soft flesh near the seeds away.

Slice pumpkin into 1 cm fingers and then rinse off.

When the red lime paste has settled out, add to just cover the pumpkin and leave for 40 mins or 1 hr depending on how crunchy you like the texture of the pumpkin.

Heat coconut milk and mix in the coconut sugar (or brown sugar) until it just starts to boil and then reduce heat. Leave it to simmer a bit to let the sugar completely dissolve into the coconut milk.

Add the pumpkin fingers and stir and then cover with a lid for 5 mins without changing the heat. The cover will increase the temperature and the coconut milk will start to bubble. At that point take the lid off and simmer for 10-15 mins, stirring occasionally,

Taste test and add in as much of the set aside 1/2 cup of coconut milk to make it more creamy to your liking and serve.
Nutrition
Calories:
424
kcal
Carbohydrates:
11
g
Protein:
5
g
Fat:
44
g
Saturated Fat:
39
g
Sodium:
44
mg
Potassium:
733
mg
Fiber:
1
g
Sugar:
2
g
Vitamin A:
7095
IU
Vitamin C:
9.6
mg
Calcium:
64
mg
Iron:
7.4
mg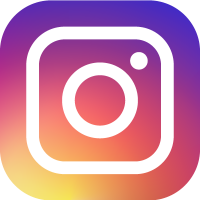 Planning on Making this Recipe?
It would be great if you could take a picture of your finished creation and share it out on Instagram. Tag me with #TASTYTHAIEATS – I love to see your ideas!
I really hope you enjoy this dish and if you cook it I would love to hear your comments below so please come back and let me know how it turned out for you.
I am a Thai mum and love cooking for my children. Over the years, I have taken my family recipes as well as ones borrowed from friends and adapted them to make them even tastier. I publish my authentic Thai Food Recipes here for all to enjoy around the world. When I get a chance to travel I publish information to help others visiting Thailand.