This authentic Khao Soi Recipe makes a fantastic and individual style of curry from Northern Thailand and one of our favorite Thai curries because it is full of flavor, each mouthful different from the last.
It's a great dish to cook at home because it is unusual and exciting to look at and each mouthful seems unique. You are what you eat, so when you cook at home you can choose the best ingredients for your meals unlike when you eat outside.
Video Showing How to Make Khao Soi Curry
Authentic Khao Soi Recipe - The Amazing Noodle Curry from Northern Thailand
Link to Making Khao Soi Video in case it does not load for you.
There are some really great Thai dishes like the fruity Duck Red Curry, soups like Tom Yum or Tom Kha, and great savory salads like Nam Tok Nua, but none quite as special as Khao Soi.
Links disclosure: Some links on this page go to affiliate partners where, without cost to you, we may receive a commission if you make a purchase.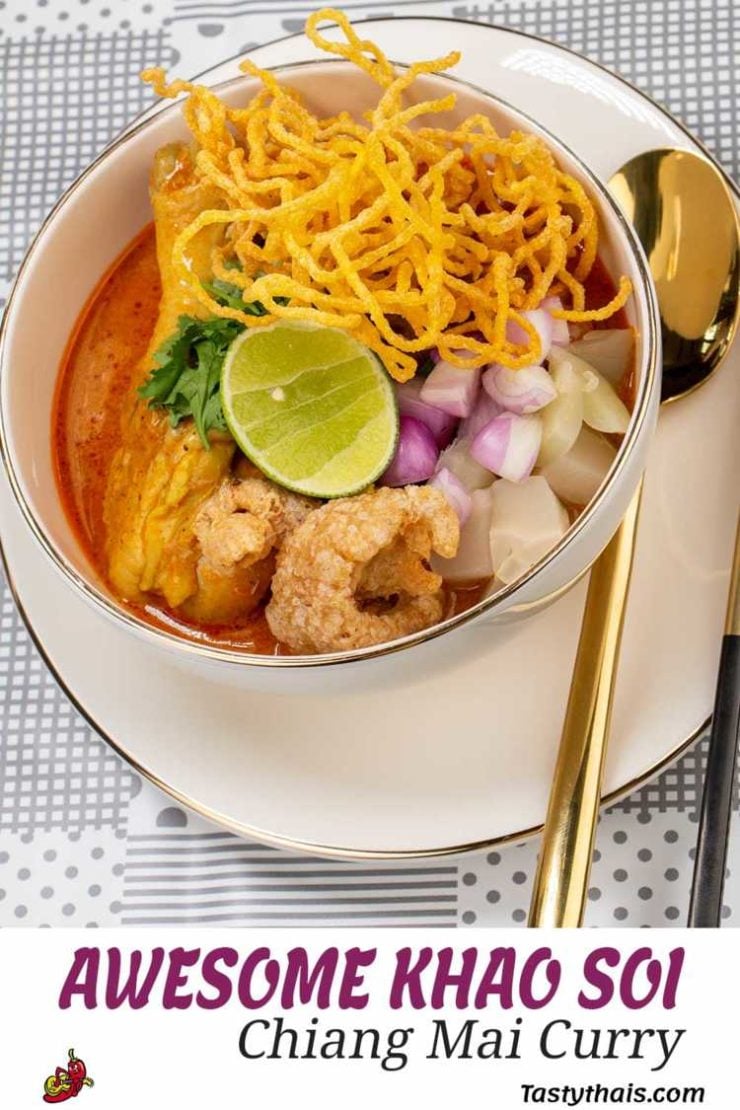 With the changing work demographics taking women out of the home and into long hours at work, home cooking has been in decline because we just don't have time anymore.
Eating out is expensive though so that's why mostly I cook at home. I love the taste and enjoy decorating the dishes to make them look super appetizing and taste really amazing.
Khao Soi really is a fantastic dish to cook. It's filling and incorporates so many tastes that all fit together wonderfully that it will handsomely reward the time it takes to make. So let's see what are the ingredients for Khao Soi and how to cook it.
Ingredients Needed for Khao Soi
Chicken Thigh with Drumstick
Red Curry Paste
Coconut Milk
Water
Turmeric
Coriander Root
Shallots
Garlic
Yellow Curry Powder
Garlic
Yellow Curry Powder
Masala Powder
Brown Sugar
Palm Sugar
Fish Sauce
Egg Noodles
Pickled Cabbage
Spring/Green Onions
Gluten Free Noodles
Excellent quality noodles made from rice flour and so gluten free. These noodles are great for soups, fried or stir-fried.
Khao Soi is a common curry noodle soup in Chaingmai, Thailand. The old name was Guay Tiaw Hor. It is a dish that shares some similarities to Noodles with Curry that is a common dish for Muslim people.
The curry noodle soup is slightly similar to Massaman curry as well but uses more coconut milk which makes it creamier. It is several levels more exciting to eat too – trust me!
Chicken is the meat used mostly for this dish but do feel free to experiment. I wonder what turkey would taste like. Hmmm……..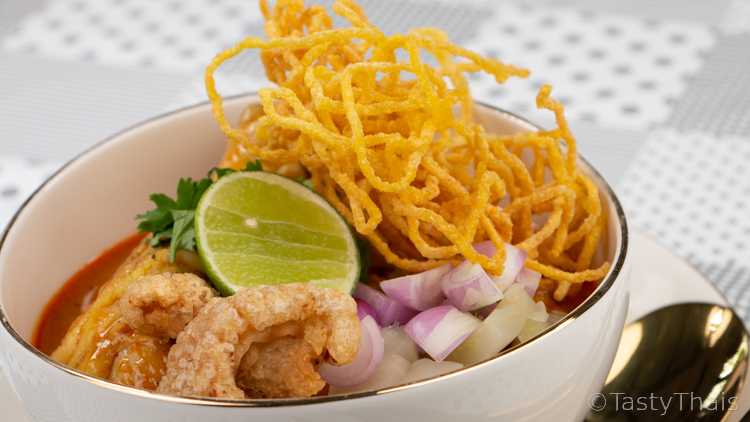 How to Make this Thai Coconut Curry Noodles Soup Step by Step
Step 1 – Prep Your Chicken
Chicken thigh is the preferred cut of chicken because it has more taste than chicken breast.
You can choose to leave the skin on, which is traditional, or remove it which many people prefer. Up to you!
Separate the leg portion from the body section then cut to expose the bone of the drumstick for quicker cooking and better absorption of the curry sauce it will cook in.
Remove the bone from the upper part, cutting the bone-free meat into bite-sized pieces.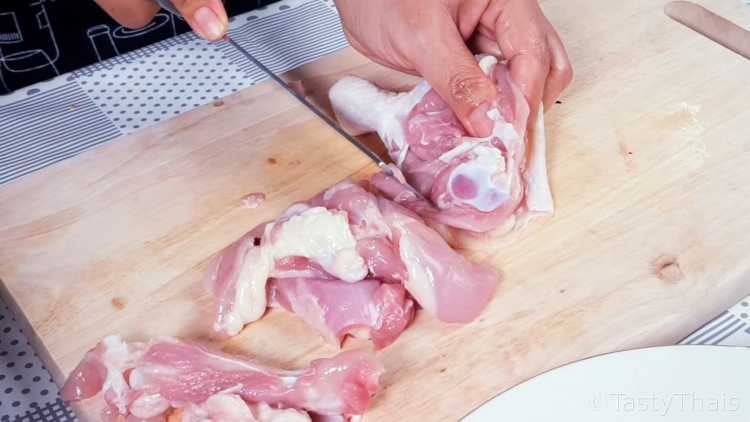 Step 2 – Prepare the Noodles
If you have bought fresh egg noodles or made your own egg noodles, then you need to press to help loosen the noodles and shake off any flour used to keep them separated.
You can also use dried noodles or ramen style noodles for the dish but the taste will be a tiny bit different but not dish destroyingly so.
If using fresh noodles then immerse them in boiling water for a couple of minutes to cook – they cook quickly. If using dried noodles then follow the package directions.
We will also be frying a portion of noodles but this is done right before serving to make them as crisp as possible – so not yet please!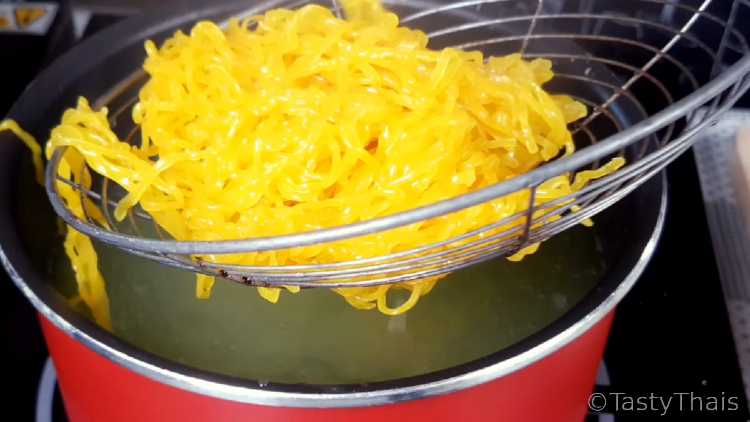 Step 3 – Making The Curry Soup Base
Add the coconut milk and sliced turmeric which is a healthy spice and gives a nice yellow color to the curry.
Mix together, stirring constantly, and then add the yellow curry powder (usually labeled simply curry powder), and the red curry paste and mix together well to form a thick sauce.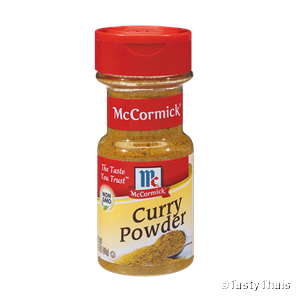 McCormick Curry Powder
Thais use basic curry powder as a secondary seasoning - use the right type though.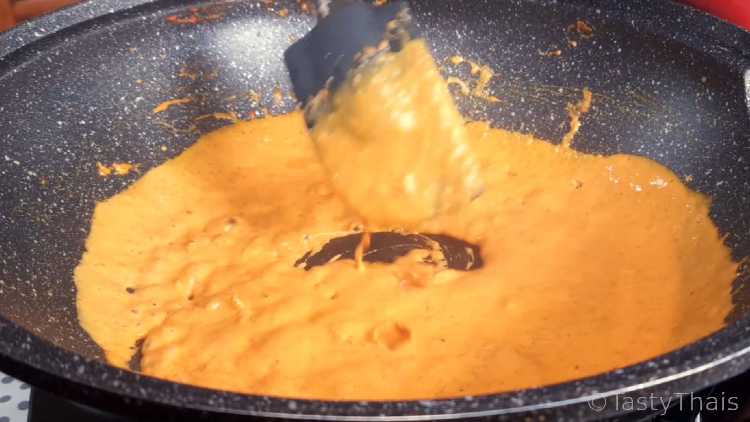 Step 4 – Cooking the Chicken
Add in the chicken pices and drumstick and stir to cover with the sauce well. Sprinkle over the masala and continue to stir.
Add in more of the coconut milk mixed with water and stir to mix into a smooth thin soup-like curry.
Cut the roots off the cilantro/coriander, squash/crush the garlic and shallots to bruise and break open. I usually use a mortar and pestle but you can smash with the heel of your fist or press hard with the back of a large knife.
Add these to the curry soup and chicken along with the seasonings of palm sugar, brown sugar (I use both because they each add a little to the taste) and fish sauce.
Superior Pure Palm Sugar
Palm sugar gives better flavor than cane or refined sugars - best for Thai dishes.
Bear in mind that fish sauce is the salt ingredient for the dish. It will lose it's smell and add an amazing taste as it cooks.
It is best to err on the side of caution and use a little less fish sauce at this stage, as the curry will get a little saltier as it cooks and the curry soup becomes reduced and thickens.
Taste to ensure you have the right salt, sweet balance, and then cover the pan, reducing the heat to a simmer for about 20-25 minutes.
Khao Soi paste smells so yummy. Really, it's making my tummy rumble now and I always feel so excited to taste it when it's done.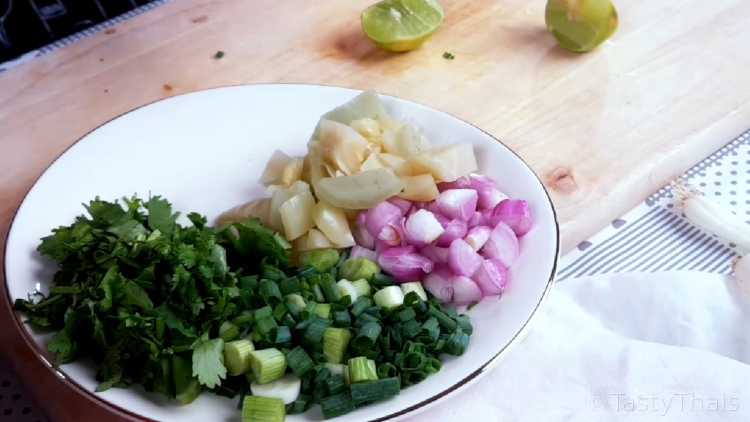 Step 5 – Getting the Sides Ready
Khao Soi is served with a lot of side dishes. All these bits and pieces add to the complex flavors that are presented so the diner can make each mouth eaten different from the last.
In one mouthful you might have the creamy curry, piece of chicken and the onion flavour of a shallot, in the next a different flavor swapping the onion for the onion greens, in the next some crispy noodles, in the next the curry with a little added sourness from the pickled cabbage.
You get my drift.
This is what makes this such a unique and wonderful curry to eat – the diner becomes his own master chef of different tastes!!
So shop the onion greens into small pieces, chop the coriander/cilantro leaves up, cut the remaining shallots into small quarters.
Chop up the pickled cabbage (boil it before use for a few minutes, rinse and drain), chop some lime wedges for squeezing out the lime juice as you eat.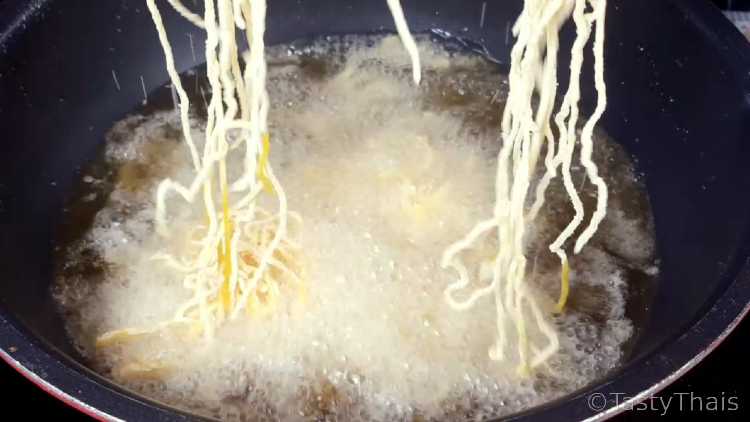 Step 6 – Crispy Stuff
Adding another layer of depth to the dish is the crispy textures.
Heat oil in a pan until hot and then flash fry the crispy pork until super crispy. Follow that with flash frying the noodles. These will be added on top of the curry noodle soup when you serve it.
Set aside.
For the egg noodles in the soup – the soft egg noodles – there are a few tips in the video so I won't repeat them here!
Foldable Silicone Colanders
Handy space saving medium sized strainers or collanders for straining noodles & veg.
Step 7 – Finish and Serve
By now your chicken curry should be cooked and it's time to serve individually.
Add some of the soft noodles to your serving bowl and spoon over the curry with a drumstick and the pieces of chicken.
Sprinkle over some of the spring/green onion, some chopped coriander/cilantro, some of the cut shallot pieces, some pickled cabbage, a few crispy pork scratchings, a few crispy fried egg noodles, and a lime segment.
For decoration, we use some side dishes or condiments. So, prepare diced shallots, sliced pickles (Chinese mustard), spring onions, coriander, lime wedges, and some pounded fried chili too.
I love Thai food because it always has herbs and vegetables added to the dish that makes the taste even yummier!!
Now I'm so excited guys. My Khao Soi came out perfect. The chicken thighs were cooked beautifully, infused with the curry paste taste complimenting the creamy and delicious soup perfectly.
I have to go because my tummy is rumbling as I type this and see the pictures again. Please try it – if you like curry you'll surely love it!!
So see you in the next recipe I promise I will make more yummy Thai food for you guys.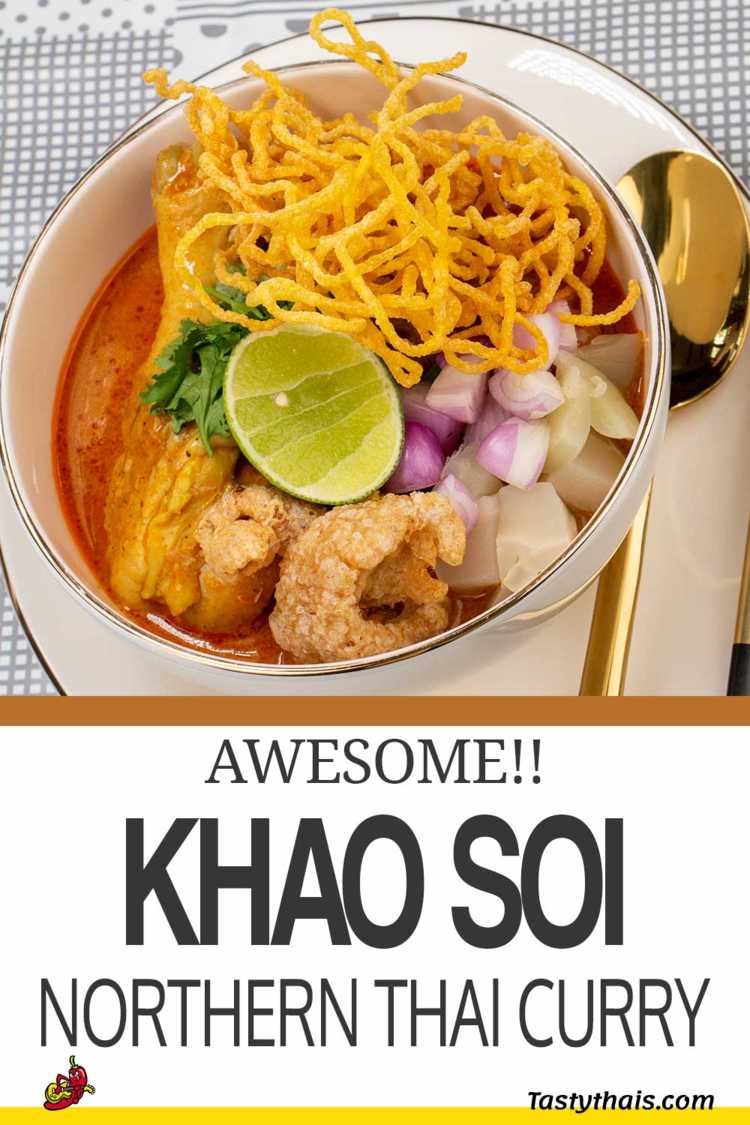 The Amazing Khao Soi Recipe – Thai Noodle Curry
The Great Khao Soi Northern Thai Curry
The Video showing this recipe being cooked is near the top of the page – A convenient Jump Link to the video is below the description under here.
This is an amazing Northern Thailand dish especially from Chiang Mai.  The general style is rice noodles with yellow curry soup. Can be made with several types of meat but most commonly chicken thigh.
Garnished with crispy noodles, shallots, pickles and other side dishes.
NOTE: Any In-recipe images can be toggled on and off with the camera icons next to the Instructions header.
Ingredients  
Ingredients
2

Chicken Thigh & Drum Stick

whole thigh pieces separated

1 ½

tbsp

Red Curry Paste

1

cup

Coconut Milk

for stir fry with red curry paste

2

cup

Coconut Milk Mixed Water

1

Finger

Turmeric

2

Coriander Root

2

Shallots

2

cloves

Garlic

1

tsp

Yellow Curry Powder

1

tsp

Masala Powder

1

tsp

Brown Sugar

2

tsp

Palm Sugar

1

tbsp

Fish Sauce

1

portion

Egg Noodle
Side Dish
1

cup

Pickled Cabbage

¼

cup

Diced Shallots

¼

cup

Chopped Coriander

Topping

¼

cup

Chopped Spring Onion

Fried Egg Noodles

Crispy Pork

1

slice

Lime
Instructions 
Instruction
Heat coconut milk to a simmer in a pan then slice turmeric directly into the hot coconut milk to color. Add red curry paste, curry powder, masala powder and mix well

In a separate pan add about a third of the coconut milk mixed with water.

Add chicken thigh then lower the heat, add palm sugar, salt then braise chicken thigh for about 40 mins (put the lid on).

While waiting for the chicken to cook, dice shallots, slice pickles then fry the dried chilli for a minute or two. Then transfer to the mortar and pound chilli up for serving. 

Carefully put the noodles in boiling water until cooked (about 4 minutes or so). Then drain the water out from the cooked noodles using a colander and drizzle garlic oil onto the noodles mixing well until garlic oil is well dispersed. 


Shake any loose flour off the second batch of noodles while you heat some oil (whichever is to hand) in the frying pan until hot. Fry the noodles on high heat in the already hot oil until crispy and then put on the side. 


When chicken thighs are cooked you are ready to serve.

Place a portion of boiled noodles (with garlic oil) into individual serving bowls, lay the chicken thigh on top to one side and ladle the soup on top of the noodles and chicken.


Decorate the dish with diced shallots, pickles, pounded fried chilli, chopped spring onions, coriander and crispy noodles. 

Nutrition
Calories:
1006
kcal
Carbohydrates:
115
g
Protein:
15
g
Fat:
61
g
Saturated Fat:
38
g
Sodium:
864
mg
Potassium:
1669
mg
Fiber:
18
g
Sugar:
9
g
Vitamin A:
815
IU
Vitamin C:
31.4
mg
Calcium:
299
mg
Iron:
13.9
mg
Other Recipes You Might Enjoy:
I am a Thai mum and love cooking for my children. Over the years, I have taken my family recipes as well as ones borrowed from friends and adapted them to make them even tastier. I publish my authentic Thai Food Recipes here for all to enjoy around the world. When I get a chance to travel I publish information to help others visiting Thailand.