This warm and easy, authentic Thai beef salad recipe is a popular Thai restaurant order but it's no trouble to make at home.
Video on How to Make Nam Tok Nua Thai Beef Salad
Easy & Authentic Thai Beef Salad Recipe or Nam Tok Nua (Quick & Unique Thai Salad)
Nam Tok Nua Recipe link to the video if it does not load for you.
You take a beef steak, marinate it, then cook it rare, slice it up and finish the whole dish off by coating the beef slices in a wonderfully delicious, juicy Thai beef salad dressing.
Alongside the fantastic Larb Gai or Issan Minced Chicken salad and Som Tam Thai, it is a great dish to eat with sticky rice.
The Americans have their Beef Jerky– and I sometimes get a craving for that – but it's a chewy snack more than a meal. This aromatic Asian Beef Salad is more substantial with several regional variations which also incorporate coriander, onion, cucumber, and mint; but Thai Nam Tok Nua is still my favorite. But then I am Thai so I'm biased I guess!!
If you like this recipe you might also like to try our Beef in Oyster Sauce recipe – another low spice but super tasty beef dish or perhaps our pomelo salad recipe (grapefuit salad) for a more fruity style Thai salad.
Ingredients You Need
Good Quality Beef Steak
Cooking Oil
Lime Juice
Palm Sugar
Oyster Sauce
Seasoning Sauce or Soy Sauce
Tomato Ketchup
Dried Chili
Roasted Rice
Fish Sauce
Spring Onions
Chinese Parsley
Red Onion
Mint, Basil, Cucumber for Garnish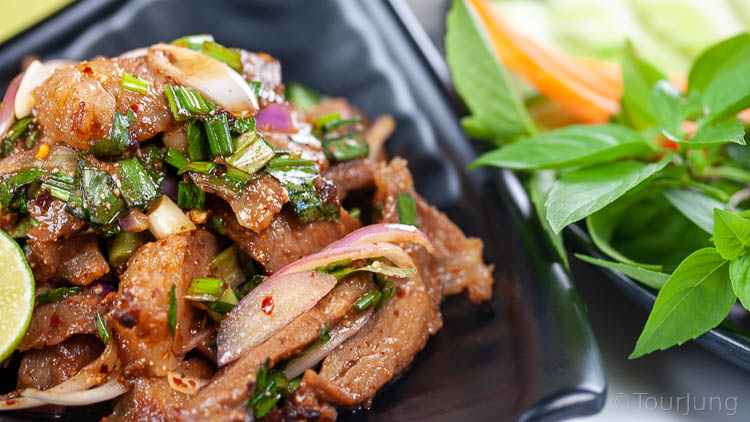 What is the Name for this Thai Beef Salad in Thai?
In Thailand. Thai Beef Salad is ordered by asking for Nam Tok Nua (neua), word for word meaning Waterfall Beef. It is called this because it is served in the juicy dressing which becomes an integral part of the dish with plenty of liquid sauce.
What Cut of Beef Should You Use and How to Cook it?
You can use any cut of beef that is commonly served as steak.
The cut is important though because even though the beef is cooked rare the more tender cuts of beef will be more satisfying and less chewy.
The fat on the beef provides a lot of the taste which is why Rib Eye is probably the best cut to use with Sirloin, Round or Rump next.
Fillet Steak is less good unless you demand super tender steak. The lower amounts of fat and finer meat fibers mean less taste and less absorption of the marinade.
Lower quality cuts are tougher and chewier – not really what you are looking for in a beef salad!
As for cooking, the beef should be cooked quite rare as a steak and then cut into thinner slices before warming and soaking in the beef salad dressing and all the yummy herbs and seasonings.
The first cooking of the steak can be done in several ways. You could BBQ, grill, or sauté the steak but I prefer to use an Air Fryer because it gives more consistent results and is healthier.
What is Thai Beef Salad Nam Tok Neua?
Authentic Nam Tok Neua, a particular Thai Beef Salad Recipe is markedly different from Western Style Salads. Nam Tok is made by marinating the meat, cooking it, slicing it and then finishing by warming up in it's dressing along with herbs and seasonings.
A western salad is usually a bunch of salad vegetables mixed together with some protein added in the form of meat, seafood or cheese and then coated with a separately prepared dressing.
So in Nam Tok Neua, the dressing is actually part of the cooking process rather than a dressing added afterward. This makes the dish somehow more together, more juicy, more delicious and unique from any Western Style salad.
The other defining factor is that Nam Tok is traditionally (and usually) eaten with sticky rice which soaks up the juices. Additional salad vegetables are served on the side to eat alongside it. This makes it more of a complete and filling meal than most salad green based salads.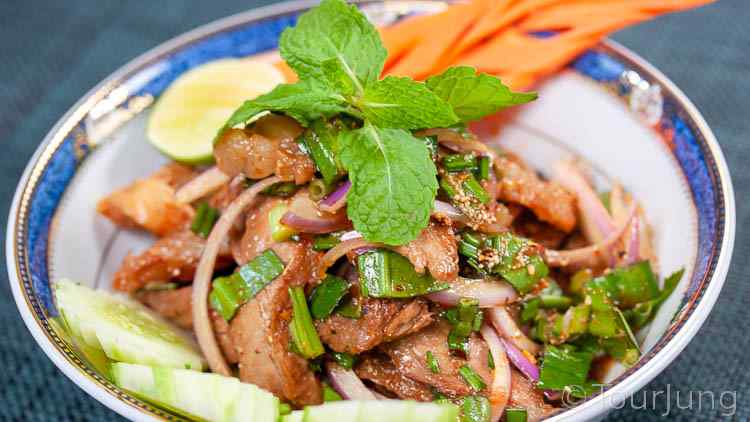 Making Nam Tok Neua Step by Step
If you are going to serve this dish with sticky rice then you should start soaking an hour before you start marinating the beef.
Making the Marinade & Preparing the Beef
Step 1 – Take the beef steaks and wash them first and then dab them dry with a kitchen paper towel. Put the steak along with all the marinade ingredients in a suitable bowl for marinating.
Mix together the ingredients with your fingers to get the marinade well into the beef, mixing the ingredients together and distributing the sugar as you squidge all the ingredients together. Bear in mind oyster sauce is quite strong so be careful with how much you add.
Cover and leave to stand for at least an hour in the refrigerator – longer if you want.
Part Cooking the Beef
Step 2 – Once the beef steaks are finished marinating, we need to cook them rare.
I prefer to use the air fryer for this but you could equally well use a skillet, a grill or barbecue. Whichever method you choose you will be cooking only as long as you need to get the steaks cooked rare – meaning pink inside.
We will cook a little more in the final step.
Once the steaks are nicely rare and still super juicy, take them out and cut them into slices and set aside.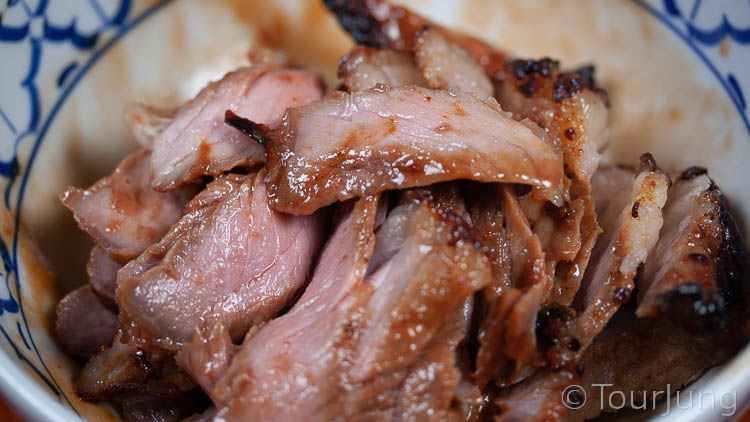 Making the Thai Beef Salad Dressing and Finishing Up
Step 3 – The finishing touches are oh so important.
This is where we max out the taste of our beef salad and top it off with fresh aromatic herbs, finalize the tasting and finish our awesome salad.
It's got to be easy though right?
The key to awesome taste is the stock. You can use water but beef, chicken or vegetable stock adds depth to the taste.
Add the stock, and fish sauce with the palm sugar and warm it to dissolve the sugar. A squeeze of lime for a little sour and a sprinkle of dried red chili flakes for a little spice – or more if you want.
When the liquid is quite warm, add in the beef slices and sprinkle with roasted rice, stirring to thoroughly coat and warm through the beef.
Finally, add the onions, parsley and spring onions and stir around for a few seconds before serving.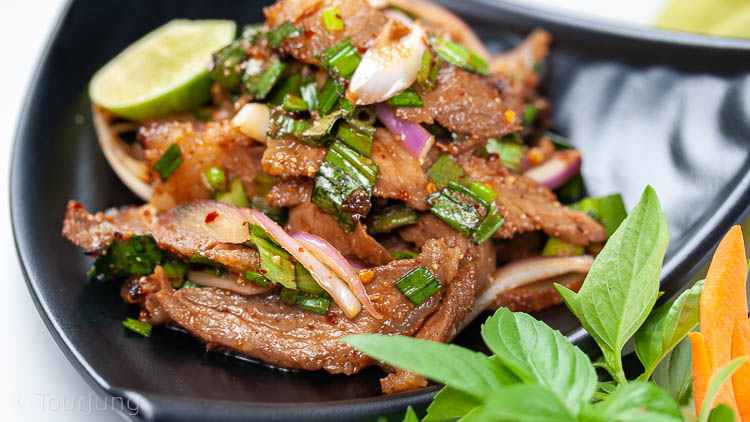 You can garnish with a little mint or coriander and provide some extra vegetables on the side such as sliced cucumber, pickles or lettuce.
But the best companion is some freshly steamed glutinous rice. In the video, I cook the sticky rice in the rice cooker with a steaming basket but you can also cook sticky rice in the microwave or in a bamboo steamer.
If you do not have a steaming basket with your rice cooker then you can buy a proprietary bamboo basket insert quite inexpensively which will do the same job as the same steaming dish that came with my rice cooker.
Our Authentic Thai Beef Salad Recipe
Thai Beef Salad Recipe – Warm & Spicy Nam Tok Nua
The Video showing this recipe being cooked is near the top of the page – A convenient Jump Link to the video is below the description under here.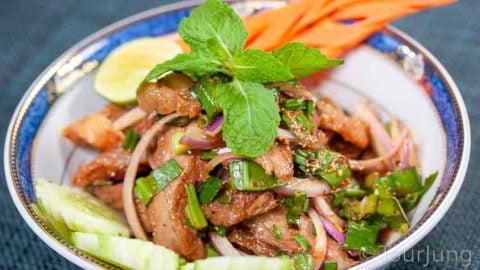 This warm Thai salad tastes great. It uses marinaded beef which is cooked to retain the juices and mingled with a slightly sweet sauce with added herbs. A truly great salad to eat on its own or as part of a bigger meal.
NOTE: Any In-recipe images can be toggled on and off with the camera icons next to the Instructions header.
Ingredients  
Meat & Marinade
20

oz

Rib Eye Steak

3

tbsp

Tomato Sauce

2

tbsp

Oyster Sauce

2

tbsp

Seasoning Sauce

1

tbsp

Palm Sugar

2

tsp

Cooking Oil

2

tbsp

Pickled Garlic Water
Sticky Rice Ingredients
16

oz

Glutinous Rice

Sticky Rice

1.5

pints

Plain Water

For Soaking Rice

1.5

pints

Plain Water

For Steaming Rice
Note: It is best to cook one or maybe two portions of the finished dish at a time. Ingredients below are PER portion
Marinated Beef

Cook 1 portion at a time.

4

tbsp

Stock

2

tsp

Palm Sugar

2

tsp

Fish Sauce

0.5

tsp

Red Chili Flakes

2

tsp

Lime Juice

1

tbsp

Roasted Rice

1

tbsp

Red Onion

Sliced

1

tbsp

Parsley

Chopped

1

tbsp

Spring Onion

Chopped including the green uppers.
Instructions 
A reminder to start your sticky rice soaking first thing. You can find several methods of cooking listed in the Notes below.
Marinating the Beef
Your beef should be cut into steaks about 1/2 to 3/4 inch thick leaving the fat on. If there are any hardened sections of fat then trim these off minimally.

Add the sugar together with the other marinade ingredients and, using your fingers, mix them together with the beef steaks in a suitably sized bowl.

The point here is to integrate the sugar with the other marinade ingredients and to gently squeeze them into the meat.

Leave to stand for about an hour to let the marinade seep into the meat fibers. You can marinate for longer in the fridge if you want but it isn't necessary. You can marinate the beef while soaking the sticky rice.
Part Cooking the Beef
After the beef has marinated, take the steaks and place in an air fryer and cook at 180 degrees for about 10 minutes until cooked rare.

If you prefer you can grill the meat or fry quickly in a skillet but the air frier uses barely any oil and cooks the meat brilliantly. If you fry or grill then ensure you cook the steaks rare!
Making the Thai Beef Salad Dressing / Finish Cooking
Let the cooked beef steaks rest a few minutes. This enhances the taste and makes the meat juicer as well as letting it cool a little before slicing.

Slice the steaks into bite-sized slices in preparation for the final cooking / warming / dressing.

Chop up the red onion, parsley and spring onions. Prepare the other dressing ingredients.

Place one portion of the steak slices together with one portion of the dressing ingredients excluding the onion and herbs in a saucepan and heat, stirring to mix well. Then add in the onion and herbs at the end and stir to coat thoroughly for a minute or two. You are not aiming to cook these but just to coat them with the sauce.

I prefer to cook in small batches which makes it easier to get all the dressing around the meat.

The aim is to thoroughly coat the meat slices quickly, heat the meat through (if it got cold) and make a juicy pile of deliciously tasty meat all mixed together with the onions and herbs added at the last minute.
Notes
This salad is supposed to be warm and wet – your man will love it!
Some people put the beef in dressing on top of lettuce or other salad greens. I sugegst that you do not but rather serve the beef in a small pile in its juicy dressing with any other salad ingredients you want to add to one side.
Serve this salad with sticky rice as they pair perfectly. Ball the rice up in your fingers and press into the juicy beef salad dressing to get all that flavor soaked up. Don't deny your mouth the taste experience it deserves!
You can eat this as a small meal cum snack or as part of a bigger multi-dish meal.
Nutrition
Calories:
793
kcal
Carbohydrates:
101
g
Protein:
37
g
Fat:
26
g
Saturated Fat:
10
g
Cholesterol:
88
mg
Sodium:
772
mg
Potassium:
504
mg
Fiber:
3
g
Sugar:
4
g
Vitamin A:
275
IU
Vitamin C:
4
mg
Calcium:
40
mg
Iron:
4
mg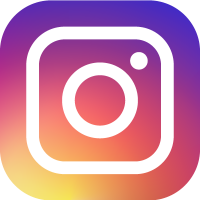 Planning on Making this Recipe?
It would be great if you could take a picture of your finished creation and share it out on Instagram. Tag me with #TASTYTHAIEATS – I love to see your ideas!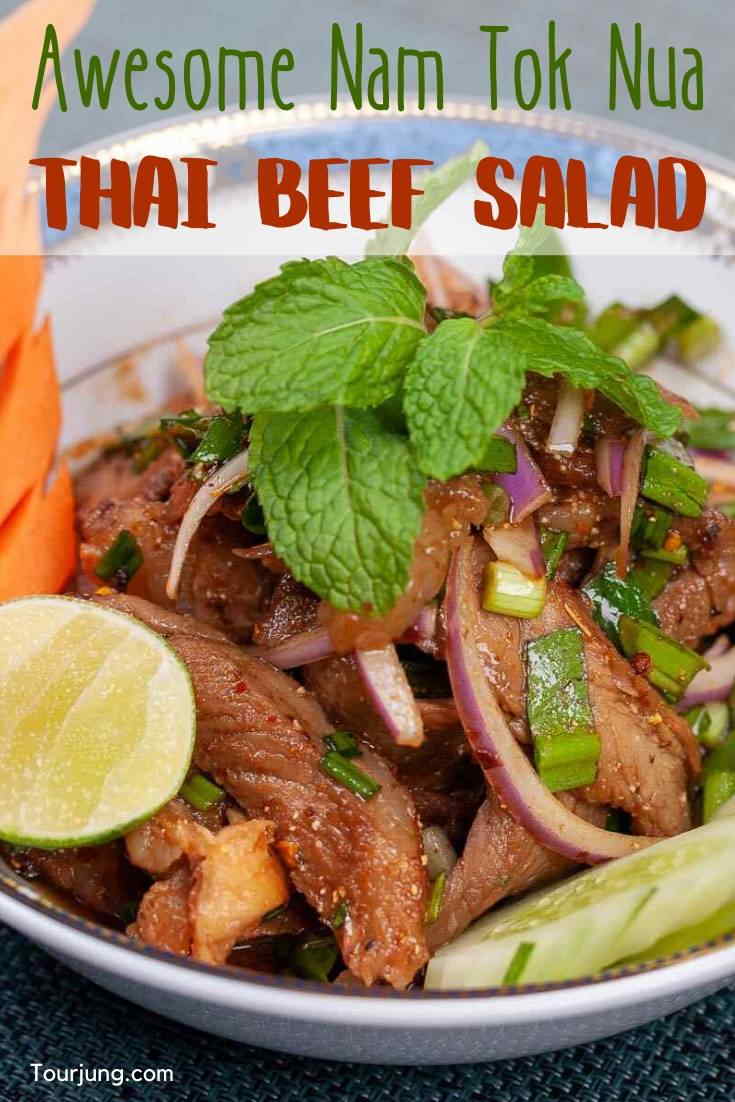 I really hope you enjoy this dish and if you cook it I would love to hear your comments below so please come back and let me know how it turned out for you.
I am a Thai mum and love cooking for my children. Over the years, I have taken my family recipes as well as ones borrowed from friends and adapted them to make them even tastier. I publish my authentic Thai Food Recipes here for all to enjoy around the world. When I get a chance to travel I publish information to help others visiting Thailand.