Mention Tom Yum Goong and most people will instantly associate this hot and sour soup with Thai food because it is the most famous Thai soup and possibly the best known Thai recipe of all – but it spars with Pad Thai for that accolade.
Video on How to Make Tom Yum Goong Hot and Sour Soup
Easy Tom Yum Goong Recipe - Best Authentic Thai Hot & Sour Shrimp Soup with Chili Paste (Nam Kon)
Link to the Tom Yum Goong Recipe video if it does not load for you.
Like many Thai things, confusion abounds because Tom Yum Goong Soup comes in several varieties which vary in taste quite a lot even though sharing many ingredients.
Links disclosure: Some links on this page go to affiliate partners where, without cost to you, we may receive a commission if you make a purchase.
What You Will Need for Tom Yum Goong Soup
Large Shrimp
Galangal
Lemongrass
Kaffir Lime Leaf
Shallot
Chili Paste
Straw Mushrooms
Fish Sauce
Lime Juice
Palm Sugar
Thai Jinda Chili or Substitute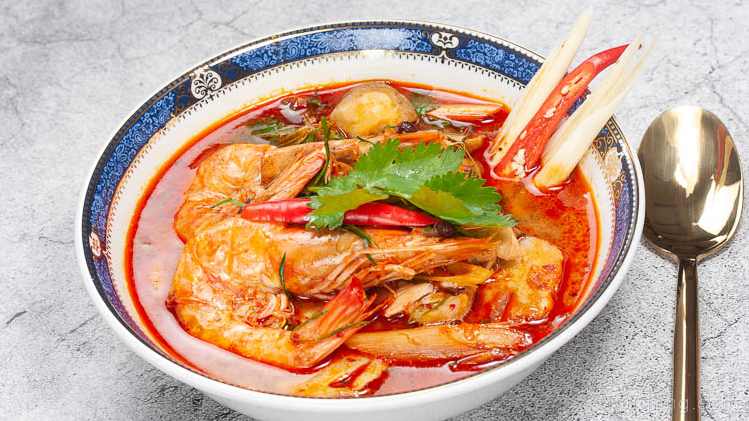 What is Tom Yum Soup?
If you transliterate the Thai words all becomes misty clear! 'Tom' means cooked by boiling, 'Yum' means fresh ingredients mixed together and so we get the answer Tom Yum Soup means a soup made by boiling fresh ingredients together.
Hmm clear as mud really. 'Goong' or the alternative spelling, 'Kung' means shrimp or prawns depending on your vernacular. So 'Tom Yum Goong' means a shrimp soup made with fresh ingredients.
Then we have the variations 'Nam Sai' where 'Sai' means clear and 'Nam' (or 'Nahm') means water, and 'Nam Kon' which means, ummm, not clear or cloudy because of added evaporated milk.
It's difficult because some people call 'Nam Kon' thick soup, which it can mean, but so far as Tom Yum generally is concerned actually means cloudy through added evaporated milk but can also mean cloudy because of the addition of chili paste or both. Thai is not the most specific of languages in the way it is commonly spoken!
Tom Yum Goong Nam Kon is usually a red-colored soup through the addition of nam prik pao or oily chili paste which is a similar color to the red oils that come from the shrimp heads as they cook. It may or may not come out with added evaporated milk depending on the restaurant.
I am not sure I made it any clearer for you really and, like many things in Thailand, it is not really clear to anyone!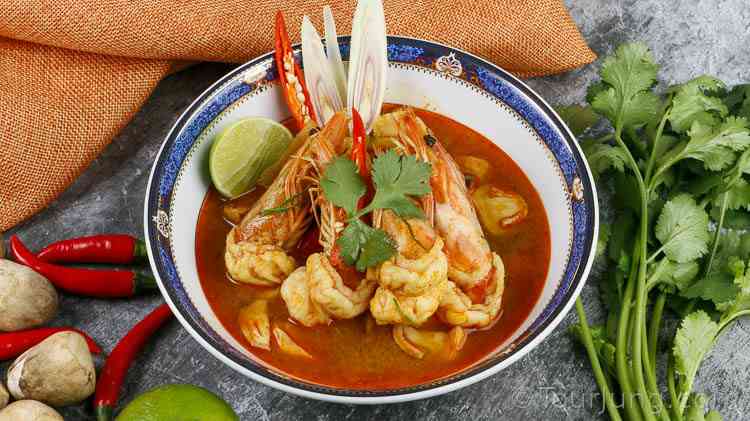 How to make Tom Yum Goong Soup Step by Step
Making Tom Yum consists of making the base soup which is pretty much the Nam Sai version and adding in a few extra ingredients which significantly change the taste to make it a very different soup at the end.
This recipe is for Tom Yum Nam Kon because of the chili paste but without milk which gives a super tasty hot and sour soup much different from its Nam Sai brother (or sister). If you want the creamy version just add a little evaporated milk to taste at the end of the cooking process.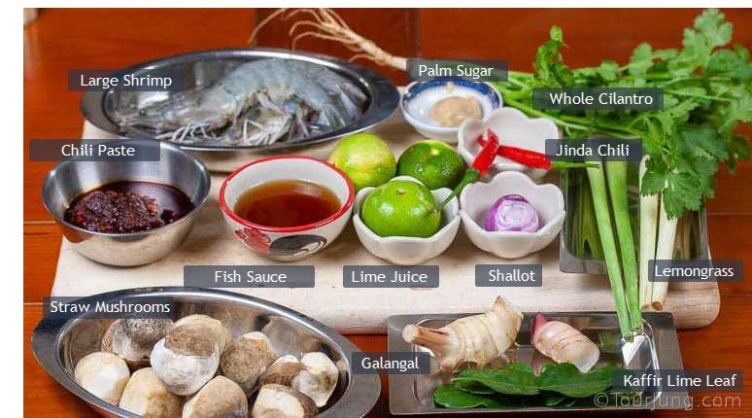 Step 1 Making the Stock
You can make the stock as you go or from bits and pieces, you have collected over the past few weeks and frozen to make a batch.
So collect those chicken, beef, pork and fish bones (cooked or not), or prawn heads and shells from other recipes, bag them and cook up stock in batches so you never have to slum it cooking with plain old water.
For this shrimp soup, you can just whip off the prawn heads and shells and cook them up as you go if you don't have reserve stocks [sic].
So start by deveining your shrimp.
Then remove the shells and the head and simmer gently in your water. Chop off the root of the coriander or cilantro and add that to the water and prawns or shrimp too, along with a few crushed sticks of the oldest looking lemongrass and galangal you have, and the root of your cilantro, also crushed a bit to release extra flavor.
Also peel the outer skin from the shallot, crush and add to the soup along with your Thai Jinda Chili or a local substitute and add to the stock.
After simmering for 10-15 minutes you will have a much better soup base then just water and you are mostly only using what you would have discarded anyway.
If you don't fancy this step then you can use chicken stock or vegetable stock instead. Make it from a packet or a stock cube if you really must – it won't be as nice or as good for you though!
Step 2 Preparing the Shrimp and Herbs
With our shrimp already minus head and shells and the black yukky bit we just need to cut a little along the back so we can open our little crustacean up, sort of butterfly fashion. Set them aside.
If you have some really fresh lemongrass then, after removing the outer harder leaves, you can slice it really thinly so it can be eaten as it's quite a healthy ingredient – good fiber too.
The same goes for the galangal – peel the outer skin and slice really thinly.
But if your lemongrass and galangal is a bit old, hard, and dry or not particularly fresh, then opt to slice more thickly so it is easier to spot.
You can remove these hard to eat woody herbs before adding mushrooms or just leave them in for a bit of added taste and let your diner remove them, in which case I suggest a little forwarning!
For the mushrooms, if they are straw mushrooms then quarter them unless quite small. If you are using button mushrooms instead then halve them.
Take the kaffir lime leaves and either julienne them for eating or tear into four so you can see them if you'd rather not eat them. I prefer to julienne but it's personal preference.
Slice the Thai Jinda Chili or a suitable local substitute into two or three large slices.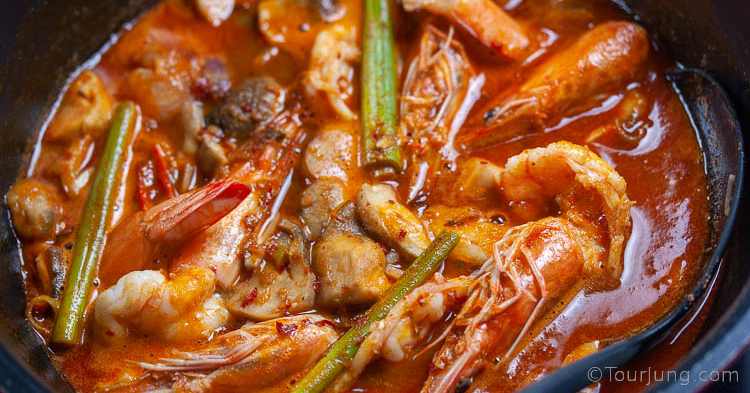 Step 3 Making the Tom Yum Soup
To make the soup, add in the sliced lemongrass and galangal, kaffir lime leaf and Jinda chili and cook in the stock for a few minutes.
If using straw mushrooms then add them in now and cook for about 3 minutes. Then add in the prawns or shrimp and watch them turn pink as they cook.
If using button mushrooms then you can let the shrimp cook a few minutes before adding them unless you prefer your mushrooms cooked a lot in which case you can add a little earlier.
Just before the prawns are cooked which will take about 4-5 minutes of gentle simmering and occasional stirring, add in a portion of the chili paste and stir to incorporate and then turn off the heat.
Step 4 Seasoning and Taste Test
This step is essential as you will add the fish sauce, palm sugar, lime juice, and additional chili paste to get to the taste you want. Add these ingredients incrementally, bit by bit to build up your desired taste. I suggest adding one-third to one-half of all of them, taste and go from there.
The fish sauce will add umami and saltiness, the sugar will add a touch of sweetness (you just want a touch), the chili paste will add a little chili heat (again just a touch), and the lime juice will add a bit of sour. I recommend approximately equal amounts of fish sauce and lime juice before you adjust.
Umami, salt, sweet, sour – the secret to Thai cuisine right there – for free!
I like my food spicy so you may want to take extra care with adding the chili paste but the balance of this soup is about right with the quantities I have set out for you.
Remember, the umami and sour are the predominant balancing act, the sugar and chili paste are the understudies for this soup.
Once you have the taste just right, chop up your cilantro leaves quite roughly and stir in quickly.
Serve immediately with some freshly steamed, aromatic jasmine rice.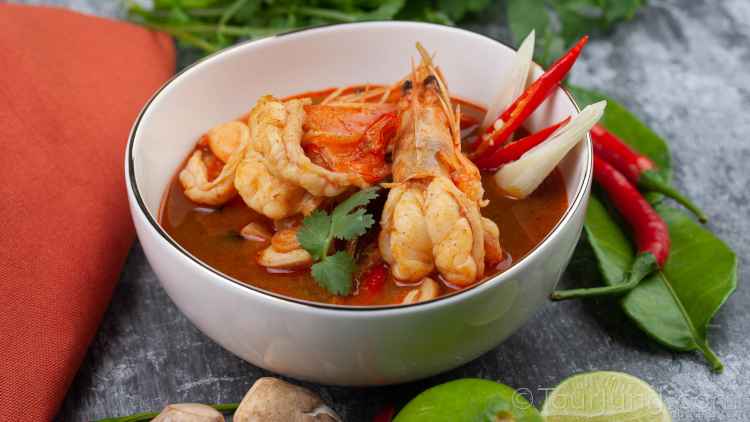 Tom Yum Goong Soup Recipe
Tom Yum Goong Soup Recipe – Nam Kon Style with Chili Paste
The Video showing this recipe being cooked is near the top of the page – A convenient Jump Link to the video is below the description under here.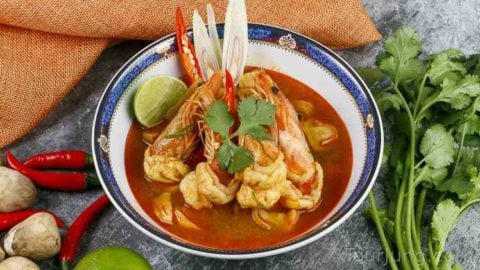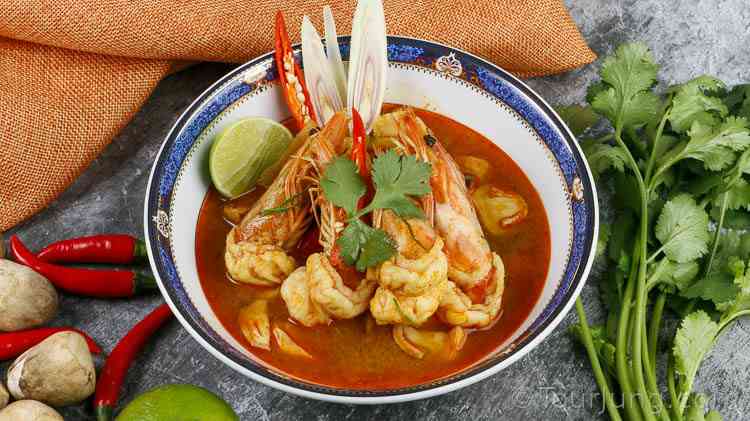 This hot & sour Thai soup is famous the world over and for me, the addition of the chili paste makes a world of difference in taste. This authentic but easy recipe, wastes little and is just the BEST – of course!!
NOTE: Any In-recipe images can be toggled on and off with the camera icons next to the Instructions header.
Ingredients  
Ingredients
300

grams

Straw Mushroom

8

Big Shrimp

2

Cups

Drinking Water

Stock

1

Stalk

Lemongrass

4

Slices

Galangal

2

Bird Eye Chili

Jinda Chili for a Substitute

1

Crushed Shallot

2

Whole Cilantro including root

4

tbsp

Coconut Milk

Evaporated Milk for a Substitute

3

tbsp

Fish Sauce

2

Limes

2

tbsp

Chili Paste – Nam Prik Pao

1

tsp

Palm Sugar

An potion
Chopped Spring Onion

Chopped Coriander Leaves
Instructions 
Making the Soup Stock
It's really easy and best to make the stock from the ingredients you will use. So devein the shrimp first and remove the outer shell which you will use for making stock (see post for easy tips on deveining and shell removal). I like to leave the tails on as you can grab these to eat.

Remove the shrimp heads and put them into the water with the shrimp shells and begin to heat up to a low simmer.

Cut off the tops of the lemongrass and half the remaining stalks and crush by whacking with a heavy pestle or in a mortar. Also, cut off the oldest part of the galangal and whack that to crush it a bit too. Add the crushed lemongrass and galangal to the simmering prawn heads and shells.

Cut off the root from your cilantro and crush, and peel and crush the shallot and add these to the stock too. Simmer for a good ten minutes.
Preparing the Rest of the Tom Yum Ingredients
If you have young lemongrass and galangal then you can eat it. If you wish to eat these healthy ingredients then slice thinly as they are not too woody if they are young.

If you prefer not to eat them or they are older then slice more thickly so they are easily visible and so not likely to end up your mouth by mistake.

The kaffir lime leaf is another ingredient that can be eaten or not depending on your taste. If you want to eat it then julienne the leaves finely after removing the center stem and leaf-spine.

If you prefer not to eat the kaffir leaf then remove the spine and tear each leaf into four. You'll easily be able to see them and avoid putting them in your mouth.

Cut the backs of the shrimp and open them out so they lay flatter and look bigger. This makes them easier to cook and is often called butterflying the shrimp.
Finishing the Soup
When the stock is done simmering which will probably coincide with you finishing your prep work, add the sliced galangal, lemongrass, and kaffir lime leaf. Allow to simmer for a few minutes before adding in the shrimp and mushrooms.

If using straw mushrooms then add before the shrimp and cook for 2-3 minutes first but if replacing with button mushrooms then add the shrimp with the mushrooms. Again it is personal preference as to how cooked you like your mushrooms and I would not presume to know that. Experiment – it's the meaning of life!

Stir while the shrimp is cooking which will take 4-5 minutes and then add in about half of the chili paste and stir to incorporate and turn the soup a pale red color, Don't worry about any small amount of oil you may see on the surface which may come out of the chili paste.

After stirring for a minute or two, turn off the heat and add in one half of the fish sauce, lime juice, and sugar and stir around in the hot soup to dissolve.

Taste your soup. now you can add in more umami and saltiness by adding a little more fish sauce, increase sourness by adding a little more lime juice or sweeten a tiny bit more with a little more sugar. Adjust taste to get it just perfect to your desire.

If you don't know what it should taste like then just add the quantities that I use and concern yourself with getting what you think is fairly mild chili heat and let the rest take care of itself. You can always adjust by adding more or adding water or more stock if available to dilute.

Just before you serve, chop the cilantro leaves with or without the smaller stems (to your preference again) and stir into the soup immediately before serving.
Notes
This soup is best served with freshly steamed aromatic jasmine rice.
You will see I mention adjusting a lot of variables in the recipe according to your taste. It is your soup and every restaurant and Thai will have their own opinion as to what tastes best. That is the nature of Thai cooking. Up to you is the mantra.
I know my recipe is the Best Tom Yum Goong Soup this side of the Andromeda galaxy but you are free to try to improve it. I just want you to enjoy it – please!  
Nutrition
Calories:
456
kcal
Carbohydrates:
56
g
Protein:
50
g
Fat:
6
g
Saturated Fat:
1
g
Cholesterol:
282
mg
Sodium:
7246
mg
Potassium:
1812
mg
Fiber:
6
g
Sugar:
15
g
Vitamin A:
1459
IU
Vitamin C:
152
mg
Calcium:
320
mg
Iron:
10
mg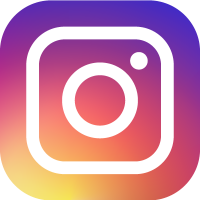 Planning on Making this Recipe?
It would be great if you could take a picture of your finished creation and share it out on Instagram. Tag me with #TASTYTHAIEATS – I love to see your ideas!
What does Tom Yum Taste Like?
Tom Yum Soup is a hot and sour soup with several different tasting variations, all made with galangal, kaffir lime leaves, and lime juice and usually shrimp or seafood for protein (chicken or pork less usually).
The basic Tom Yum is the clear soup version called Tom Yum Nahm Sai which has a clean, aromatic, sour taste. Then there is a variation adding chili paste called Tom Yum Nahm Kon which makes the soup a reddish color with a little spicier and complex flavor.
Both variations can have evaporated milk added for a creamier taste and, confusingly, also called nam kon (meaning not clear). That makes Tom Yum really four soups in one, each with a quite different taste.
I really hope you enjoy this dish and if you cook it I would love to hear your comments below so please come back and let me know how it turned out for you.
I am a Thai mum and love cooking for my children. Over the years, I have taken my family recipes as well as ones borrowed from friends and adapted them to make them even tastier. I publish my authentic Thai Food Recipes here for all to enjoy around the world. When I get a chance to travel I publish information to help others visiting Thailand.