If you have ever been to Thailand and gone looking for Thai Street Food then you'll have come across lots of drinks vendors selling Iced Thai Green Tea, Thai Milk Tea and a host of other cold drinks over crushed ice or blended into a Slurpee.
A totally different kind of drink comapred to the Thai pandan drink and butterfly pea tea which are plant based and made with water.
Video on How to Make Iced Green Tea Latte with Boba
Thai Matcha Green Tea Latte with Brown Sugar Boba Bubble Recipe
If the video isn't loading, you can watch it by clicking this
If you are a mall sort of person then you'll have no doubt ordered your drinks from one of the swanky eateries or drinkeries that sell premium versions of everything.
We have recipes for some other typical drinks you find at Thai roadside stalls such as Thai Milk Tea with Boba as well as our favorite Tropical Fruit Punch which you might like to take a look at. Or if you are calorie counting how about the zero calorie Thai Jasmine Cold Brewed Tea?
And if you want to make the boba from scratch to add to your latte as we like it, that's pretty easy too – check out our recipe for making Brown Sugar Boba.
Links disclosure: Some links on this page go to affiliate partners where, without cost to you, we may receive a commission if you make a purchase.
Ingredients for Iced Green Tea Latte
Thai Green Tea Mix
Hot Water
Matcha Tea Powder
Sweetened Condensed Milk
Evaporated Milk
Milk Foam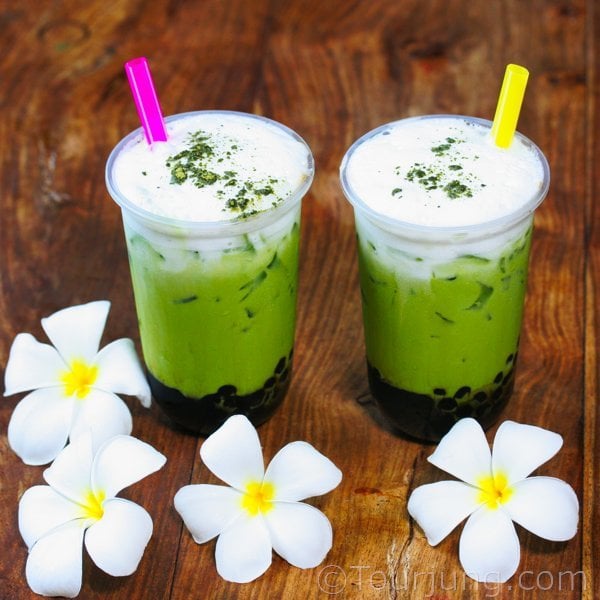 Why You Want to Make Iced Green Tea Latte with Matcha
Easy to make
Benefits of Green Tea and Matcha
Very yummy
Chewy and fun to drink if you add boba too
Amazing to drink together with spicy food
Given somewhat fancier names in English (or Chinese or Russian these days), Thai mall outlets take the standard Street Vendor drinks and soup them up into something that is even tastier.
All that comes at a price, so we decided to come up with some drinks recipes that you can easily make at home and taste fantastic.
What is Thai Milk Tea?
Thai Milk Tea comes in two main varieties. Thai Green Milk Tea is made from green tea mixed with jasmine and other flavors and Thai Cha Yen which is a similar mix made from black tea leaves or more commonly Assam Tea powder with additional flavors added.
So you have to be a little careful when ordering this drink. Cha Nom Yen is the orange-colored Thai Milk Tea and Cha Kieow Nom Yen which is the green-colored milk tea.
Then there is Thai Green Tea which is just Cha Kieow and is served hot without milk – often found served in massage and yoga places.
Much less often found is Thai Black Tea served hot which would be Cha Dam. But it is a very good tea to drink cold brewed – recipe will come one day after we have it perfect!
Health Benefits of Green Tea
Thai green tea which is used to make regular iced green tea latte, comes in powder form as a mix and has a distinctive taste.
It has the same health benefits as other green teas, reputedly offering a little protection from heart and cancer problems – more information here.
Asian societies have been using green tea in alternative medicine for thousands of years so there is probably some benefits even though these have not been proven yet scientifically.
We really don't know – we just like the taste!
What is Matcha?
Matcha is essentially a powder made from grinding up special green tea leaves. The green tea plants used to make matcha is covered as it grows which produces a high-quality tea with many antioxidants.
After harvest, the tea leaves are carefully separated from the stems and other elements and cleaned before drying in ovens and then ground to make the matcha which comes in varying qualities.
Why Matcha is More Tasty than Brewed Green Tea
The growing of the tea under cover produces a fuller flavor which is sweeter and creamier than regular green tea leaves.
The grinding of the physical leaves into a powder makes for an earthier and much more aroma in the tea which you can smell as you drink it – and two senses are better than one right?
The fact that you make this tea by mixing the tea powder into your drink means that you are consuming the whole tea leaf distributed in what you drink, rather than just the extracts that come out from brewing.
Why Matcha Has More Health Benefits than Brewed Green Tea
With the whole leaf ground into powder, you consume quite a bit more caffeine than brewed tea which gives you a sort of calming buzz.
The amount of caffeine is about the same as a cup of regular coffee whereas brewed tea contains much less caffeine than coffee – around 75% less depending on the specific tea and coffee compared and the preparation method.
Matcha also has lots more antioxidants that are produced both by the way it is grown as well as the fact that you are consuming them all rather than just those that a brewing process can extract.
Matcha green tea has been cited to have several important health benefits – here's an excellent resource if you want to learn more.
Navitas Organics Matcha Powder
Premium match powder makes such a difference. More intense flavor and aroma from better quality gree tea. Worth it!
How to Make Iced Green Latte with Matcha Step by Step
Thais like their food tasty and anything that is a bit bland is called 'Jeud' (จืด) which you hear quite a bit and means tasteless!
Now matcha might be healthy and smell nice but then so does Thai Green Tea so why not mix them together. Sweeten them up with a bit of sugar and top them off with something that has a great texture for drinks heaven.
All served on the ice of course because it is so terribly hot in Thailand all the time!
Hence my creation of this wonderfully tasty Cha Keow Nom Yen version with healthy matcha and my awesome brown sugar boba. (I just hurt my arm patting myself on the back so much haha)
The links in the instructions go through to Amazon so you can visually see what is described – we may get a small commission if you buy through them but there is no extra cost for you from doing so, just our thanks for your support.
Step 1 – Brewing the Thai Green Tea
Brew the Thai Green Tea by adding 2 tablespoons of Thai Green Milk Tea Mix to a filter sock and pouring through 1/2 cup of boiling water collecting the tea in a measuring jug (so you can see how much water you are adding).
Repeat the process of pouring the tea through the filter sock another three times to extract as much taste as possible. You will need a second container to make this easy, passing the tea through the tea strainer sock from one container to the other.
After the four pass-throughs, rest the tea straining sock still containing the tea in the hot tea to allow it to steep for a few minutes while you make the latte.
Step 2 – Mixing the Sweetening Latte Milk
Mix together 1 oz / 30ml of sweetened condensed milk (the thick one) with 1 oz / 30ml of evaporated milk. We use Carnation Brand but you can use any other you like.
Evaporated Milk
Evaporated milk is used extensively to make Thai drinks and Carnation is the best and the norm!
Stir to thoroughly mix. This little measuring glass is invaluable for making drinks and measuring small liquid amounts I find.
Step 3 – Adding the Matcha
Add 1 teaspoon of matcha powder to the slightly cooled tea and mix thoroughly. It mixes more easily in the warm tea than afterward when everything is colder but it is not critical.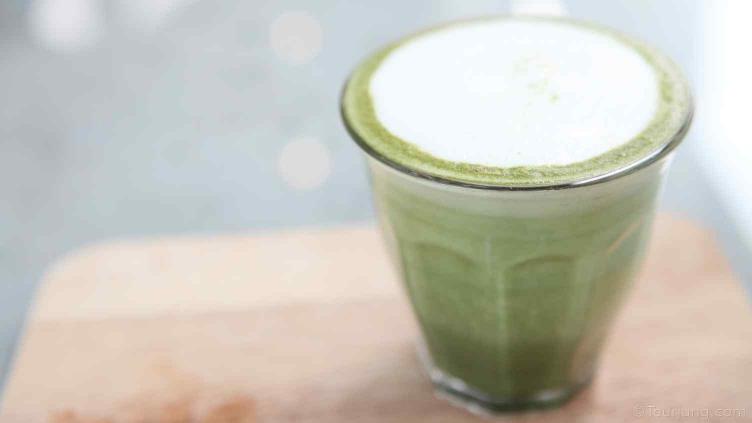 Step 4 – Making the Latte Froth
If you want to add the froth to the top, and we suggest you do, then get some full-fat milk and use a frother to froth it up. You can either use a manual frother or an electric one.
There are a couple of reasons for adding froth. First, it looks so much nicer and you can dust with matcha or drizzle on a syrupy topping which just looks so much nicer and more professional.
Secondly, it changes the texture as you drink it, making for a smoother and creamier feel to adding to the senses you will be enjoying your drink with – the gorgeous smell, the delicious taste, the feel of that silky smooth froth on your tongue and the look of a professionally made drink!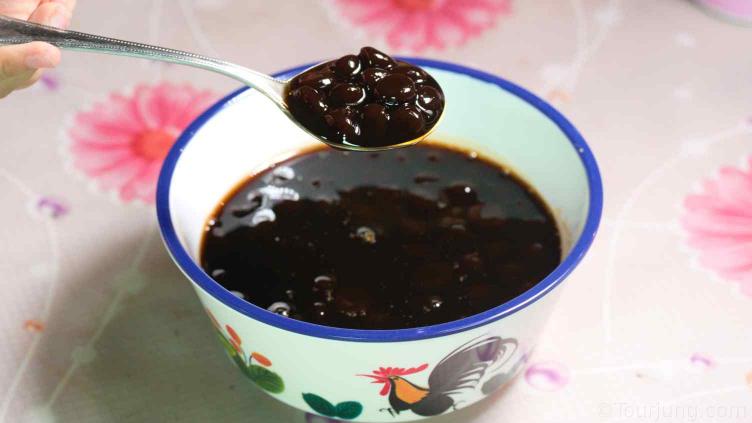 Step 5 – Getting the Brown Sugar Boba (Optional)
First, you will need to get your boba. Either buy shop-bought or better still make your own. Check out my recipe for making homemade brown sugar boba. You can use the same recipe picking up the process starting at cooking the homemade boba and through to the end where it's cooked in brown sugar syrup.
The boba cooking process and making the brown sugar syrup is the same whether using shop-bought boba or making it at home.
You can pick up packaged boba at your local Asian store or online as you can see below.
Step 6 – Making the Thai Matcha Green Tea Latte
(Boba Option Skip if not Using) Grab yourself a 20 oz cup and spoon in some boba – as much as you like. If you like, you can drizzle the brown sugar syrup down the side of the cup for extra visual effects too.
(Boba Option Skip if not Using) And you know what – boba is fun – suck it up with your straw for that pop as it sweetly attacks your mouth for the last of your senses. You can even play the game of first to suck up the boba! Whoops – I digressed!
Top up your cup with crushed ice and add the mixed green tea matcha latte.
You should fill up within about half an inch from the top if you are adding froth.
Finally, add the froth and dust with your preferred adornment – I like dusting with a little matcha green tea powder to add to the aroma but don't go sniffing too hard or it will be up your nose. Not illegal but perhaps unpleasant!
Thai Green Matcha Latte Iced Bubble Milk Tea Recipe
Thai Green Matcha Latte Iced Bubble Milk Tea
The Video showing this recipe being cooked is near the top of the page – A convenient Jump Link to the video is below the description under here.
Iced Thai Green Milk Tea is nice but our Thai Green Tea Matcha Latte with Brown Sugar Boba Recipe is better! A perfect threesome of Thai Green tea, Matcha and Sweet Delicious Brown Sugar Boba – tasty, cool & heavenly!
NOTE: Any In-recipe images can be toggled on and off with the camera icons next to the Instructions header.
Ingredients  
Ingredients for Thai Matcha Green Tea Latte
2

tbsp

Thai Green Tea Mix

1/2

cup

Hot water

1

tsp

Matcha Tea Powder

1.5

oz

Sweetened condensed milk

1.5

oz

Evaporated milk

Milk Foam

Can skip
Instructions 
Instructions (see also Brown Sugar Boba Recipe linked to in the Recipe Notes)
Add Thai green tea mix into a filter tea sock. Prepare two jugs, one of which at least should be a measuring jug. Jug sizes to hold at least 1 cup of liquid.

Hold the filter sock and tea mix over the measuring jug cup and pour in boiling water through the filter up to 1/2 cup.

Hold the filter and tea mix over the second jug and pour through the weak tea you made in the previous step to extract more flavor.

Repeat this refiltering with the tea produced two further times. You will have passed the water through the Thai Tea Mix a total of four times.

Let Thai green tea stand for few mins with the filter sitting in the tea to brew for a further two to three minutes – basically while you prepare the milk.

Mix the sweetened condensed milk and evaporated milk together well in another cup, set aside

Squeeze green tea out from tea bag and throw waste green tea mix away. You can either twist the filter bag gently or use a pair of tongs but beware as the filter bag will be hot and wet.

Add in one teaspoon of matcha green tea powder and mix up. If you forget to add in here then you can add after the milk in the next step – it doesn't matter that much.

Add the sweetened condensed milk and evaporated milk mixture into the jug containing your tea and stir to mix.

If you want to top off with milk foam then warm a little milk and use a frother to froth it up.

Add Brown Sugar Boba into the bottom of a 20 oz cup and then fill with crushed ice up to the top.

Pour in the Thai Milk Tea with matcha onto the ice leaving enough room for a little foam if using. Top up the cup with crushed ice if using and then top off with the foamed milk.

For further decoration, you can sprinkle over some matcha powder or a syrup topping like caramel or chocolate to your taste.
Notes
To make the brown sugar boba you can either make it from scratch or use shop-bought boba pearls.
Either way the process for homemade and shop-bought is the same for cooking and turning it into brown sugar boba – just follow the recipe at https://www.tastythais.com/brown-sugar-boba/
Nutrition
Calories:
206
kcal
Carbohydrates:
27
g
Protein:
8
g
Fat:
7
g
Saturated Fat:
4
g
Cholesterol:
27
mg
Sodium:
105
mg
Potassium:
287
mg
Sugar:
27
g
Vitamin A:
415
IU
Vitamin C:
1
mg
Calcium:
232
mg
Iron:
1
mg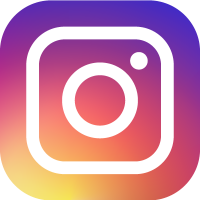 Planning on Making this Recipe?
It would be great if you could take a picture of your finished creation and share it out on Instagram. Tag me with #TASTYTHAIEATS – I love to see your ideas!
I really hope you enjoy this dish and if you cook it I would love to hear your comments below so please come back and let me know how it turned out for you.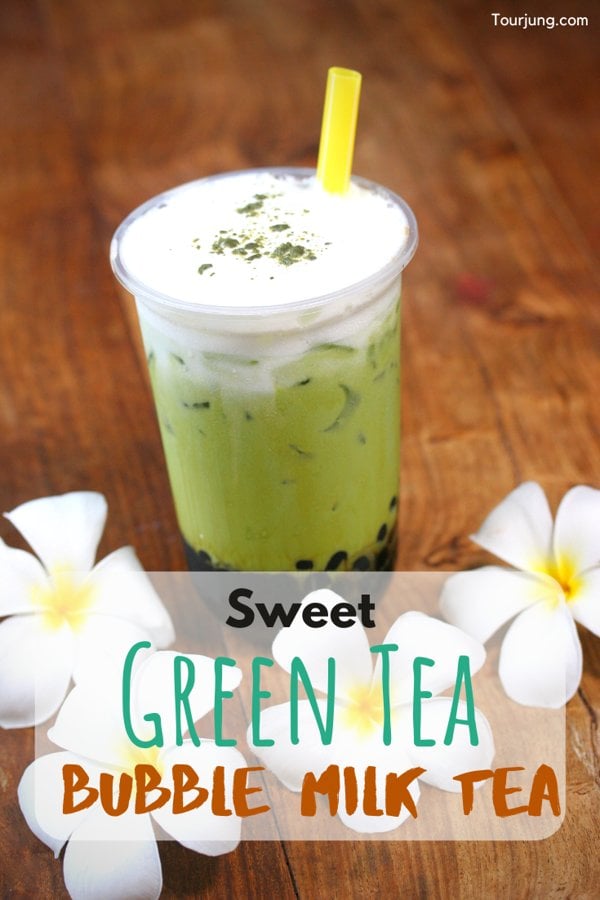 Sources:
Matcha Slideshow by WebMd
Health Benefits of Matcha Tea
I am a Thai mum and love cooking for my children. Over the years, I have taken my family recipes as well as ones borrowed from friends and adapted them to make them even tastier. I publish my authentic Thai Food Recipes here for all to enjoy around the world. When I get a chance to travel I publish information to help others visiting Thailand.