Looking to spice up your salads? Som Tam Thai is the salad eaten by every Thai. Fresh, healthy and as spicy as you want, it's a great change. You can make it at home quickly and easily for a real change to your regular salads.
Video Making Som Tam Thai or Thai Papaya Salad
Som Tam Thai Recipe - Quick & Easy Thai Green Papaya Salad - Thai Street Food Recipe
If the video isn't loading, you can watch it by clicking this
The importance of Som Tam reaches almost epic importance in the essence of life for quite a lot of Thais, with us becoming moody and feeling like part of our life is missing if we cannot eat it for any significant period of time – meaning a few days. I don't want you to feel like that so let's go make it – ha ha!
And if you are a big fan of som tam then you are alomost certain to like our Thai pomelo salad recipe made with yum sauce and no pounding required!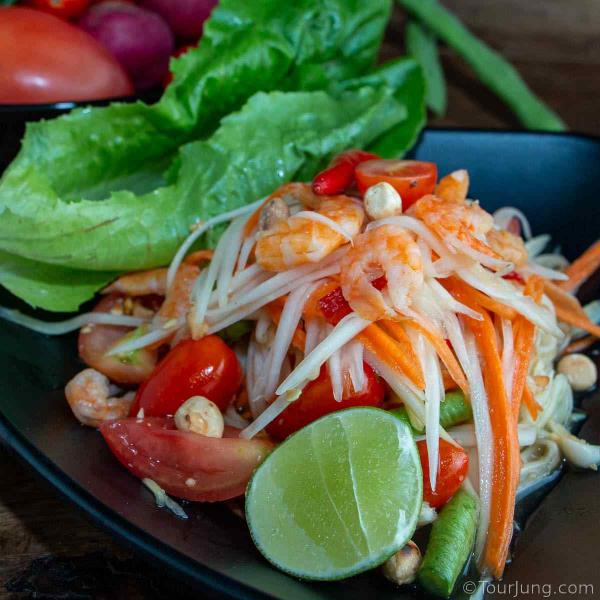 Ingredients for Making Som Tum Thai or Thai Papaya Salad
Shredded Papaya
Shredded Carrot
Cloves of Thai Garlic
Thai Chili
Small Tomato
Dried Shrimp
Palm Sugar
Fish Sauce
Vegan Fish Sauce
Tamarind Paste
Lime Juice
Roasted Peanuts
Long Green Beans
Fresh Vegetables
There are a gazillion variations of this dish which range from the basic green papaya salad to which all manner of things can be added such as shrimp, crab and other meats, and so on.
Som tam Thai (or som tum or som tam as it is sometimes transliterated) is the quintessential salad you'll find all over Thailand. Everyone eats it.
A really wonderful variation is a fruit-based salad made with similar ingredients for the sauce which gives a tang to the fruit that you would never experience in the West.
Making Som Tam Thai
But that recipe is for a later article. Today we will be making the basic 'som tam thai' which is made from unripened green papaya which is shredded, often with a little carrot, chilies, tomatoes, a little garlic, peanuts, and optionally dried shrimp, shrimp paste and fish sauce.
If you want a vegetarian version you simply skip the dried shrimp and replace the fish sauce with vegetarian soy sauce. The flavor will be a little different but basically very close.
The key to this recipe is to use fresh ingredients, ensuring the papaya is nicely green and firm and has not yet begun to ripen when it becomes sweeter, the skin starts to turn yellow with beautiful peachy orange-colored flesh inside instead of the slightly off white color we want for this salad.
The tomatoes should preferably be red and just not quite ripe – you don't want them mushy and the peanuts should be roasted and crunchy not old and soggy as they sometimes go.
As with most Thai food, the object of the exercise is to let the fresh ingredients do their taste magic and augment that with a balance of spice from the chilies, salt from the fish sauce (or vegetarian soy sauce if using that) and a hint of sour from the tamarind and sugar from a little palm sugar.
The result should be a mix of taste to set off all your taste buds.
Why Thai Food Like Som Tam Thai Tastes Good
In fact, as adults, we have 2 – 4,000 taste buds, each of which can sense the basic taste categories of sweet, salty, sour, bitter, savory. They sit concentrated on our tongue and also in other places of our mouth, throat and nasal passages. Each one can sense all of the five tastes but some are more sensitive to some tastes more than others.
Anyway, the point is that a lot of Thai food aims to fire off all taste sensations for a sort of taste explosion with a balance of salty, sour, sweet, savory and often bitter and fiery thrown in for good measure.
It is essential that you taste as you go, especially with ingredients with very strong tastes or spiciness such as fish sauce and shrimp paste which is very salty and chilies which are often very spicy.
The Importance of Taste Testing as You Go
Do the taste test as you go to ensure your food matches the saltiness you and your guests might like and a spice level that will suit all.
You can adjust the number of chilies used easily during preparation and can even spot the fiery little pieces in the dish to avoid eating them. But if you overdo the chilies no matter how many you pull to one side the dish will still be overpoweringly spicy.
So my suggestion is to start with one or maybe two until you know the level of spice you prefer. The more spicy food you eat, the more chili you will be able to tolerate.
In fact, if you eat spicy food often you will often come to the conclusion that any food that does not have some spice in is rather tasteless (Thais will say the food is just which means it has no taste).
If you visit Thailand you will see and smell people eating Som Tam which smells …. Well just smelly. That is likely Som Tam Poo Bala – or fermented crab papaya salad.
Do not let that experience put you off trying this green papaya salad which has a wonderful taste and is not smelly at all – just give fermented crab a wide berth if you don't like the smell.
What Type of Mortar and Pestle to Use to Make Som Tam Thai
The key to this salad is the crushing of the ingredients in preparation. We call this pok pok because of the sound the mortar and pestle make while lightly crushing and mixing ingredients together. Imaginative right?
Lightly crushing the spices and sauces together in an Earthenware pot and light wooden pestle is called Pok Pok
You will want to find yourself a mortar and pestle that is not too heavy – earthenware mortars and wooden pestles are the common and inexpensive solution which you will find in every Thai kitchen.
The heavier granite or stone mortar and pestles are also used but not for this dish. These heavier versions are used for crushing and grinding spices together and for preparing Thai pastes that are used in a large number of Thai dishes.
Thai pastes need to be fine and the heavy mortar and pestle are perfect to give a helping hand to achieve this consistency.
The lighter wooden pestle and earthenware mortar is perfect to lightly crush and mix the ingredients needed for the essential saucy and spicy concoction that flavors the shredded papaya.
Let's get to the recipe to make this iconic dish.
Follow along with my video which is at the top of the page or print out the recipe below if you prefer.
Making Som Tam Thai
Step 1 Shredding the Ingredients
Take the green papaya, which should be a pale whitish color inside and not beginning to go orange as it does when it turns ripe.
Using a shredding tool, shred the papaya into small strips. This makes it easier to eat and allows the juicy sauce to impregnate it thoroughly.
Shred the carrot in a similar fashion.
Step 2 Doing the Pok Pok or Crushing to Blend Ingredients – Part 1
Take the tops off the chili and the outer skin off the garlic. Place them in the Mortar and crush together with the pestle. Don't think of your enemies or you'll pulverize them to death!
The idea is to release the juices and flavors and blend them gently together.
After cutting the long beans into thumb length sections, add about three-quarters of the long beans and add to the mix – again doing the Pok Pok to crush them up a bit.
Step 3 Sweetening & Getting it Wet and Saucy
Add in the sugar, fish or soy sauce, tamarind juice, and lime juice and gently massage the juices into the chili and garlic combination.
Here you use the pestle to stir, gently tap together and mix up all the ingredients to make them live comfortably together. It's a social thing!
Step 4 Adding the Rest of the Ingredients
Our tomatoes are sliced or quartered, added, and given a quick bop with the pestle to release the juices and bruise them up without mangling the sections.
Then add the shredded papaya and onions, using the pestle to mix together all the ingredients gently to coat with the juice from step 3.
Step 5 Serving the Som Tam Thai
Some chefs call this plating – but that sounds pretentious and makes you think of cheap gold necklaces so I call it serving up like most normal people!
Gently spoon out your lovingly nurtured Som Tam Thai onto a plate trying not to let the juice splash all over the place.
Add the remaining green beans and a generous slice of cabbage on the side and top off with a few peanuts – I like mine roasted.
What to Eat With Som Tam Thai
The very best thing to eat with Som Tam Thai is sticky rice.
The sticky rice helps to soak up the spicy juice and get all that taste into your mouth whilst helping to soak up the chili oils off the surface of your tongue which reduces the longevity of the spiciness.
It's really easy to make sticky rice – check out our quick microwave sticky rice recipe, our traditional method of cooking glutinous rice and our rice cooker method for cooking sticky rice. All you need is water and glutinous rice.
Do let me know what you think of the recipe in the comments below, please!
Links in the recipe for slightly unusual ingredients take you to the Amazon store where you can get a better look at the specific ingredient and ensure you get the right thing from your local Asian store – or you can buy online of course.
Som Tam Thai Recipe (Easy Print)
Som Tam Thai Recipe – Thai Papaya Salad
The Video showing this recipe being cooked is near the top of the page – A convenient Jump Link to the video is below the description under here.
A spicy, sweet and savory salad made from papaya before it is ripe. Mixed in with tomatoes and traditionally peanuts all tossed together with chiles and garlic and savory sauce to coat the shredded papaya.
Often eaten with a slice of raw cabbage which goes together remarkably well and also works to cut down the spice from the chiles.
This recipe is made in an earthenware mortar with a lightweight pestle to avoid over pounding the ingredients.
A classic basic Thai Som Tam which forms the basic principle for a host of spin-off recipes adding a protein such as prawns or seafood, or making with fruit such as pomelo.
NOTE: Any In-recipe images can be toggled on and off with the camera icons next to the Instructions header.
Equipment
Earthenware Mortar & Pestle
Ingredients  
1 1/2

cup

Shredded papaya

A little

Shredded carrot

To make a nice color combination for serving

4

cloves

Thai garlic

Substitute 2 cloves normal garlic

3

Thai chili

Substitute 3 dried chili

1

Small

Tomato

Cut into small pieces

1

tbsp

Dried shrimp

More or Less to your taste (omit for vegan)

1

tbsp

Palm sugar

2 1/2

tbsp

Fish sauce

Substitute with Soy Sauce for Vegan

2 1/2

tbsp

Vegan Fish Sauce

Use in place of regular fish sauce for vegetarian

1

tsp

Tamarind paste

Make by adding a little water to tamarind pulp

1

tbsp

Lime juice

1

tbsp

Roasted peanuts

1 or 2

Long green beans

Cut into 2-inch pieces

Fresh vegetables to eat with Som Tum Thai

Lettuce, tomato, raw salad cabbage, spring onions, a slice of lime, extra peanuts & diced chili are all good
Instructions 
Preparing
Wash vegetables, papaya, carrot and set aside. Peel the papaya skin with a potato peeler and scrape or peel the outer carrot skin and cut off the ends.

Shred the peeled papaya and carrot using a shredding tool to the given quantity and set aside.

Cut off the ends of the long green beans and cut the main bean into 2-inch strips and set aside.

Pound the chili and garlic in an earthenware mortar first, then add most of the long green beans. Just crush them roughly to release the flavor and fragrance. You are not out to pulverize!.

Be sure to use minimal chili if you are not used to spicy food – increase once you feel comfortable to do so. Even one chili may be enough for a person who has never really eaten spicy food.

Then season with palm sugar, fish sauce (or soy sauce for vegetarians), tamarind juice, lime juice and mix together still in the earthenware mortar.

Add the tomato, remaining long green beans, shredded papaya and carrot and gently mix them together with the pestle and a spoon.

TASTE IT. Adjust the taste by adding more chili if you want more spice, more sugar for sweetness, more tamarind and/or lime juice for fruity sourness and fish sauce for salt. If using soy sauce you may want to add finely ground salt rather than too much liquid as soy sauce is much less salty than fish sauce.
Tips
Using an earthenware or wood mortar for Thai papaya salad is best because the ingredients do not get so crushed.

Do not crush papaya to long because papaya won't be fresh and crispy – you'll want to serve it immediately.

When you add the seasonings and especially fish sauce, do not add too much at first. Taste and adjust gradually in small increments – you can't take salt out!

To keep papaya crispy and fresh longer, after shredding, soak into freezing cold water or add ice and refrigerate while doing the pok pok (Thai phrase for pounding with the mortar and pestle)
Notes
Please be frugal with chilis until your are confident using them. Chilis vary enormously in the level of spiciness – the small ones tend to be the hottest.
Please be frugal with fish sauce. The saltiness varies much with the brand you use but it is universally a very salty liquid. You can always add more later.
Keep the shredded papaya and carrot in the fridge immediately after shredding along with hlaf a dozen ice cubes. Drain off any water and ice before adding to mix.
Serve with a slice of crisp cabbage – the taste amazingly helps take off the fire from the chilli. This is often served up with ice as well in Thailand and eaten with sticky rice.
Feel free to add in a few prawns, some seafood or other protein if you fancy and let me know if you enjoy this dish once you make it.
Nutrition
Calories:
377
kcal
Carbohydrates:
67
g
Protein:
22
g
Fat:
7
g
Saturated Fat:
1
g
Cholesterol:
168
mg
Sodium:
4224
mg
Potassium:
1376
mg
Fiber:
12
g
Sugar:
43
g
Vitamin A:
13800
IU
Vitamin C:
243
mg
Calcium:
227
mg
Iron:
4
mg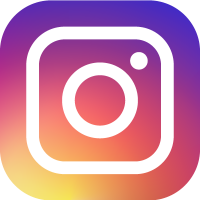 Planning on Making this Recipe?
It would be great if you could take a picture of your finished creation and share it out on Instagram. Tag me with #TASTYTHAIEATS – I love to see your ideas!
Frequently Asked Questions About Som Tam Thai
What Does Som Tam Mean?
Som Tam is the Thai phrase for shredded green papaya salad mixed with tomatoes, peanuts, chili, onions, dried shrimps and sauces. It can be made vegetarian or vegan by substituting the non-vegan ingredients.
What is a Good Substitute for Green Papaya?
You cannot really substitute Thai green papaya to make green papaya salad but you can make a number of variations of the dish using different vegetables such as cucumber or even fruits. But then you will have a different dish altogether and one less common in Thailand but nonetheless tasty.
What is the Difference Between Green Papaya and Papaya?
When most people talk about papaya as a fruit, they are referring to ripened green papaya. You can tell it is ripe either by the fact that the skin has started to yellow or by the flesh inside which turns a pale orange when ripe. Unripe Green papaya is green on the outside and has a pale green, almost white, flesh inside which tastes rather sour. It is the unripe papaya that is used in Thai papaya salad.
Where did Green Papaya Salad, or Som Tam, Originate?
It is commonly understood that green papaya salad which is called som tum thai in Thailand, is actually a dish from Laos. Situated on Thailand's northern borders, Laos food influence is common in north-eastern Thailand where Som Tam Thai is a favorite dish.
Other posts you might enjoy:
I really hope you enjoy this dish and if you cook it I would love to hear your comments below so please come back and let me know how it turned out for you.
I am a Thai mum and love cooking for my children. Over the years, I have taken my family recipes as well as ones borrowed from friends and adapted them to make them even tastier. I publish my authentic Thai Food Recipes here for all to enjoy around the world. When I get a chance to travel I publish information to help others visiting Thailand.