This Thai pomelo salad is a fruit salad that bears little resemblance to a sweet western-style fruit salad. Instead of the sweetness of added cream or ice cream, it has a savory, tart, yet sweet taste thanks to the yum sauce and is often served with shrimp.
There are a few types of Thai salad. One is Som Tam, a group of salads including the classic Som Tam Thai, where the ingredients are pounded. Yum which includes this pomelo salad recipe called Yum Som O where 'Yum' means mixed together.
Another group of salads include Nam Tok and Larb dishes though they do not meet what Westerners would imagine are salads.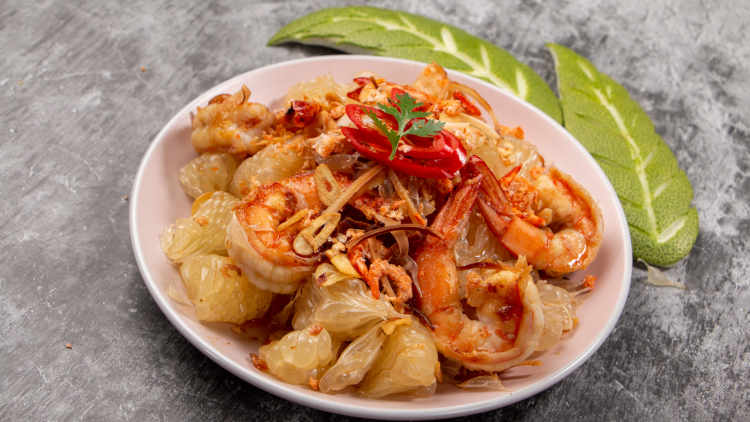 How to Make Thai Pomelo Salad or Yum Som O Video
Pomelo Salad - Thai Grapefruit Salad - Yum Som O
Link to the video in case it does not load properly for you
Why You Should Make Pomelo Salad?
Grapefruit and pomelo have very high Vitamin C content along with low calorie counts which makes it a great fruit to eat without making you fat.
The grapefruit diet used to be a thing, and for good reason. Your calorie intake was much reduced by eating grapefruit instead of some other high-calorie food.
Apart from diet, Thai pomelo salad tastes just great because of the intriguing taste of the yum sauce. We especially like it served with shrimp or prawns but they can be omitted if you prefer.
Ingredients You'll Need
Thai Pomelo or a couple of Sweeter Style Grapefruit
Fish Sauce (or vegetarian substitute)
Palm Sugar (or brown sugar as a substitute)
Tamarind Paste
Lime Juice
Crispy Shallots or Onions (bought or made yourself)
Crispy Garlic (bought or made yourself)
Toasted Coconut (dry fry to toast coconut)
Large Shrimp (optional)
Small Dried Shrimp (optional)
Cooking Oil for Saute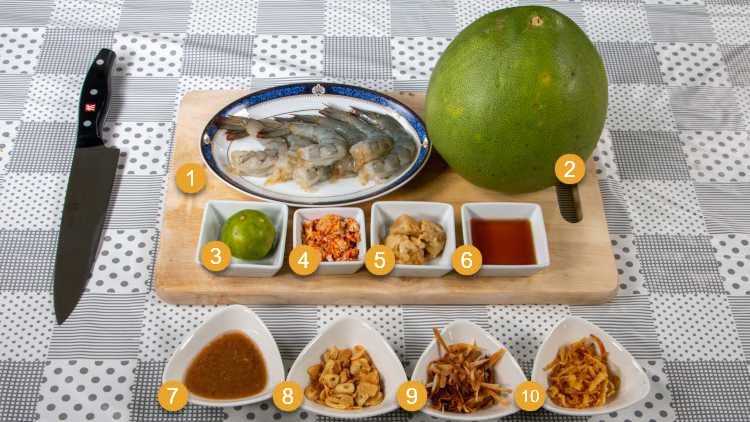 Is Pomelo the Same as Grapefruit?
Pomelo and grapefruit are very similar, the pomelo being the parent species to grapefruit. Pomelo is larger, has thicker skin, and has larger segments inside. Pomelo tastes like a sweet grapefruit.
The pomelo is the predecessor of the grapefruit, the latter being an accidental cross between a pomelo and sweet orange that originated in Barbados.
Where grapefruit is plentiful in the west, pomelo is plentiful in south-east Asia. If you visit a local Thai market you will see the whole fruit as well as ready peeled fruit served with chili salt.
But you can readily substitute the pomelo for grapefruit in this recipe without the taste being radically different. For that reason, we can also call it Thai grapefruit salad.
Making Yum Som O Step by Step
Step 1 – Prepare the Pomelo
Cut into the thick skin of the pomelo and slice the skin off with a sharp knife. Don't worry too much about the white pith at this step but do try not to cut most of it off but not so deep that you cut into the flesh. Check out a few other methods to peel a pomelo.
Once the skin is off, use a knife to make a start in separating the thicker bits of the white pith that might remain. Once you get a start you can pull the thick pith off with your fingers.
Next, we want to pull the pomelo in half. Use a knife to carefully tease away the white pith and stem sub away from the flesh beneath to expose the segment details. Use a knife to cut in half between segments and then separate the pomelo in half, and pull apart with your fingers.
One segment at a time, use a knife to separate the segment membrane from the flesh and then break each fleshy segment into about three pieces to create bite-sized lumps. Place these gently into a bowl for the time being.
Step 2 – Making the Yum Sauce for Shrimp Seasoning
We'll start by making the yum sauce but we'll only use a bit for seasoning the shrimp, the rest will make for the main salad dressing,
Mix the fish sauce, palm sauce and tamarind paste over a low heat to dissolve the palm sugar.
Taste and adjust if necessary. The taste should be partly savory, partly sweet with a sour note from the tamarind paste.
Step 3 – Saute the Shrimp & Season
Add a little olive or cooking oil into a pan and heat. Add in the shrimp and saute each side to cook through.
Season with a little bit of the yum sauce you made in step 2 to season, remove from the pan and put to one side.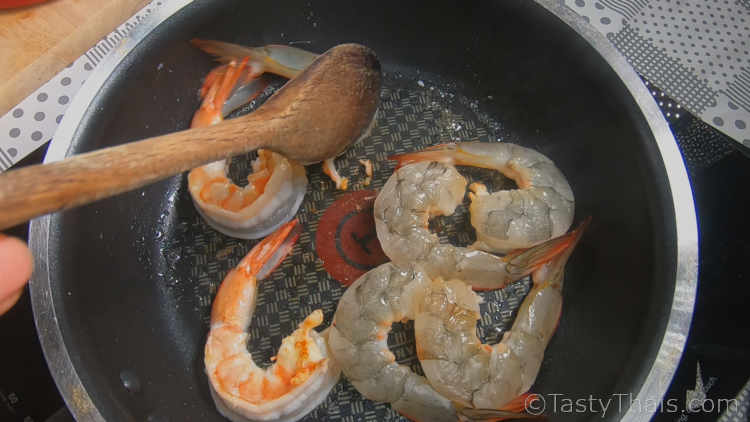 Step 4 – Putting the Pomelo Salad Together & Finishing the Yum Salad Dressing
Add the crispy onions to the prepared pomelo, followed by the dried shrimp if using, crispy garlic, roasted coconut, and shrimp.
Add the fresh lime juice to the yum sauce to make the dressing and pour over the salad – serve immediately.
Decorate with some ornamental carved peel if you feel creative – see the video below.
How to Peel a Pomelo - 3 Methods Explored plus Decorative Carving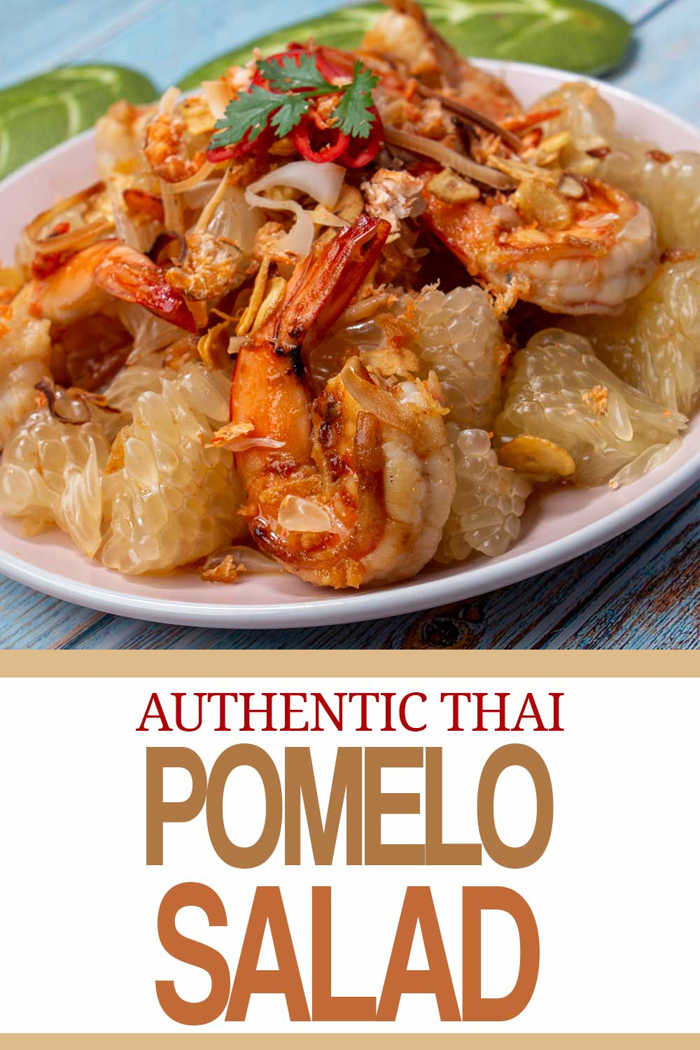 Thai Pomelo Salad Recipe
Thai Pomelo Salad with Savory Sauce- Yum Som O
The Video showing this recipe being cooked is near the top of the page – A convenient Jump Link to the video is below the description under here.
Pomelo is like a large grapefruit and you can easily substitute grapefruit if you cannot easily obtain pomelo or it is out of season.
Thai salads are quite unlike western salads and this pomelo sald is no exception. Coupled with a few savory ingredients and a delicious sauce to provide a perfectly balance sweet, sour and savory taste that is fantistic.
The perfect appetizer to wow your guests.
NOTE: Any In-recipe images can be toggled on and off with the camera icons next to the Instructions header.
Ingredients  
1

Pomelo

1½

tbsp

Fish Sauce

2

tbsp

Palm sugar

1½

tbsp

Tamarind paste

Can be made from Tamarind Pulp

1

tbsp

Lime juice

10

oz

Large shrimp

About 6 Shrimp peeled

2

tbsp

Crispy Shallots or Onions

1

tbsp

Crispy Garlic

1

tbsp

Dried Small Shrimp (optional)

1

tbsp

Toasted Coconut
Instructions 
Cut across the top and bottom and remove the skin. Stabilize the fruit on one of the flat surfaces and slice down vertically to remove the skin and most of hte thick pith.

Try not to cut so deep that it exposes the flesh as the juice will weep if you do,

With the flesh segments separated, break them into small bite sized pieces. Do not be tempted to break these too small as they can break apart quite easily.

Add the fish sauce and palm sugar together with the tamarind into a pan and heat gently to dissolve the sugar.

When the sugar is dissolved then add the lime juice and taste. Adjust the lime, sugar and fish sauce to get the taste you want.

Add a tablespoon of olive oil and quickly fry the shrimp until just cooked.

Drizzle a small amount of yum sauce over the cooked shrimp.

Do not overcook as the shrimp will toughen if cooked too long like most shellfish.

Put the pomelo pieces into a mixing bowl, add some of the crispy shallots, dried shrimp, crispy garlic, part of the roasted coconut and cooked shrimp.

Add the yum sauce, drizzling thinly to cover the surface of the ingredients and very gently mix everything together.
Notes
Substitute a semi-sweet grapefruit for pomello if you wish.
The shrimp tastes delciious but you can totally make this dish without it.
The yum sauce should be a balance of sweet, sour and savory taste.
Nutrition
Calories:
409
kcal
Carbohydrates:
54
g
Protein:
39
g
Fat:
6
g
Saturated Fat:
2
g
Cholesterol:
441
mg
Sodium:
2485
mg
Potassium:
933
mg
Fiber:
4
g
Sugar:
16
g
Vitamin C:
194
mg
Calcium:
262
mg
Iron:
5
mg
Planning on Making this Recipe?
It would be great if you could take a picture of your finished creation and share it out on Instagram. Tag me with #TASTYTHAIEATS – I love to see your ideas!
I am a Thai mum and love cooking for my children. Over the years, I have taken my family recipes as well as ones borrowed from friends and adapted them to make them even tastier. I publish my authentic Thai Food Recipes here for all to enjoy around the world. When I get a chance to travel I publish information to help others visiting Thailand.