This Larb Gai Recipe (Chicken) is one I learned to cook as a young girl growing up in the north-east of Thailand. It is really quick to make and a deliciously light meal eaten with salad vegetables and sticky rice.
It's easy to make but, for those in a hurry to the recipe, don't skip the toasted rice powder – get the roasted rice powder recipe which is easy too!
You can jump straight to the recipe or print it straight out but then you'll miss the important tips in this blog post so please read on!
Step by Step Video Showing How to Make Laab Gai (Chicken)
Authentic Chicken Larb Gai Recipe - Low Calorie Thai Minced Chicken Salad
Link to the Chicken Larb video in case it doesn't load for you
Links disclosure: Some links on this page go to affiliate partners where, without cost to you, we may receive a commission if you make a purchase.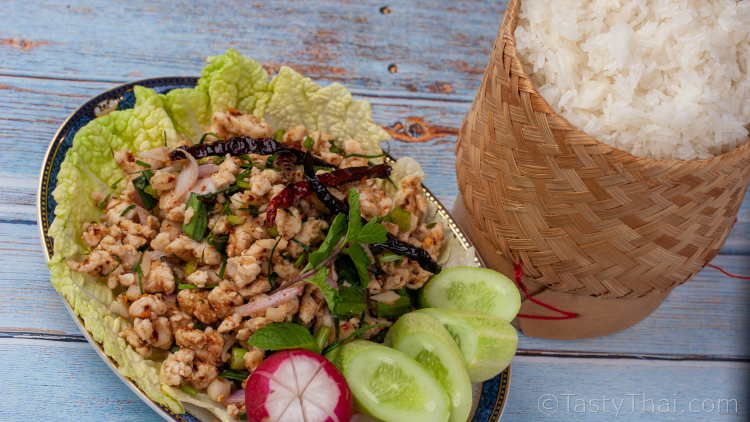 Ingredients You'll Need for Larb Gai
Roasted rice powder (Easy to make)
Chicken breast
Coriander (sawtooth variety if you can get it)
Lime juice
Galangal
Dry Chili Flakes
Spring / green onions
Fish Sauce
Shallots
Lettuce
Whole dried chili
Mint
Kaffir lime leaf
You'll also want some salad vegetables to munch on and sticky rice to eat along with it. If you want some tips on cooking sticky rice we have you covered too.
What is Larb Gai?
'Larb' means a dish made with minced meat and seasonings and 'Gai' means chicken. Sometimes written 'laab gai', the words visualize to a quite spicy Isaan dish with minced chicken, herbs, onions and the distinctive taste of roasted rice powder.
Isaan is a region in the northeast of Thailand where the style of cooking is fresh and centered around local ingredients with a lot of fresh vegetables. It also has some pretty spicy dishes but Larb is one of the less spicy ones, to Isaan people anyway.
Your tolerance for spice is going to be a lot less so we have toned down the recipe a little to suit more moderate tastes. Feel free to adjust the level of spice through the amount of chili flakes you add.
Notes on the Chicken, Roasted Rice & Eating Larb
There is no point in buying minced chicken from the supermarket. You don't really know what's in it and it is ridiculously simple to make at home with a chopper and board anyway.
It is better to take the skin off for this recipe. Chicken skin is used by some and removed by others (not discarded but fried into a separate crispy snack).
Chicken thighs have a little more flavor than chicken breast but you have to remove the bones. Really use either.
It is much better to mince the chicken as we show in the video. If you use a machine to squash the chicken through holes to mince it, the meat just gets into a mush. Well, that's my opinion anyway.
Roasted rice powder is easy to make and it's just a process of toasting a little dry glutinous rice and then pounding it into powder.
Yes you can use a machine to grind but a mortar and pestle are more efficient – least so I've found but maybe my mini-processor is aging faster than me!
Whatever, so not skip the roasted rice – it is an essential part of the flavor of this dish.
Locally, larb is eaten by scooping up in a piece of lettuce leaf to eat or by taking a small spoonful along with a fingerful of sticky rice. It's wonderful!
But if you are hell bent on eating with a fork and spoon then go for it!
Other Versions of Larb
There are other versions of larb using duck, turkey, pork (that's common), beef and so on. The recipes for these versions are similar but adapted slightly to suit the different tastes of the meat.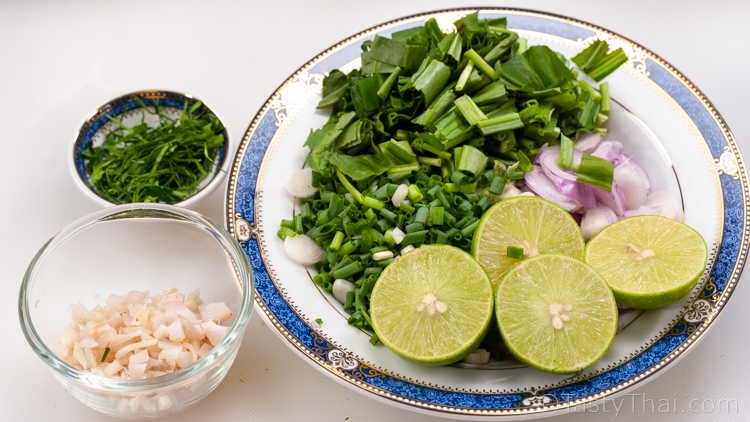 How to Cook Chicken Larb Step by Step
Step 1 – Prep the Herbs
Chop up all the herbs into medium sized pieces exept the galangal and kaffir lime leaves which need to be sliced and julienned – check how in the 4 minute video at the beginning of this article.
Step 2 – Mince & Cook the Chicken
Take the chicken and remove any skin and bones leaving just the meat.
Cut the meat into smallish pieces to make chopping into mince easy. Once in small pieces gather them together and chop rapidly with the chopper, turning over as you go until the chicken is minced.
Take the minced chicken and place into a large pan under medium heat. Allow the chicken to cook for a few minutes, turning it regularly until colored evenly all over.
This process also releases out the water that is added into the meat by the processors (12% added water is not uncommon). There are excuses why this is done but it clearly adds to profit – sneaky they are!
It's called 'pLumped' chicken but I think they just removed the word water and added an 'L'.
Anyway, we don't want all that water in our larb so just cook it out on the pan.
Alternatively, you can salt the chicken meat (not the mince or it will be too salty) for about 20 minutes to draw out some of the water and then rinse off the salt before mincing.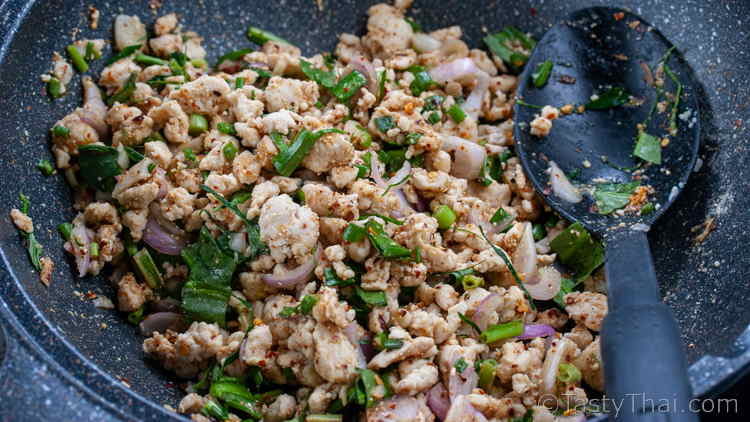 Step 3 – Finish Cooking the Larb
Add all the herbs including the shallots, fish sauce, lime juice, roasted rice, and dried chili flakes and stir thoroughly so that the roasted rice soaks up the seasonings and any remaining liquid from the chicken.
Stir around for no more than 1 minute just to mix everything together. Your onions and herbs should be almost raw, mixing with the cooked minced chicken with the seasonings all soaked up in the roasted rice which clings to the chicken mince.
There you have it – Isaan style Chicken Larb or as we call it Laab Gai!
Authentic Chicken Larb – Laab Gai Recipe
Authentic Thai Chicken Larb – Larb Gai Recipe
The Video showing this recipe being cooked is near the top of the page – A convenient Jump Link to the video is below the description under here.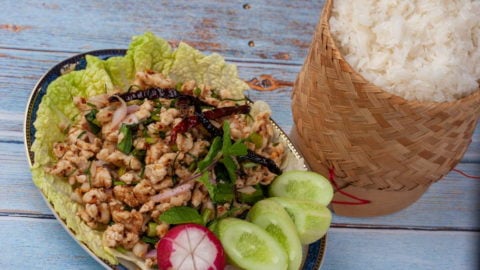 A northeastern Thai minced chicken salad dish cooked to an authentic Thai but easy recipe.
It makes for a delicious and light meal to enjoy for lunch or dinner when you don't want to over eat or you can serve it in smaller portions as something to start a more extensive Thai meal or even as a dish contributing to a larger meal.
NOTE: Any In-recipe images can be toggled on and off with the camera icons next to the Instructions header.
Ingredients  
Ingredients
14

oz

Minced Chicken

Skinless Chicken Breast

2 ½

tbsp

Homemade Roasted Rice

1 ½

tbsp

Chili Flakes

7

Shallots

5

Spring Onion

3

Sawtooth Coriander

4

Slices

Galangal

An Option

1 ½

tbsp

Fish Sauce

1 ½

tbsp

Lime Juice

1

tbsp

Brown Sugar

4-5

Fried Dried Jinda Chili

An Option
Side Dish Vegetables
4

Slices

Cucumber

2

Red Radish

Cabbage
Instructions 
Prep Herbs
Roughly chop the shallots, spring onion, and sawtooth coriander. Cut the limes in half ready for juicing.

Remove the center stem from the kaffir lime leaves, roll the leaves tightly and then slice super thinly – again for eating since the leaves are not very tender (but are very tasty).

Slice the galangal thinly and then julienne and then chop it to make the pieces very small and edible.

Chop the chicken meat into small pieces then use a chopper to cut the chicken into mince.

Put the minced chicken in a hot pan (no oil needed) and stir until the chicken is cooked. You will see water released from the chicken which will evaporate as you cook. Once the chicken is evenly colored all over and cooked, turn the heat off.

Add the seasonings, fish sauce, lime juice, brown sugar, roasted rice, chili flakes and all the herbs and onions.

Mix everything together quickly (no more than a minute) to help distribute the ingredients and let the roasted rice absorb any remaining juices.

The chicken should be cooked and moist but not wet and the herbs and onions almost raw when you are done.

Serve on top of lettuce leaves, garnish with mint, fried dried Jinda chili, cucumber, red radish or shredded cabbage as it pleases you.

Eat with steamed sticky rice and salad vegetables – cucumber is really a must!
Nutrition
Calories:
206
kcal
Carbohydrates:
14
g
Protein:
20
g
Fat:
9
g
Saturated Fat:
2
g
Cholesterol:
85
mg
Sodium:
651
mg
Potassium:
802
mg
Fiber:
3
g
Sugar:
8
g
Vitamin A:
1273
IU
Vitamin C:
9
mg
Calcium:
46
mg
Iron:
2
mg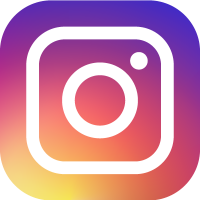 Planning on Making this Recipe?
It would be great if you could take a picture of your finished creation and share it out on Instagram. Tag me with #TASTYTHAIEATS – I love to see your ideas!
I am a Thai mum and love cooking for my children. Over the years, I have taken my family recipes as well as ones borrowed from friends and adapted them to make them even tastier. I publish my authentic Thai Food Recipes here for all to enjoy around the world. When I get a chance to travel I publish information to help others visiting Thailand.