Thai Pad See Ew is one of those iconic dishes that has migrated from street food stalls to Thai restaurants and take-outs all over the Western world.
The words "Pad See Ew" literally mean stir-fried (pad) dark soy sauce (see ew) and defines the dish made with flat noodles and featuring dark soy sauce.
How to Make Homemade Pad See Ew Video
Authentic Pad Sea Ew Recipe - Best Thai Streetfood Noodles to Cook at Home
Here's some jump links if you just want to skip to the recipe or check out the step by step tips.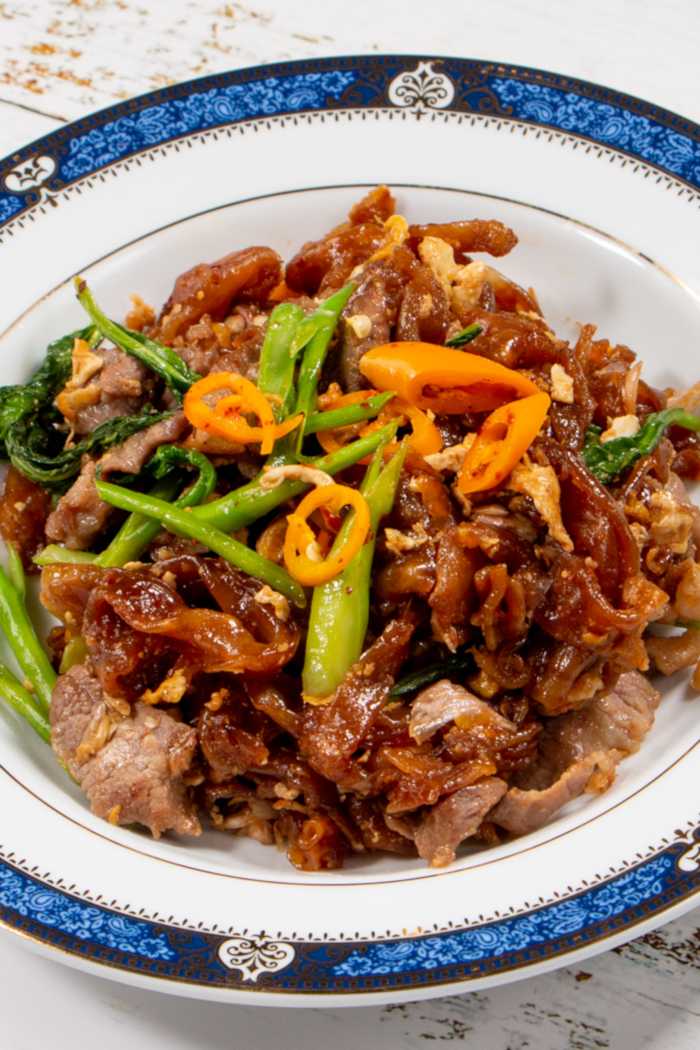 This recipe is made with pork but you can use the same recipe and swap out with chicken, beef, seafood, or tofu with the method and remaining ingredients the same.
There are a few issues making this dish at home to be aware of which you will learn about below.
Ingredients You'll Need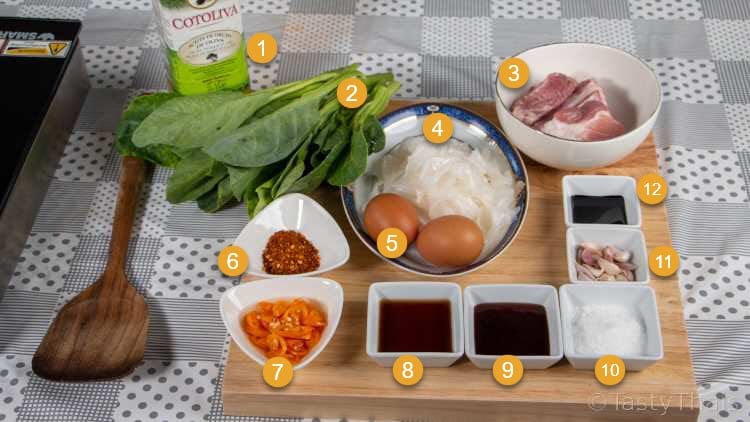 Cooking Oil
Young kale or Chinese broccoli
Pork or other protein of your choice
Sen Yai or Wide Flat rice noodles
Eggs
Dried Chili Flakes (served as a condiment)
Sliced Spur Chili (served as a condiment)
Soy sauce
Oyster sauce
Sugar (for dish and as a condiment)
Garlic cloves
Dark soy sauce either sweet or savory version
What is Pad See Ew?
Pad see ew is a stir-fried Thai noodle recipe made with fresh wide flat rice noodles and dark soy sauce. The noodles are coated with the sauce and cooked at high heat and mixed with Chinese broccoli, young kale or similar, cooked with meat, tofu, or seafood and seasoned further.
How Many Calories in Pad See Ew?
The calories in Pad See Ew come mainly from the rice noodles, the eggs and the protein used. To lower the calorie content you could use a few less noodles, use one egg instead of two or choose to use less meat or a lower calorie meat.
Other Thai recipes with Rice Noodles
There are many Thai rice noodle recipes and it can get a little confusing to remember which is which. The two most commonly confused dishes with this recipe are noted below.
Pad see ew vs pad Thai – Pad Thai (recipe to try) is not cooked with dark soy sauce and is traditionally cooked with thinner rice noodles. Dark soy sauce tastes much different to the regular soy sauce and so the taste is quite different.
Pad see ew vs drunken noodles – Pad see ew is a semi-dry style dish cooked with little spice which is added at the table to the taste of the diner. Drunken noodles is another rice noodle recipe but is cooked especially spicy and to more of a dry style.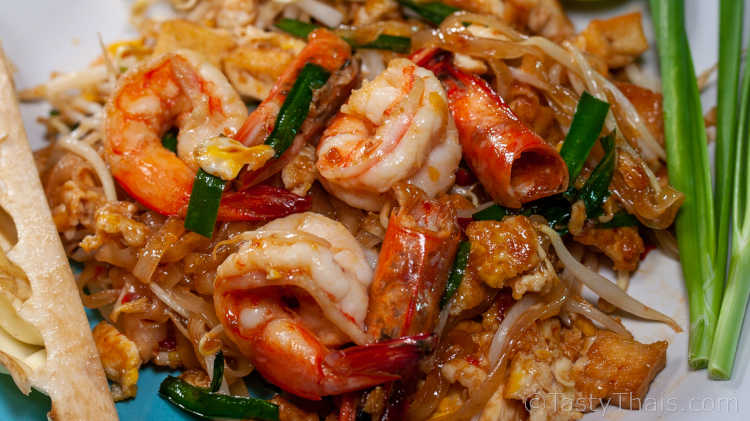 Which Dark Soy Sauce?
For this recipe, pad see ew sauce is a requirement. The first head-scratching moment may come when you are shopping for this ingredient because there are two versions – a standard type and a sweet type. Which to get?
You can use either the sweet or standard version but you will need to adjust the amount of sugar you add when cooking to get the balance right. So do not worry about which one you can find locally or grab online but the dish needs this ingredient.
Labelling can also be a bit confusing. Soy sauce and light soy sauce will be quite a thin sauce much like water. Dark soy sauce (both kinds) should be much thicker and more viscous like oyster sauce or runny honey.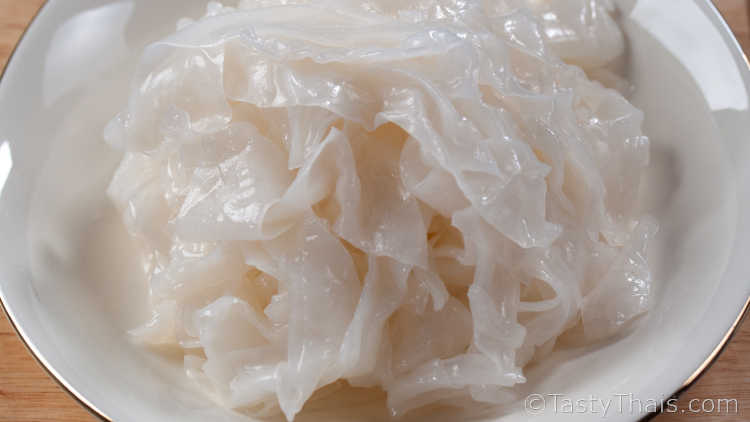 Which Noodles For Pad See Ew?
The next quandary may well be finding pad see ew noodles and knowing exactly which flat rice noodles do you need.
Traditionally the dish is made with fresh wide rice noodles (about an inch wide), that are sold in all local Thai markets as well as in the refrigerated section of most Thai supermarkets. You will likely not have fresh noodles available to you locally unless you have an excellent Asian store or market nearby.
We see Pad Thai style noodles labelled as wide rice noodles but these are much thinner than we normally use. The pack of fresh noodles will be packed tightly together and not look much like individual noodles if you find them. If you are unclear then just ask in the store to check.
If you can't get them locally then you can make them yourself – it's easy but takes about 20 minutes to make a batch – or you can use dried noodles. If you go for dried noodles then the pad thai width noodles will have to do unless you are really lucky to find a brand making the wider version.
If you want a gluten-free dish then you must make sure the rice flour is rated as such as well as the sauces as some contain trace ingredients containing gluten.
How to Cook Pad See Ew – Step by Step Notes
Why we do what we do in each step!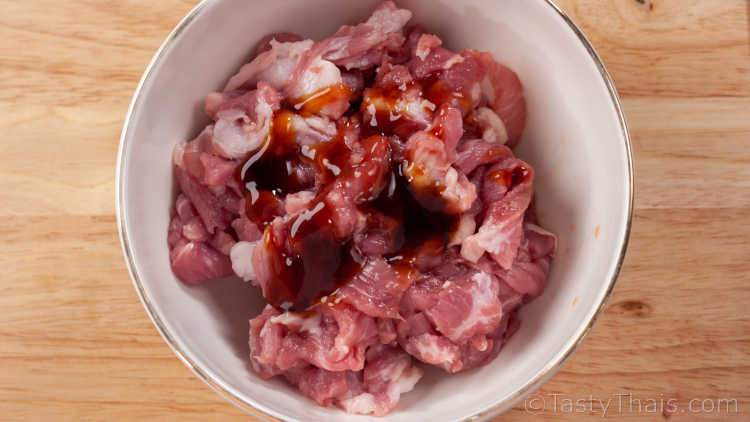 Step 1 – Marinate the Protein
Slice the meat quite thinly so it will cook quickly. Marinate with soy sauce and oyster sauce in order to get plenty of taste deep into the flesh.
We just marinate while we prepare everything else – for about 15 minutes or so at room temperature which works well enough. If you want to marinate for longer for even more taste then refrigerate to restrict any undesirable bacteria build-up which occurs at room temperature.
Step 2 – Preparing the Noodles
If you are lucky enough to have fresh store-bought noodles then they will likely be quite tightly packed together. Use your palm to gently squash the lump of noodles and they will partially separate. You won't need to do this with homemade noodles.
Gently tease the individual noodles apart and place on a dish ready for cooking.
If dried noodles are all you can reasonably find then these must be rehydrated – follow the packet directions and remove before fully cooked as they will cook more when you stir-fry them.
Drizzle the flat rice noodles with Dark Soy Sauce and mix in the sauce to coat the noodles and let them sit for a bit.
Step 3 – Prepare the Green Vegetables
Thais use young kale mostly for the green vegetable but Chinese broccoli is quite similar, in fact, a little less bitter, and works really well.
We want the crunchiness of the stems in the dish but not so much of the leafy part. So pick the youngest bits and cut back the stems to the tender section closest to the leaf – peeling any tough parts of the stem that remain. Trim back the leaf by cutting top to base diagonally to reduce the amount.
Blanch the green vegetables in boiling water for a minute or two to partially cook for tenderness (but keeping the crunch). Blanching also brings out the green color of the vegetable for a visually better end result.
FYI it is also a great method to improve the quality of your fresh frozen vegetables, bu I digress.
Step 4 – Stir Fry to Partially Cook the Meat
Crush the garlic to help release the oils and stir-fry in a little hot oil until aromatic which indicates the oil is now well infused with the garlic oils.
Stir-fry one the marinated meat in the garlic and oil seasoned with a little soy sauce to brown and cook to about 90%. Remove from the pan (leaving any residual oil) to give plenty of space for browning the noodles in the next step.
You can cook the meat in batches or in individual portions which I prefer because it is easier to portion out before cooking as is needed for the following step.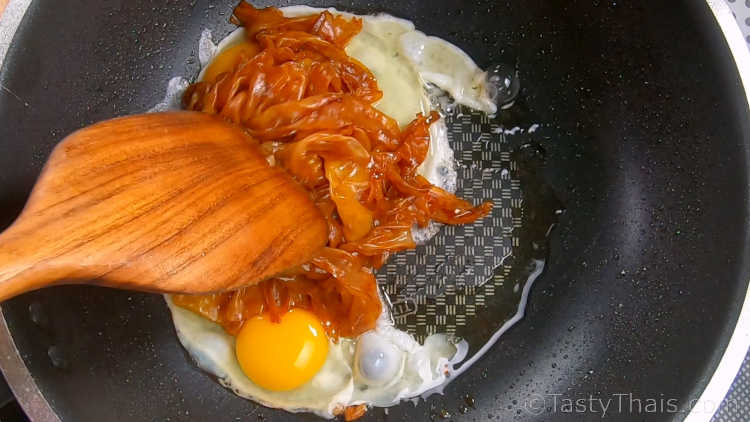 Step 5 – Cooking the Noodles with Egg
We suggest that the noodles are cooked portion by portion to maximize the surface area of noodles touching the pan for browning. If you cook them all together you will likely end up with a big clump of noodles and not much browning.
Turn the heat to the highest setting and wait a few moments for the pan to get even hotter. Home cooks are at a disadvantage to restaurants and street vendors as they use high heat output burners which domestic burners cannot compete with. So you will need to get your timing right here, use a high smoke point oil, and get your pan as hot as possible!
Crack an egg into the hot, not quite smoking, oil and immediately add in the dark soy sauce coated noodles and begin to stir to mix in the noodles and egg. Allow the noodles to sit in the pan to brown a little and flip.
Take care not to overwork the noodles as it is easy for them to break up which is not what we want.
You have a balancing act here between getting some browning on the noodles without making them too tough. They will get more tough and chewy the longer they cook. The flash heat cooking of high output burners avoids this since the pan is so much hotter and browns the outside of the noodle quickly without making it too rubbery.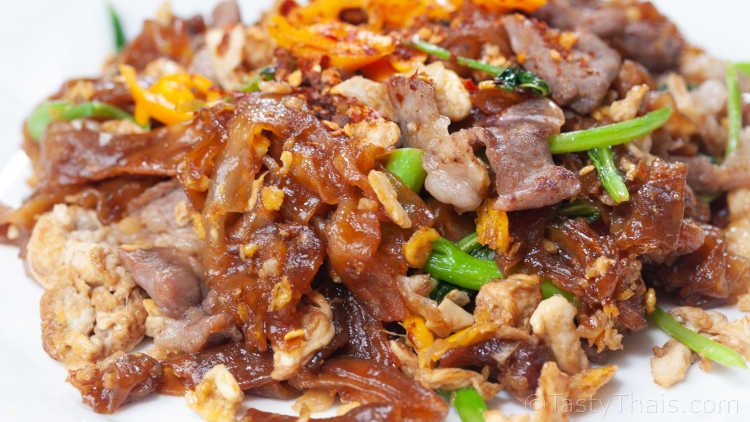 Step 6 – Finishing Up
As soon as the noodles are browned a bit, waste no time to add a portion of the meat as well as a portion of the greens to the noodles and quickly stir fry just long enough to heat through.
Do not cook too long as the noodles will get rubbery and too chewy.
Serve and cook up the next portion.
If you have your ingredients portioned for cooking, and you do want to be prepared before you start, then the cooking of each portion takes only a couple of minutes.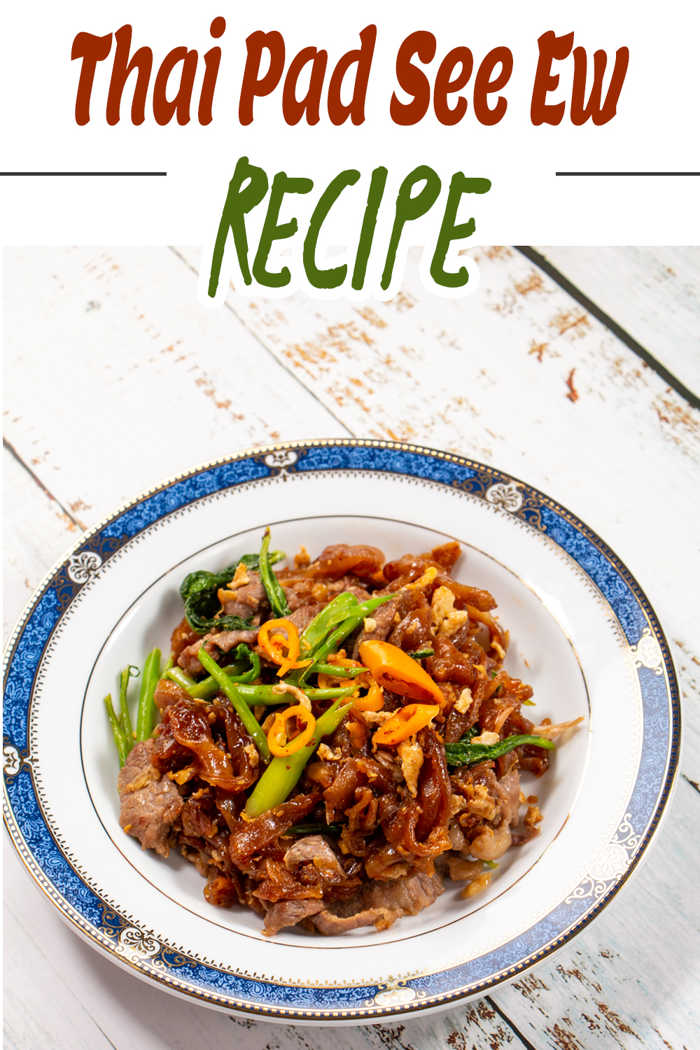 Authentic Homemade Pad See Ew Recipe
Authentic Homemade Pad See Ew – Thai Noodles Stir Fried with Dark Soy Sauce
The Video showing this recipe being cooked is near the top of the page – A convenient Jump Link to the video is below the description under here.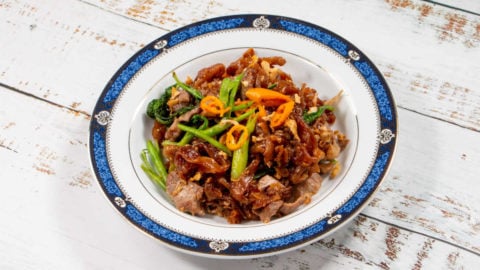 See Ew is the name of Dark Soy Sauce which comes in a sweet and savory version. It doesn't matter which version you use becasue you can adjust the sweetness through using more or less sugar when at the tasting stage.
It is a stir fried dish which is usually cooked with pork, chicken or seafood but can also be cooked with other meats.
The recipe is easily adapted for vegetarians by choosing tofu or a vegetarian friendly substitute for meat and careful choice of sauces.
NOTE: Any In-recipe images can be toggled on and off with the camera icons next to the Instructions header.
Ingredients  
Main Dish
6

oz

wide flat noodles

hydrated weight or cooked dry noodles

1 ½

tbsp

dark soy sauce (black soy sauce)

Mix with Sen Yai

4

oz

sliced pork collar (1 cup)

5

sticks

young kale, broccolini or Chinese broccoli

2

eggs

1

tbsp

white sugar

2

tbsp

soy sauce

1

tbsp

oyster sauce

2

tbsp

olive oil

high smoke point oil

15

Thai garlic (small)

Any garlic 3-4 cloves
Instructions 
Instruction
Slice pork collar and marinade with oyster sauce and soy sauce, leave to marinate dor about 5-10 mins while you prepare the rest of the ingredients.

Mix dark soy sauce with wide rice noodles and leave to settle & infuse a little.

Cut the bottom of the kale stems and cut kale leaves in triangle ( watch the VDO ). Bring water to a boil and blanch the kale. Set aside

Pound the garlic cloves and add to a little hor oil in your pan. Stir fry until fragrant then add in the marinated pork.

Stir fry until the pork is 70-80% cooked, season with soy sauce, stir to mix and set aside.

Heat your pan as hot as possible with a little oil. Crack in two eggs immediately followed by the marinated noodles and stir fry together, breaking up and mixing in the egg as you go.

Do not cook too long but do try to spread out the noodles to brown once the egg is mixed in. Toss the noodles over once to stir fry and brown the other side – all of this needs to be done quickly to stop the noodles getting too rubbery from overcooking.

As soon as you have browned the noodles add back the meat and the kale and quickly stir fry to warm through. Serve immediately.
Notes
Pad See Ew is typically made with fresh wide rice noodles. If you can get them locally then do but otherwise you can use dried wide noodles or Pad Thai noodles or you can always make homemade wide rice noodles for the ultimate in yummy.
You need to get everything ready for cooking (mise en place) because once you start there's no stopping!
Cook in single batches to make it easier to stop the noodles clumping together and for more even cooking.
Nutrition
Calories:
451
kcal
Carbohydrates:
65
g
Protein:
15
g
Fat:
14
g
Saturated Fat:
3
g
Cholesterol:
187
mg
Sodium:
332
mg
Potassium:
179
mg
Fiber:
3
g
Sugar:
16
g
Vitamin A:
487
IU
Vitamin C:
4
mg
Calcium:
51
mg
Iron:
3
mg
Planning on Making this Recipe?
It would be great if you could take a picture of your finished creation and share it out on Instagram. Tag me with #TASTYTHAIEATS – I love to see your ideas!
Some Frequently Asked Questions About Pad See Ew
Is Pad See Ew Healthy?
Pad see ew is not going to compete with fresh fruit or lightly boiled fresh vegetables in any healthy food competition. The fresh noodles contain a lot of oil needed to stop them from sticking together and are mainly carbohydrate so the dish is not particularly healthy.

Check out the calorie breakdown picture in the main post above to see where you can reduce the number of calories
What is Pad See Ew Made From?
Pad See Ew is made from fresh Thai Wide & Flat Rice noodles (called Sen Yai in Thai) and Dark Soy Sauce (See Ew Sauce), You can make fresh noodles at home or buy at some specialty Thai stores.
How do You Pronounce Pad See Ew?
Pad See Ew is pronounced as it is written. Pad (ผัด) as in 'writing pad', See (ซี) as in 'I see you' and Ew (อิ๊ว) as in the letter 'e' from event and the word 'you' said together one after the other e-you.
Is Pad See Ew Chinese?
Pad See Ew is a chinese noodle dish that has been adapted and then incorporated into Thai cuisine. Today it is a Thai dish using slightly differing ingredients though still quite similar to the original chinese dish.
I am a Thai mum and love cooking for my children. Over the years, I have taken my family recipes as well as ones borrowed from friends and adapted them to make them even tastier. I publish my authentic Thai Food Recipes here for all to enjoy around the world. When I get a chance to travel I publish information to help others visiting Thailand.