Rice is abundant in Thailand and it is the center of nearly everything we eat. Cooking perfect rice is essential to Thais and so we take it really quite seriously. Serious, doesn't mean fussy though as a good quality rice cooker will produce perfect rice every time.
You can cook rice in a saucepan but it's just not so easy. Thais like things easy – most things anyway!
If you like this egg fried rice perhaps you might be amazed at our cheesy stir fried cauliflower rice recipe too. It's really good we think. Or if you are here for a recipe to use up leftover rice why not take a look at our recipe for Thai Rice Salad / Mackerel Salad which is just awesome!
Video on How to Make Extremely Simple Egg Fried Rice
Khao Pad Khai (Egg Fried Rice) - 5 Minute Easy Recipe for 2019
If the video isn't loading, you can watch it by clicking this
Links Disclosure: Some links on this page go to affiliate partners where, without cost to you, we may receive a commission if you make a purchase.
Ingredients Needed to Make Delicious Egg Fried Rice
Cooked Jasmine Rice
Light Soy Sauce
Egg
Butter
Brown Sugar
Brown Onion
Green Onion
This really easy to cook oriental egg fried rice is my Thai version of the slightly spicy egg fried rice you might be used to grabbing from your local Chinese restaurant – just better!
It's a carbohydrate packed mini-dish you can knock up and eat as a fill-in snack cum meal if you're short of time, or as an accompaniment to a bigger meal.
If you add some protein, such as meat or seafood, it can form a more central focus to a multi-dish meal as well.
You are going to love this quick to prepare, super versatile fried rice recipe.
How to Cook Thai Egg Fried Rice
Cooking fried rice is really easy – it is just fried after all! But how to make egg fried rice tasty and not too greasy? You do that by controlling how much fat you use and the sauce you add for flavor. That's the secret!
The Thai version almost always uses either onions or garlic as well as cold cooked rice, sauce to add flavor and of course egg.
Other ingredients, vegetables such as bell peppers, peas or broccoli, or meats such as chicken or seafood work well but must be cooked first. A good recipe will propose adding them while cooking the onions or garlic to warm them through before adding the rice. Prawns and crab meat are our favorite additions for a treat and chicken for a more regular meal dish.
How to Make Egg Fried Rice Tasty
Thai cooking has several sauces that are commonly used to flavor stir-fried dishes. They are all quite salty so be careful to add less at first, taste and add more to your preference. You can almost always add more of an ingredient but rarely take it out after its already in.
This recipe uses light soy sauce but you can also use oyster sauce, mushroom flavored soy or oyster sauce or even fish sauce but fish sauce makes for a rather stronger flavor which some people don't like.
I suggest that you start with soy sauce (which is closest to the Chinese cooking style) but feel free to try out some other sauces as variations later to experiment.
The partner to taste is texture and the way you cook the eggs is one way the texture is altered. A common question is how to scramble eggs for egg fried rice.
Don't!
If you cook beaten eggs then you will end up with lumps of homogenous scrambled egg in your rice. If you break them into the pan on medium-high heat then you will end up with a less homogenous result with slightly firmer yolk bits among the whites and also a cooked mix of coupled eggs beaten in the pan.
Take a look at my easy egg fried rice video above then you will see that method demonstrated. If you leave the cooked egg to one side as in the video then you will increase texture again as the egg touching the pan surface will cook a bit longer than the rest.
Lastly, use butter rather than the alternative which is a vegetable oil, because it adds to taste and works really well with the rice for a fantastic taste. Just use the butter sparingly.
What Type of Rice to Use
If you are wondering how to make egg fried rice at home and want to know which rice type to use then it's Jasmine Rice. It is fragrant so it smells great and it has substance to each grain when cooked, keeping its shape better, does not stick together as easily as cheaper varieties and flakes better – perfect for this dish!
I know I am biased but Jasmine Rice is the best rice for Thai cooking. Indians use basmati rice, Chinese tend to use cheaper rice varieties.
There is definitely a difference in taste and texture so stick to Jasmine Rice for Thai food and basmati rice for Indian dishes if you want any authenticity. You will notice the difference in texture and taste.
You can use cheaper white rice but be warned it will finish up much more floury, sticky and is much inferior for a really rather small saving in money terms.
Is it Better to Use Warm or Cold Rice for Fried Rice?
A similar question is whether to use freshly cooked rice or cold rice? Freshly cooked rice or even heated rice will contain more moisture and end up clumping together and rather sticky. Always use cold rice and preferably day old rice from the fridge.
Easy Egg Fried Rice Recipe Step by Step
I recommend that you watch the video at the top of the page but some prefer still images and text so here is the method. You'll find the quantities in the easy print recipe.
Add a tablespoon of soy sauce (or alternative such as oyster sauce or mushroom soy/oyster sauce) to your cold cooked rice.
Take a small knob of butter and melt over high heat, then break in an egg and stir it around to cook without beating it up too much (poor egg)! Cook it but don't overcook it.
If you are using a wok or pan where the cooking heat is very well distributed (it depends on a lot of things actually) then set the cooked egg aside on a small plate. If you are using a standard flat pan you can save washing up by pushing the cooked egg to one side of the pan. Add about 1oz (25g) butter and melt then quickly cook the onions on fairly high heat until they begin to go a bit transparent.
Add the rice and stir it all up over the heat to heat the rice through and spread the coloring that the sauce gives the rice thoroughly throughout.
You're done! Told you it was easy!
How do you Serve Egg Fried Rice?
You can make this look like a bit more effort went into it by spooning a small round bowl of about 4-5" diameter. Press down slightly.
Upend the bowl on a plate and you will have a beautiful mound of egg fried rice. Chop up the tops of a few green onions and sprinkle on the top. Add a slice of squeezable lime to really bring out all the flavors.
Serve with a little sauce and some green onions to crunch up or some sliced cucumber which tastes juicy and cool against the rice and is really yummy.
Easy Egg Fried Rice Easy Print Recipe
Kao Pad Khai (Easy Egg Fried Rice)
The Video showing this recipe being cooked is near the top of the page – A convenient Jump Link to the video is below the description under here.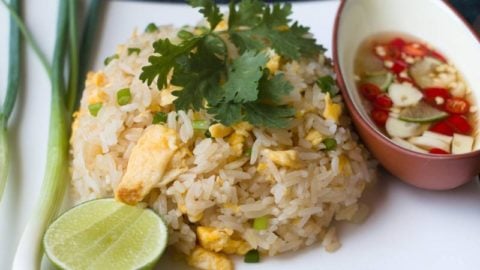 NOTE: Any In-recipe images can be toggled on and off with the camera icons next to the Instructions header.
Ingredients  
250

g

Cooked Jasmine Rice

1

tbsp

Light Soy Sauce

1

Egg

1

oz

Butter

1

tsp

Brown Sugar

1/4

cup

Chopped Brown Onion

1/3

cup

Chopped Green Onion
Instructions 
Cook the egg quickly in the pan with just enough butter to stop it sticking. As soon as it is cooked put it on the side.

Add the soy sauce and brown sugar into the rice and mix in the bowl..

Add the butter and fry the onions, stirring occasionally until the onions turn a little translucent.

Then add rice from your bowl into the pan and stir well until everything is well mixed.
Accompaniments
3. Fish sauce with lime and garlic
Nutrition
Calories:
320
kcal
Carbohydrates:
41
g
Protein:
8
g
Fat:
14
g
Saturated Fat:
8
g
Cholesterol:
112
mg
Sodium:
640
mg
Potassium:
168
mg
Fiber:
1
g
Sugar:
3
g
Vitamin A:
640
IU
Vitamin C:
4.6
mg
Calcium:
37
mg
Iron:
1.1
mg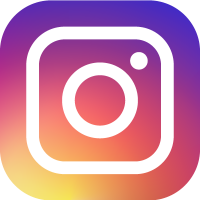 Planning on Making this Recipe?
It would be great if you could take a picture of your finished creation and share it out on Instagram. Tag me with #TASTYTHAIEATS – I love to see your ideas!
I really hope you enjoy this dish and if you cook it I would love to hear your comments below so please come back and let me know how it turned out for you.
Other Posts You Might Enjoy:
I am a Thai mum and love cooking for my children. Over the years, I have taken my family recipes as well as ones borrowed from friends and adapted them to make them even tastier. I publish my authentic Thai Food Recipes here for all to enjoy around the world. When I get a chance to travel I publish information to help others visiting Thailand.