Rad Na is a Thai dish coupling noodles with a mostly non-spicy gravy along with a variety of additions from seafood to meat and usually some vegetables.
For a vegetarian rad na just use tofu as a replacement protein or use only vegetables.
Making Rad Na – Video
You can jump straight to the recipe but you'll be missing our tips for cooking up this dish in the detailed Step By Step Guide if you do.
Table of Contents
Thais have an issue pronouncing their "R's" which should be rolling but colloquial speech turns the r's into more of an "L" sound. Westerners copy the sound and so ask variously for Lad Na, rad nar, rad nah, lad nar, lard na and even na na noodles.
It is not correct because the Thai spelling of the word begins with an R but anyway, who cares right? Rad Na and Lad Na and the rest, are one and the same dish.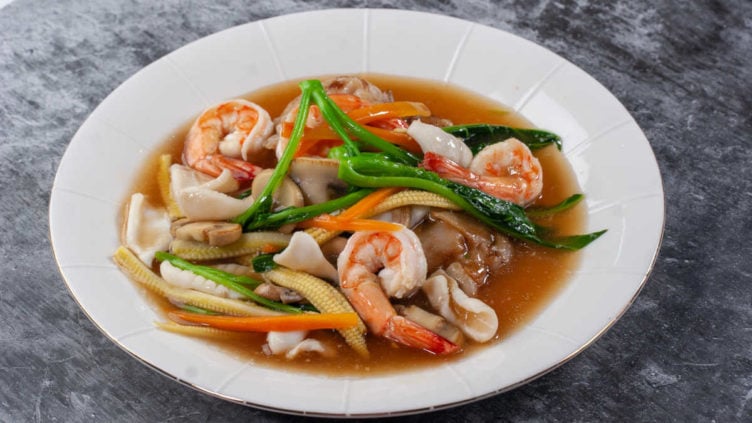 Ingredients You'll Need
Protein Ingredients: Shrimp & squid – you can swap out for an alternative protein of your own preference
Wide rice noodles
Seasonings: Soy sauce, oyster sauce, dark soy sauce, Chinese rice wine (or substitute), sesame oil, sugar
Vegetables: Baby corn, sliced mushrooms, trimmed young kale (broccolini or similar green leafy vegetable), julienned carrots – you can sub as desired
Oil for stir fry – meaning high smoke point vegetable oil etc.
For the Gravy: Potato stock, chicken stock, and water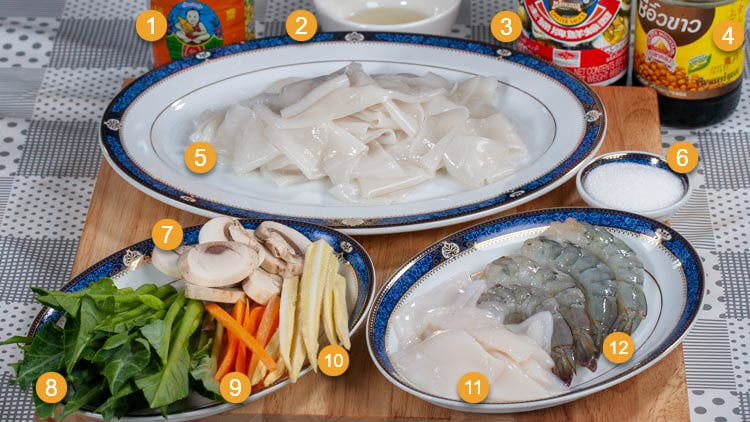 Rad Na Noodle
This is a famous Thai street food dish that many want to recreate at home. You may run into trouble when trying to find the right noodles though as they are made fresh in Thailand and don't keep for very long.
The answer is to make homemade wide rice noodles if you can't find them. The lad na noodle is easy to make and quite quick and they taste wonderful. They are the same wide flat rice noodle used for Pad See Ew, Pad Kee Mao, and a few other dishes but you can choose thinner or thicker noodles as the fancy takes you.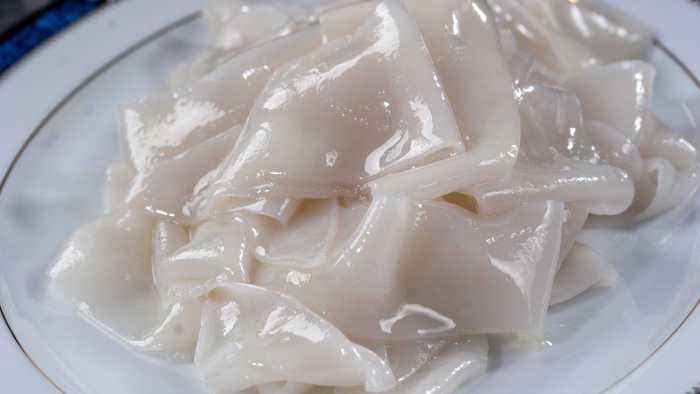 You need fresh rice noodles for this dish to be authentic although dried noodles that are cooked will work if you can find good quality dried wide and flat rice noodles.
In this noodle dish the wide rice noodles are stir fried initially, leading some people to refer to the dish as pad (fried) rad na but it should be noted that although the dish contains an element of stir frying it is more of a braised in gravy noodles style dish.
Rad Na Calories
The calories in rad na come more from the noodles than the meat and vegetables or seafood used. The gravy is tasty and fully seasoned so there are a few calories in that.
So if you are looking to cut down the calories then reduce the number of noodles in the dish for the biggest reductions.
Check out the chart in the image below for some hard data based on this recipe and the quantities we use. Obviously, if you swap out the protein or add in more vegetables then the figures will change.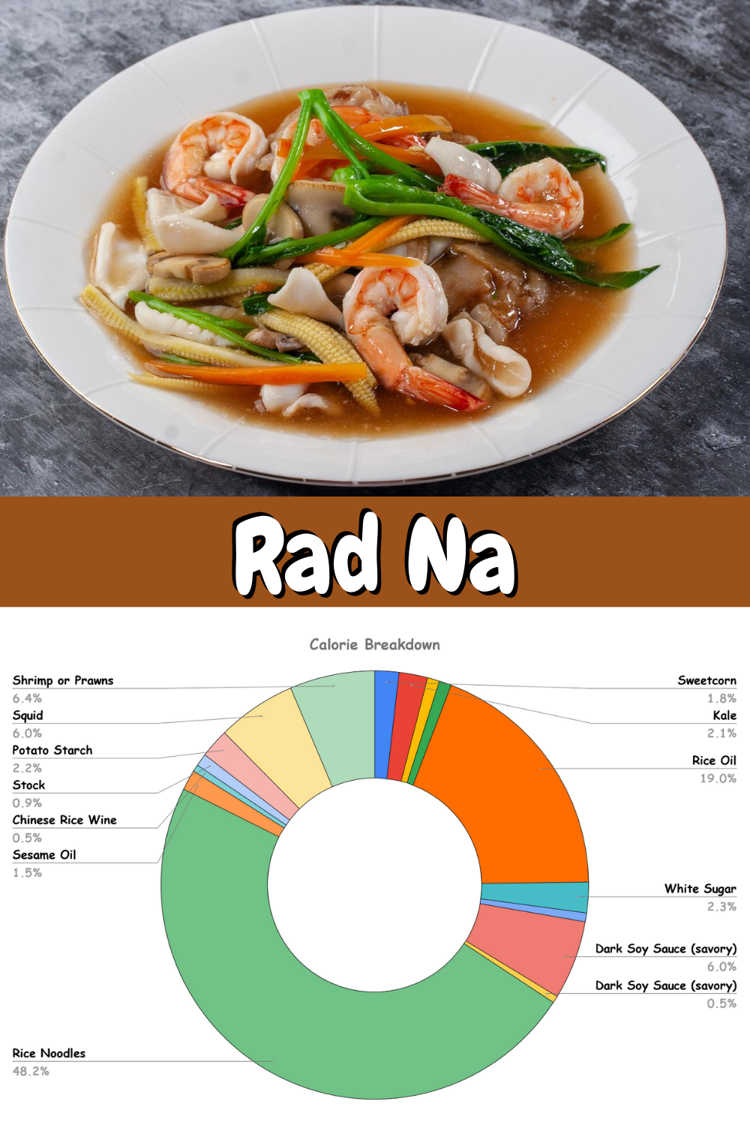 How to Make Authentic Rad Na – Step by Step Guide with Tips
Step 1 – Organise the Mise En Place (Getting Prepared)
Much of Thai cooking is quite quick which means you do not have time whilst cooking to start cutting things up, finding ingredients you forgot, and so on. So this is an important step.
Take out your wide flat rice noodles and individually separate them. If stored in the refrigerator then allow them to warm up to room temperature while you get the other ingredients ready.
Peel off the shells from the shrimp or prawns and remove the waste track which looks like a black line running top to bottom down the back of the shrimp.
You can either use the toothpick method or cut down the back with a sharp knife to expose the intestinal tract and pull it away. Give the shrimp a wash under running water to clean.
Prepare the squid by cutting into bite sized pieces. Hopefully, the inedible eye and beak parts will already have been removed by the fishmonger but if not then remove them. Find how to prep squid here if it has not already been done for you.
Wash the other vegetables and peel or scrub the carrots before cutting into smallish slices. The mushrooms should be sliced and the corn quartered lengthwise.
For the kale we do not want the whole leaf, so fold the leaves together along the center spine of the leaf and cut at an angle as shown in our video. If you prefer you can swap the kale for chinese broccoli (gai lan), regular broccoli or bok choy.
Measure out and set out the rest of the ingredients as well as your serving plate.
Step 2 – Par Cook the Seafood (Protein)
We are using seafood in the form of shrimp and squid in this rad na recipe but you can substitute for a different protein or even just vegetables on their own if you prefer, which is fine.
We want to partly cook the seafood (or substituted protein) first. For seafood simply simmer in water for a minute or so. For meats sauteé in minimal oil to brown on all sides and cook about 70% through.
This process adds some color and saves us having to cook longer in a later stage which would make our vegetables, which we want lightly cooked and crunchy, overcooked. We finish cooking the seafood (or substitute protein) soon.
It is important to understand that in Thai cuisine, vegetables are usually lightly cooked, some might say undercooked. This is good thing because light cooking retains more nutrients.
Step 3 – Stir Fry the Noodles
Heat a little oil in a wok or wide pan over a medium flame and when hot add the fresh, wide, flat rice noodles. Drizzle over a little dark soy sauce and mix well in to color the noodles through.
This should be quite a quick process of 1-2 minutes or so. It finishes cooking the noodles and distributes the nice golden color of the dark soy sauce through the noodles.
Once cooked, set the noodles out on the plate you will serve on. Leave any cooking oil in the pan for the next step.
Step 4 – Lightly Cook the Vegetables
Just before you start, mix the potato starch (or substitute thickening agent) with a little cold water and give your stock a stir.
I prefer to cook all the vegetables together for a crunchy texture to the kale.
If you prefer your greens a little more cooked then start with the kale which needs longer to cook and stir fry for a couple of minutes before adding in the rest of the vegetables. You can add a little garlic as well for a slightly different flavor profile.
Stir fry all the vegetables for a few minutes.
Feel free to swap out the vegetables or add more in – asparagus and peas are a popular choice.
Step 5 – Making the Gravy and Finish
Then add in the stock, bring back to a simmer and simmer for a minute before adding back the seafood (or other protein) you cooked earlier.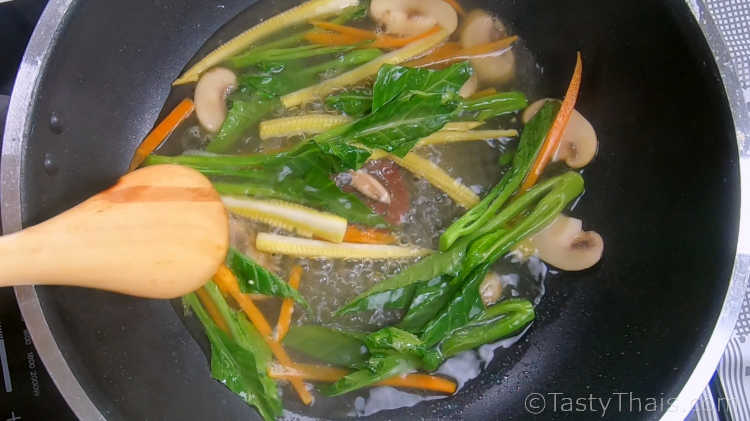 Add a little sugar to sweeten slightly to your preference and season with oyster sauce and soy sauce to add salt and umami tastes and a touch of sesame oil for aroma and taste and a few drops of black (dark) soy sauce to add color to the gravy.
Don't forget to taste and adjust the seasoning to your preference.
When you are happy with the seasoning add the Chinese rice wine which gives a slight sour note and nice aroma. Then stir your potato starch mix and add it in a little at a time whilst stirring.
With the potato starch or other thickener you choose, the amount added will determine the thickness of the gravy. Here you have to decide whether you prefer a thin or thicker gravy.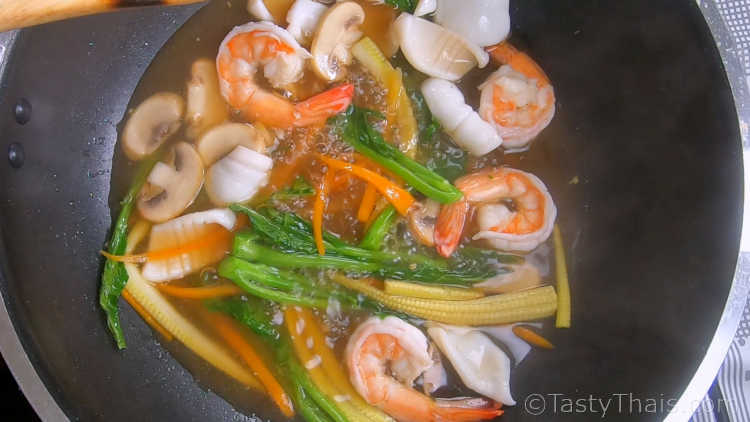 Add about half the quantity recommended and allow to cook for about a minute and add more if the gravy is not getting thick enough.
It is totally a personal preference.
When your gravy has thickened, tip the gravy and vegetables over the rice noodles you cooked earlier.
Arrange to look pretty and serve. with a little garnish such as carved carrot or a few cilantro leaves.
Don't forget the first part of a dining experience comes from your eyes, then your nose and finally your mouth!
Seafood Rad Na Recipe
Rad Na Seafood – Thai Wide Noodles in Gravy
The Video showing this recipe being cooked is near the top of the page – A convenient Jump Link to the video is below the description under here.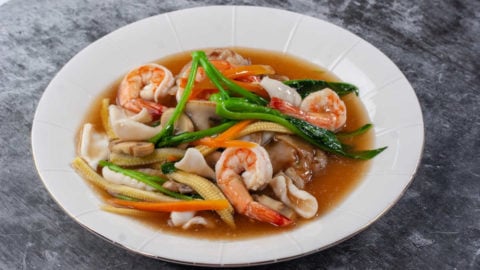 Rad na is a delicicious Thai street food dish which is not spicy.
It is quick to cook and comprises meat or seafood with vegetables and noodles that are quickly sitr fried and then simmered in a flavorful gravy.
If you want to add chili to spice it up you can either add fresh chili into the dish or more commonly add dried chili flakes along with other seasonings like salt, sugar, fish sauce and prik nam som (quick pickled chili)
NOTE: Any In-recipe images can be toggled on and off with the camera icons next to the Instructions header.
Ingredients  
Base Ingredients
9

oz

cooked flat wide rice noodles

separated individually

1

oz

baby corn

quartered lengthwise

2

oz

sliced mushrooms

typically straw mushrooms but can use button mushrooms

2

oz

young kale

leaves shaped to reduce

1

oz

carrot

sliced for bite sized

2

tbsp

rice oil

or high smoke point oil

2

tsp

sugar

any type

1

tbsp

oyster sauce

1

tbsp

soy sauce

low sodium soy is good

½

tsp

sesame oil

2

tsp

dark soy sauce

for noodle stir fry

½

tsp

dark soy sauce

for coloring gravy

1

tsp

chinese rice wine

aroma and a little sour tone
For Gravy
1

cup

stock

vegetable or other flavorful stock

1

tbsp

potato starch

3

tbsp

cold water
Seafood
3

oz

shrimp or prawn

shelled to tail and deveined

3

oz

squid

prepared and cut into bitesize
Instructions 
Get everything ready. Peel the shrimp and devein. Cut the prepared squid into bite sized pieces, Slice the carrots into bitesized slices. Slice the mushrooms. Quarter the corn lengthwise.

Shape the kale and reduce the leafy green part by folding together along the central leaf spine and cut at an angle from top to bottom as shown in the video.

Mix the potato starch with the cold water in readiness. Measure and set out seasonings.

If using seafood then boil for 1-2 minutes until the shrimp develop color and then drain and set aside.

If using an alternative protein then sauteé to brown and cook about 70% through.

Heat the oil over a medium flame until hot and then stir fy the flat wide rice noodles. Add dark soy sauce and mix well in while stir frying to develop color and taste.

After 1-2 minutes of stir frying remove the noodles leaving any excess oil in the pan.

Give the potato starch a stir again.

Add in the vegetables to the pan you just cooked the noodles in, which should still have a little oil left over after draining the noodles. Stir fry for 2 minutes on high heat.

ALTERNATIVELY

If you prefer your kale less crunchy then you can stir fry the kale on its own first for a couple of minutes to soften the stems before adding the other vegetables. After adding stir fry all together for another 2 minutes.

Add in the chicken stock and bring to a simmer for 3 minutes to further cook the vegetables before adding the seafood or other protein you like.

Finally add the potato starch and water mix into the simmering gravy to thicken it. Add about half first and allow to cook for about a minute to gauge how thick the gravy ios becoming. Adjust by adding more or thinning with stock if too thick according to how you like the gravy.

There is no set thickness that is right – just as you like it.

Once the gravy is to your desired consistency, pour the vegetables and gravy over the noodles and serve.

Take a moment to arrange the greens and other vegetables to look nice and maybe garnish with cilantro or other leaf herb.
Notes
You can swap out the seafood for any other protein of choice which should be part cooked as explained above the recipe card in the post to develop color and reduce cooking time needed in the gravy cooking stage.
You can either use fresh flat wide noodles, find dry ones and follow instructions to cook or make your own fresh noodles which is easy. 
If you swap out noodles then you create a slightly different dish with a different mouth feel and texture. Egg noodles and pad Thai noodles are sometimes used as well.
Nutrition
Calories:
1288
kcal
Carbohydrates:
268
g
Protein:
48
g
Fat:
33
g
Saturated Fat:
7
g
Cholesterol:
412
mg
Sodium:
3445
mg
Potassium:
1083
mg
Fiber:
8
g
Sugar:
23
g
Vitamin A:
10975
IU
Vitamin C:
81
mg
Calcium:
300
mg
Iron:
7
mg
Planning on Making this Recipe?
It would be great if you could take a picture of your finished creation and share it out on Instagram. Tag me with #TASTYTHAIEATS – I love to see your ideas!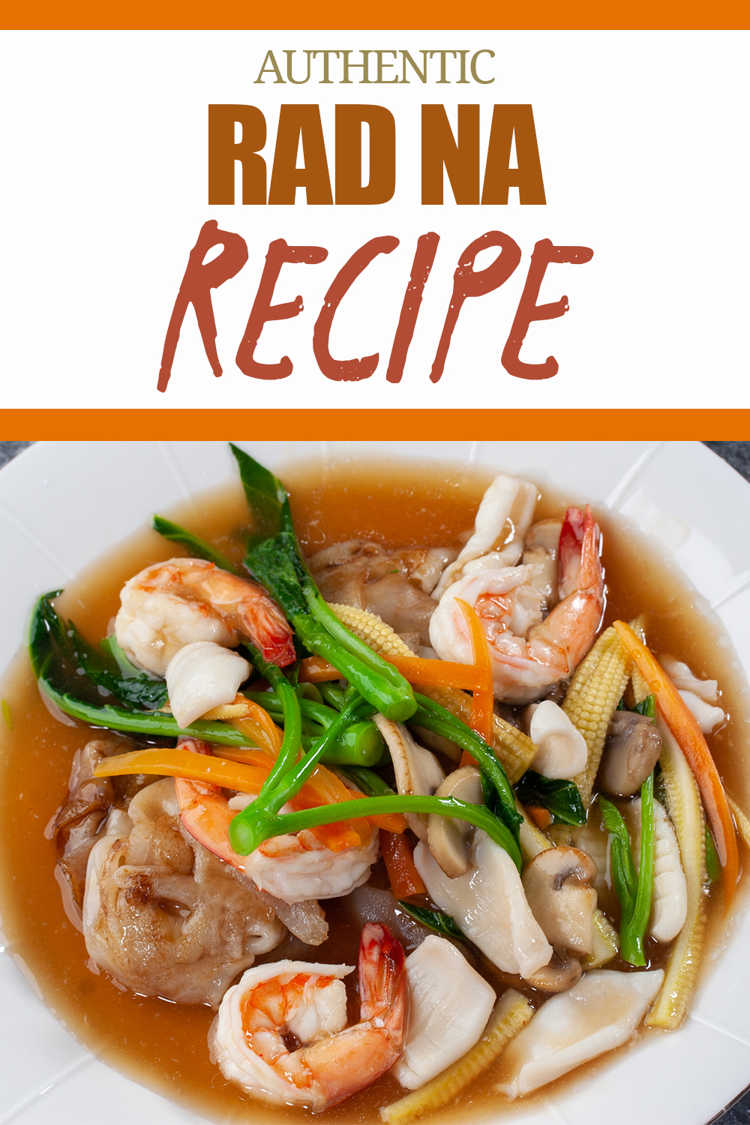 I am a Thai mum and love cooking for my children. Over the years, I have taken my family recipes as well as ones borrowed from friends and adapted them to make them even tastier. I publish my authentic Thai Food Recipes here for all to enjoy around the world. When I get a chance to travel I publish information to help others visiting Thailand.