Cheesy stir fried cauliflower rice with lemon basil is a surprisingly tasty recipe that came out about 10000% better than expected! Even if you are not a lover of this particular cruciferous vegetable, you will be a convert and healthier after you try this recipe.
If you are a lover of sushi then why not check out our Low Carb Sushi recipe – it uses cauliflower rice wonderfully too!
Video Showing How to Make Basic Cauliflower Rice and Our Cheesy Stir Fried Cauliflower Rice with Lemon Basil Recipe
Homemade Stir Fried Cheesy Cauliflower Rice with Lemon Basil
Link to How to make Cauliflower Rice video in case it does not load for you.
It hardly needs to be said that cauliflower is a healthy food, but the fact is it has very low calories, no fat, plenty of fiber and a bucket full of vitamins going for it.
What is not really going for it is the rather 'Meh' taste that turns a lot of people off. Well, the good news is the taste is fixable. So grab a cauliflower let's get cooking!
If I haven't persuaded you then perhaps try our traditional Chicken fried rice recipe instead?
Links disclosure: Some links on this page go to affiliate partners where, without cost to you, we may receive a commission if you make a purchase.
7 Ingredients You Need to Make Cheesy Stir Fried Cauliflower Rice with Lemon Basil
Cauliflower
Parmesan Cheese (or similar)
Lime
Lemon Basil
Olive Oil
Fish Sauce
Garlic
Why You Want to Make Cauliflower Rice
Jasmine Rice is great and so is sticky rice. Brown rice is good for you but a bit indigestible in large quantities. But rice comes with a large hit of carbohydrates.
Now that may be fine or not. The simple fact is that carbs produce energy and converts to sugar to produce energy for your body. If your body doesn't need to use the energy that sugar provides your body stores it as fat. That's the basic 101 of where fat appears from.
So for people who are very active and for youngsters who are growing, carbs from food are desired. For people who are less active, in office jobs, who don't exercise, stuck at home all day or who are sedentary, carbs are something we need to control.
With only 25 calories per 100g (7 per oz) Cauliflower contains about 10% of the carbs in white rice, so using cauliflower as a substitute is a big deal for a lot of us.
There are two drawbacks. Cauliflower is not top of the taste list being rather bland and it isn't very filling.
Apart from the super low carbs and calorie benefits, cauliflower has a good amount of fiber to help digestion, lots of vitamins and is really very versatile. So there you have a quick rundown of the health benefits of cauliflower rice and why it is good for you.
How to Make Basic Cauliflower Rice with a Food Processor
The best way to make cauliflower rice is undoubtedly using a food processor. It's quick and not messy and easy to clean up afterward.
Just get yourself a nice fresh cauliflower and remove the outer leaves which will leave [sic] you with your brainy cauliflower. Give it a good wash.
Cut around to detach the cruciferous flowery floret bits and chuck away the hard central core. Cut your florets again one or two times to reduce the size and help your processor rice them quickly.
If you leave the florets whole, the most likely outcome is mushy overprocessed cauliflower mixed up with larger lumps that managed to run around inside avoiding the blades!
Dab the florets with a paper kitchen towel to remove any water remaining from washing and drop the florets into your food processor.
Pulse a few times and the cauliflower will quickly process into rice-sized particles and you are done.
That is cauliflower rice!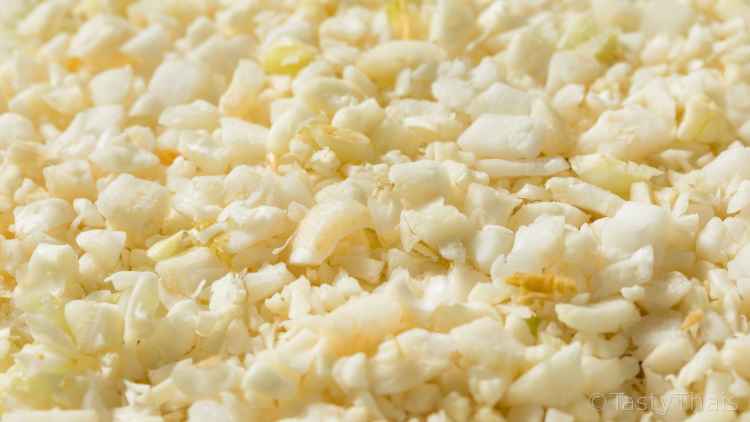 Making Cauliflower Rice without a Food Processor
If you don't have a food processor no worries!
Just follow the method above washing the cauliflower, dabbing dry and cutting into florets.
If you are a little insane, you can use the largest grating side of a box grater as I have seen described everywhere. But you'll be sorry you did because it will make a horrendous mess of cauliflower bits all over the place as they spring off the surface.
Better is just to keep on cutting the florets smaller until you can give them a rapid chop to achieve the same as a processor would. It takes next to no time and is less messy than grating – trust me.
Best Way to Cook Cauliflower Rice
Microwave it – stick it in a bowl and cover. Microwave for 3 minutes at 800W or 4 minutes if frozen. Uncover it, take a breath and throw it in the bin because it smells disgusting and tastes worse in every way.
Stir Fry It – now we are talking. Stir frying the cauliflower rice is easy and you can load it up with tastiness such as the cheesy cauliflower rice recipe below on this page. It takes about 7 minutes to cook up an awesomely tasty side.
Roast it – Another excellent method of cooking. Add seasoning to your taste and mix up your raw cauliflower rice. Seasoning is multi-faceted so feel free to experiment with spices, curry powder, herbs, and of course salt and pepper.
Spread this rice over a baking pan brushed with a little light olive oil or drizzle some oil over. Bake for 4-5 minutes in a hot oven that has been pre-heated to 450°F (230°C).
Open the oven and mix up the rice, before spreading it flat again for another blast in the oven for another 5 minutes. Brilliant!
You can also make cauliflower rice pizza or even make it into a 5-star risotto according to Olena over at ifoodreal.com – OMG that pizza looks amazing!!
How to Make Cheesy Stir Fried Cauliflower Rice with Lemon Basil
Being Thai, it is probably no surprise I started my testing with this cheesy stir fried cauliflower rice. Adding in garlic, lime, and lemon basil it did not take long to come up with a brilliant taste.
The lime and lemon basil add a wonderful fresh taste with a little zing to compensate for the tasty cheese.
We used parmesan but any strong-flavored hard cheese will work. We did try experimenting with cheddar and mozzarella. But the cheddar was way too stringy and the mozzarella way too stringy with not enough taste. It was somewhat anticipated but worth checking to see if we could make a budget version – not good enough for you guys!
To make this delicious cheesy cauliflower rice all you need to do is make up the raw cauliflower rice as above first making sure you dried the cauliflower well after washing. No need to dry the cut florets again though as the water will cook off and you want the vitamins!
Heat up a pan with a little olive oil and wake your garlic up with a sizzle until it smells awesome. The chuck in the riced cauliflower and stir fry it for about 5 minutes. Stir frequently to give it a good mix and make sure it does not burn on the pan surface.
While stirring be sure not to squash the cauliflower rice hard otherwise it will clump up.
After 5 minutes add the lime juice, fish sauce, and grated parmesan cheese. Give it a good stir, cooking for another couple of minutes.
Immediately before serving, chop up the lemon basil and throw it in with a quick stir immediately before serving.
It's delicious! What do you think? Let me know in the comments below, please!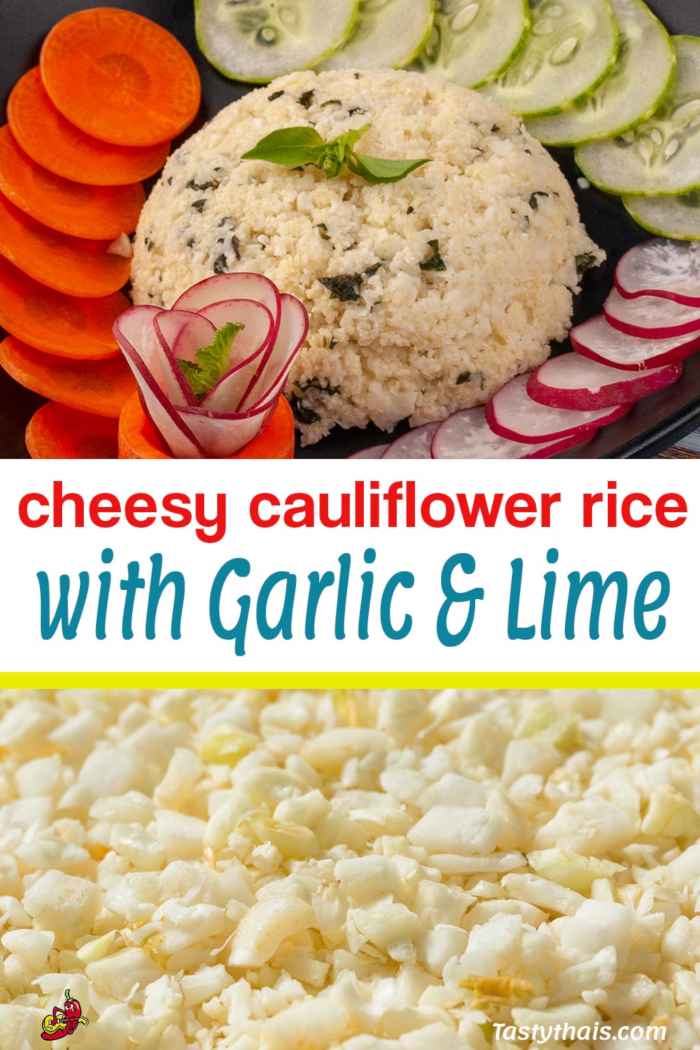 Cheesy Stir Fried Cauliflower Rice with Basil Recipe
Tastythais Stir Fried Cheesy Cauliflower Rice with Lemon Basil
The Video showing this recipe being cooked is near the top of the page – A convenient Jump Link to the video is below the description under here.
An amazing recipe to instil the belief that cauliflower is a great vegetable that can be incredibly tasty to eat.
No more bland boiled cauliflower smothered with cheese white sauce to disguise what you are eating. This zingy, cheesy, cauliflower rice recipe is truly delicious!
NOTE: Any In-recipe images can be toggled on and off with the camera icons next to the Instructions header.
Ingredients  
Ingredients
1

head

Cauliflower

1

tbsp

Olive Oil

4

cloves

Garlic

minced

1 ½

tbsp

Lime Juice

½

cup

Parmesan

grated

1 ½

tbsp

Fish Sauce

1

tbsp

Lemon Basil

chopped
Instructions 
Making Basic Cauliflower Rice
Wash cauliflower and remove any leaves. Dab dry with a kitchen paper towel.

Cut the florets away from the center stem. Discard the hard center stem.

Cut each of the florets into several smaller pieces. This helps to ensure an even size when processing or if cutting manually then just part of that process.

If using a food processor (the easiest way by far), add into the processor and pulse a few times until your floret pieces are reduced to about the same size as rice grains.

If cutting manually then just keep chopping the florets with a knife and then a chopper to get the desired size. It's a lot less messy than a grater and does not really take long anyway.
Making Cheesy Cauliflower Stir Fry with Lemon Basil & Lime
Add the olive oil to a pan and heat before adding in the minced garlic. Stir fry until aromatic.

Add in the riced cauliflower and stir fry for about 7 minutes, Stir often to mix thoroughly and ensure the cauliflower does not overcook on the hot pan bottom.

After the cauliflower is nicely cooked, add in the fish sauce, parmesan, and lime juice and stir thoroughly.

Immediately before serving chop up the lemon basil, sprinkle on top reserving a little for garnish. Stir through the cauliflower rice and serve immediately.
Notes
For low salt diet use low sodium fish sauce or an alternative seasoning.
For low fat diet use a low fat cheese alternative if you prefer.
Nutrition
Calories:
124
kcal
Carbohydrates:
12
g
Protein:
10
g
Fat:
5
g
Saturated Fat:
3
g
Cholesterol:
11
mg
Sodium:
1032
mg
Potassium:
630
mg
Fiber:
4
g
Sugar:
4
g
Vitamin A:
165
IU
Vitamin C:
96
mg
Calcium:
251
mg
Iron:
1
mg
Planning on Making this Recipe?
It would be great if you could take a picture of your finished creation and share it out on Instagram. Tag me with #TASTYTHAIEATS – I love to see your ideas!
Cauliflower Rice FAQ
How many calories in Cauliflower Rice?
Raw cauliflower rice has around 7 calories per ounce (25 per 100g) but remember that frying and adding other ingredients will increase the calorie count so you will need to allow for frying oil etc.
Is Cauliflower Good for You?
Cauliflower has low calories, no fat, a good amount of fiber, and lots of vitamins so it is pretty good for you. Like most things it should still be consumed as part of a balanced diet – for one thing it can cause gastral wind. So definitely a vegetable worth including in your diet.
Cauliflower Rice vs Rice
Rice is a grain, whereas cauliflower rice is just cauliflower that is processed into small rice-sized pieces. Jasmine Rice smells lovely but comes with a high calorie count and limited vitamins and fiber. Cauliflower rice has low calories and good fiber and vitamins so is great if you are dieting or on a low carb style diet.

On it's own cauliflower does not smell so great and once riced quickly deteriorates through oxidization. Cooking immediately stabilizes it and the smell can be improved thorough added ingredients such as curry, cheese etc.
Does Cauliflower Rice have carbs?
Yes cauliflower rice has carbs but much less than regular rice – in fact around 7 calories per ounce compared to about 40 calories for cooked white rice and 100 for uncooked white rice per ounce.
What does Cauliflower Rice taste like?
It does not taste anything like rice but then most people do not eat cauliflower rice without seasoning. Adding curry, fish sauce, spices, cheese and so on will make the flavor immeasurably better but of course adds to calories consumed.
Is Cauliflower Rice Keto?
Cauliflower is a very low carb vegetable and ideal for keto diets because of its versatility in being a substitute for rice, potatoes, and pasta. In fact, it is probably the number 1 vegetable of choice for keto.
How Long Does Cauliflower Rice Last?
Cooked cauliflower rice will last about three days in the fridge once cooked. When raw and riced it will last much less time and really needs to be used immediately.

If you rice it and then freeze it in a freezer bag then you should dry the riced cauliflower pressing between paper towels or otherwise drying before freezing to prevent ice crystals from the water in the cauliflower freezing.

I really hope you enjoy this dish and if you cook it I would love to hear your comments below so please come back and let me know how it turned out for you.
I am a Thai mum and love cooking for my children. Over the years, I have taken my family recipes as well as ones borrowed from friends and adapted them to make them even tastier. I publish my authentic Thai Food Recipes here for all to enjoy around the world. When I get a chance to travel I publish information to help others visiting Thailand.