Who likes rice salad? Who likes Mackerel salad (or sardines or pilchards)? Well why not put the two together with this awesome recipe we call Yum Pla Tu in Thailand.
A mixture of white rice and riceberry gives us the carbohydrates into which we add the protein and vitamins from the fish, herbs and vergetables. The result is a smorgasbord of flavours that you can choose with each bite – I kid you not! A complete, balanced salad to fill you up and keep you healthy at the same time as tasting amazing!!
You can make this recipe with fresh fish as I do in the video below or you can use canned fish if fresh is not available. Obviously drain canned fish before you use it though.
Video Showing How to Make Yum Pla Too or Thai Mackerel Salad
Easy Thai Rice Salad / Mackerel Salad Recipe - Khao Yum Pla Tu
Link to Making Yum Pla Tu Mixed Rice Salad in case the video above does not load for you.
Links disclosure: Some links on this page go to affiliate partners where, without cost to you, we may receive a commission if you make a purchase.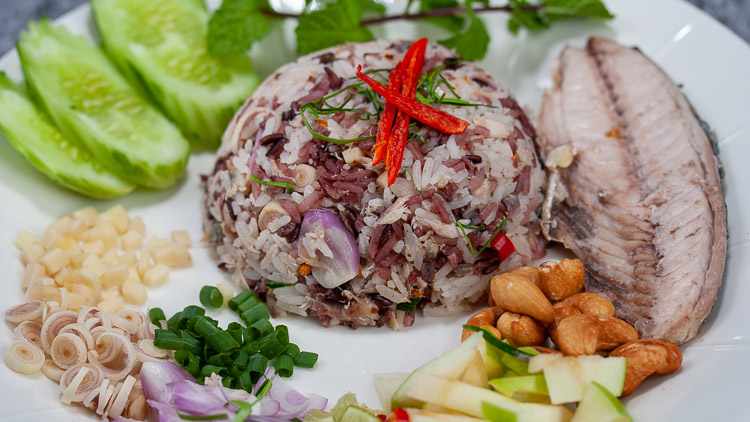 Ingredients You Will Need
Fresh fish to steam, canned or already cooked fish
Cooked jasmine rice
Cooked riceberry or brown rice
Fish sauce
Dried Chili Flakes
Shallots
Ginger
Cashew nuts
Lemongrass
Green onion tops or chives
Brown sugar and/or stevia
Green apple or mango
Mint
Chilies
Fish sauce
Cucumber
Why You Want to Make this Thai Rice Salad Recipe
Riceberry salad is great for you but the reality is that mouthfuls of healthy brown rice are just a bit difficult to eat. The best solution I have found is to mix it up with Jasmine rice which gives you some extra healthy fiber as well as looking really nice. How as dish looks is important – right?
Mixed rice salad on its own may look pretty but is still not very appetising. We'll fix that by adding in protein from the fish and surrounding it with little piles of herbs and vegetables that the person eating it can pick from to make a unique tasting experience from each forkful.
That's the Thai way and one of the reasons why Thai food is the best cuisine in the world!
Oily fish conatains Omega-3 and Omega-6, protein and vitamins. It is recommended to eat at least one protion a week – and two portions of fish. If you want to read more on the health benefits check out this excellent article from the UK NHS on fish and shellfish nutrition.
In this age of awareness we have for our world and fish stocks it is good to know that makerel is a sustainable fish and avoids the high levels of mercury found in some other fish species. If you want to read more on that check out this article on the least and most healthy canned seafoods.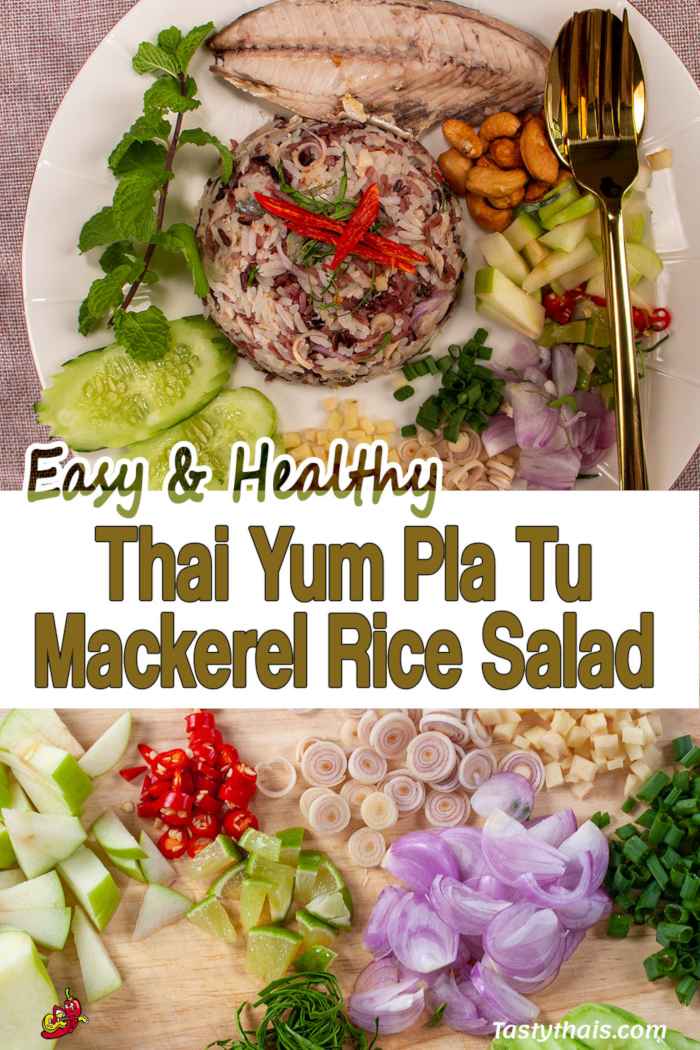 Making Mackerel Salad Step by Step
Step 1 Steaming the Rice
This dish is actually an awesome way to use up leftover rice. But it should not be just a stop gap because the dish is way to good just for that. It's great to serve on its own, purpose made.
So if your rice is not already steamed then get that done – here are three methods to steam rice pefectly if you need help. Note that you can steam brown and white rice together but it is not the best way as the finished look is not quite 'there'.
Since white rice cooks more quickly than brown rice you can't really get both perfectly cooked together. It's better to cook them individually but dont sweat it if you are in a hurry – get the brown rice right and let the white rice look after itself.
Step 2 Preparing the Fish
If you are using canned fish then drain off the brine and oil. You can reserve a bit of canning oil to use for frying later and don't bother about getting all the oil off the fish. Canned fish is cooked at high temperature and so you don;t need to worry about the boning step. Bonus!
We much prefer fresh fish but not everyone has everyday access but the cooking process is the same for canned or fresh so don't sweat it! Although this recipe is made with pla tu which is a type of small mackerel, but you can use any similar oily fish like sardines, pilchards that are inexpensive and readily available.
If using fresh fish then you may buy it uncooked or already steamed or fried. If it is not already cooked then steam it first.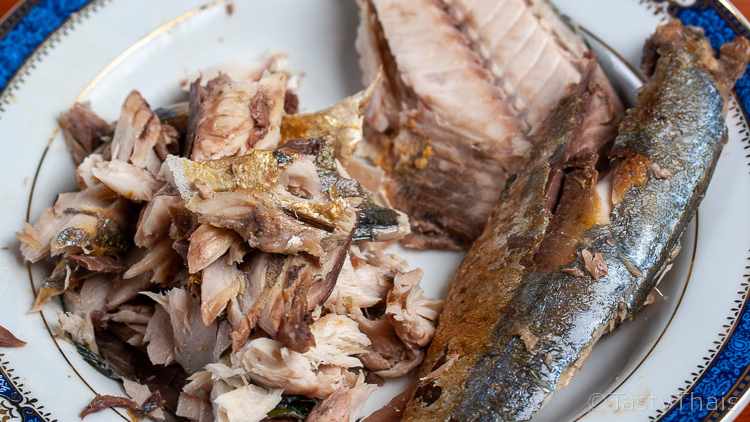 Step 3 Fry the Fish & Separate
Grab a frying pan or skillet and heat a little olive oil or reserved canning oil until hot. Drop in the steamed fish to sauté to a golden brown on a high heat. This should not take long because you are only looking to color the fish rather than cook it. Just get it golden brown visually as timing will depend on the heat level of your source.
Take the fish from the pan and allow to cool a little – it should be served warm rather than hot but you don't want burnt fingers in the next step.
Remove the head and carefully break the fish in half along the spine keeping one half of the fish intact. Remove the bones taking care to remove the little bones from the edges of the fish as well as any left in the center of the fillets after removing the main spine.
Set aside the whole fish half (can I say even say that?) and break the other half of the fish into small pieces looking again to remove any bony stragglers.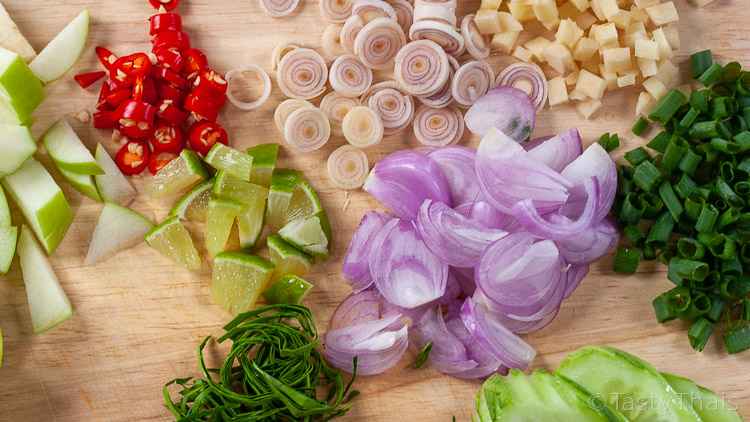 Step 4 Prepping the Sides
While the fish is cooling down get prepping the rest.
The genius of this Thai warm rice salad is not just the mixing of the rice and fish with little sugar and spice, but in the presentation which allows the diner choice for each spoonful.
Prepare a wide range of vegetables and herbs chopped into small pieces so that they can be scooped up and mixed together with each other and the fishy rice in different combinations.
You can choose whatever excites you but do include a mix of tastes and spices. We use sliced lemongrass (citrusy), ginger (hot), red onions or shallots (oniony), green onion tops or chives (spicy greens), cucumber (cooling), mint (cool spice), green apple or mango (slightly sour fruity taste), cashews (creamy and crunchy), kaffir lime leaves (julliened freshness), chopped lime as well as a squeezable slice for a lovely citrus touch.
You can add or subtract from the ones I use to make this dish your own. Maybe a few cranberies, raisins, sunflower seeds, pecans, chopped bell pepper, basil, dill, tomatoes, ground salt and pepper, a sliced garlic clove or even boiled eggs are a few decorative ideas for you.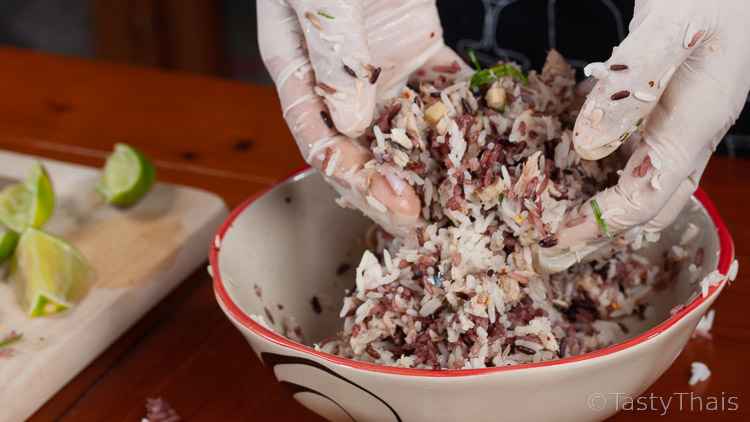 Step 5 Putting it all Together
The fun begins!
Make up the rice salad in a large mixing bowl and prepare the mixed rice salad dressing.
Mix together the fish sauce, sugar (or stevia juice if using), chili flakes and lime juice (or lemon juice). Drop in some of your chopped lemongrass, chopped green onions, shallots or red onions, ginger and chili flakes and a little chopped red chili. This gives us all the flavoring to pump up the rice.
Add in the broken up fish pieces and the cooked riceberry and jasmine rice and mix it all up together using your fingers – check out our video above for a visual explanation.
To serve tip your moist mackerel rice salad into a small bowl and press it down before tipping out on your serving plates.
Add in your remaining ingredients of chopped sides prepared earlier around your lovely dome of warm fishy, savory, and herby rice ( warmer than room temperature but not hot) and carefully place your half fillet of fish to the side.
Stand back and take a moment to look at your masterpeice before enjoying it's awesome taste.
If that is not an excellent example of awesome Thai food that is full of nutrients, then what is?
Rice Salad and Mackerel Salad Recipe or Khao Yum Pla Tu
Thai Rice Salad / Mackerel Salad – Khao Yum Pla Tu Recipe
The Video showing this recipe being cooked is near the top of the page – A convenient Jump Link to the video is below the description under here.
There are some wonderful Thai salads but this Mackerel mixed rice salad stands head and shoulders apart. You can use fresh fish or canned and it works with other types of oily fish like sardines and pilchards too. So versatile and inexpensive to make as well.
And quite quick if you are good at chopping!
It is a great recipe to use up leftover rice but is certainly special enough to steam rice just to make the dish.
Its excellent reason for being is that the rice is mixed and seasoned with part of the fish and then served with the rest of it alongside a range of little extra sides. The person eating the salad gets to choose exactly how to design each spoonful for a wide range of taste tensations from every spoonful.
You have GOT to try this!!
NOTE: Any In-recipe images can be toggled on and off with the camera icons next to the Instructions header.
Ingredients  
Ingredients For Yum Sauce
Ingredients For Kao Yum Pla Too
2

Cooked Mackerel

Medium Sized or canned and drained oily fish

1

cup

Cooked Riceberry

1½

cup

Cooked Jasmine Rice

1

tsp

Chopped Jinda Chili

2

tsp

Sliced Shallots

2

tsp

Small Diced Ginger

2

tsp

Chopped Lemongrass

2

tsp

Small Diced Lime

1

tbsp

Julienned Kaffir Lime Leave
Side Dish
6

Slices

Cucumber

2

tbsp

Cashew Nuts

2

tbsp

Sliced Shallots

2

tbsp

Sliced Lemongrass

2

tbsp

Small Diced Ginger

2

tbsp

Julienne Kaffir Lime Leave

2

tbsp

Small Diced Lime

½

cup

Chopped Green Apple

Substitute Green Mango
Instructions 
Prepare The Rice
If you do not have leftover rice to use up then steam rice in readiness with 1/3 cup of dry jasmine rice and 1/4 cup of riceberry (brown or black rice) per person. This recipe assumes you have already cooked rice.
Prepare the Fish
If using canned fish then drain any canning oil or brine – fish canned in tomato sauce will burm so avoid. Retain oil for frying. Skip the instructions for deboning as canned fish bones are soft enough to be eaten (and full of nutrients)

If using fresh fish then steam or microwave to cook according to size. You can also simply fry the fish straight off and skip the section below but be sure to cook the fish through without drying it out or burning it. The choice of direct frying or steaming/microwaving and then frying depends on your experience.
Frying the Fish
Add cooking or olive oil to a pan under high heat – you can use the canning oil to fry too just be sure the heat is not so high to smoke it.

When the oil is hot, sauté the cooked fresh or canned fish to brown on both sides and warm through. Remove from the heat and allow to cool a bit.
Preparing the Sides
Chop all of the 'sides' ingredients separately into small bite sized pieces. These will be made into little individual piles when serving so don't go mix them all up!
Making the Makerel Rice Salad
Take the partly cooled fish and separate into two halves trying to keep one half in tact – this will be served up alongside the mixed rice salad later. Remove all bones, Break up the other half of the fish into small pieces to mix into the rice later.

In a largish mixing bowl (big enough to hold all the rice and fish), mix together all the yum sauce ingredients.

When mixed add in the separated and broken pieces of fish and the cooked steamed riceberry and jasmine rice. The rice needs to be comfortably warm so if very cool just warm up a little first by whichever method suits you.

Mix together the yum sauce, broken fish pieces and rice very well using your fingers to complete the rice salad

Spoon into an individual serving sized bowl, press down the moist rice and tip out onto your serving plates forming a little dome.
Nutrition
Calories:
912
kcal
Carbohydrates:
136
g
Protein:
46
g
Fat:
20
g
Saturated Fat:
5
g
Cholesterol:
67
mg
Sodium:
1581
mg
Potassium:
1141
mg
Fiber:
6
g
Sugar:
7
g
Vitamin A:
681
IU
Vitamin C:
16
mg
Calcium:
80
mg
Iron:
5
mg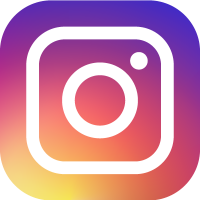 Planning on Making this Recipe?
It would be great if you could take a picture of your finished creation and share it out on Instagram. Tag me with #TASTYTHAIEATS – I love to see your ideas!
I am a Thai mum and love cooking for my children. Over the years, I have taken my family recipes as well as ones borrowed from friends and adapted them to make them even tastier. I publish my authentic Thai Food Recipes here for all to enjoy around the world. When I get a chance to travel I publish information to help others visiting Thailand.