Thai seafood dipping sauces come either red in color or green. If you are looking for a spicy Thai seafood dipping sauce then this red Thai spicy seafood dipping sauce is the one to go for.
The green seafood dipping sauce has added basil and is a bit sweeter and generally a little less spicy as a result.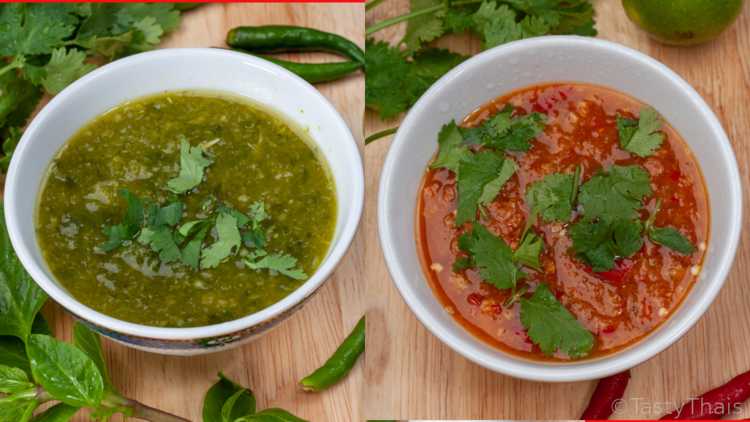 Video Showing How to Make Thai Spicy Seafood Dipping Sauce
Thai Spicy Seafood Dipping Sauce - Spicy Red Chili Dip
Link to the Thai spicy dipping sauce video in case it does not load for you
It's really easy to make this dipping sauce in just a few minutes and it really is a world apart from anything you'll buy.
It's fresh, tasty, vibrant and a perfect partner to steamed and baked fish, shellfish raw or cooked or other seafood dishes.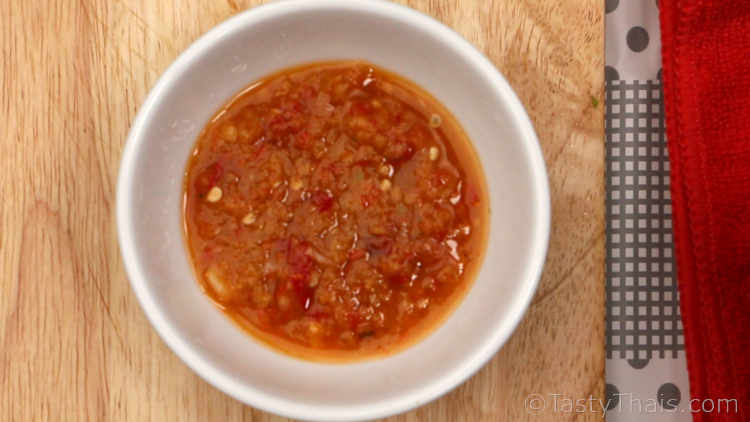 How to Make Spicy Seafood Dipping Sauce Step by Step
If you make this dipping sauce using a mortar and pestle in the traditional way then it will take a bit of bashing but the results will greatly exceed the quicker blender method.
The manual method better releases the aroma and gives you much more control over the consistency of the sauce.
With a blender you typically end up with an inconsistently chopped up set of ingredients or a consistent but smooth sauce. That's the cost of speed.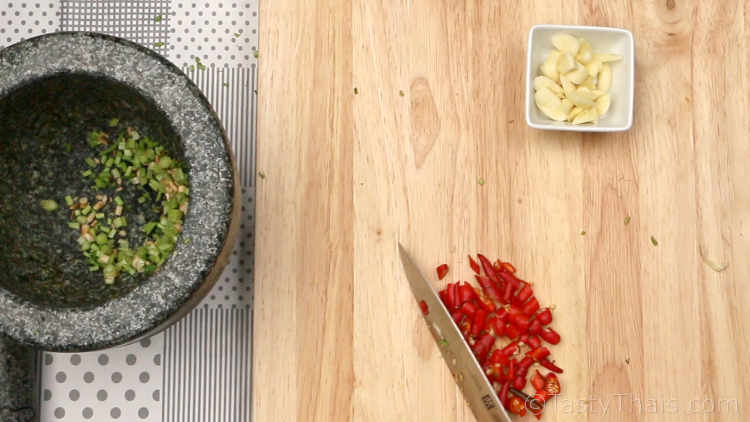 Step 1 – Preparing the Ingredients
There is not much to do here except to chop up everything. If you are using the blender method you can be a little less fussy but if using the traditional method then you're best taking your time to chop finely.
The finer you chop, the easier and quicker it is to pound to a perfect consistency.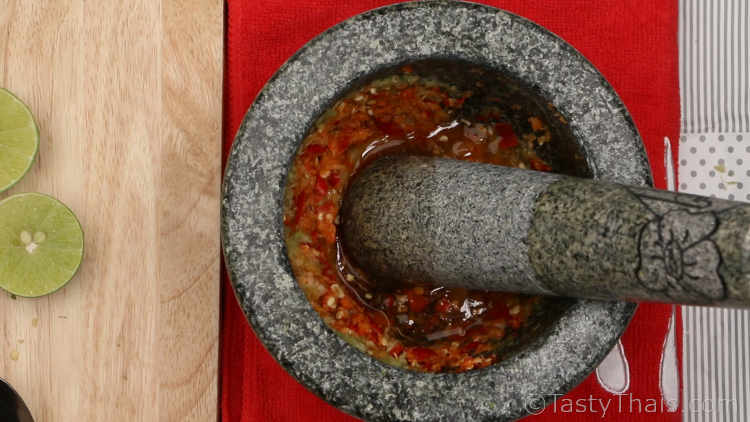 Step 2 – Making the Dipping Sauce
Mortar and Pestle Method
With all your ingredients ready, begin to add each one separately to the mortar starting with the coriander root as it is the toughest.
Pound with the pestle against the sides of the mortar to grind the roots into a consistent mush. Next add the garlic and grind away again, mixing it together with teh coriander root into a consistent mix.
Continue adding ingredients individually until everything is mixed together, Then add in the sugar and lime juice and mix together thoroughly.
Altogether you will probably need to pound for about 10 to 15 minutes depending on your arm stamina. You'll build some muscles too doing this ha ha.
Mini Blender Method
The blender (or processor) are wonderful kitchen aids but most are not able to blend small quantities nor blend damp ingredients very well. Dry or wet is best.
You want to make this dipping sauce fresh and use it up so you'll be making quite small amounts. A mini-blender is great for doing the job.
The only issue you may have is that the blender tends to chop things up quite inconsistency.
So unless you are happy with large bits of ingredients not quite chopped properly you will end up with a consistent but smooth sauce. It will lack the beautiful consistency of the manual method but save a bunch of time and effort.
Up to you as we say in Thailand.
For the blender method just dump all the ingredients into the blender container and pulse away until you have a consistent sauce.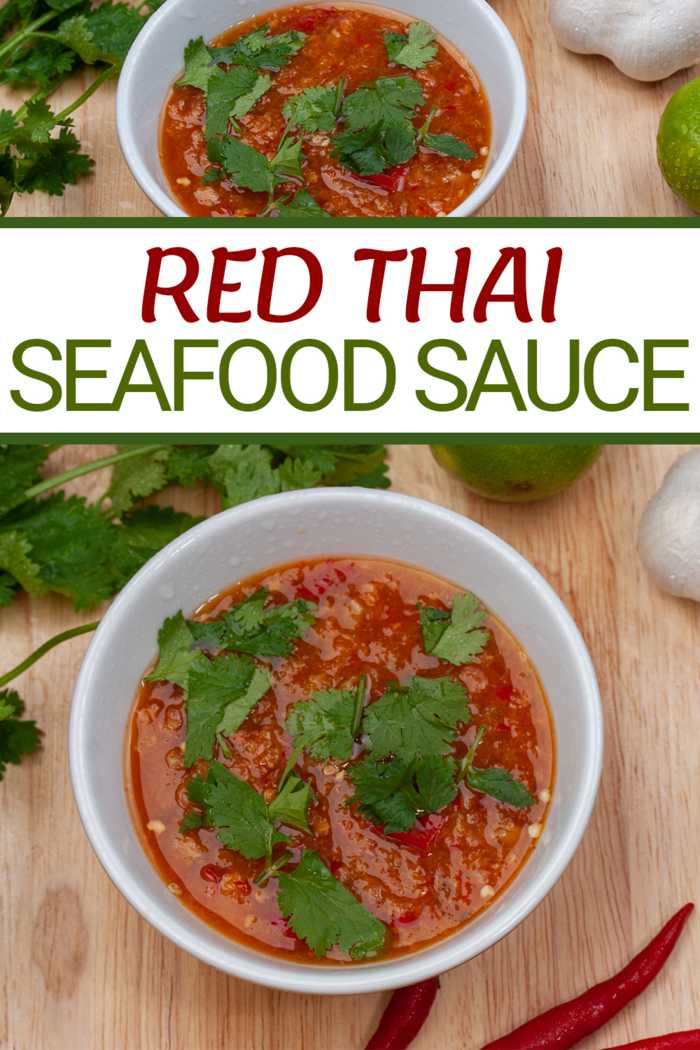 Recipe for Thai Red Spicy Seafood Dipping Sauce
Spicy Seafood Dipping Sauce (Red)
The Video showing this recipe being cooked is near the top of the page – A convenient Jump Link to the video is below the description under here.
A spicy and little sour Thai seafood dipping sauce which is red and made from red chilies.
The combination of ingredients makes for the perfect combination with seafood.
You should serve this dipping sauce alongside the green seafood dipping sauce which is less spicy and sweeter to give diners the option. They are both quite easy to make.
NOTE: Any In-recipe images can be toggled on and off with the camera icons next to the Instructions header.
Equipment
Mortar & Pestle

Mini Blender
Ingredients  
5

cloves

Garlic

2

Coriander roots

10

Red jinda chilies

1

tbsp

Palm sugar

2

tbsp

Fish sauce

2

tbsp

Lime juice

5

cloves

Pickled garlic

1½

tbsp

Pickled garlic pickling juice
Instructions 
Common Steps
Peel the garlic and chop the heads off the red chilies. Leave about an inch or so of stems above the white coriander root and wash.

Chop up all the solid ingredients into small sized pieces to help ease pounding or blending depending on your preferred method. For pounding chop as small as possible.
Mortar & Pestle Method
Drop the chopped coriander root into the mortar and grind with the pestle. Use a bashing and twisting action until the root is broken down as fine as you like.

Then add the other ingredients one by one starting with the garlic, pounding each ingredient progressively to create your sauce and finishing with the softer ingredients.

Finish the sauce adding the liquid ingredients and palm sugar and mixing everyhting together well.
Mini Blender Method
Put all the ingredients, including the liquid ones, into the blender container and pulse for a few seconds until the desired consistency is reached.
Notes
Jinda chilies are Thai chilies that are quite spicy – if not available in your area you will need to substitute for something similar such as Serrano, Anaheim, Jalapeno or Fresno chili. In any case you will need to adjust quantity to the spice level you are comfortable with.
Pickled garlic comes in many different sizes – the ones we use are about the size of a large marble. In this recipe we use about half a pickled garlic. 
The pickling liquid is usually a form of vinegar – we use this to add a sour note to the sauce.
The consistency of the sauce is an important part of the overall mouth feel. You will need to pound or process the ingredients as finely as you decide you want the final sauce to be. In Thailand the sauces are typically not finely processed as people prefer to see some texture.
The blender methd is quickest but releases less aroma and it is difficult to control the texture of the sauce because there is a rendency for the blender to chop unevenly. So you usually end up with some finely chopped bits and other bits hardly chopped at all. As a result most sauces processed using this method will be quite smooth.
Nutrition
Calories:
25
kcal
Carbohydrates:
6
g
Protein:
1
g
Fat:
1
g
Saturated Fat:
1
g
Sodium:
715
mg
Potassium:
41
mg
Fiber:
1
g
Sugar:
3
g
Vitamin A:
91
IU
Vitamin C:
8
mg
Calcium:
11
mg
Iron:
1
mg
Planning on Making this Recipe?
It would be great if you could take a picture of your finished creation and share it out on Instagram. Tag me with #TASTYTHAIEATS – I love to see your ideas!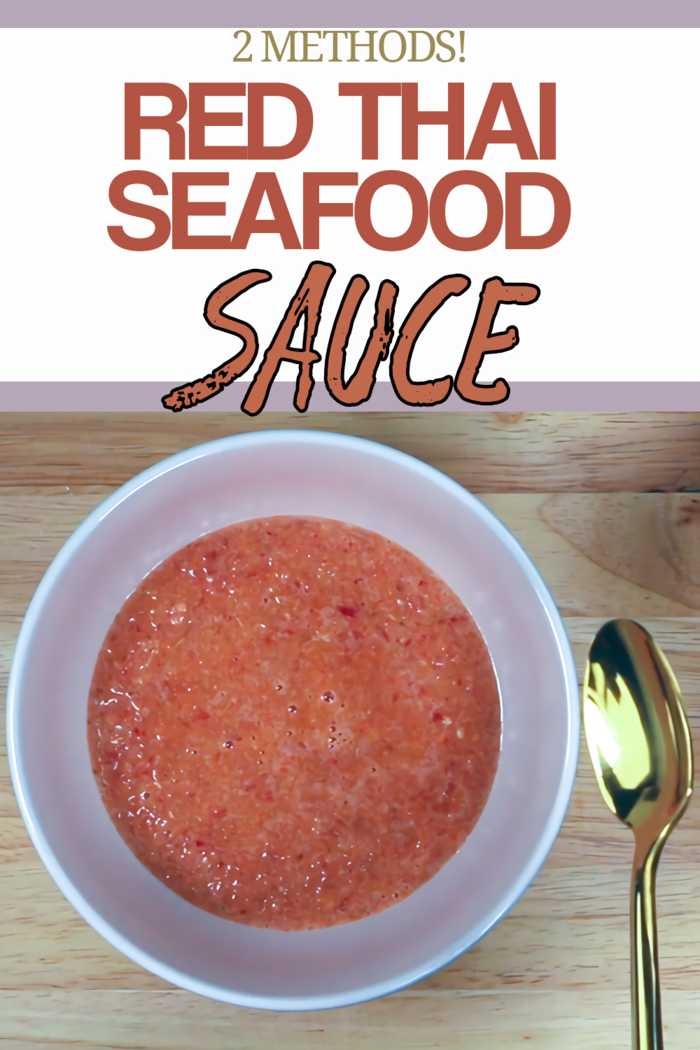 I am a Thai mum and love cooking for my children. Over the years, I have taken my family recipes as well as ones borrowed from friends and adapted them to make them even tastier. I publish my authentic Thai Food Recipes here for all to enjoy around the world. When I get a chance to travel I publish information to help others visiting Thailand.