Thai red curry paste is the base for several other curry pastes used across the spectrum of Thai cooking such as those for Massman Curry, Penang Curry, etc. which just add ingredients to this base curry paste.
httpv://www.youtube.com/watch?v=
Link to the Video in case it doesn't load for you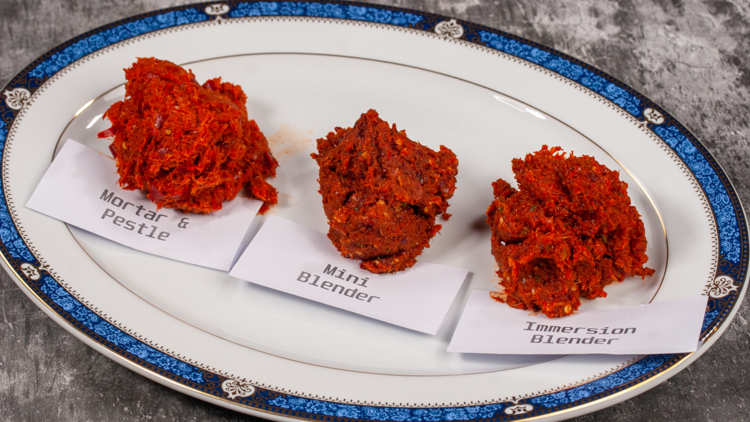 The problem with most Thai curry paste recipes that you will see online is that the paste produced is wet and slurry-like because of too much water. This is not what you want, doesn't look or taste great, and will not store well.
You'll find out how to avoid that further down.
How to Make Thai Red Curry Paste
Whilst you can buy paste in cans or sachets at most good Asian stores, fresh is much better than store bought. It is easy to make either traditionally, using a mortar and pestle or using a mini-blender or immersion blender.
Using the traditional method gives the best results but takes about 20 minutes of pounding away. But it takes next to no time in a blender.
Any of the three methods will produce a much better taste than shop bought and of course contain no preservatives.
As mentioned above, the problem with blenders and food processors is that they usually need dry ingredients or quite a lot of water to work properly because of their design. The answer to this is to make small quantities at a time, adding just enough water to get the paste processed.
In any case, it is much better to make the paste fresh for each dish as it will probably not last long enough if you try making it in batches.
How to Use Red Curry Paste
Thai red curry paste is a base paste – meaning you can make several other pastes from it by adding extra ingredients.
The best way to learn how to use the paste is to follow a recipe because it can be used in several ways.
For dry curries like Pad Prik King it is stir-fried with the meat and retains a lot of chili heat.
For wet curries like Thai Red Curry with Duck, the paste is usually mixed in with coconut milk to make a sauce which also tempers the chili heat.
For other dishes, like soups, the red curry paste may be added later.
Making From Scratch – Step by Step Instructions
Step 1 – Prepare the Aromatics
Remove and discard the hard outer leaves from the lemongrass, cut off the bottom and top of the stalks to leave the tender white part.
Choose lemongrass that is young and as fresh as possible as the stems will be tender and make into paste more easily.
Wash the galangal and coriander root clean, no need to peel. Peel the shallots and garlic.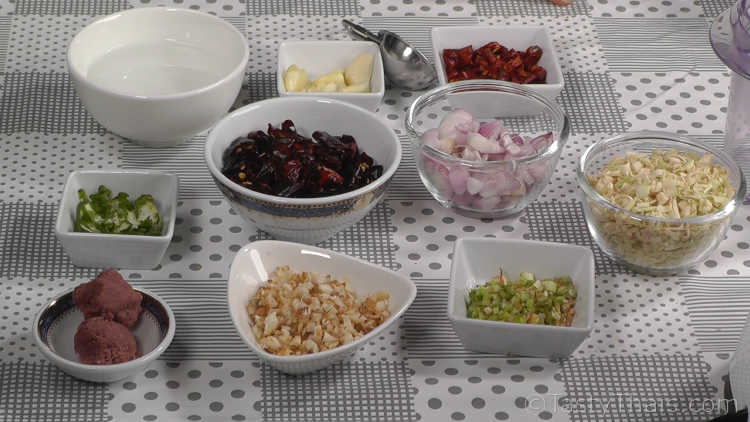 You'll need to roughly chop and soak the dried chili ingredients to soften for 30 minutes or so first for the pounding method. For the machine method you can choose to soak or not soak the chilies – soaking will produce a smoother paste as the blades will cut the chili more finely.
When chopping you can remove some of the seeds that come loose for a milder red curry paste or leave most of them in for a somewhat spicier taste.
Mortar & Pestle Method
Chop the coriander root, galangal, and lemongrass into very small pieces. These ingredients are quite tough so chopping fine makes them easier to pound and release their taste.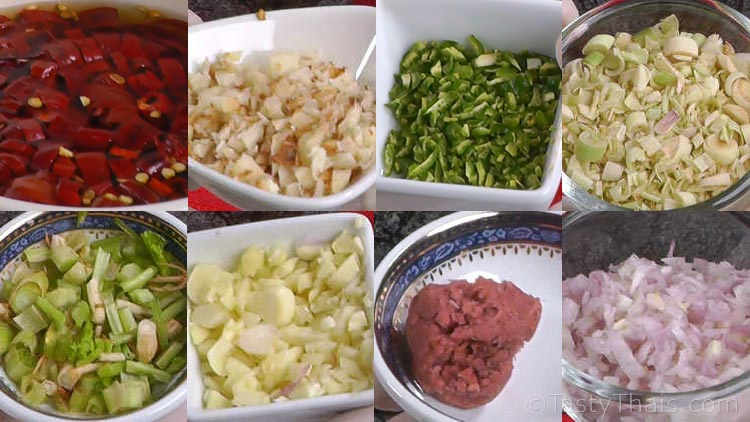 Chop the remaining ingredients as fine as you can to make them easier to pulverize or process.
Measure out your shrimp paste. Keep the ingredients separate as you will pound them individually.
Blender or Food Processor Method
As with the traditional method, chop the lemongrass, galangal, and coriander root into small pieces. You can chop a little more coarsely than for the traditional method but it's still worth chopping to make them easier to process.
The other ingredients can be cut into smaller pieces ready to process.
Step 2 – Make the Paste
Mortar & Pestle Method
Add the ingredients to the mortar one by one and pulverize thoroughly, adding in each ingredient and repeating the process one by one. Hold the chili until last – the retained water makes it harder to pound effectively.
Expect to be pounding for a good 20 minutes!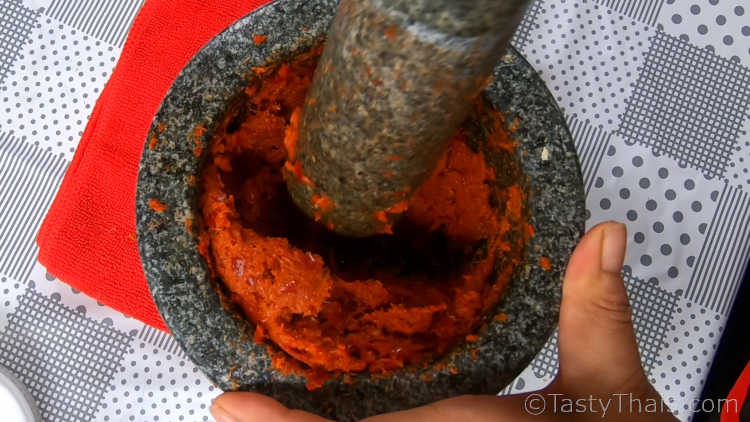 When the consistency is fairly smooth to very smooth (according to how you prefer it), then add the shrimp paste and mix in.
Vegetarians and vegans can omit the shrimp paste.
Blender or Processor Method
Put all the ingredients into the container except the shrimp paste. Add a little water to help the chopped ingredients 'flow' as you blend.
The amount of water to add will depend if your chilies are soaked or not – start with a tablespoon or two and add gradually if the ingredients refuse to mix in as you process them.
You are aiming for a slightly moist rather than wet consistency so you only want to add just enough water for your machine to work.
If using an immersion or mini blender then process half the quantity at a time. If you try to process too much at once you'll end up having to add too much water to enable the machine to work.
Once you have it all nicely mixed, add in the shrimp paste and whizz a bit more to mix it in.
How Long Does it Last?
Your homemade Thai red curry paste can be stored in the refrigerator for 4-5 days or more depending on how wet it is when finished.
If you make it with the pounding method, it will last longer then the blended version because it will be drier.
You can also freeze it for up to 3 months by packing into recipe portion servings of 1-2 tablespoons and freezing. Either pack in small plastic bags or use plastic ice cube trays with sizeable compartments and then put them into bags once frozen.
We find ice cube trays to be an excellent method to freeze malleable pastes so it's worth getting a couple on hand just for this purpose.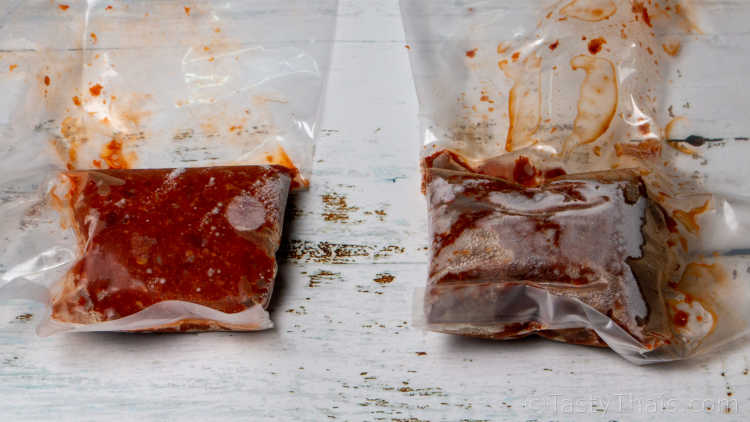 It's especially handy to have recipe portion-sized curry pastes, garlic paste, and more ready to hand if you make them in batches and freeze.
The alternative is buying small packets of paste which do not taste nearly as good and often you'll find you don't have it when you need it.
Worse still you'll buy a tin of paste, use a tablespoon or two and it will be gone off before you go to use it again.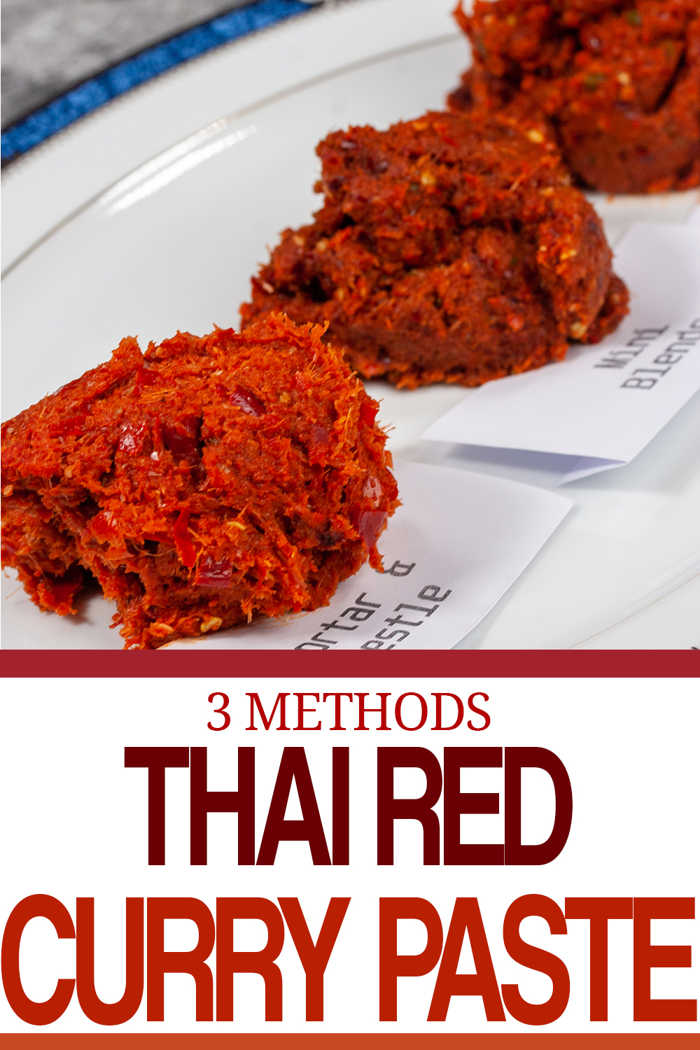 Homemade Thai Red Curry Paste Recipe
Homemade Thai Red Curry Paste Recipe
The Video showing this recipe being cooked is near the top of the page – A convenient Jump Link to the video is below the description under here.
Thai red curry paste is the base paste from which we can make several other curry pastes used in Thai cooking.
So it's important to get a really good recipe to work from as a foundation to cooking up much more than red curry dishes.
NOTE: Any In-recipe images can be toggled on and off with the camera icons next to the Instructions header.
Equipment
Mortar & Pestle

Blender or Processor
Ingredients  
6

cloves

garlic

peeled & chopped

6

small

shallots

peeled & chopped

2½

tbsp

galangal

chopped

1

kaffir lime

for zest

3

stalks

lemongrass

sliced thinly then chopped

2

coriander or cilantro root

chopped

1

tsp

shrimp paste

½

tsp

salt

to assist pounding

10

dried spur chilies

milder if seeds removed

10

dried jinda chilies

spicy
Instructions 
Mortar & Pestle Method
Soak the dried spur and jinda chilies after chopping into small sections. Remove some or all of the seeds for a milder paste.

Ensure all the solid ingredients are finely chopped to help you pound them more quickly.

Starting with the drier ingredients, one ingredient at a time, pound thoroughly. As you reach the desired fineness add the next ingredient to the mix. Finish with the wetter ingredients such as the garlic, draining the dried chilies after soaking before adding and finish up with the shrimp paste if using.

The finished paste should be moist but definitely not wet and without releasing liquid when standing.
Blender or Processor Method
This method requires about 2 tablespoons or so of water – needed to make the machine properly blend. It is imperative you add as little water as is strictly needed for the machine to make the paste and no more.

Also work with small quantities to avoid overloading the machine. The greater the volume of ingredients the more liquid you'll need to add making the paste too wet.

Consider processing in two batches if the volume is too much for your particular machine and especially with the immersion blender. It gets messy quickly!

Add all the ingredients for the batch along with a tablespoon of water and blend or process.

If the ingredients start to stick to the sides of the container and so do not get chopped, stop the machine and add another tablespoon of water and settle the ingredients and try again.
Notes
Remember to use only as much water as necessary to get a moist, pliable paste. It should not be wet.
The mortar and pestle method will give better color, aroma, and taste. It takes quite a long time to pound – around 20 minutes – but lasts longer and is altogether better.
Do not try to process too much at one time as you will end up having to add too much water and end up with a sloppy, poorly colored, and not very tasty finished curry paste. 
Nutrition
Calories:
40
kcal
Carbohydrates:
9
g
Protein:
2
g
Fat:
1
g
Saturated Fat:
1
g
Cholesterol:
10
mg
Sodium:
229
mg
Potassium:
181
mg
Fiber:
1
g
Sugar:
3
g
Vitamin A:
486
IU
Vitamin C:
4
mg
Calcium:
23
mg
Iron:
1
mg
Planning on Making this Recipe?
It would be great if you could take a picture of your finished creation and share it out on Instagram. Tag me with #TASTYTHAIEATS – I love to see your ideas!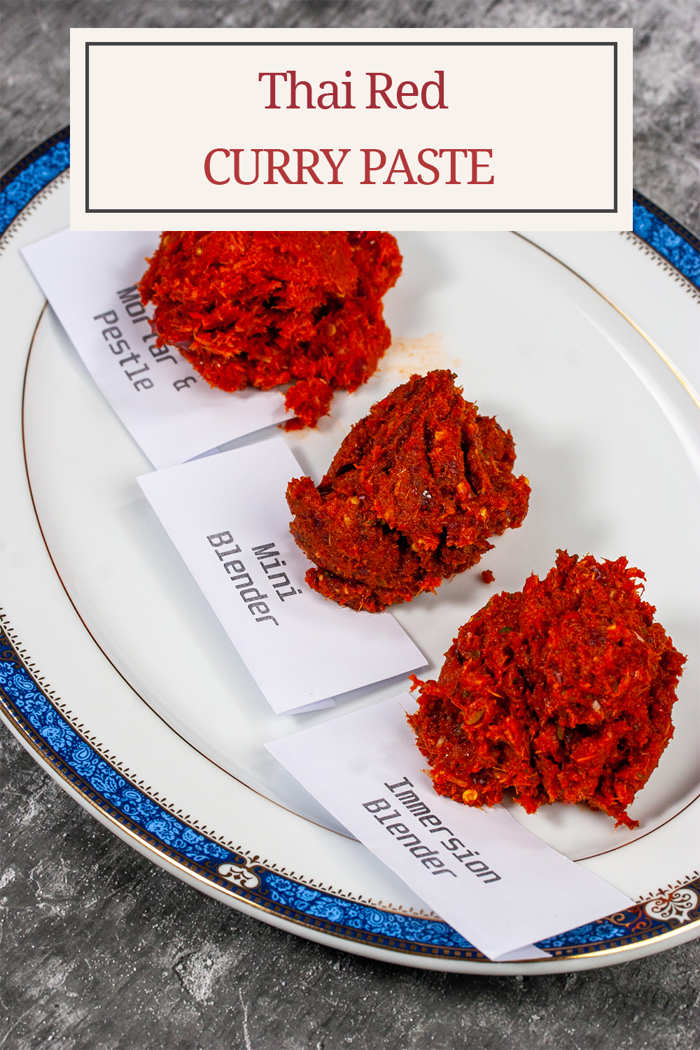 I am a Thai mum and love cooking for my children. Over the years, I have taken my family recipes as well as ones borrowed from friends and adapted them to make them even tastier. I publish my authentic Thai Food Recipes here for all to enjoy around the world. When I get a chance to travel I publish information to help others visiting Thailand.