Health Benefits of Chinese Kale
The Chinese Kale used in Chinese Kale With Shrimp is a very under-rated vegetable but packed full of vitamins with high levels of folate and lots of vitamin C. So it's really a vegetable we should be eating more of.
Video on How to Make Chinese Kale With Shrimp
Pak Kana Nahm Man Hoi Sai Koong - Chinese Kale with Shrimp in Oyster Sauce
If the video isn't loading, you can watch it by clicking this
People who are not fond of green vegetables, generally are rather "meh" about the taste. Perhaps a leftover from childhood when sweets were the target and our taste buds felt assaulted when our parents forced us to eat greens – or maybe that's just me!
Links Disclosure: Some links on this page go to affiliate partners where, without cost to you, we may receive a commission if you make a purchasing.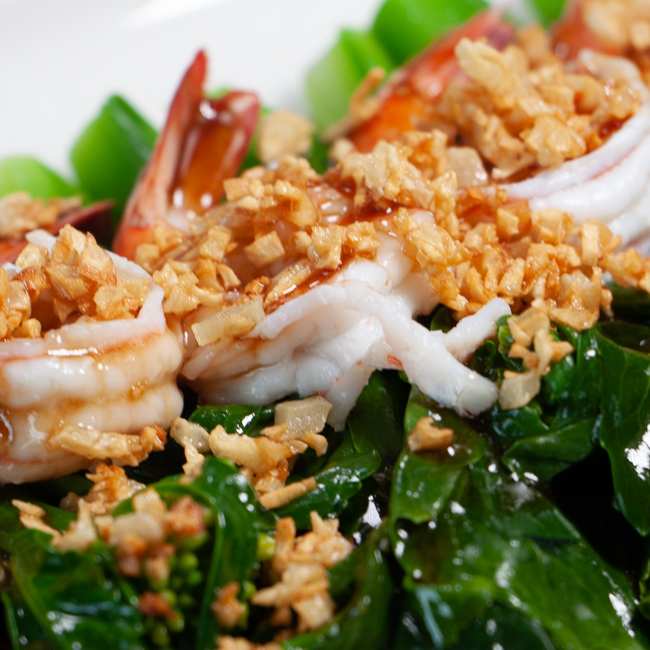 Ingredients Required to Make Chinese Kale With Shrimp
Olive Oil
Garlic
Water
Kale
Prawns
Oyster Sauce
Brown Sugar
Rice Wine
Sesame oil
Why You Want to Make Chinese Kale With Shrimp
Easy and Quick(It's everywhere because it's our motto)
Healthy but still tastes amazing
Children love it, so you love it(I know you all love the sweets you buy for your kids)
A great way to encourage ourselves to eat more vegetables is simply to make them just taste more yummy. And that is the aim of this recipe.
You can go the stir-fry route and cook this healthy vegetable along with a few prawns and serve it up straight coated in oyster sauce or try this healthier recipe.
But some things are just more attractive naked and this leafy vegetable looks just perfect when boiled in water a few minutes but avoid overcooking it.
Adding a little oil with the water gives a beautiful sheen to the leaves which added to the crunch and pleasure of dipping the shiny thing into the oyster sauce has plenty of your senses tingling before it gets into your mouth.
Now we do have a problem – well a couple actually.
What is Pak Kana or Thai Chinese Kale?
Okay, before I get into more kale stuff, here are some more recipes for you shrimp lovers to try.
There's Tom Yum Goong, famous for being hot and sour and the same time. And Shrimp Pad Thai, possibly the most-liked Thai street food, it's Pad Thai – we just put shrimp in it.
Now then. Kale is a leafy vegetable that is a member of the cabbage species but there are a lot of different types. In Thailand, the vegetable known as Pak Kana and translated to Kale is not the same as the Kale in the west.
Pak Kana is a variant of collard, a sort of a cross between Chinese Kale, Chinese Broccoli (kai lan) and Broccolini (genus brassica oleracea var. alboglabra). It has green leaves and little flower heads that look a little like broccolini but much smaller in overall size and fairly large flat leaves with quite thick stems like Broccolini more than broccoli.
The genus Brassica oleracea is a broad group of cabbage-like vegetables including broccoli.
So when shopping, look for the leafy vegetable with flower heads that look like little broccolini and you should have the right vegetable. Of course, there may be a little variation and you can always use Broccoli or Broccolini for this dish as a substitute.
Your local shop may call it Chinese Broccoli or Broccolini and the taste does differ between the various varieties of plant. It is not the same as western Kale though which has a more bitter taste and generally larger leaves though there are also several varieties of, what is called, Kale as well.
Chinese Kale can come with no broccoli-like florets being almost entirely leaf and stem or it can come with quite large broccoli-like florets with fewer leaves. What you are looking for is something in-between the two.
If you can't source that then go for broccolini and if you can't source that either then goes for the leafier version of Chinese broccoli.
The way I prefer to cook this dish is to lightly cook the Pak Kana or Chinese Kale so it stays crunchy and keeps most of its vitamin benefits. If you prefer your vegetables a little more cooked then just extend the cooking time until they are as soft as you like them.
How to Avoid Pesticide Contamination in Vegetables
These leafy vegetable crops are quite often treated with a LOT of pesticides and so I recommend that you wash several times with water and rub the leaves with your fingers to get any residual pesticide off the surfaces. 
Unfortunately, pesticide use is a global problem since they are absorbed by the plant as it grows but short of starving yourself or growing everything yourself, the issue is impossible to avoid altogether.
Washing thoroughly does reduce the problem significantly and so it is a very good idea to get into the habit of thoroughly washing all vegetables from whatever source before consumption.
The sauce in this recipe is a wonderful blend that compliments the vegetable very well and the prawns or shrimp give the dish a little more visual interest as well as tasting great too.
Don't skip the garlic to finish the dish off for presentation as well as taste.
Chinese Kale and Shrimp in Oyster Sauce Recipe
Pak Kana Nahm Man Hoi Sai Koong - Chinese Kale and Shrimp In Oyster Sauce
The Video showing this recipe being cooked is near the top of the page - A convenient Jump Link to the video is below the description under here.
A great way to liven up healthy greens intake to boost vitamins as well as folates for a host of health benefits to your body.
The folates in Chinese broccoli encourage fertility in men which is a good prompt to encourage guys to eat it up.
The shrimp and oyster sauce compliment the vegetable well and make it look great and so ticks all the boxes to serve as part of a Thai meal for friends.
NOTE: Any In-recipe images can be toggled on and off with the camera icons next to the Instructions header.
Ingredients  
1

tbsp

Olive oil

2

tbsp

Garlic

Chopped garlic

3

cups

Water

For boiling

9

Kale

7

Prawns

1 1/2

tbsp

Oyster Sauce

1

tsp

Brown Sugar

1

tbsp

Rice Wine

2

tbsp

Water

For sauce

2

tsp

Sesame Oil
Instructions 
Heat the oil to quite hot and then fry the garlic until golden brown remove and set aside leaving a few bits in the pan.

Drain off all but about a tablespoon of oil to mix with the cooking water for the chinese kale and give a nice sheen to the leaves. The bits of garlic will add a little taste too.

Pull off the prawn heads and take outer shell off. Cut down back lengthwise and take the black vein out. Wash them well in salted water and then rinse in plain water and strain.

Cut the hard ends from kale stem bottoms off and the large, old outer leaves leaving the tender part of the stem cut fairly short to the remaining younger leaves. Leave the broccoli type heads as they are the tastiest part, Wash very well and strain.

Boil 3 cups of water. Hold the chinese kale leaves and immerse the stems for a minute or two to soften and then submerge completely and cook for several minutes for a crunchy texture or a little longer if you prefer more cooked greens. Remove and set aside to drain naturally.

Use the same hot water to cook the prawns for a few minutes - they cook quickly so once pink through they are about done. Set aside to drain.

Pour off the water from the pan and return to the heat.

Add oyster sauce, water, sesame oil, sugar, and rice wine and heat through stirring thoroughly.

Serve the Kale topped with shrimp and drizzle over the oyster sauce from the pan. Serve immediately.
Nutrition
Calories:
100
kcal
Carbohydrates:
12
g
Protein:
7
g
Fat:
4
g
Saturated Fat:
1
g
Cholesterol:
26
mg
Sodium:
346
mg
Potassium:
507
mg
Fiber:
1
g
Sugar:
1
g
Vitamin A:
9990
IU
Vitamin C:
122
mg
Calcium:
178
mg
Iron:
2
mg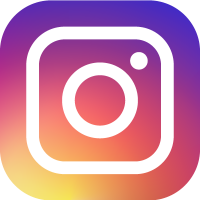 Planning on Making this Recipe?
It would be great if you could take a picture of your finished creation and share it out on Instagram. Tag me with #TASTYTHAIEATS – I love to see your ideas!
I really hope you enjoy this dish and if you cook it I would love to hear your comments below so please come back and let me know how it turned out for you.
Sources:
Gai Lan – Chinese Kale
Controlling Pesticides in Cooking
Other Recipes You Might Enjoy:
I am a Thai mum and love cooking for my children. Over the years, I have taken my family recipes as well as ones borrowed from friends and adapted them to make them even tastier. I publish my authentic Thai Food Recipes here for all to enjoy around the world. When I get a chance to travel I publish information to help others visiting Thailand.