Traditionally Thais do not cook sticky rice in a microwave – heck most Thais do not even have a microwave at home. Not only that but the only way I knew how to cook Thai sticky rice until a few weeks ago, was by using a bamboo steamer and the method my grandma taught me.
My family now is my husband, three teenage boys and little Katie. Technology is all around and given that my husband and kids like to experiment, I was guided to try to find a way to cook sticky rice in the microwave.
To say I was sceptical would be a huge understatement! I thought the rice would turn out a terrible sticky mess at worst or not taste very good at best. I was very wrong!
If you are looking for a recipe or method to cook regular Jasmine Rice in a microwave then check out that post.
Links disclosure: Some links on this page go to affiliate partners where, without cost to you, we may receive a commission if you make a purchase.
The Problem with the Traditional Method
The problem with the traditional method is the time spent soaking and then steaming on the hot stove.
Now the steaming bit doesn't take too long but 2-4 hours soaking the glutinous rice means you can't just arrive home and whip up a quick stir fry with sticky rice.
Steaming over a saucepan is a good method and needs no microwave but if you have a microwave then it's a great alternative method and quicker!
Stir-fries are great because they are quick but because the soak time means working out what to eat long before actually cooking it, they are normally served in our house with Jasmine Rice which cooks about as quickly as it takes to prepare and cook a stir fry.
Would cooking sticky rice in the microwave solve this time conundrum?
The Benefits of Microwave Sticky Rice
Let me tell you saving time is a huge benefit for 'we that are tasked with cooking'. In amongst picking the kids up from school, teaching them and trying to get everything else done in the day, a few minutes saved is definitely worthwhile.
The benefits of this recipe for microwave sticky rice are a huge saving in overall time and a result that sacrifices very little in taste or texture. It really is amazing!
That breaks wide open the number of dishes you can cook and serve with sticky rice even if you are in a rush and have not prepared.
Those benefits are huge!
If you are thinking about cooking sticky rice in the microwave then I say go for it using this easy sticky rice microwave method.
How to Cook Sticky Rice in the Microwave
Washing and Soaking the Rice
First off you still need to wash the excess rice starch off your glutinous rice. So grab a large bowl and place in the amount of rice you want to cook.
Using plenty of tap water, cover the rice with plenty of water and swill it around to wash the grains. The water will cloud and you then need to drain it. Repeat the process several times until the water runs pretty clear and then roughly (but carefully) drain off the remaining washing water.
Now you may have thought this easy microwaved rice would need no soaking after me wittering on about how quick it is. Not to worry though we are only going to soak for 15 minutes. That's an improvement on 2-4 hours, right?
Just put your rice into a heatproof bowl and pour on boiling water, enough to cover it by an inch or two. Move the bowl to an area where it can safely sit undisturbed for 15 minutes.
Getting Ready to Microwave
You will need to equip yourself with a microwave-safe bowl and lid – I use a plate for the lid because you do not want the lid too well-fitting. The idea is to trap most of the steam inside the bowl whilst letting a little steam escape to ensure no pressure build-up.
It is the same principle as using a fork to puncture those plastic covers they put on microwaveable ready meals before you press 'start'. A practice that stops the container exploding food all over the inside of your microwave. THAT is not a time saver as most of us will no doubt have found out.
Drain off the water from your soaking glutinous rice and tip it into a sieve to flush through and rinse with running tap water. Give it a shake and transfer to your waiting microwave bowl and give it a jiggle to settle the rice evenly.
Pour in enough drinking water to reach to the same level as the top of the rice, put on your loosely fitting lit or upside-down plate and stick the whole shebang in the microwave.
I use an 850W microwave so if yours is lower powered you will need to extend the cooking times accordingly. To recalculate timings you can use our easy microwave timing conversion calculator.
Microwaving Sticky Rice – Two Steps
Now all you need to do is to microwave at full 850 Watt power for 7 minutes and wait for the timer to 'ding' and the microwave to stop waving.
Grab some protective cloths for your hands and remove the hot bowl from the microwave. Carefully take off the lid. The best way to remove the lid is to tilt it away from you so the steam does not all fly up in your face.
Take a fork and stir the rice about to mix the rice that was at the edges into the middle. After mixing the rice together, wet your hands under the tap and flick the water that is on them onto the top of the rice just sprinkling the excess water off your hands. Just the water on your wettened hands is enough.
Replace the lid on top of the bowl and put the whole thing back into the microwave.
Microwave for another 3 minutes.
When the timer goes off, remove the bowl and carefully remove the lid in the same was as before and taking care not to scald yourself.
Tip the rice out onto a flat surface and fluff it out with a fork to let any excess steam escape and stop the rice cooking further.
Gather the rice back up gently into your serving dish or individual rice baskets and cover with a damp cloth (muslin works well), until ready to eat. The damp cloth helps to stop the rice drying out.
Conclusion
Microwave sticky rice is great! It isn't quite as perfect as the traditional method but to be honest it is so close that no one will know the difference.
And it is quick. In the time it takes to make your sticky rice you will be hard pushed to have cooked everything else so it is perfect if you ar in a rush.
The only downside I can think when compared to the bamboo steaming traditional method is that you do not have the delicious smell of rice cooking quite as strong throughout the house that makes you crazy hungry for it to be ready to eat.
It is a great method!
Microwave Sticky Rice Recipe
Microwave Sticky Rice Recipe
The Video showing this recipe being cooked is near the top of the page – A convenient Jump Link to the video is below the description under here.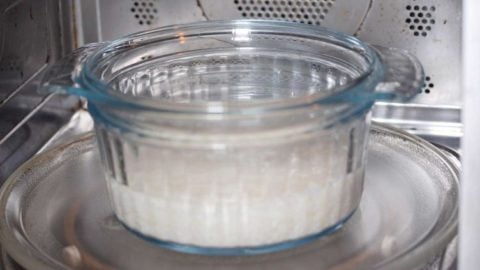 For the quickest method of cooking sticky rice that is almost as good as the best method you should try this microwave sticky rice recipe.
The results are fantastically better than expected.
NOTE: Any In-recipe images can be toggled on and off with the camera icons next to the Instructions header.
Ingredients  
2

cups

Glutinous Rice

1

pints

Fresh Drinking Water
Instructions 
Washing the Sticky Rice
Place sticky rice in a large bowl and cover with fresh water. Agitate with your fingers swirling the rice around and watch the water go cloudy. Drain out the cloudy water, refill with fresh water, agitate again and drain.

Repeat the drain, refill, wiggle around steps until the water is reasonably clear.
Soaking the Sticky Rice
Place the washed sticky rice in a heatproof & microwave-safe bowl and cover with boiling water – just enough water to cover.

Leave to soak for 15 minutes.
Microwaving the Sticky Rice
Place your heatproof, microwave-safe bowl with the rice and enough drinking water to be level with the top of the rice, into an 850W microwave.

Cover the bowl with a microwave-safe lid to restrict steam escaping but not to seal it entirely otherwise pressure will build up in the container which is bad.

Microwave on full power for 7 minutes non-stop.

Remove bowl from microwave whilst wearing protectors as the bowl will be very hot as will the steam escaping from around the lid.

Carefully remove the lid by tilting it so that the opening edge faces away from you to avoid the steam rising into your face.

Using a fork, fluff up and mix the rice together thoroughly and replace the lid.

Put the covered bowl and rice back into the microwave and wave at full power for another 3 minutes.
Finish & Serve
Remove the bowl from the microwave and take off the lid in the same way as before. Tip the rice out onto a clean, flat surface and spread out to allow the steam to escape.

Gather the rice together loosely with your fingers as soon as the rice has cooled just enough to handle and place into your serving bowl or individual sticky rice baskets and serve.
Nutrition
Serving:
25
g
Calories:
342
kcal
Carbohydrates:
76
g
Protein:
6
g
Fat:
1
g
Saturated Fat:
1
g
Sodium:
30
mg
Potassium:
71
mg
Fiber:
3
g
Calcium:
24
mg
Iron:
1
mg
Other Posts You Might Enjoy
I am a Thai mum and love cooking for my children. Over the years, I have taken my family recipes as well as ones borrowed from friends and adapted them to make them even tastier. I publish my authentic Thai Food Recipes here for all to enjoy around the world. When I get a chance to travel I publish information to help others visiting Thailand.