This air fryer garlic bread recipe is super quick but if you don't have an air fryer yet then you can make it in a fan assisted oven using a grid rack and tray. Believe me, an air fryer is a ton easier, though capacity is less.
You can jump straight to the recipe or print it straight out but then you'll miss the important tips in this blog post so please read on!
If you like Thai snacks then maybe our spicy cashew nut mix recipe might be of interest?
Video Showing us Making this Air Fryer Garlic Bread
Air Fryer Garlic Bread Recipe - Quick Easy & Delicious
Link to our how to make air fryer garlic bread video in case it refuses to load.
Links disclosure: Some links on this page go to affiliate partners where, without cost to you, we may receive a commission if you make a purchase.
Ingredients You'll need
Breadstick / Baguette / French Stick
Softened or Melted Butter
Minced Garlic
Chopped Parsley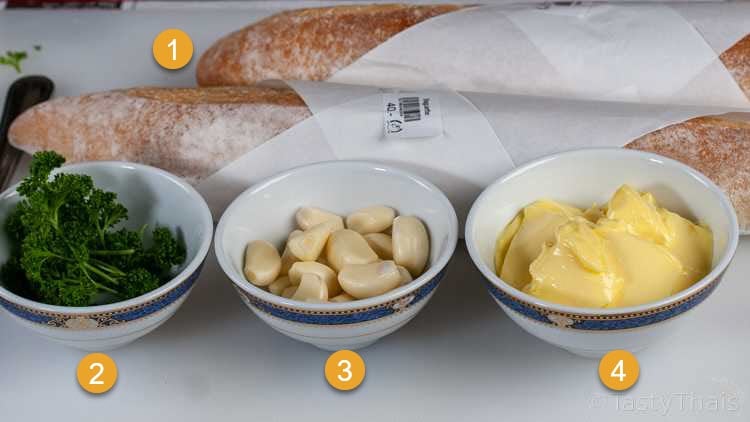 Fresh Homemade, Frozen, or Shop Bought Garlic Bread. Which is Best?
Shop bought garlic bread can be found in the bakery or deli sections of the store but what are you buying?
The bread used varies from soft to crusty and the amount of garlic butter used is never enough for us.
So we end up having to make more garlic butter at home to spread on before we cook it which begs the question why not just buy the bread and make it at home.
Frozen garlic bread is bulky and does not taste anywhere near as nice as fresh bread and doesn't keep its flavor very well over time so it's really not much competition. The health benefits of fresh garlic will be far more potent than frozen too.
Lastly, there is the question of whether the shop bought garlic bread contains preservatives and whether the garlic butter is really butter or is it margerine or some other fabricated fat.
On all these counts homemade garlic bread scores well ahead.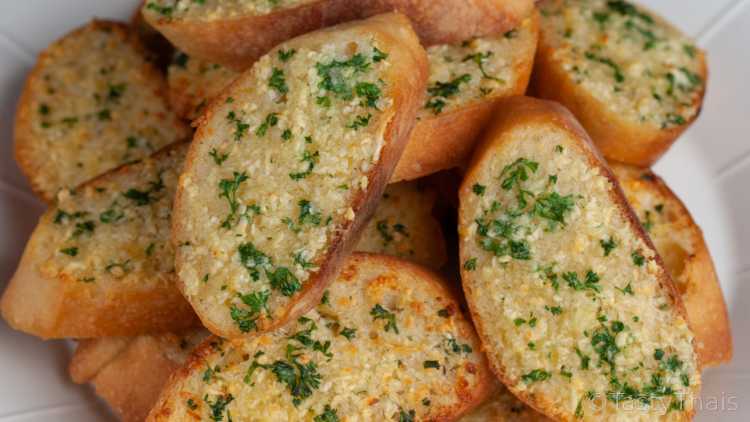 Why Make Air Fryer Garlic Bread at Home
Making homemade air fryer garlic bread is so easy. Apart from having more choice as to the type of bread to use, you also get to choose the amount of garlic butter which makes a huge difference to the final taste of your side dish.
You could go one step further still and make your own bread but we are not suggesting that for this recipe.
Apart from how much garlic butter to use, you also get to choose how garlicky to make it and experiment with other ingredients to add and make something uniquely yours.
In the air fryer, your garlic bread will be done in just a few minutes because you will not be waiting for your oven to heat up.
There are only two reasons to use an oven rather than an air fryer (assuming you have both). One is if the oven is already going to be hot and at the right temperature from other dishes you are cooking and the other is if you are making a large quantity for a party.
Even so, garlic bread is best served straight from the oven rather than letting it get cold on the table. Your guests deserve better!
Maybe the best answer is that it is a great way to use up bread that is beginning to go a bit stale – no need for waste with this recipe to hand.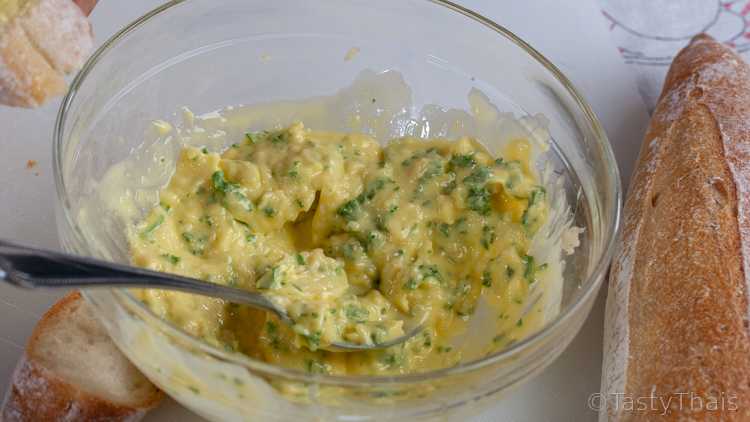 How to Make Air Fryer Garlic Bread Step by Step
Step 1 Prepare the Bread
You can adapt this recipe for several different types of bread but for this, we will use french bread, baguette or french sticks.
Slice the bread diagonally into pieces about 3/4 inch (20mm) thick. If you slice a bit thicker then the inside of the cooked garlic bread will be softer; slice it thinner and it will be more like garlic toast.
Bear in mind that the slices will be fitted in the air fryer basket so you may get some benefit from sizing so as to get as many in as possible by varying your slicing angle of attack.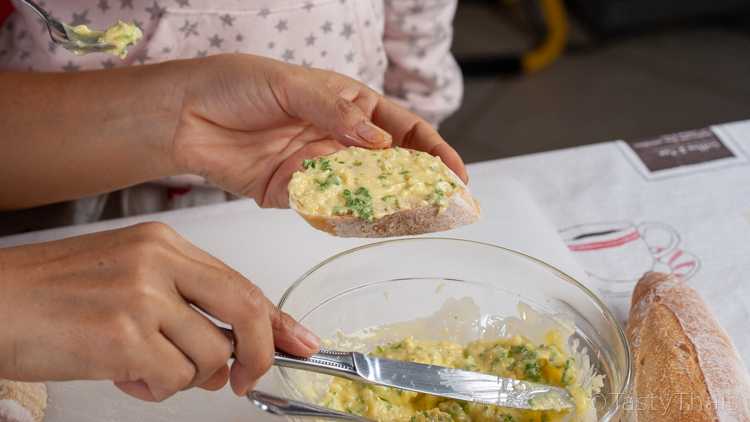 Step 2 Prepare the Garlic Butter
Take the butter and leave out at room temperature or blast in the microwave for a few seconds until soft and spreadable like yogurt. If it is runnier it's no problem but it does need to be soft enough for you to mix in the garlic and parsley.
Peel the garlic and mince using a garlic press.
Pick off the heads of the parsley and discard the stalks. Chop finely with a sharp knife.
Mix together the minced garlic and chopped parsley with the soft butter distributing everything well.
Spread the garlic butter on to one side of the sliced bread. Here you will need to experiment on how thickly to spread it. We like our garlic bread with plenty of butter but others prefer less – it's up to you!
Step 3 Air Fry Your Garlic Bread
Set your air fryer to 180°C or 360°F and spread out your bread slices arranged as economically as possible on the air fryer tray. You can place one or two pieces as a second layer as well but try not to cover completely.
Turn the air fryer on for 4 minutes and check when the time is complete. You can open the air fryer without an issue, rearrange your slices on the top to a different position and carry on cooking.
As air fryers work at different efficiencies a little like ovens, you will need to do a little experimentation with timings, just extending the time a little until your air fryer garlic bread is at the perfect level of partial toasting.
For us, an extra 3 minutes gave nice crunchy outside crusts and soft undersides.
Enjoy!
Oh almost forgot. If you think air fryers are great at making garlic bread then wait to you see what they do with our air fried chicken thighs with dipping sauce – an amazingly delicious Thai dish to serve at any meal.
Air Fryer Garlic Bread Recipe in 7 Minutes or Less
Air Fryer Garlic Bread
The Video showing this recipe being cooked is near the top of the page – A convenient Jump Link to the video is below the description under here.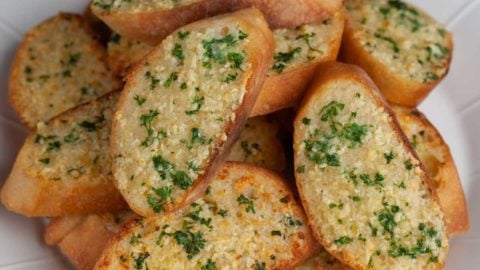 Garlic bread is loved by many the whole world over but traditional ovens take so long to heat up (and are energy inefficient as a result) and grilling the bread never seems to gives the best result.
Enter the amazing air fryer which is compact, energy efficient and ready in a jiffy. Air fryer garlic bread is ready in about 5-8 minutes, give or take depending on your preference.
Not only that but you have full scope to make it more or less buttery, or garlicy or whatever you want.
It's a great way to cook garlic bread for a crunchy outside and softer middle, all full of taste.
NOTE: Any In-recipe images can be toggled on and off with the camera icons next to the Instructions header.
Ingredients  
Ingredients
6

oz

Salted Butter

softened

16

cloves

Garlic

minced

½

cup

Parsley

chopped measure

1 ½

Baguette / French Bread / Breadstick

Enough for 4 people – lengths vary!
Instructions 
Prep
Soften salted butter at room temperature in hot climates or kitchens or use a microwave on medium power to soften for a few seconds until the runny enough to mix – similar to yogurt consistency.

Finely mince garlic with garlic mincer, or chop finely with a knife

Detach the parsley leaves and discard the stems. Finely chop parsley

Slice the bread diagonally about ¾ inch thick (20mm)
Instruction
Mince the garlic into a mixing bowl and add the softened butter. Mix together and add the parsley, mixing until the ingredients are well distributed.

Spread the soft garlic butter on one side each slice of bread. It is up to you how thick to spread the butter but it will melt into the surface of the bread so add enough to get to your desired level of garlicy and buttery.

Set the slices in one full layer on the bottom and a couple of slices on top to half cover the slices on the bottom whilst allowing enough space for the hot air to circulate. Bake in Air Fryer for 4 minutes at 160°C or 320°F.

Open the fryer to check and reposition the slices on the top, noting how far cooked the garlic bread is. Cook a little longer until golden brown – for us this was an additional 3 minutes for a total of 7 minutes.
Nutrition
Calories:
325
kcal
Carbohydrates:
4
g
Protein:
1
g
Fat:
35
g
Saturated Fat:
22
g
Cholesterol:
91
mg
Sodium:
310
mg
Potassium:
100
mg
Fiber:
1
g
Sugar:
1
g
Vitamin A:
1694
IU
Vitamin C:
14
mg
Calcium:
42
mg
Iron:
1
mg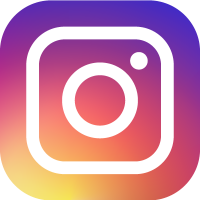 Planning on Making this Recipe?
It would be great if you could take a picture of your finished creation and share it out on Instagram. Tag me with #TASTYTHAIEATS – I love to see your ideas!
I am a Thai mum and love cooking for my children. Over the years, I have taken my family recipes as well as ones borrowed from friends and adapted them to make them even tastier. I publish my authentic Thai Food Recipes here for all to enjoy around the world. When I get a chance to travel I publish information to help others visiting Thailand.