This spicy cashews recipe is in the style of the spicy fried cashews dish with chili that you would get if you order Yum Med Mamuang in Thailand. They are creamy, spicy, tasty and a great party appetizer or snack to serve with drinks at smaller gatherings.
How to make Spicy Cashew Nuts Video
Spicy Cashew Nut Recipe - Thai Chili Cashew Snack Mix
If you cannot see the Spicy Cashew Nuts video above you'll find it here.
If you are looking for more of a cashew meal then check out our chicken cashew nut stir fry becasue it's awesome!
Cashews are an important crop in Thailand, mainly grown in the south with production in excess of 20,000 tons per year and so, of course, they are readily available both here and via export to most of the world.
If it's Thai style spicy cashews you yearn for, then look no further and head on down to the easy print recipe below.
Links disclosure: Some links on this page go to affiliate partners where, without cost to you, we may receive a commission if you make a purchase.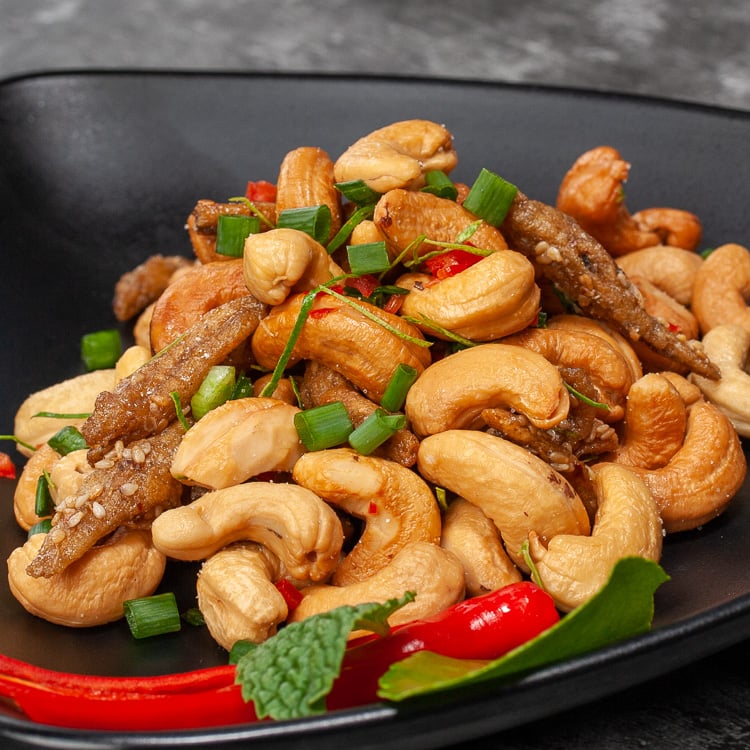 Ingredients for Spicy Cashews Recipe Yum Med Mamuang
Cashew Nuts
Spur Chili or Jinda Chili
Cooking Oil for frying
Salt
Green Onion Tops
Mint for Garnish
Kaffir Lime Leaf
(Optional) Small Fried Fish
Why You Want to Make Spicy Thai Fried Cashew Nuts
Easy and quick, as always
Great for a party or watching sports
Great for snacks
Vegetarian and Other Diet Adaptations for this Spicy Cashews Recipe
There is not much adaptation needed to make these cashew nuts vegetarian or vegan but you would obviously not add the little fish which are an option anyway.
Cashews are less suited if you are following a Keto Diet because the carbohydrate content of around 50 cashews will use up a 20-gram carb allowance.
On the other hand, if you are on a Paleo Diet then cashews fit right in there and are a favorite because they are the healthy seed of the Cashew Apple.
Are Cashews healthy?
There is plenty of evidence that cashews are indeed a healthy source of vitamins, minerals and an excellent source of plant-based protein.
With hearty quantities of copper, manganese, magnesium, phosphorus and Vitamin K they are great to boost minerals if you are on a plant-based diet. They also have a good quantity of fiber as well as protein which makes them a great pre-workout snack.
They are excellent to hand around with pre-dinner drinks or to sit on a buffet table if you are entertaining.
How to Make Thai Spicy Cashews with Chili Step by Step
Step 1 Deep Frying the Cashews
If you are averse to deep frying then by all means roast these in the oven but the result will be less crispy cashews. Use unsalted cashews for this recipe if frying otherwise you can use salted cashews but in that case, be careful with adding salt at the end.
The best method I have found is to put the cashews into a cold pan, cover with enough mid to high heat frying oil – Palm Oil is great but please buy from a sustainable source.
Heat the oil up and stir the cashews around until they are golden brown and stir frequently to avoid burning on the sides in contact with the bottom of the pan.
Drain and place on a double-layered absorbent kitchen paper towel in a single layer (in batches if necessary) and pat the tops with more kitchen towel to remove any excess oil. Allow to cool off a little whilst preparing the chili and onions.
Step 2 Choosing and Preparing the Chili and Onion Tops
Choosing which chili to use depends on the tolerance for the chili heat of your intended guests. If you want a low chili heat I suggest using Spur chili and removing the seeds. If you want a little more heat then leave the seeds in.
If you want even more heat then use a Thai Jinda chili or the western equivalent such as the Fresno Chili. Again taking the seeds out will result in slightly less heat than leaving the chili seeds in.
Cut off the stem end of the chili and then cut into small cubes by slicing thinly lengthwise and then chopping into little blocks.
I like to use the green tops of the onions or alternatively chives that are chopped into small pieces but there is no reason why you cannot use the onion bulbs as well if you choose.
Step 3 Optional Small Fried Fish
I love the sweet little fish I can buy in the local market which are Sew Fish – a small freshwater fish farmed in Thailand.
But you might not be able to find these readily in the West although you can use any crispy small fish such as the packets of tiny anchovies you can get online.
Don't try dried prawns though as they are too hard to eat in a snack like this.
You may also be able to get something suitable at your local Asian market.
Whichever you choose do be aware of the salt content of the fish you add and adjust the salt added to the cashews to compensate accordingly.
Step 4 Completing the Spicy Cashew Mix
To complete your mix, put the cooled cashews into a pan and mix with the chopped chili and onion tops together with the dried fish if using.
Add half a teaspoon of salt adjusting the quantity up or down to taste.
Another version of this mix involves a quick stir-fry of the chilies just sufficient to take off the rawness before turning off the heat to add the cashews and onion tops.
It's just an alternative and there is no right or wrong way to serve this dish.
Serve out on an attractive plate, garnish with a few mint leaves for color and watch them disappear as your guests devour them.
Spicy Cashews Recipe
Spicy Cashews Recipe – Thai Chili Mix
The Video showing this recipe being cooked is near the top of the page – A convenient Jump Link to the video is below the description under here.
A spicy collection of creamy, crunchy cashews mixed with chilies, green onions & optionally crispy fish to keep your guests occupied as pre-dinner drinks snack. A great appetizer with Thai meals too.
NOTE: Any In-recipe images can be toggled on and off with the camera icons next to the Instructions header.
Ingredients  
8

Oz

Cashew Nuts

Unsalted

1

Stem

Spring Onion

Sub with Chives

1

Stem

Mint

For Garnish

½

Tsp

Table Salt

1

Red Spur Chili

¾

Cup

Tiny Fried Fish

(Optional)

2

Cups

Cooking Oil
Instructions 
Method
Add cashew nuts into a cold pan. Place on the stove top, add medium to high heat frying oil such as sustainable palm oil and heat.

Stir the cashew nuts as the oil heats up to stop them burning.

When the cashews are sizzling and a golden brown colour drain them out onto a kitchen paper towel to let them cool down. Pat the top surface to reduce any surface oil.

Chop the spring (green) onion tops and spur chili into small pieces.

Wash surfaces of the kaffir lime leaves, tear the spine out. Roll the leaves up and finely julienne.

Add back to the pan the mostly cooled down cashews, chopped chili, kaffir lime leaf and green onion tops. Sprinkle over a half teaspoon of table salt and mix together.

Serve out on a nice plate and garnish with mint leaves.
Nutrition
Serving:
2
oz
Calories:
374
kcal
Carbohydrates:
18
g
Protein:
19
g
Fat:
27
g
Saturated Fat:
5
g
Cholesterol:
26
mg
Sodium:
325
mg
Potassium:
575
mg
Fiber:
2
g
Sugar:
4
g
Vitamin A:
284
IU
Vitamin C:
16
mg
Calcium:
24
mg
Iron:
4
mg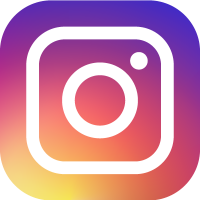 Planning on Making this Recipe?
It would be great if you could take a picture of your finished creation and share it out on Instagram. Tag me with #TASTYTHAIEATS – I love to see your ideas!
I really hope you enjoy this dish and if you cook it I would love to hear your comments below so please come back and let me know how it turned out for you.
I am a Thai mum and love cooking for my children. Over the years, I have taken my family recipes as well as ones borrowed from friends and adapted them to make them even tastier. I publish my authentic Thai Food Recipes here for all to enjoy around the world. When I get a chance to travel I publish information to help others visiting Thailand.