Air Fried Chicken served with a great Thai dipping sauce just changes the whole taste experience. Fried & roasted chicken with this style of dipping sauce is found on Thai street food stalls and in the local Thai markets across the country.
Thai Dipping Sauce Recipe for Air Fryer Chicken Thighs
Link to Making Thai Dipping Sauce for Chicken Video if it Doesn't Load for You
Roast and fried chicken is certainly not the copyright of Thai cuisine, it's cooked and eaten everywhere, but we can take a bet that it is probably available to take away in more places in Thailand than anywhere else because of our love for quick, on-the-go snacks.
What makes Thai fried chicken is not the 57 varieties of secret herbs but rather the variety of dips that you get with it. I'm going to show you one of our favorite Thai dips as well as demonstrate why our air fryer gets daily use.
You'll find a few more dips around here such as Thai Peanut Sauce Dip for BBQ Chicken Skewers and Sweet Chili Dip for Thai Fried Mushrooms.
Links disclosure: Some links on this page go to affiliate partners where, without cost to you, we may receive a commission if you make a purchase.
Ingredients You Will Need
Chicken Thighs
Mushroom Seasoning
Lime Juice
Shallots
Chopped Spring Onion
Salad Vegetables or Steamed Jasmine Rice or Both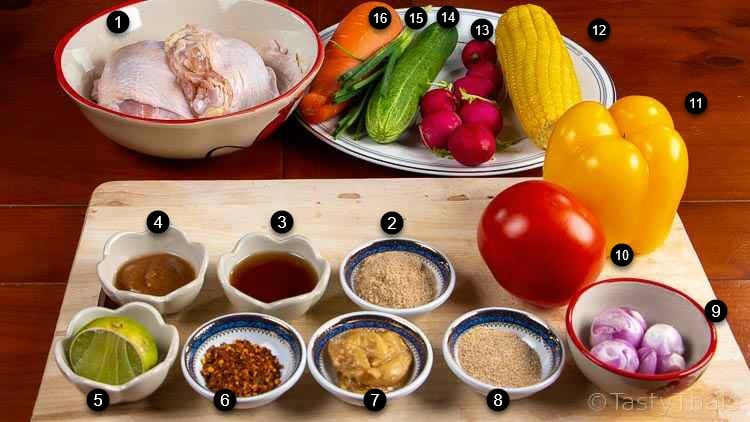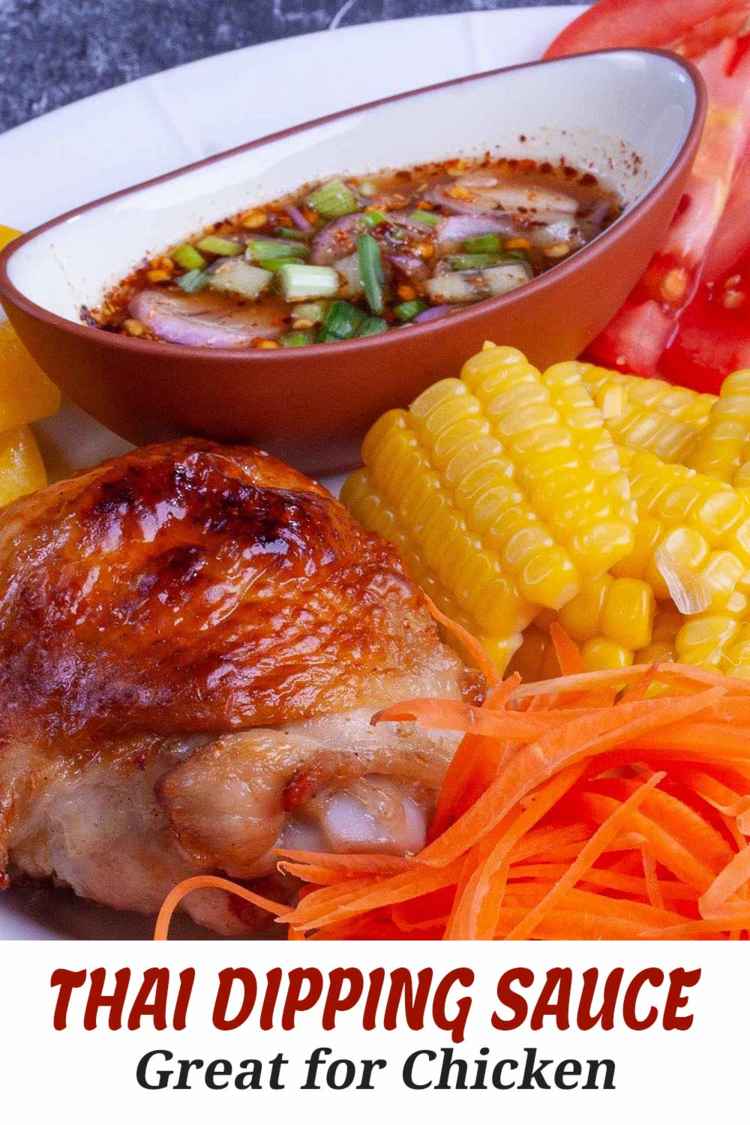 A Word on Thai Dipping Sauces
The thing with Thai dipping sauces is that every chef or cook has a different recipe that they swear by so they end up all rather different. Perhaps this is why Thais refer to these sauces by the words Nahm Jim which mean 'sauce'.
One of the things people love about Thailand is its complete unpredictability for which Thai dipping sauces are a wonderful example.
However, there are certain styles of dips that work well with certain styles of food and so although the recipes are as varied as you like there is a sort of order to the chaos!
There is some crossover between dips and there is no authority on what sauce you must eat. Part of the joy of Thai food is you eat what you please and spice it accordingly.
The dip in this recipe is one of my favorites to eat with roast and fried chicken. the Thai name for this style of sauce is Nam Jim Jaew. I hope you'll like it just as much. It's really full of flavors.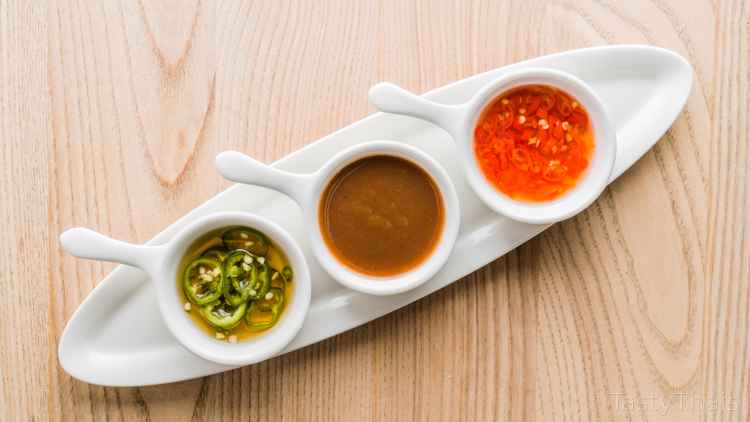 The Secret to Cooking Chicken for a Thai Meal
Chicken is a great meat to cook if you can keep it moist.
Undercooking it is a thing to be avoided because bacteria are not properly destroyed and overcooking it will have it rubbery or dry as old boots.
I love barbecued chicken but large pieces such as thighs tend to get burnt before being properly cooked inside and so my practice is to cube them first. But sometimes it is nice to have a chunky and succulent chicken piece on your plate to dive into.
I have found my air fryer to be a fantastic method for cooking chicken thighs. For one it takes no time to heat up like a convection oven and so saves time & energy, it takes less space in the kitchen and it just works so wonderfully well!
You will have juicy, succulent and moist chicken cuts that are perfectly cooked inside without burning or drying out. It's really brilliant and so easy.
Not only that, but the kids like it because there is no oven to clean!!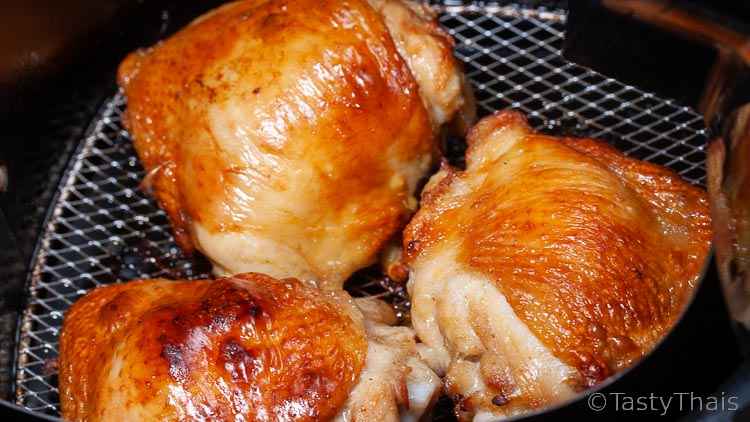 Perfect Air Fryer Chicken with Thai Dipping Sauce Step by Step
Step 1 Seasoning the Chicken before Cooking
After washing your chicken thighs sprinkle some seasoning on the skin and massage well into the chicken flesh.
I prefer to use no-MSG mushroom powder for this but you can choose any suitable seasoning powder for chicken.
Leave for about 5 minutes for the seasoning powder to absorb into the chicken for the best taste.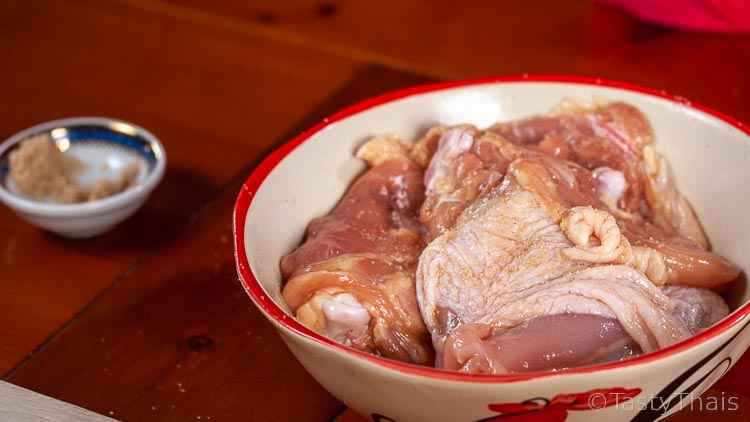 Step 2 Cooking the Chicken Thighs
My favorite way to cook chicken thighs is in the air fryer as it produces perfectly cooked, moist chicken that simply tastes great.
You can also use a regular oven to cook these but (as chicken thighs are quite a chunky cut) barbecuing or frying can be a little tricky to cook properly on the inside without burning or overcooking on the outside.
Set your air fryer 180°C and place your chicken thighs in skin side up and cook for 20 minutes. Check after 10 minutes and a couple of minutes before the end to monitor progress.
Alternatively, preheat your oven to 180°C and tap your fingers waiting for that to heat up. When it's at temperature slide in a baking grid with your chicken thighs on top and check your oven is set to convection. Place a tray underneath your grid to catch the juices released during cooking and use the middle shelf.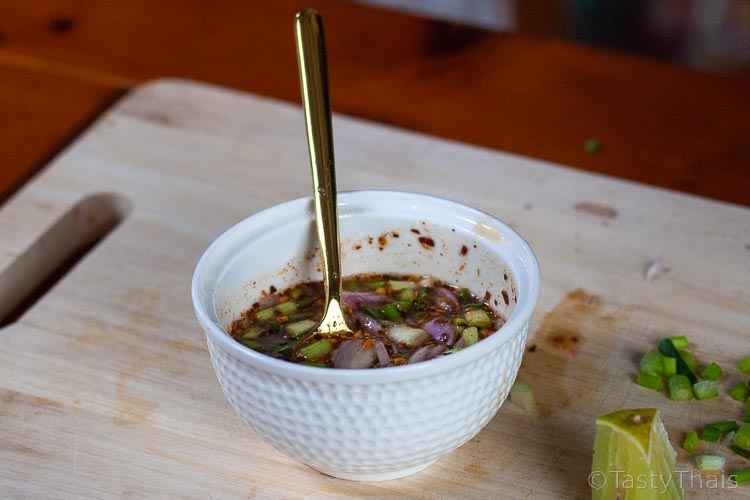 Step 3 Prepare Your Thai Dipping Sauce and Accompaniments
While the chicken is busy cooking prepare your Thai dipping sauce. At this time you should have your steamed rice cooking if you wish or get a salad ready for a healthier serving option.
For the dip, chop up your shallot and spring onion into small pieces.
Mix the sugar, tamarind paste, and half the fish sauce together until the sugar is dissolved.
Add dried chili flakes (adjusting for your personal taste) and roasted rice and mix in well before adding the chopped spring onions and shallots, lime juice and a little more fish sauce to taste.
Step 4 Prepping the Salad
There is nothing special to do here except to get our raw vegetables ready.
For my recipe, I shredded some carrot, sliced radish, sliced off the corn from a whole cooked sweet corn (takes 10 minutes in a steamer or boiling), sliced some cucumber and tomato.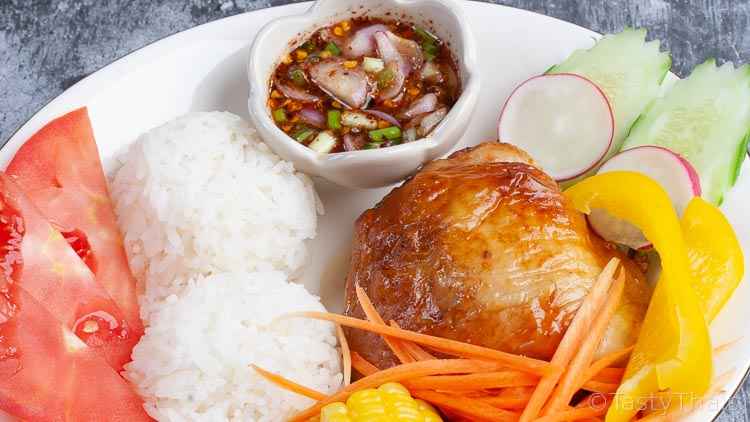 Recipe for Thai Dipping Sauce for Air Fryer Chicken Thighs
Thai Dipping Sauce with Air Fryer Chicken Thighs
The Video showing this recipe being cooked is near the top of the page - A convenient Jump Link to the video is below the description under here.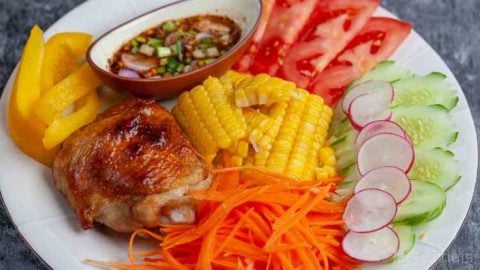 This recipe provides a great Thai dipping sauce to eat with fried or roasted chicken. Thai dipping sauces vary greatly but this one is our favorite to eat with chicken cooked this way. The recipe also covers cooking the chicken thighs in an air fryer - our preferred way to cook for succulent, moist and moreish roast chicken to match the sauce and a salad idea.
NOTE: Any In-recipe images can be toggled on and off with the camera icons next to the Instructions header.
Ingredients  
Ingredients For Air Fryer Chicken Thigh
Ingredients For Tasty Thai Dipping Sauce
Ingredients For Salad
1

Tomato

1

Cucumber

1

Carrot

4

Salad Radish

1

Corn

1

Yellow or Red Sweet Pepper
Instructions 
Cooking the Chicken Thighs
Before cooking the chicken thighs, sprinkle with mushroom seasoning and massage well in with your fingers. Allow to stand for 5 minutes for the seasoning to be absorbed. This help tenderise the chicken as well as giving a better taste.

Place the thighs in a single layer in your air fryer set at 180°C and cook for 20 minutes. It is advisable to check 10 minutes into the cooking time and a few minutes before the end as cooking times fr different brands can vary slightly. No need to turn

If you wish to cook in a traditional oven then pre-heat first to 180°C set on convection. Place your thighs on a grid rack over a tray to allow the hot air to pass around each thigh and with the tray to collect any juices produced.
Making the Thai Dipping Sauce
Chop the shallots and spring/green onions into small pieces.

Mix together the palm sugar, tamarind paste, and half the fish sauce, stirring until the sugar is dissolved.

Add the roasted rice and chili flakes, the lime juice and mix well before adding the chopped shallots and green onions, stirring in well.

Taste the dipping sauce and add in more fish sauce to add salt and umami flavors and to balance the flavors to suit your taste.
Salad Suggestion
Scrape the skin off the outside of the carrot and shred with a shredding tool.

Slice the tomato and radish. Cut the pepper vertically top, bottom and sides, pull the sides away and cut at the bottom to easily remove the seeds. Then slice into strips or chunks to your preference.

Slice the cooked corn ear vertically top to bottom to cut of the edible kernels. You can leave in strips, break into smaller pieces or break into individual kernels.

Using a serrated tool, slice lengthwise to cut away most of the cucumber skin and then slice diagonally crossways for a pretty effect.
Nutrition
Calories:
320
kcal
Carbohydrates:
16
g
Protein:
21
g
Fat:
19
g
Saturated Fat:
5
g
Cholesterol:
111
mg
Sodium:
1497
mg
Potassium:
653
mg
Fiber:
3
g
Sugar:
10
g
Vitamin A:
3952
IU
Vitamin C:
49
mg
Calcium:
40
mg
Iron:
2
mg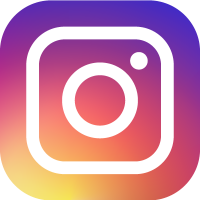 Planning on Making this Recipe?
It would be great if you could take a picture of your finished creation and share it out on Instagram. Tag me with #TASTYTHAIEATS – I love to see your ideas!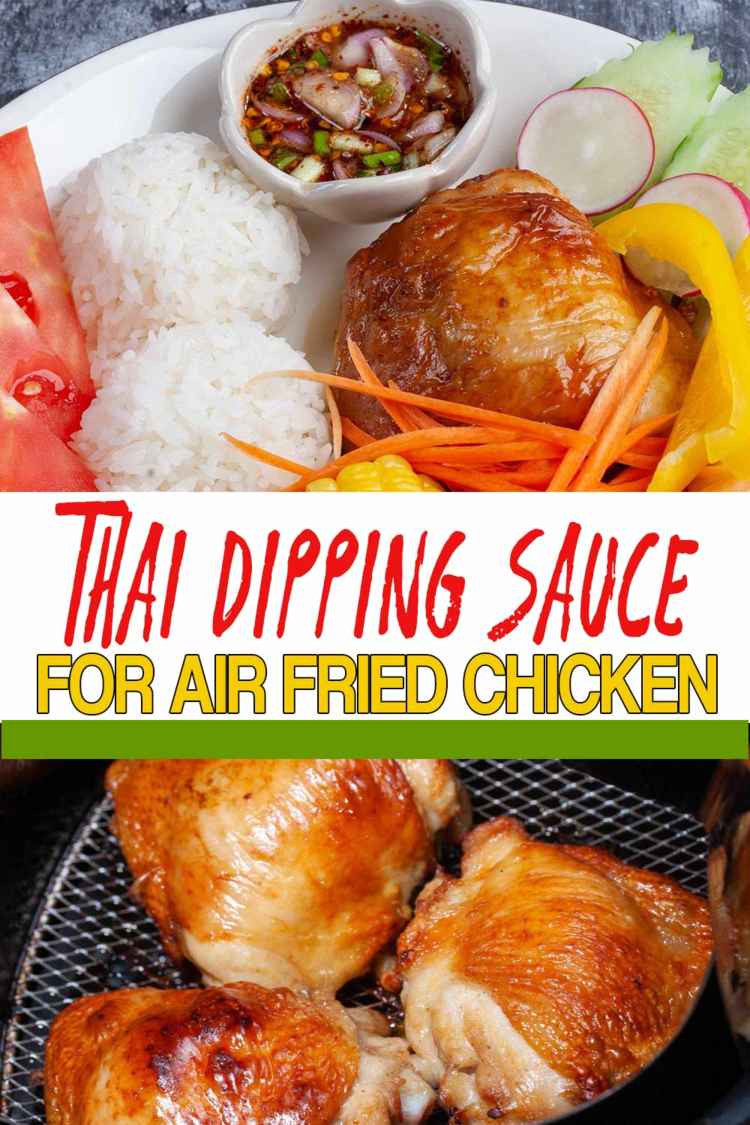 What is Thai sauce made of?
There are so many varieties of Thai dipping sauce suited to various styles of Thai food that it is impossible to say what Thai sauce is made of. Apart from the different styles of Thai sauce there are a plethora of recipes within each style. Look for a dip or sauce that suits what you are cooking.
What does Thai sauce taste like?
If it is a savory Thai sauce then it will have a mix of sweet, sour, umami (savory), spicy and salt flavors. If it is a sweet Thai sauce then it will have a more dominant sweet taste with traces of sour and salt, reduced spicy taste and most often little no umami tastes.
What is Thai chili sauce called?
In the west Thai chili sauce generally refers to the red sweet Thai chili sauce (nam jim gai) whereas the other popular sweet Thai sauce which is a transparent yellow color is referred to as sweet Plum sauce (nam jim buay) which is eaten with fried finger food. Thais do not have specific words to describe individual sauces although they do have words to describe sauce styles.
How to ask for Thai dipping sauce in a Restaurant?
This is a difficult question because Thais do not have a specific word to describe any particular sauce but rather use words to describe styles. A restaurant will usually serve the sauce they make that they think best suits the food you have ordered.
I really hope you enjoy this dish and if you cook it I would love to hear your comments below so please come back and let me know how it turned out for you.
Katie in Action
Katie was out in the garden copying her brother doing some exercise in the afternoon. It's pretty hot in the day in Thailand so the late afternoon is the best time to explore the garden and get some fresh air. She found this interesting bug that has amazing false eyes to discourage getting on the menu for some bird.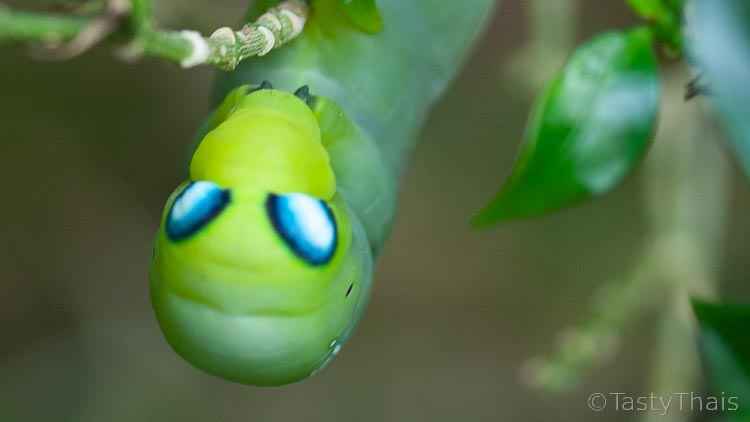 I am a Thai mum and love cooking for my children. Over the years, I have taken my family recipes as well as ones borrowed from friends and adapted them to make them even tastier. I publish my authentic Thai Food Recipes here for all to enjoy around the world. When I get a chance to travel I publish information to help others visiting Thailand.