Liven up your seafood dishes with a quick and easy spicy homemade Thai seafood dipping sauce to really put some zing in your grilled or baked fish, BBQ seafood, or even fresh Thai spring rolls.
This dipping sauce is called Nam Jim Seafood in Thai but beware because the same name is used for the red version of the dipping sauce!
Video Showing the Traditional and Quick Method of Creating Green Thai Seafood Dipping Sauce
Thai Seafood Dipping Sauce (Herbal Chilli Green Sauce)
Link to our Video Showing How to Make Thai Dipping Sauce for Seafood (Green)
If you order seafood at a Thai restaurant then the chances are that it will come served with a spicy garlic and chili seafood dipping sauce.
There are at least two dozen different Thai dipping sauces, each created to enhance the flavor of a certain type of dish.
So far as Thai seafood dipping sauce goes there are two main variations, one more herb flavored and green in color and the other a red color with a quite different taste.
Which version you will be served with any Thai fish dish ordered depends on the restaurant you visit, as each chef has their preference.
Most western oriented restaurants tend to serve the green colored seafood dipping sauce in my experience.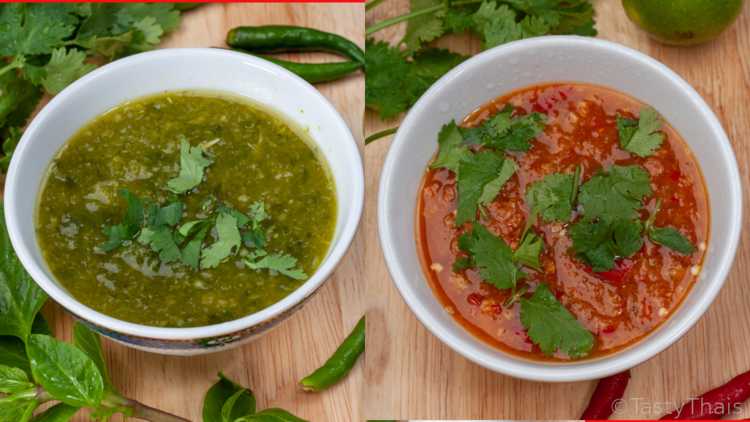 Difference Between Red and Green Thai Seafood Dipping Sauces
The two sauces share the same spicy and sour but slightly sweet taste which typifies Thai cuisine. However the taste profiles are quite different making them individual dipping sauces.
Red Thai seafood dipping sauce is made with red chilies for color and is a little spicier than the green version.
Green Thai seafood dipping sauce is made with green chilies and has basil added to tame the spiciness a little and to add a marked herbal overtone which is really tasty.
If you are cooking a meal then it is a great idea to serve both types for visual presentation and also a talking point over dinner.
Making this sauce with a mortar and pestle is definitely better than using a small processor but the processor is quicker and more convenient.
Ingredients You'll Need
Fresh Garlic Cloves
Coriander Roots – fresh is best
Green Jinda Chilies or equivalent spicy chili
Sweet Basil leaves
Palm Sugar – brown sugar can be used as an alternative
Fish sauce
Lime Juice
Pickled garlic with pickling liquid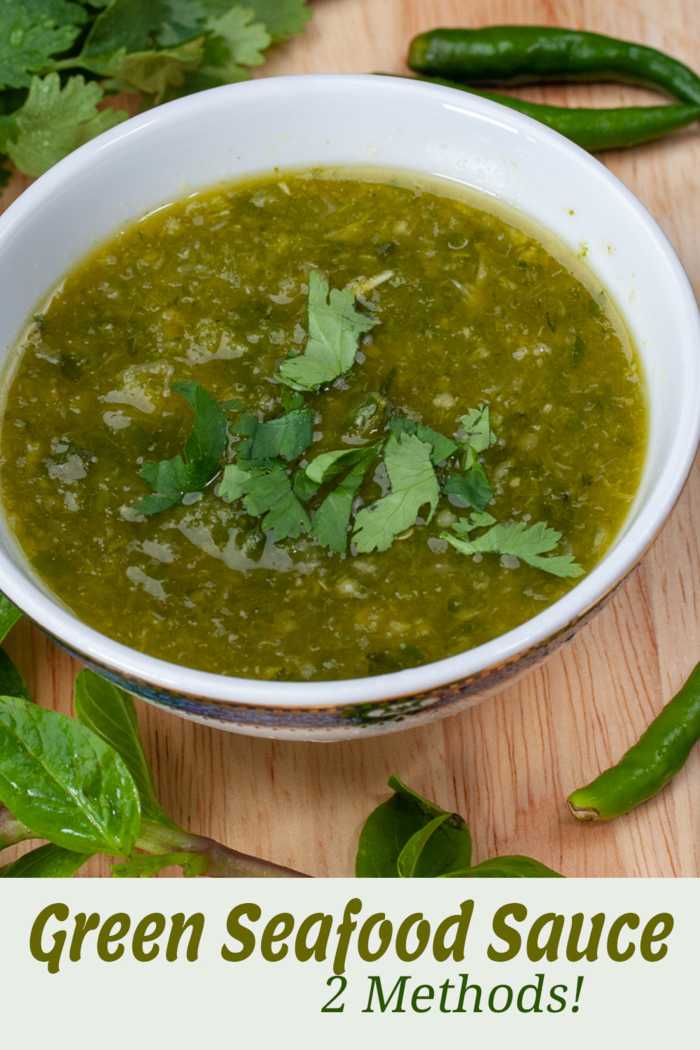 Making Green Thai Seafood Dipping Sauce – Step by Step
Step 1 – Chopping the Herbs
Regardless of whether you will use a mortar and pestle for the best tasting sauce or a mini blender for speed, it is best to chop all the ingredients first.
Chop each ingredient (except the sugar and liquids of course) into small pieces.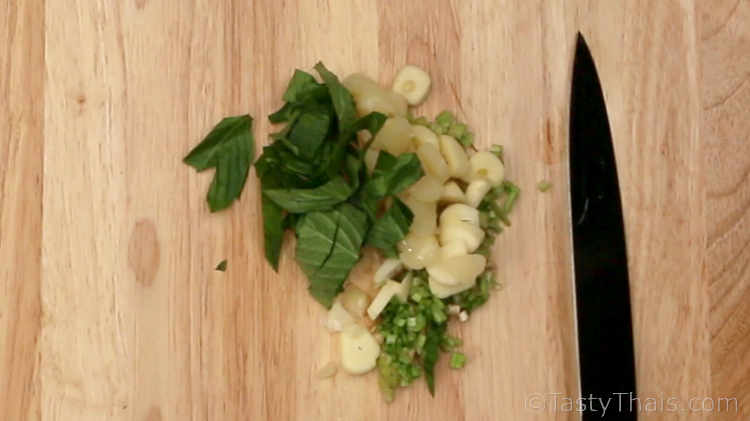 Step 2 – Making the Green Sauce
For the min-blender method you can simply add all the chopped ingredients along with the sugar and liquids and whizz for a few seconds until everything is chopped and mixed.
The downside of this method is that it is hard to control the consistency of the dipping sauce meaning that it will end up quite smooth. It's also hard to avoid a little foaminess on top.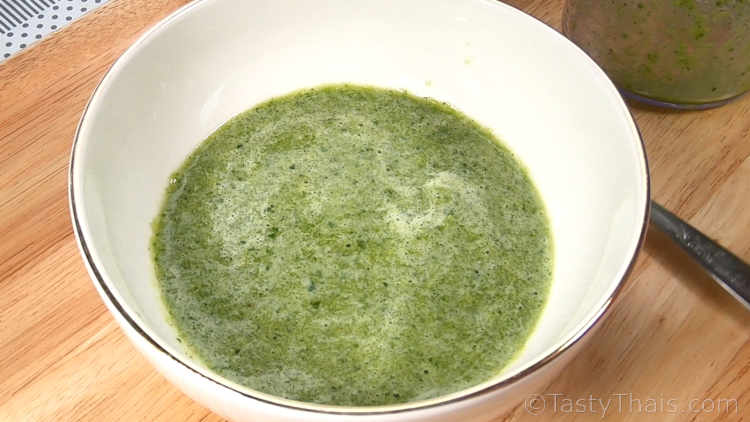 If you want the best green seafood dipping sauce then a mortar and pestle is a must. Using a mortar and pestle is not much extra work really and produces a wonderful aromatic herb style sauce.
Taking each ingredient at a time and beginning with the toughest to grind, coriander root, use the pestle to grind against the sides twisting the pestle as you push.
Keeping the ground herbs in the mortar add another ingredient and grind it to a paste again. Watch the video to see how I use the mortar and pestle.
The benefit of this method is that you will end up with a rougher consistency which makes the dipping sauce more flavorful.
Also the herbs will release more aroma and taste using the grinding method than the high speed chopping action of the blender. There really is a significant difference.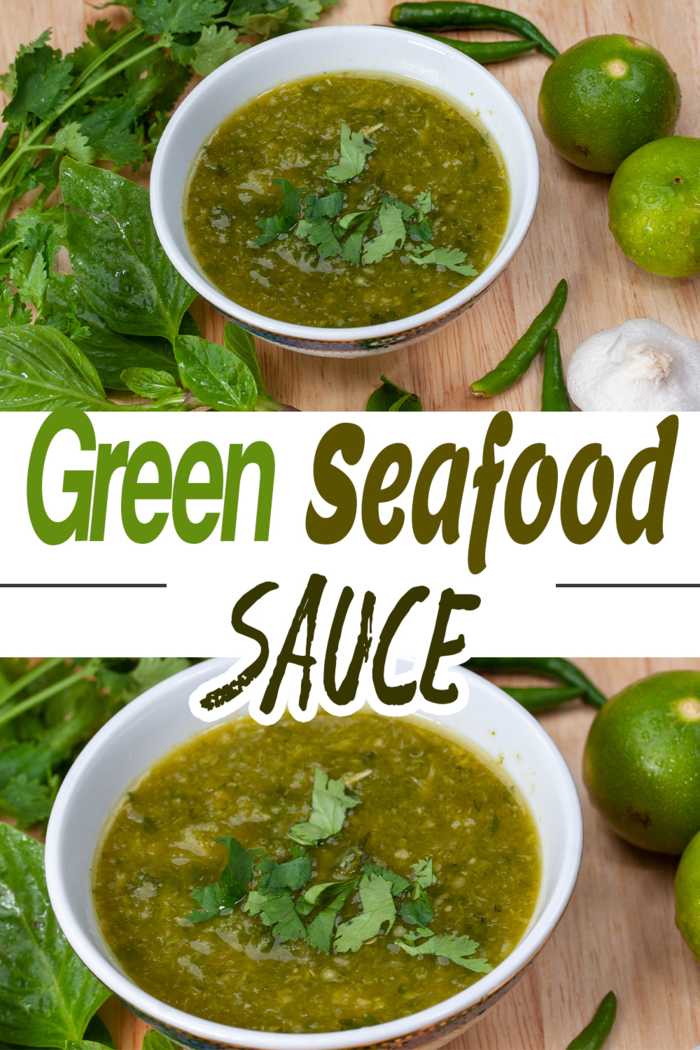 Recipe for Green Version of Thai Seafood Dipping Sauce
Thai Seafood Dipping Sauce (Green)
The Video showing this recipe being cooked is near the top of the page – A convenient Jump Link to the video is below the description under here.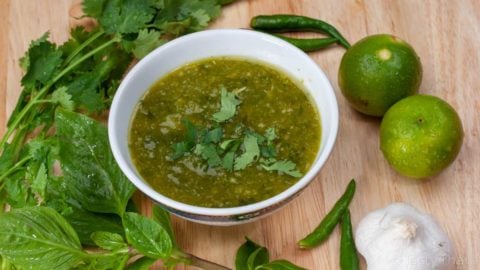 A Thai seafood dipping sauce which is green in color thanks to the green chilies and sweet basil which counterbalances the chili heat and adds a little sweetness.
The combination of ingredients makes for the perfect combination with seafood and also Thai fresh spring rolls.
NOTE: Any In-recipe images can be toggled on and off with the camera icons next to the Instructions header.
Equipment
Mortar & Pestle

Mini Blender
Ingredients  
5

cloves

Garlic

2

Coriander roots

6

Sweet basil leaves

5

Green jinda chilies

1

tbsp

Palm sugar

2½

tbsp

Fish sauce

2

tbsp

Lime juice

5

cloves

Pickled garlic

1½

tbsp

Pickled garlic pickling juice
Instructions 
Common Steps
Prepare all the ingredients, peeling as necessary and chopping into small sized pieces to help the pounding or chopping process.
Mortar & Pestle Method
Place the chopped coriander root in the mortar and grind with the pestle in a pounding and twisting action until it has broken down as fine as you want it.

Next add in and pound the garlic until that is pounded well. Proceed by adding ingredients one by one in order of hardness, pounding each successively to create your sauce and finishing with the soft ingredients.

Finish off making the sauce by adding the liquid ingredients and palm sugar and mixing together well.
Mini Blender Method
Put all the ingredients, including the liquid ones, into the blender container and blitz for a few seconds until the desired consistency is reached.
Notes
Jinda chilies are Thai chilies that are quite spicy – if not available in your area you will need to substitute for something similar such as Serrano, Anaheim, Jalapeno or Fresno chili. In any case you will need to adjust quantity to the spice level you are comfortable with.
Pickled garlic comes in many different sizes – the ones we use are about the size of a large marble. In this recipe we use about half a pickled garlic. 
The pickling liquid is usually a form of vinegar – we use this to add a sour note to the sauce.
The consistency of the sauce is an important part of the overall mouth feel. You will need to pound or process the ingredients as finely as you decide you want the final sauce to be. In Thailand the sauces are typically not finely processed as people prefer to see some texture.
The blender methd is quickest but releases less aroma and it is difficult to control the texture of the sauce because there is a rendency for the blender to chop unevenly. So you usually end up with some finely chopped bits and other bits hardly chopped at all. As a result most sauces processed using this method will be quite smooth.
Nutrition
Calories:
40
kcal
Carbohydrates:
9
g
Protein:
1
g
Fat:
1
g
Saturated Fat:
1
g
Sodium:
1078
mg
Potassium:
47
mg
Fiber:
2
g
Sugar:
5
g
Vitamin A:
99
IU
Vitamin C:
11
mg
Calcium:
12
mg
Iron:
1
mg
Planning on Making this Recipe?
It would be great if you could take a picture of your finished creation and share it out on Instagram. Tag me with #TASTYTHAIEATS – I love to see your ideas!
I am a Thai mum and love cooking for my children. Over the years, I have taken my family recipes as well as ones borrowed from friends and adapted them to make them even tastier. I publish my authentic Thai Food Recipes here for all to enjoy around the world. When I get a chance to travel I publish information to help others visiting Thailand.