Juicing fresh fruit is a quick and excellent way to get your vitamin shots for the day. It is also a great way to entice kids away from cans of pop with that sugar kick which sends them into the stratosphere and you into the crazed hell of dealing with them.
Video on How to Make the Tropical Fruit Punch
Tropical Fruit Punch for Juicer - Easy Fresh Fruit Tropical Punch that's Not Just for Summer!
If the video isn't loading, you can watch it by clicking this
We enjoy this fruity punch as part of our breakfast and often during the day for a pick me up. The energy boost from the fruit is just what's needed to re-energize during a busy day.
If you are an aficionado of Thai drinks then you might like to check out our dried bael fruit tea drink too!
Links disclosure: Some links on this page go to affiliate partners where, without cost to you, we may receive a commission if you make a purchase.
Ingredients for This Tropical Fruit Punch
Why You Want To Make This Tropical Drink
Extremely easy to make
Needs little prep
Contains only fruits and nothing else
Tastes way better than any bought juice and no preservatives
Packed full of vitamins
Goes a long way towards the 5 portions of fruit and vegetables we are advised to consume every day
Healthy to drink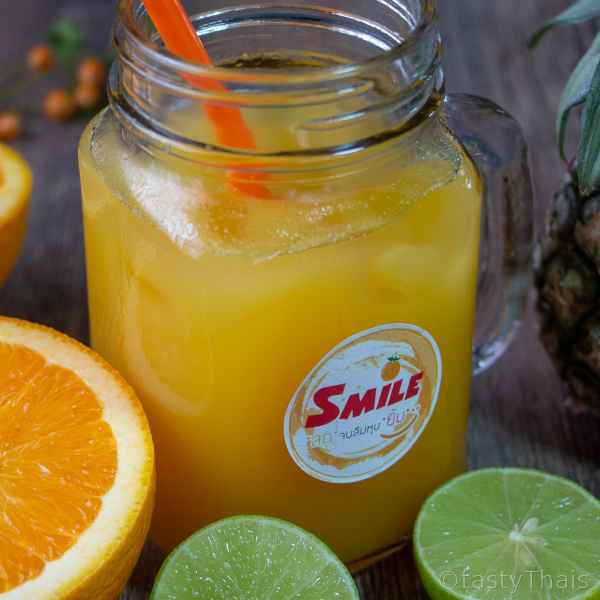 Juicing from fresh fruit is obviously a bit more hassle and cost than simply mixing together store-bought pineapple juice, orange juice etc., all with their associated preservatives and additives to stop the fruit juice going off too quickly.
Thankfully fresh fruit avoids those additives and we get to see the orange and pineapple juice squeezed out as we make our punch.
What fruits are in Tropical Punch?
Tropical punch is made from a mixture of tropical fruits as well as more common fruits to get the right balance of taste and acidity.
In this fresh tropical punch we use pineapple with a mix of pears, apples and oranges all balanced out with a squeeze of lime.
Another tropical drink you might like is our Honey Mango Lemonade. Which is also really easy to make.
How to Make This Homemade Tropical Fruit Punch
Since this is a juicer recipe, it makes the drink is super easy to make.
All you need to do is a little prep to remove the outer skin of the pineapple which is much too fibrous for most juicing machines to deal with. Chop off the spiky top and stem at the bottom and then cut down the pineapple sides with a sharp knife.
You will end up with a few black eyes which you can remove if you have a minute of patience or just let the machine handle those under threat of two to three minutes of unblocking if there are a few too many bits for your juicer to deal with.
The oranges also need to be peeled since the orange zest makes the juice sour quickly and does nothing to enhance the taste. You can either peel with your fingers or just cut it off.
The only other thing that needs removal is the apple pips which can contain harmful chemicals albeit in small amounts. It is important as some of those are heavy elements that can build up over time in your body.
The rest of the fruit can just be quartered into sizes that will fit inside your juicing machine. Just stick in the fruit pieces, turn it on and collect the juice. So easy!
Step 1 Prep it!
Cut the skin off the Pineapple and peel the oranges. Cut the rest of the fruit into small chunks and remove the apple pips.
Step 2 Juice it!
Put the pieces of fruit into your juicer and let it work its magic! It's push button easy!
Step 3 Cool it!
You can either serve direct into a glass with a few ice cubes to drink immediately or pour it into a punch bowl to serve at a party.
If you are using a punch bowl then bear in mind that ice will water down the tropical juice over time as it melts. To avoid this make up some ice cubes with punch made from a previous session or simply use ice cubes made from pineapple juice or orange juice.
Add these fruity ice cubes to your punch bowl to keep the taste as they melt.
What is the best type of Juicing Machine?
The best juicing machine that you can buy for home use is a masticating juicer. This type has an auger that pulls the fruit pieces down before crushing them to extract the juice and shoving the fibrous pulp out to the waste chute.
This type of juicer is best because it offers good value for money, is simple to use and fairly easy to clean. The downside is a higher price tag than centrifugal juicers and a tendency to clog if you do not spend a little extra time cutting the juice into small enough chunks.
The clogging occurs because the fibrous waste is not cut by the machine – it just crushes the juice out under the slowly turning auger. And so if you haven't cut fibrous stuff into small pieces then the fibers are long and get caught up on their way out of the machine.
There are a few alternatives such as twin gear juicers that range from around $600 upwards and are a pain to clean but do work exceedingly efficiently crushing the fruit pieces or leaves between sharp gearlike extended cogs that squeezes every last drop out. Great commercially, but for home use probably too expensive and over the top.
Centrifugal juicers that are even more difficult to clean. They work on the basis of shredding up whatever you are trying to juice and then spinning them at a super high speed to spin the juice out – a bit like the fairground Megaspin you may have had the misfortune to ride in.
Although centrifugal juicers are quite a bit cheaper than the masticating type but have the downside that they are lousy at juicing leafy items, are a real pain to clean (which puts you off even starting – I know because we threw ours out for exactly that reason) and they also oxidize the fruit which affects the taste significantly.
Oxidation is the main reason for all those additives in store-bought juice especially orange and pineapple juice. These centrifugal type juicers are only any good at juicing fleshy fruit and vegetables and oxidize the heck of them in the process. Not good.
Of course, you could go the route of buying a citrus juicer but then you are seriously limiting what you can juice and they are horribly inefficient.
Tropical Fruit Punch Recipe for Juicers
Tropical Fruit Punch Recipe for Juicers
The Video showing this recipe being cooked is near the top of the page – A convenient Jump Link to the video is below the description under here.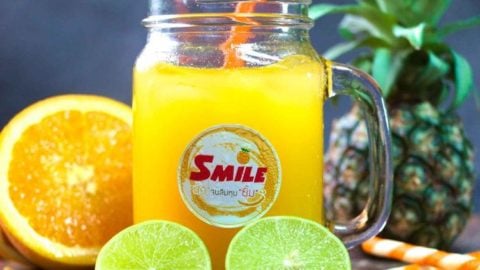 This tropical fruit punch for juicers is a great pick me up or energizer for the day.
Full of juicy goodness from Pineapple, pears, orange, lime and apples it is chock full of vitamins and taste. Make a jug and drink it at breakfast, lunch or whenever you feel like a refresh.
NOTE: Any In-recipe images can be toggled on and off with the camera icons next to the Instructions header.
Ingredients  
1

Pineapple

Outer Skin Cut Off & Cut into Pieces

2

Apples

Green or Red – Quartered

2

Oranges

Quartered

2

Pears

Quartered

1

Lime

Halved or Quartered
Instructions 
Take the Pineapple and cut off the top & bottom. Using a sharp knife cut off the hard outer skin. You can leave a few eyes showing but remove all the skin because otherwise you will block the juicer. Cut into pieces that will fit in the juicing machine model you have.

Wash the apples to remove any residual pesticides and cut into quarters. No need to remove the skins but do remove the pips as these contain tiny amounts of cyanide. It's easiest to just cut the seeded part of the core off.

Wash the pears and cut into quarters as you did with the apples.

Peel the oranges and break between the segments into four pieces. You need to remove the skins as otherwise the juice will turn out bitter.

Cut the lime into four – no need to peel that.

Assemble your juicer making sure the collection jugs are correctly placed and insert the fruit into the machine starting with the pineapple and alternating the fruit as you go. That helps to keep the fruit waste flowing out and reduce blockage.

If the machine stops producing juice or stops extracting the waste fruit then either it has finished or the fruit pulp waste outlet is blocked.
Nutrition
Calories:
247
kcal
Carbohydrates:
65
g
Protein:
3
g
Fat:
1
g
Saturated Fat:
1
g
Sodium:
4
mg
Potassium:
583
mg
Fiber:
10
g
Sugar:
47
g
Vitamin A:
350
IU
Vitamin C:
156
mg
Calcium:
75
mg
Iron:
1
mg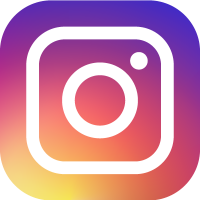 Planning on Making this Recipe?
It would be great if you could take a picture of your finished creation and share it out on Instagram. Tag me with #TASTYTHAIEATS – I love to see your ideas!
Katie in Action
It's fun getting your hands dirty when you are a kid and even more fun following the recipe and seeing the juice magically appear.
With limited peeling needed, boredom is eliminated with a great immune boost finish. Like all kids, sugar means energy has to be run off – sometimes a little calm is more beneficial though.
And for kids parties you can make up a diluted version to fill the punch bowl.
Frequently Asked Questions About Juiced Fruit
Does Fruit Juice Have Vitamins?
Fresh fruit juice from a juicer is packed with Vitamins. Vitamin A, Vitamin B1, Vitamin B2, Vitamin B6, and Vitamin C. Oranges, Lime, and Pineapple have high concentrations of Vitamin C which boosts the immune system.
Can you Juice Fruit in a Blender?
Some softer fruit will juice in a blender reasonably well but fibrous fruits like orange and pineapple cannot be easily blended unless mixed with water.

Berries, for example, are quite easy to blend but still blend better with a liquid added such as milk. A blender will not extract the juice the same as a juicer which is made for the purpose.
Is Juicing Better than Blending?
Juicing extracts the juice from fruits and vegetables without the addition of water which dilutes the final juice. So the nutrients are concentrated in the juice.

Blending is better for producing other drinks that are less nutritious in equal quantity as they are diluted by the liquid needed to blend – unless the liquid is nutritious in itself such as a blend with orange juice. But blenders are better for smoothies and shakes which a juicer will not make.
Can I Mix Fruits and Vegetables When Juicing?
Yes. Fruits and vegetables go together quite nicely if you get the right combination. Just like any ingredients, some go together better than others.

Carrots go together with quite a lot of fruits and apples are a good choice to go with many vegetables but there are hundreds of suitable combinations.
Other posts you might like:
I am a Thai mum and love cooking for my children. Over the years, I have taken my family recipes as well as ones borrowed from friends and adapted them to make them even tastier. I publish my authentic Thai Food Recipes here for all to enjoy around the world. When I get a chance to travel I publish information to help others visiting Thailand.