This creamy chicken and mushroom risotto has a great balance for creaminess with a little Thai kick to give it life. It is easy to make and comes out perfect every time. We prefer to use a couple of different types of mushrooms but you can just use one or use more – entirely up to you.
The first risotto we made was a disaster – a horrible mess! There is a knack to it and so you will find the recipe is quite detailed so it can be used as a risotto for beginners recipe. The recipe is easy to print too so do give it a try and let us know how it went in the comments below.
How to Make Mushroom Risotto Thai Style Video
Mushroom Risotto - Thai Fusion Chicken & Mushroom Rice Recipe
Link to How to make Risotto in case the video does not load for you.
Links disclosure: Some links on this page go to affiliate partners where, without cost to you, we may receive a commission if you make a purchase.
Ingredients for Making Easy Creamy Chicken and Mushroom Risotto
Shallots
Garlic Cloves
Olive oil
Shiitake Mushrooms
Button Mushrooms
Salted Butter
Chicken Breasts
Mushroom Sauce
Rosemary Sprigs
Carnaroli Rice
Jinda Chili
Chicken Stock
Dry Cooking Sherry
Parmesan Cheese
Parsley Sprigs
What is Risotto?
Risotto is a creamy tasting Italian dish created by cooking a particular style of rice in broth. Carnaroli, Arborio, and Vialone are the most common rice types used. Wine, vegetables, and meats are usually added to make a complete meal.
Although you will find many recipes with cream, or other creamy dairy ingredients, these are not necessary to create the creamy consistency of a great risotto. That is because the creaminess comes from the rice starch combining with the tasty cooking liquid as it cooks.
What Type of Rice is Best for Risotto?
The best commonly available type of rice for risotto is said to be either Carnaroli or Vialone Nano followed by Arborio Rice.
Carnaroli rice has the higher starch content of the three rice types listed above. It is this higher starch content that produces the most creamy consistency risotto which is why it is commonly said to be the best rice for risotto.
Vialone Nano rice comes from the region around Veneto in Italy and is very popular in Milan. This rice is slightly less starchy than Carnaroli rice and has slightly shorter grains. When cooked the risotto is slightly less creamy but the grains of rice are fatter and more individual having merged less.
Arborio rice is the most commonly used rice for risotto and is usually a little cheaper. This rice is slightly less starchy again and so the risotto ends up a little less creamy in texture. The other thing with Arborio rice is that it is less tolerant to over or undercooking so you need to have your wits about you a little more than Carnaroli which is more forgiving to cook.
Is 'fino' or 'superfino' Labelled Rice Better?
Rice is classified according to the quality and size of grains for any individual rice type. 'Fino' is the term given to fine rice, with few broken pieces and good-sized grains. 'Superfino' rice is the label given to rice which is the best quality with no broken rice and the fattest and biggest rice grains.
So the best rice to use will be the rice labeled 'superfino' as it will absorb more tasty cooking liquid and absorb the tastes of other ingredients more easily.
If you are cooking a risotto with the finest ingredients such as lobster, truffle, or delicately flavored and nuanced tastes then 'superfino' rice is a must really.
The type of rice you use will provide more of an impact on your finished dish than whether the labeling is 'fino' or 'superfino'.
What is the Secret to Making the Best Risotto?
There is a knack to cooking risotto, well several knacks really.
Firstly, the type of rice you use will make a difference so choose Carnaroli rice if you can. If you want to use Arborio or any other risotto rice then, of course, you can as long as you understand the result will be slightly different.
When we say slightly different we mean the feel of the rice grains in your mouth will be different with the Arborio rice grains feeling more fused together. Arborio rice will also be less creamy which you can offset to some degree by adding a little extra butter or a little cream or coconut cream to the dish depending on what you are cooking.
The Carnaroli rice also absorbs flavors better and so there is a benefit there too.
But you can make a perfectly fine risotto using Arborio rice so if that is all you can readily get your hands on then go for it.
Is Risotto a Side or a Main Dish?
Risotto can be cooked as a side or a main dish, the principle difference being that risottos intended as main dishes will usually contain more protein ingredients such as fish, meat or cheese and be served in larger quantities. Risotto for side dishes tend to be simpler but none the less tasty.
What is the Difference Between Risotto and Paella
Risotto is an Italian dish where the aim is to create a creamy and smooth tasting finish. The risotto is stirred continuously to achieve an even consistency and usually, parmesan or a similar hard cheese is added at the end for additional flavour.
Paella, on the other hand, is a Spanish dish, where rice is cooked along with saffron as well as meats and / or vegetables and where you avoid stirring the rice at the end of the cooking to get a crusty bottom called 'socarrat'.
Risotto is not cooked with saffron and is creamy, paella is cooked with saffron and is not meant to be creamy.
How to Make our Thai Fusion Creamy Chicken and Mushroom Risotto
Step 1 Prepare the Ingredients
Grab together all the ingredients you need and wash or peel ready for use. DO NOT WASH THE RICE.
Chop up the shallots and mince the garlic. Break off a few twigs of Rosemary ready to use. The small pieces of Rosemary will fall off the stems in cooking and you can remove them then. Chop the chili across to make little rounds if you want a little spice in your dish.
If you don't like the 'feel' of the rosemary leaves then use a softer herb like parsley which also goes very well. Grate the cheese finely and separate into two containers for use – about 4/5ths you will use in cooking and 1/5th for garnish on serving.
Wash the chicken breasts and chop them up into easy to cook, bite-sized pieces and set aside. You can omit the chicken if you want a less rounded meal or if you are cooking the risotto as a side.
Warm-up your cooking broth – in this recipe that is chicken stock.
Step 2 Saute the Onions and Cook Down the Mushrooms & Mix in Rice
Saute your onions, chili and garlic to part cook and release the garlic aroma and then toss in your mushrooms and cook them down.
Step 3 Part Cook the Chicken
While you are watching the mushrooms slowly shrink into the pan, grab another pan and saute more garlic for a minute or two and then add the mushroom sauce and stir-fry the chicken in the garlic until the skin is white all over. It will cook more in a minute!
Step 4 Mix it Up and the First Stock
Add in your rice straight from the packet. Not washing the rice leaves more starch and a creamier resulting risotto. Mix the rice in with the mushrooms quickly to avoid roasting the rice without liquid.
As soon everything is mixed add in one cup of stock and lower your heat to medium, stirring continuously.
Completing the Cooking of Your Risotto
As soon as the liquid is absorbed and before the rice starts to cook dry in the part of the pan closest to the heat, add in the sherry or rice wine vinegar. Stir for a minute to cook off the alcohol and then another 3/4 cup or so of stock plus the chicken and herbs.
Continue cooking and waiting for the rice to absorb these small quantities of added stock before adding a little more, stirring all the time. Continue this process until the rice starts to look cooked by which time your stock will be almost used up.
Taste the risotto to ensure that the rice is soft yet retaining a little bite a bit like well-cooked pasta.
Finishing off and Plating
Now that your rice is cooked, remove the pan from the heat or at least set it to the lowest setting and add in the hard grated cheese – parmesan works well. Mix it in with the risotto to distribute evenly and then serve immediately.
Garnish with a little parsley and grated parmesan to top it off and serve it with a kiss or at least a glass of wine!
Creamy Mushroom and Chicken Risotto Recipe
We made this recipe really detailed so it will be a good risotto recipe for beginners.
Creamy Chicken and Mushroom Risotto Recipe
The Video showing this recipe being cooked is near the top of the page – A convenient Jump Link to the video is below the description under here.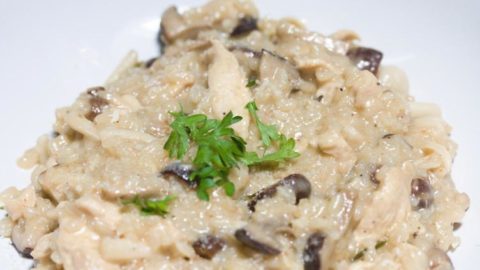 This is our favorite mushroom risotto which comes up mildly cheesy and mildly creamy with a touch of spiciness. Lots of people like the really creamy risotto styles but for the Thai palate they are a little too clingy in the mouth. And so we came up with this nicely balanced recipe with a little Thai twist which we hope you will enjoy.
NOTE: Any In-recipe images can be toggled on and off with the camera icons next to the Instructions header.
Ingredients  
1

cup

Shallots

Peeled & Chopped

12

Garlic Cloves

Peeled & Minced

1

Jinda Chili

4

tbsp

Olive Oil

Any type will do, virgin, pure etc.

12

oz

Shiitake or Porchini Mushrooms

Washed & Sliced

12

oz

Button Mushrooms

Washed & Sliced – Or any other mushroom type you like

2

tbsp

Salted Butter

2

Chicken Breasts

Skin off & cut into bite sized pieces

4

tbsp

Rosemary Sprigs

2

cups

Carnaroli Rice (dry)

or Arborio Rice slightly less creamy

8+

cups

Asian Chicken Stock

Home made so much better than pre-made

¼

cup

Mushroom Soy Sauce

½

cup

Dry Cooking Sherry

or Rice Wine Vinegar

1½

cups

(split) Parmesan Cheese

1 cup for cooking and 1/2 cup for topping. Fresh Grated or any other strong hard cheese

½

cup

Parsley Sprigs

Roughly Chopped for Garnish
Instructions 
Peel the shallots and chop quite finely and set aside

Wash the mushrooms and slice top through stem to get 4-5 slices from each mushroom. Set aside.

Peel the garlic cloves and press through a garlic mincer or chop super fine. Chop the chili crossways into small rounds. Set aside.

Take a fairly large saucepan and heat up the chicken stock to a simmer. As soon as it reaches a simmer turn off and leave for use shortly.

While your stock is warming up, take a large, wide pan that is big enough to hold all the ingredients with space for the rice to expand – something wok sized is good.

Heat 2 tablespoons of the olive oil and heat until it ripples on the surface.

Add the shallots, chopped chili and half of the garlic and cook until the shallots start to go a little translucent and you can smell the garlic.

Add the butter to the pan together with the mushrooms and lower the heat to medium. Cook the mushrooms, stirring frequently until they have cooked down by about 1/3rd.

While the mushrooms are cooking down, grab a medium skillet and add the remaining two tablespoons of oil. Heat until the oil flows freely and then add the remaining garlic and saute for about a minute.

Add the chicken pieces and the mushroom soy sauce and saute with the garlic turning frequently until barely cooked through (meat has turned from pink to white on every surface) and set aside for a moment.

Add the rice to the mushrooms and mix together so that the whole mixture is well combined and keeping it on the heat. This should take about 1 minute.

At this point your attention is needed without distraction because you need to add the chicken stock bit by bit and keep stirring. So add 1 cup of stock to the mushroom and rice mix and stir – heat should be at a medium setting so if left for a few seconds the mixture will produce small bubbles on top.

You will notice the chicken stock being absorbed by the rice mix as you stir, watch the consistency of the mixture near the bottom of your pan and as soon as you see the liquid has been absorbed, add another 3/4 cup of stock and stir it in. It's important to keep stirring to ensure the ingredients do not stick to the bottom of the pan.

Add in the rosemary sprigs and the chicken you just cooked.

Continue the process of adding stock 3/4 cup at a time, stirring, watching for liquid being absorbed until you notice the rice get plumper and the stock taking longer to be absorbed. At this point you will have used up most of the stock, or maybe all of it, and it is time to taste.

The process of adding in the stock bit by bit, stirring until absorbed and repeating is the secret to cooking risotto. And making sure not to overcook the rice.

When you taste, check for taste of course but notice the consistency of the rice. You want to notice a slight bite to the rice much like properly cooked pasta. Soft but with some resistance to your bite.

Stir in most of the grated cheese leaving a few tablespoons to serve with the dish so that diners can add more to their taste. Combine thoroughly.

You should add seasoning to your taste at this point. As the cheese itself is salty it is best to check for taste after it has been added and cooked down a little.

Serve with the reserved grated cheese to the side and add a few sprigs of parsley on top for garnish. A glass of red wine compliments this dish perfectly.
Notes
If the risotto is left it will begin to dry out. Just return to the pan to reheat adding a little more chicken stock and then serve.
You can mix up your mushrooms.
We add chili for a hint of spice but it's optional. It's a great recipe with or without it.
Nutrition
Calories:
677
kcal
Carbohydrates:
82
g
Protein:
43
g
Fat:
18
g
Saturated Fat:
8
g
Cholesterol:
85
mg
Sodium:
1435
mg
Potassium:
1291
mg
Fiber:
6
g
Sugar:
12
g
Vitamin A:
897
IU
Vitamin C:
25
mg
Calcium:
356
mg
Iron:
6
mg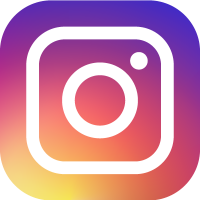 Planning on Making this Recipe?
It would be great if you could take a picture of your finished creation and share it out on Instagram. Tag me with #TASTYTHAIEATS – I love to see your ideas!
I really hope you enjoy this dish and if you cook it I would love to hear your comments below so please come back and let me know how it turned out for you.
Frequently Asked Questions About Risotto
Is there any rice that is unsuitable for risotto?
You can cook risotto with any rice but unless you use high starch rice such as Carnaroli or Vialone Nano or Arborio or similar the risotto will not absorb the cooking broth properly and will come out very poor. The worst rice for risotto is Basmati, Jasmine and wild rice.
Should I rinse risotto rice before using it?
No, you should not rinse risotto rice before making risotto because the creamy signature texture of risotto comes from the starch released by the rice infusing with the cooking broth. If you wash the rice first then a lot of the starch in the rice will be lost and the risotto will be less creamy as a result.
Can I use Cheddar instead of Parmesan?
You can use cheddar cheese or any of the softer cheeses to make risotto if you want a more homogenous end result. The soft cheese will melt and glue the rice together thus producing a stickier risotto. You can certainly switch the Parmigiano Reggiano (Parmesan) for a different Grana (hard style) cheese without changing the consistency of your risotto much.
I am a Thai mum and love cooking for my children. Over the years, I have taken my family recipes as well as ones borrowed from friends and adapted them to make them even tastier. I publish my authentic Thai Food Recipes here for all to enjoy around the world. When I get a chance to travel I publish information to help others visiting Thailand.