Bael is a firm fruit that is dried and made into this Bael Fruit Tea in south-east Asia because it is traditional and supposedly has health benefits.
Watch How to Make Thai Bael Fruit Drink Video
How to Make Bael Fruit Tea - Recipe from Thailand - Serve as Iced Tea or Hot tea
Link to How to make Thai Bael Fruit Drink video in case it fails to load for you.
We are not doctors so will pass no comment on whether it is good for your digestion, lowering blood pressure or contolling cholesterol as some claim. But we can tell you that Bael fruit has long been used therapeutically in Thailand and India.
Iced Thai Bael Fruit Tea is often served as a welcome drink, like lemongrass tea, in hotels and wellness centers and it is quite easy to make. So if you fancy a different taste for once why not give it a try.
Links Disclosure: Some links on this page go to affiliate partners where, without cost to you, we may receive a commission if you make a purchase.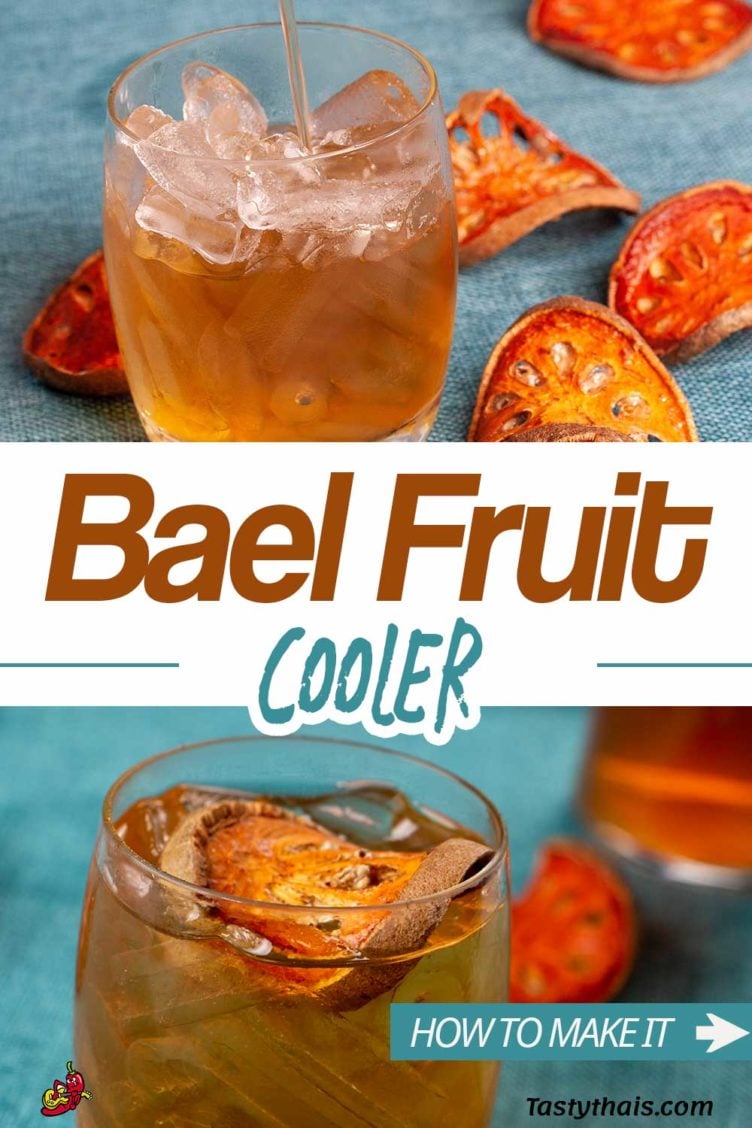 Ingredients You Will Need
Dried Bael
Brown Sugar
Water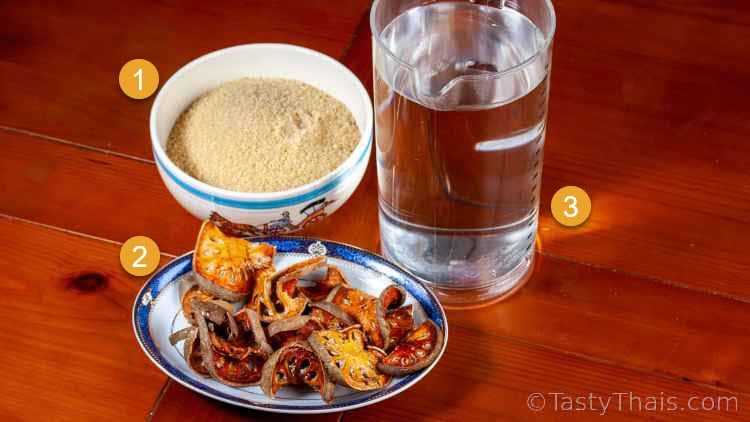 Why You Should Make Bael Fruit Drink
Apart from the claimed health benefits bael fruit has a pleasant, slightly woody taste that might remind you of a visit to Thailand.
It is a great change from the norm and a good drink to serve as a welcome before Thai themed parties or at summer events.
The recipe makes a concentrated cordial that should be diluted to taste and served with ice. You can also serve it as a hot tea.
As it is a herbal drink, we advise that you check with your doctor if you have any underlying health issues or are pregnant and intend to drink regularly.
How to Make Bael Fruit Tea Step by Step
Making Bael Fruit Tea takes just a few steps.
Step 1 Toast the Bael
Place the dried bael in a pan and heat to gently toast and release its aroma and flavour. This will take just a minute or two but makes a more rounded and tastier finished tea.
Step 2 Brewing Bael Fruit Tea
Heat water until boiling and add in the bael that you toasted in step 1.
Reduce the heat and simmer for 20 minutes. The water will gradually color as the bael releases its flavor.
Step 3 Straining, Sweetening, & Storing
When the bael has finished simmering to brew, remove the bael pieces with a slotted spoon and add the sugar.
Stir the sugar thoroughly to dissolve and allow to cool a little before straining through a cloth or metal strainer to remove any remaining small particles and leave the tea clear.
Pour into a jug with a cover for storage in the refrigerator.
The bael tea will keep for several days in the fridge. To serve simply pour over ice and dilute to taste. We like to dilute about two parts water to one part of the bael tea concentrate made.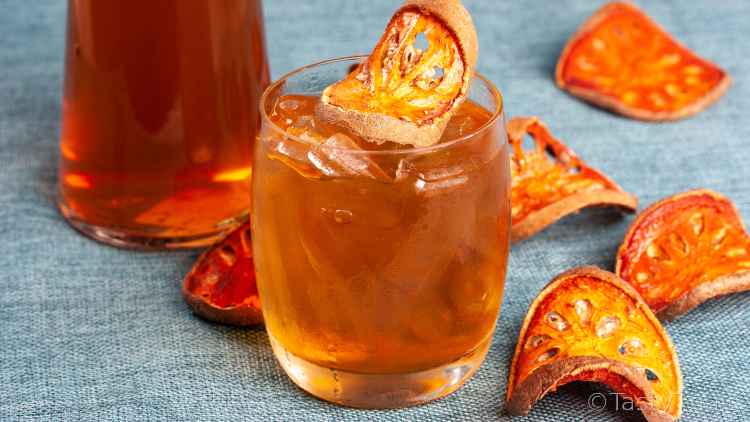 How to Make Bael Fruit Tea Recipe
How to Make Bael Fruit Tea
The Video showing this recipe being cooked is near the top of the page – A convenient Jump Link to the video is below the description under here.
Bael fruit tea is served over ice in Thailadn. It has many reported health benefits and is easy to make. This recipe makes a concentrated tea which should be diluted to taste before use. We suggest 2 parts water to one part concentrate.
NOTE: Any In-recipe images can be toggled on and off with the camera icons next to the Instructions header.
Ingredients  
4

oz

Dried Bael

9

cups

Drinking Water

3

cups

Brown Sugar
Instructions 
Toast the dried bael directly in a pan over moderate heat for a minute or two to release the aroma and boost flavors.

Remove the bael from the pan.

Bring the drinking water to the boil and then add in the toasted bael. Reduce the heat and simmer for 25 minutes.

Remove from the heat and remove the large pices of bael with a slotted spoon. Add in the sugar and stir to dissolve.

It is best to allow the bael to cool before pouring through a cloth filter to remove any remaining small particles. Transfer to a large covered jug and refrigerate. The drink will keep for several days refrigerated.

Add one part bael tea to two parts plain water served over ice. Adjust taste if preferred by adding more or less water to dilute.
Notes
Bael tea can be served as a hot tea if preferred in which case heat the drink and dilute with hot water to serve.
Nutrition
Calories:
222
kcal
Carbohydrates:
57
g
Protein:
1
g
Fat:
1
g
Sodium:
25
mg
Potassium:
130
mg
Sugar:
53
g
Vitamin C:
1
mg
Calcium:
59
mg
Iron:
1
mg
Planning on Making this Recipe?
It would be great if you could take a picture of your finished creation and share it out on Instagram. Tag me with #TASTYTHAIEATS – I love to see your ideas!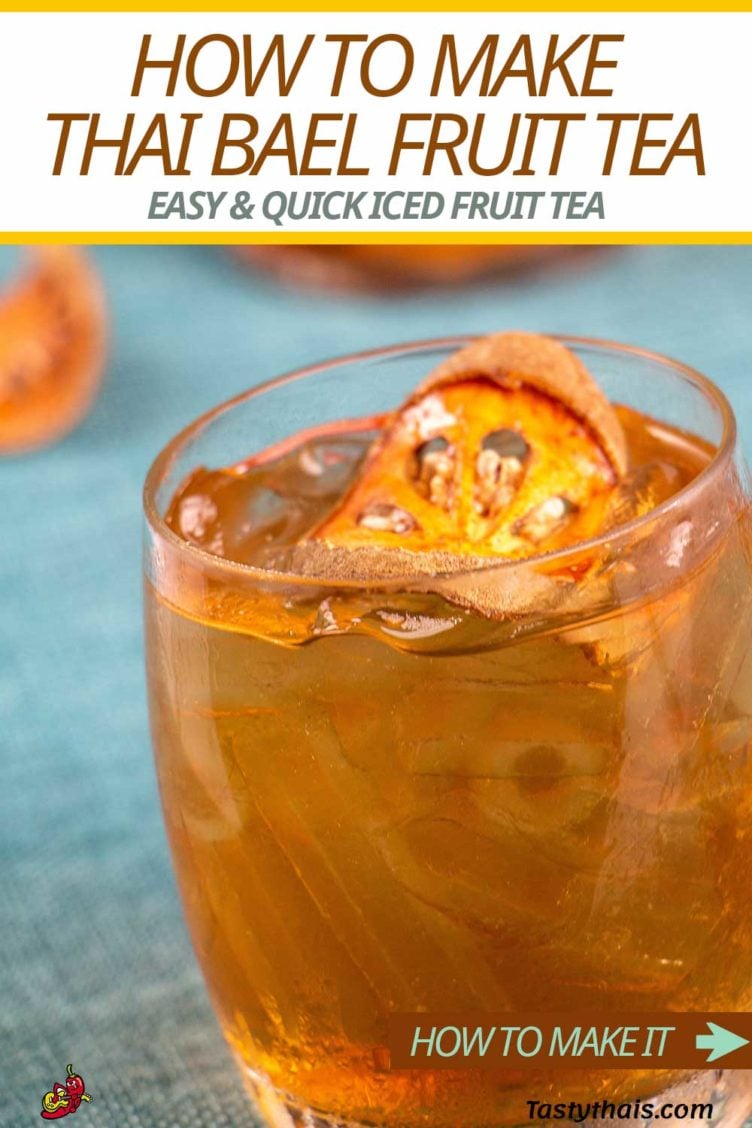 I really hope you enjoy this dish and if you cook it I would love to hear your comments below so please come back and let me know how it turned out for you.