Sweet rice in Thailand means khao neow or sticky rice with coconut milk, quite delicious and made for Thai desserts, many of which feature mango.
There are many other sweet rice recipes from various cuisines around the world such as rice pudding and various Indian style sweet rice recipes used in savory dishes as well as sweet.
Basic sticky rice is made with glutinous rice that is steamed. It can be served with savory dishes like pork or chicken BBQ sicks, grilled with butter or made into the most amazing sweet rice with the help of coconut milk.
Video Showing How to Make Thai Sweet Rice & Mango Sticky Rice Cake
Thai Mango Sticky Rice Cake - Black and White Sweet Rice Recipe Cake
Link to making sweet rice and mango sticky rice cake video in case it does not load for you.
This fantastic looking rice cake is made with sweet black glutinous rice and white sticky rice for a stunning looking black and white cake all topped with glowing golden ripe mango – juicy, sweet and succulent sweet rice irresistibility.
What Makes Rice Sticky?
Rice becomes sticky when cooked when the starch it contains is released as the rice grains absorb water. You can see the starch when you wash the rice as it is starch which makes the water cloudy.
As the rice is cooked the starch from adjacent grains comes together sticking rice grains together rather than the fluffy separated grains that is a feature of Jasmine Rice or Basmati rice for example.
There are hundreds of different types of rice with quite widely varying qualities as well as some oddities like Wild Rice which is not even rice but seeds from a type of grass.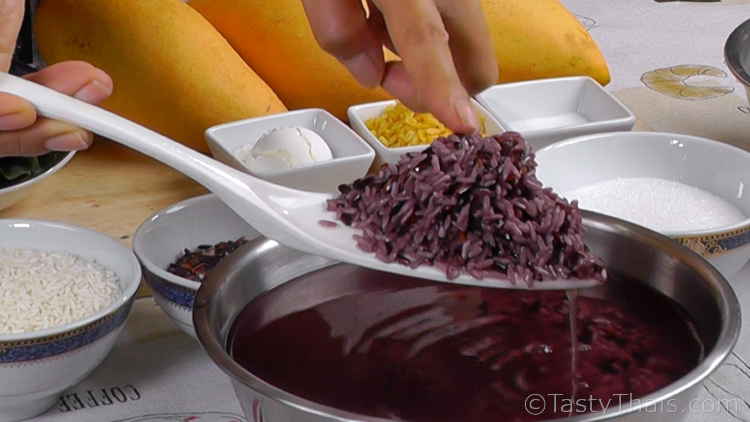 Glutinous rice is short-grain rice. The one grown in Thailand is called khao neow and comes in both black and white versions – the black rice retaining the bran and the white processed to remove the bran along with its fiber and vitamins.
Japanese sushi rice is another type of glutinous rice that becomes sticky when cooked but has a different texture and taste to Thai rice.
What Makes Rice Sweet?
Most glutinous rice is not particularly sweet when cooked with water (there are some though such as Bangladeshi modhu bhat).
With many varieties of glutinous rice, cuisines around the world add honey, sugar, milk and various other ingredients to make the rice sweet for their local dishes.
Thai sticky rice for desserts is mixed with sugar and coconut milk to provide the sweetness and it is this that makes it unique.
How to Make Thai Sticky Rice
Black sticky rice grains contain the bran which makes them quite chewy and so we mix black and white rice together for the soaking process.
Black rice is actually very dark purple and it is this coloring that comes out while soaking and in turn colors the white glutinous rice to make a beautiful mix.
The mixing of the white with the black rice also makes the mix tasty from the black rice whilst offsetting the more chewy consistency of the black rice which can be a bit much for most people on its own.
After soaking the mixed rice is then steamed until cooked. The white rice must be steamed separately or it too will become colored and spoil the effect.
Cooking the sticky rice is easy. You can steam in a rice cooker, in a bamboo steamer, or in a stovetop or electric steamer.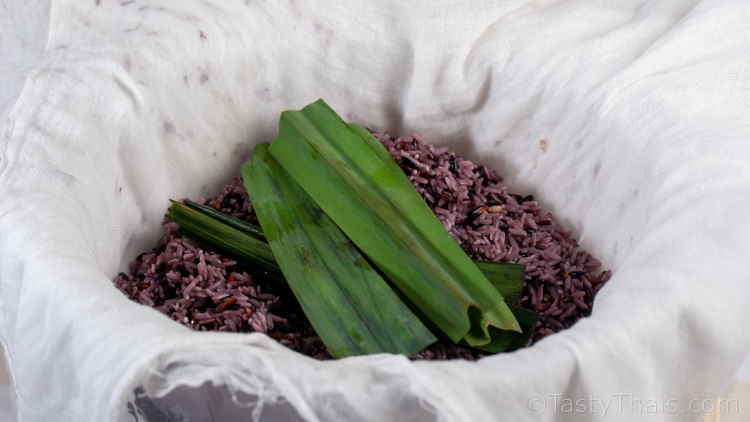 We prefer to use an electric steamer with muslin cloth because both the white and mixed rice can be steamed together at the same time with the white rice in the top container and the black in the bottom.
The white rice needs to be on top so that the mixed rice does not drip its purple color and taint the pure white color spoiling the effect. It is nice to add a few pandanus leaves as they will add a very slight aroma and additional flavor but it is optional.
Steam for about 30 minutes After steaming both the mixed rice and the white only rice will have released the natural starch and become sticky.
What you now have is regular Thai sticky rice.
How to Make Thai Sweet Rice (Khao Neow Moon)
To make the sticky rice sweet we take the already steamed sticky rice and place it in a bowl.
In a separate bowl mix up sugar, a little salt to avoid the mixture being overly sweet, and coconut milk and stir without heat to dissolve the sugar and salt.
Once the salt and sugar is dissolved, heat the mixture gently until warm. Do not let it get too hot because if you do the fat will start to separate out from the coconut milk which is not what we want.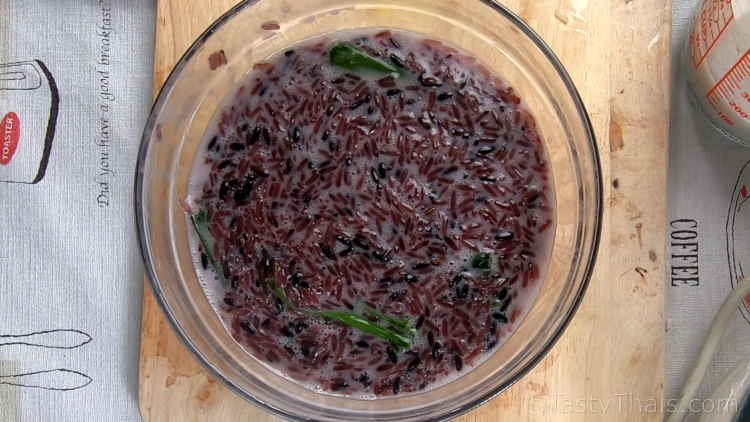 Once the coconut link mixture is warm, add it to the cooked sticky rice (mixed and white in separate bowls) and mix together. Cover and leave for 15 minutes to allow the coconut milk to be absorbed by the rice. Watch the video to understand the consistency you want.
Then turn over the rice mixture to mix and allow to stand for another 15 minutes.
You now have Thai sweet rice.
Making the Mango Duo Sticky Rice Cake
Making the Thai sticky rice cake is easy too. We just need our sweet rice, a little sweet coconut sauce and mango to make it perfect.
For the sauce, we add sugar and a little salt and mix with coconut milk, much as we did for the sauce to add to the steamed rice to make it into sweet rice except less quantity and a little less salty.
We thicken the sauce with a little cornstarch mixed in coconut milk which is added to the milk, salt, sugar mixture as it is heated over medium heat. Stirring well all the time, the sauce will thicken to the desired consistency.
Make up the cake adding a layer of white sticky rice which is made into a thin burger sized patty. We used a large pot lid to form ours.
Then add a layer of black sticky rice on top of the white rice and coat with a little sauce. Top off with fresh, sliced mango and a little more sauce.
For the finishing touch add a little decoration. Toasted mung beans are what we used but you could use another ingredient such as sliced almonds or chopped nuts that you like the taste of.
There you have it – Thai Sticky Rice Cake with Mango! Delicious!
If you are a mango lover then you might like our traditional mango sticky rice or maybe the mango fruit roll ups for a no added sugar chewy treat or our Thai mango lassi made with coconut milk – one of our favorite drinks.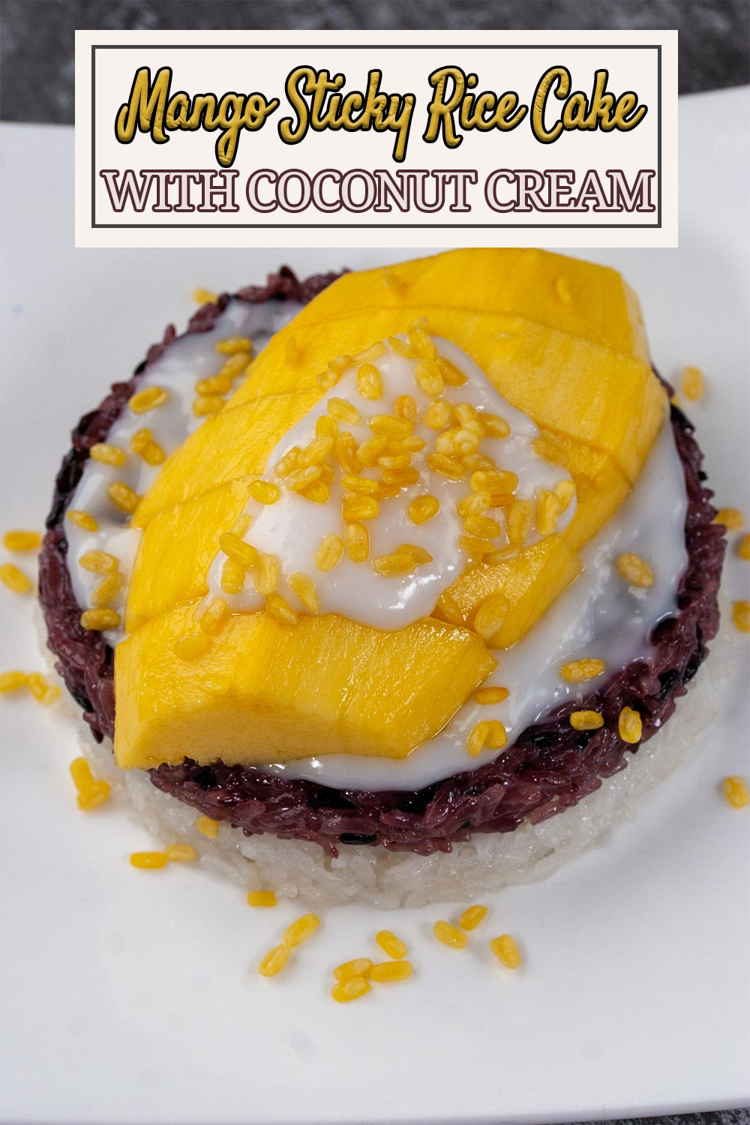 Thai Sweet Rice Recipe and Mango Sticky Rice Cake
How to Make Thai Sweet Rice & Mango Sticky Rice Duo Cake
The Video showing this recipe being cooked is near the top of the page – A convenient Jump Link to the video is below the description under here.
This recipe covers how to make Thai sweet rice which is a version of sticky rice sweetned to serve with Thai desserts.
It also covers making a stunningly visual mango duo cake make with mixed black sticky rice and white sticky rice with a coconut sauce and topped with fresh mango for instant deliciousness!
NOTE: Any In-recipe images can be toggled on and off with the camera icons next to the Instructions header.
Ingredients  
Coconut Sticky Rice Ingredients
2½

oz

Black Sticky Rice

3½

oz

White Sticky Rice

To mix with black sticky rice

6

oz

White Sticky Rice

2½

cups

Coconut Milk

4

tbsp

Sugar

2 plus 2 tbsp

1

tsp

Salt

1

Pandan Leave

Optional

3

Thai Ripe Mango (Nam Dork Mai)
Coconut Sauce
¾

cup

Coconut Milk

2

tbsp

Caster Sugar

2

tsp

Corn Starch

3

pinch

Salt

2

tbsp

Water
Instructions 
Instruction For Cooking Sticky Rice
Rinse and then soak black and white sticky rice listed as the first two ingredients together. After soaking for 1 hr. give the mixed rice a good stir by hand to mix the color up. Continue to soak for another 2 hrs.

At the same time, wash and soak 1 cup of white sticky rice and soak for the same 3 hrs.

After soaking, wash and rinse mixed sticky rice and white rice separately and drain.

Place damp muslin in two steamer trays – one for the black and white rice and one for the white. Place the mixed sticky rice in the bottom tray and the white sticky rice in the top tray then cover each with the muslin. Add 1 ½ cup water into a steamer pot. Set timer for 20-25 minute until the sticky rice cooked.

10 mins before the sticky rice is cooked make the sweetnening sauce. Add coconut milk, sugar and salt in a saucepan. Stir until the sugar and salt is dissolved – add a knotted pandan leaf in if you can but it's optional.

Put on medium heat continue stirring until the sauce begins to bubble, then turn off the heat.

Make sure coconut milk does not boil otherwise the coconut fat will separate out and not soak well into the sticky rice.Tip : The mixed coconut milk and sticky rice should be warm while mixing.

Place each type of sticky rice into their own mixing bowl and add the sweetened coconut milk, turning until mixed properly.

Cover on and rest for 15 mins and then turn the sweetened rice mixture over, cover again and rest for another 15 mins.

Use the same process for both the mixed and white sticky rice.
Instruction For Making Coconut Sauce
Put the coconut milk, caster sugar, and salt and mix together in a small saucepan until dissolved.

Mix corn starch with cool water in a little bowl. Set aside

Put a saucepan with mixed coconut milk on a low heat continue stir until warmed through – stop as soon as any bubbles appear.

Add the corn starch mixture into the saucepan while stirring.

Once coconut sauce get thicken turn off the heat.

Continue stirring for a bit to avoid the coconut sauce going lumpy.
Making Sticky Rice Duo Cake
Place black sticky rice into cake mold 4-5 inches (12 cm) diameter, about 1/2 inch (15 mm) deep. We used a suitably sized bottle top so you can improvise with what you have on hand.

Flatten with your hand to make a burger style patty. Do the same with the white sweet sticky rice.

Place one on top of the other to make two layers and spread some coconut sauce on the top.

Peel the mangoes and remove the flesh. Cut the mangoes thinly to make mango roses or halve and slice if you prefer. Sprinkle with chopped nuts or roasted mung beans to garnish.
Nutrition
Calories:
559
kcal
Carbohydrates:
76
g
Protein:
7
g
Fat:
27
g
Saturated Fat:
23
g
Sodium:
427
mg
Potassium:
526
mg
Fiber:
3
g
Sugar:
26
g
Vitamin A:
1120
IU
Vitamin C:
39
mg
Calcium:
50
mg
Iron:
5
mg
Planning on Making this Recipe?
It would be great if you could take a picture of your finished creation and share it out on Instagram. Tag me with #TASTYTHAIEATS – I love to see your ideas!
FAQ
What do you use sweet rice for?
Sweet rice is a term that refers to cooked rice which has a sweet taste. Some people refer to glutinous rice as sweet rice but other types of rice can be made sweet too.

Sugar and salt and sometimes fruit is added to sweeted the rice for dessert dishes as well as to accompany some savory dishes too.
Is sweet rice the same as sticky rice?
Sticky rice refers to glutinous rice which is so called because of its high amylopectin compared to amylose content compared to other rice types. Amylose does not go glue-like when cooked and produces fluffy rice so its absence helps the starch make rice sticky.
Can you put sugar in rice?
You can put sugar granules on rice or even mix it in but if you want the sugar to permeate the rice grains then mix it with a liquid first. Hence the Thai use of coconut milk sweetened with sugar to soak sticky rice for sweet Thai rice – sometimes misnamed coconut rice which is different.
Is sweet rice sushi rice?
Sweet rice is more the name of rice sweetened with sugar. Sushi rice is a style of short grain rice of which there are several varieties.

Certain types (uruchimai) of the short grain japonica rice are used for making sushi with vinegar added and other types (mochigome) are used to make sweet dishes better suited to the specific rice characteristic.
How do You Make Sticky Rice with Regular Rice?
Just don't bother as it will not turn out as you expect nor taste the same. Buy Thai glutinous rice to make sticky rice or Japanese glutinous rice to make sticky sushi rice which is much more gooey.
I am a Thai mum and love cooking for my children. Over the years, I have taken my family recipes as well as ones borrowed from friends and adapted them to make them even tastier. I publish my authentic Thai Food Recipes here for all to enjoy around the world. When I get a chance to travel I publish information to help others visiting Thailand.