Low carb sushi seems a bit of an oxymoron since sushi is traditionally made with rice that is high is carbs and high in calories. But what if you make low carb sushi without rice?
With the rice removed you are left with only the fillings which can be simply vegetables, meat or fish or a mixture of all three.
If you are just looking for a side dish then you might like our cheesy cauliflower rice as a side recipe.
Video Showing You How to Make Low Carb Sushi Without Rice
Low Carb Sushi Without Rice - Cauliflower Rice Sushi - Low Carb & Keto Friendly
Link to Video in case it does not load for your browser.
Links Disclosure: Some links on this page go to affiliate partners where, without cost to you, we may receive a commission if you make a purchase.
Why Cauliflower Rice is the Answer
The problem with this is that you end up with somewhat less visually appealing sushi and are limited a little with seasonings that don't drip out. In reality, it has ceased to become sushi really.
If you are on a low carb keto diet then cauliflower rice is an excellent substitute for sushi rice.
And if you are vegetarian on a low carb keto diet, you can add in avocado and maybe even nuts with tasty cauliflower rice to make a keto sushi roll and boost the fat content. Your keto sushi roll is a great way to stick to your diet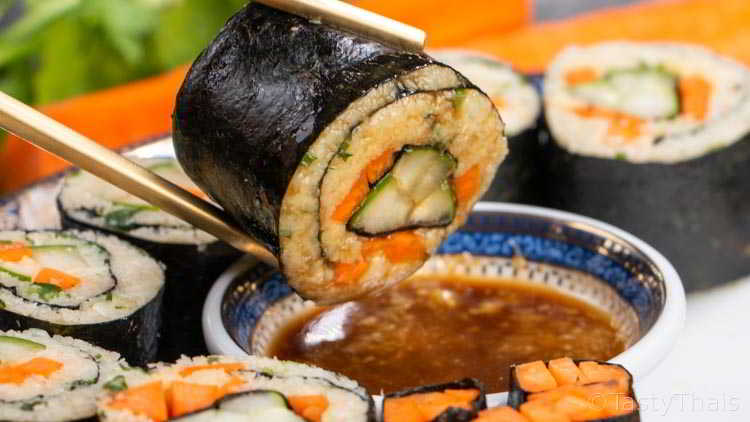 If you are just on a low carb diet then you are sorted because you can add fish, shellfish or even meat in the roll to get a protein-rich sushi roll with low carbs.
Using cauliflower rice has the added bonus of being able to hold any liquid seasoning you might like to add in to up the taste ante even more.
Ingedients Needed for Low Carb Cauliflower Rice
| | | | |
| --- | --- | --- | --- |
| 1. Olive Oil | 2. Nori Sheet | 3. Cauliflower | 4. Lime Juice |
| 5. Soy Sauce | 6. Minced garlic | 7. Brown Sugar | 8. Carrot |
| 9. Cucumber | 10. Parmesan | 11. Salt | |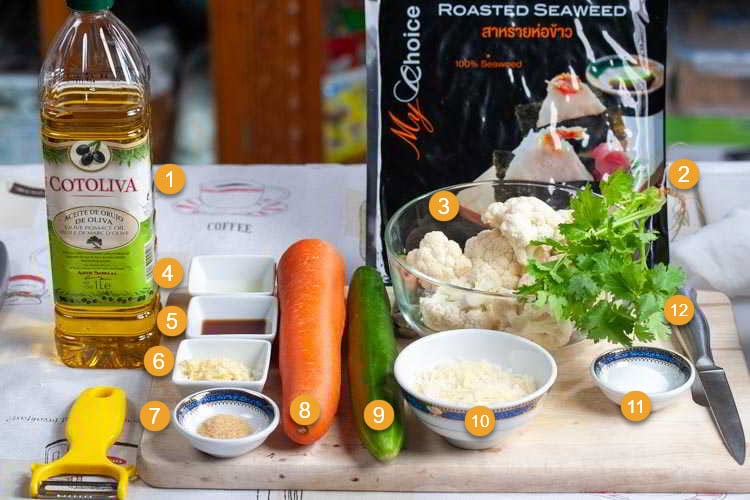 How Many Carbs in Sushi?
Sushi is not perfectly consistent but we can calculate that one portion of sushi rice contains about 45 grams of carbohydrates plus the carbs in any added fillings.
To work out the difference in the amounts of carbs that you would consume eating sushi rice over the same weight of cauliflower rice I went to the store and purchased some regular sushi.
Six pieces of sushi with the topping removed weighed 155g (I used grams as it is a bit more accurate than ounces for small quantities). Heading on over to USDA and entering "sushi rice" in their calculator the result popped up showing there are roughly 204 calories and 44g of carbohydrate per serving (which is 1 cup) of cooked sushi rice.
We should also consider weight but according to the USDA 1 cup of cooked rice weighs 158g which is near enough to the 155g we have.
So six regular pieces of sushi rice without topping comes out at about 1 serving, around 200 kcal and around 45g of carbs – rounding a little for simplicity.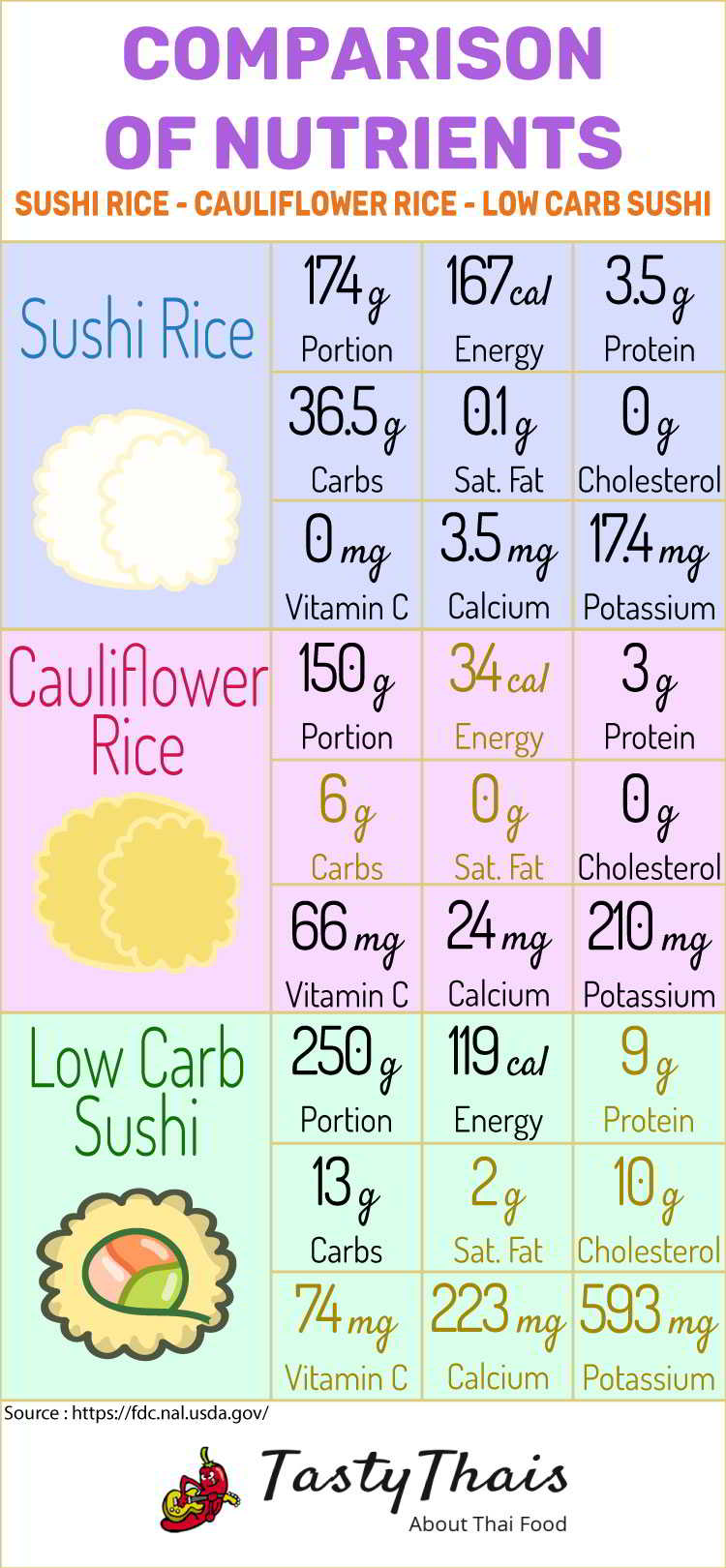 Obviously, whatever you add to the rice is going to increase these values but then we are going to compare our cauliflower rice as we cook it with cheese, with a similar serving of sushi rice and assume our fillings or toppings will be the same for each.
Our recipe for this cauliflower rice contains 300g cauliflower and 30g parmesan cheese along with garlic, olive oil, a little sugar, and lime juice which all comes out to 109 kcal and 11g of carbs.
This is a little over double in weight and makes about 2 servings so if we halve the quantity then we will arrive at an equivalent to the sushi rice we are comparing it to.
Concluding we find that 1 portion of sushi rice has 200 kcal and about 45g of carbs compared to our cheesy cauliflower rice recipe which has about 55 kcal and 5½g carbs.
Our Cheesy Low Carb Sushi with all the Fillings is roughly speaking ⅛ the carbs and ¼ the calories of just the plain rice you'd eat with regular sushi!
Variations on the Recipe
The recipe listed below is a vegetarian sushi roll but there is no reason you cannot change the fillings as you wish if you are not following a vegetarian diet.
Keeping to low carb we can add in prime quality smoked salmon. raw salmon or tuna, crab sticks. For keto, we can even add in a few cashews to crunch things up. Try the smoked salmon – that is delicious in this recipe as the lime juice added to the cauliflower suits it perfectly.
Really our choices are wide and varied although they will be somewhat restricted if following a diet regimen.
For the cauliflower rice, it is also quite possible to swap out the parmesan cheese with cream cheese. Parmesan has a stronger taste compared to creme cheese and you will lose the bite that the parmesan gives to the sushi roll.
How to Make Low Carb Sushi Rolls Step by Step
These low carb cauliflower-based sushi rolls are a breeze to make – so easy.
Step 1 – Chop up the Cauliflower
Cut the florets from the cauliflower and place them in your food processor bowl. Pulse for just a few seconds until the cauliflower is reduced to grain-sized pieces.
If you don't have a food processor or just prefer to use a knife, then chop up the cauliflower florets to achieve the same small-sized pieces.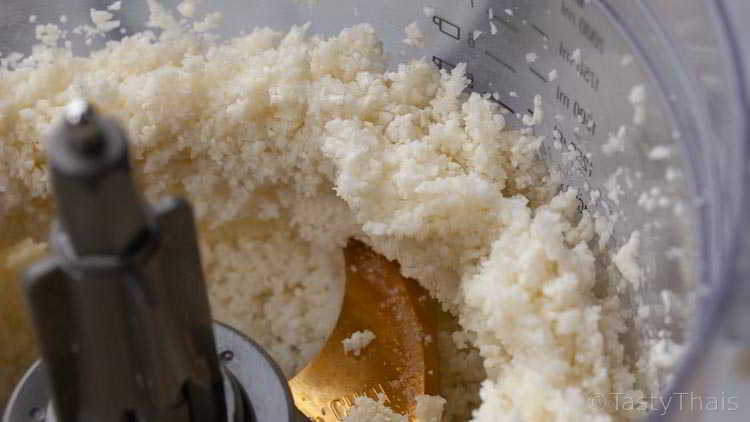 Step 2 – Reduce Water Held in the Cauliflower
Placed the processed cauliflower in a bowl and sprinkle with salt. Allow to stand for about 15 minutes and the salt will draw out the water from the cauliflower which will reduce the amount that needs to be cooked out – and the risk of overcooking as a result.
Once the 15 minutes, or thereabouts, is up, rinse the cauliflower quickly under running water to wash off most of the excess salt, drain and put it in a muslin cloth.
Twist the muslin to create a ball of cauliflower and squeeze moderately hard to compress out more water.
Step 3 – Cook the Cauliflower
Chop the garlic and add to a little oil in a hot pan to sizzle until aromatic and then add in the riced cauliflower. Stir around to cook for a couple of minutes.
Then add the brown sugar and soy sauce, lime juice, and parmesan cheese. Stir quickly and you're done cooking.
Chop up the coriander/cilantro and mix in with the cooked cauliflower.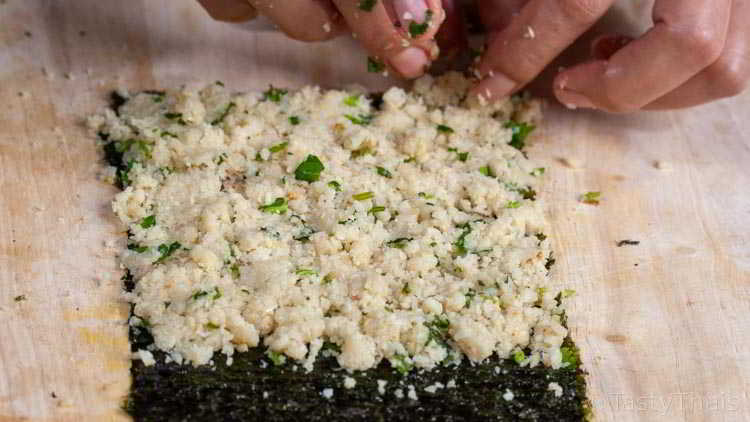 Step 4 – Add Fillings and Roll
Prepare your fillings.
Whatever you are using you want to ensure the fillings are not wet. Dab with a kitchen towel if necessary.
Since we made vegetarian rolls for this recipe we removed the seeds from the cucumber (as these are quite wet and would make our sushi soggy).
Place one sheet of nori seaweed wrapper on your work surface and spread a thin layer of cauliflower rice over the surface. Lay your fillings on top and then roll the wrapper and filling.
To make the sushi roll you need to curl the edge of the nori sheet and then pull it back in against itself, maintaining pressure with your fingers to keep the roll quite tight. Don't let it get loose or the fillings will fall out. At the end of your roll, dampen the inside edge of the wrapper and complete your roll.
Then simply cut into sushi sized pieces with the sharpest knife you have, wiping it clean between each cut so it slices smoothly.
Serve your low carb delight with good quality soy sauce such as Shoyu and some wasabi paste mixed-in, adjusted to your desired mustard strength.
Vegetarian Low Carb Sushi Recipe
Low Carb Sushi Without Rice – Vegetarian Cauliflower Rice Sushi
The Video showing this recipe being cooked is near the top of the page – A convenient Jump Link to the video is below the description under here.
This low carb sushi is made with cauliflower rice to cut out most of the carbs and reduce the calories from rice to just 10%.
Sushi without rice is just as delicious as sushi made with regular sushi rice and is a much healthier option.
NOTE: Any In-recipe images can be toggled on and off with the camera icons next to the Instructions header.
Equipment
Chopping Board

Food Processor (optional)
Ingredients  
Instructions 
Prep
Cut the cauliflower florets from the head of the cauliflower and then pulse in a food processor. Alternatively chop the cauliflower into very small pieces using a knife and chopping board.

Transfer the riced cauliflower to a large bowl and sprinkle with salt. Leave for 15 minutes to allow the salt to draw the water out of the cauliflower.

Rinse the cauliflower under running water quickly to wash out any excess salt and drain. Transfer the cauliflower to a damp muslin cloth and squeeze out the water by twisting and squeezing the cloth.

Cut cucumber into thin strips and remove the seeded part which is quite watery.

Julienne carrot into thin strips.

Chop the garlic into small pieces or mince.
Cooking Instructions
Add olive oil into a hot pan and cook the garlic until aromatic. Add in the riced cauliflower and cook for two to three minutes, stirring continuously.

Add in the lime juice, sugar, soy sauce, and parmesan cheese and stir around to incorporate and the cooking is done.

Finally, chop the cilantro/coriander leaves and stir in for a little fresh herb flavor.
Making the Sushi Rolls
Place the nori sheet on a flat surface and spread with a thin layer of cauliflower rice.

Place one or two layers of your cut vegetables on top of the cauliflower.

Optionally add in any other fillings of your choice.

Curl the end of the nori sheet over the filling and pull back in on itself to create a roll and continue to roll together.

You can create interesting and beautiful patterns by adding filling as you roll at the beginning. Maintain pressure as you roll to keep the sushi tightly together and seal the end by wetting the edge of the nori sheet and rolling it to finish.

To cut the sushi be sure to use as sharp a knofe as possible and to wipe the sides of the knife after each cut to keep clean. This will produce a cleaner cut and nicely presented sushi.

Serve with wasabi paste or hot mustard mixed into good quality soy sauce such as Shoyu.
Nutrition
Calories:
119
kcal
Carbohydrates:
13
g
Protein:
9
g
Fat:
4
g
Saturated Fat:
2
g
Cholesterol:
10
mg
Sodium:
386
mg
Potassium:
593
mg
Fiber:
4
g
Sugar:
5
g
Vitamin A:
2712
IU
Vitamin C:
74
mg
Calcium:
223
mg
Iron:
1
mg
Planning on Making this Recipe?
It would be great if you could take a picture of your finished creation and share it out on Instagram. Tag me with #TASTYTHAIEATS – I love to see your ideas!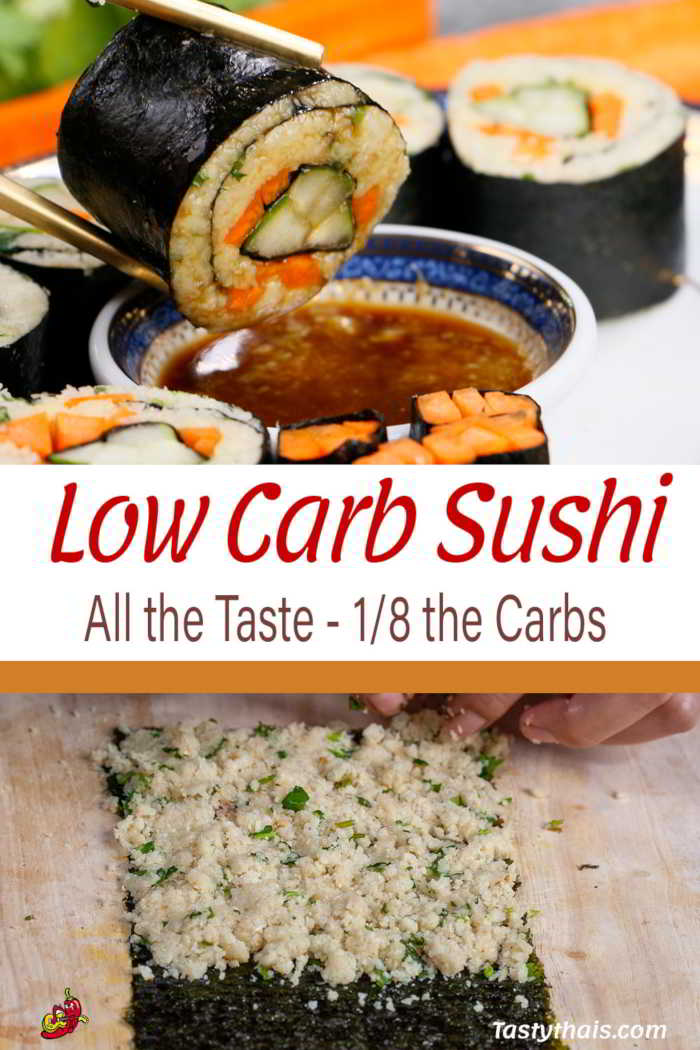 I am a Thai mum and love cooking for my children. Over the years, I have taken my family recipes as well as ones borrowed from friends and adapted them to make them even tastier. I publish my authentic Thai Food Recipes here for all to enjoy around the world. When I get a chance to travel I publish information to help others visiting Thailand.