Homemade Panang curry paste is the way to go when you decide to make a delicious Thai Chicken Panang curry and realize you are out of shop-bought paste.
Read on to find out how to make Panang curry paste from scratch with tips as well as how you can easily convert red curry paste to Panang curry paste and liven up that drab shop bought paste taste at the same time.
Panang curry paste is basically a variation of red curry paste and uses mostly the same ingredients just adding in a few extra spices (cumin seeds, coriander seeds, and peanuts) to change the taste profile of the dish.
Here are some jump links if you want to rush straight to the recipe – you'll miss a lot of tips contained in the step by step guide though.
Here is our great Thai Chicken Panang Curry for you to follow once you have the curry paste made
Video Cooking Show – DIY Panang Curry Paste
Homemade Panang Curry Paste with Tips for Thai Cooking
Ingredients You Need
Dried Red Jinda Chilies – hot Thai chili or another hot spicy chili available locally – used for spiciness
Dried Red Spur Chilies – the larger but milder Prik Chee Fah similar to long serrano chilies – used for color
Lemongrass, Cilantro Root, Kaffir Lime Zest, & Galangal – for their unique flavor and aroma
Shallots & Garlic – to build flavor
Shrimp Paste – helps bind and adds definitive flavor
Coriander Seeds & Cumin Seeds – for spice and aroma
Peanuts – giving the essential Panang curry taste
Water – to help blend and can be omitted for a stiffer (and longer-lasting paste if using a mortar and pestle)
Note: If you can't source kaffir lime where you live then you can use regular lime with kaffir lime leaves which are readily available online.
The dried spur chilies are usually soaked as they are quite tough to break down but the Jinda chilies are usually not soaked as they are a softer consistency already.
Making Penang Curry Paste – Step by Step
How to make Panang curry paste and why we do / notes on each step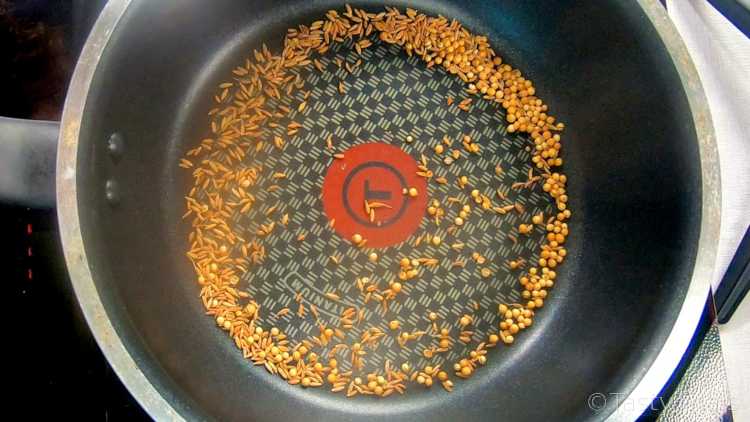 Step 1 – Prepare the Spices
The coriander seed and cumin seed really deserve roasting because it improves flavor as well as makes them easier to crush.
Heat your pan to medium-high heat and add the dry seeds. Give the pan a shake as the seeds toast to ensure they toast evenly.
You will know they are ready when you start to smell their aroma wafting up from the pan and visually the little cumin seeds will start to jump up and down a little like they are alive – their taste certainly is alive!
When done tip them into a mortar and pestle and grind and crush into a powder. It is this grinding that releases all the taste into the final paste. You can mill mechanically but the result is a less flavorful and aromatic spice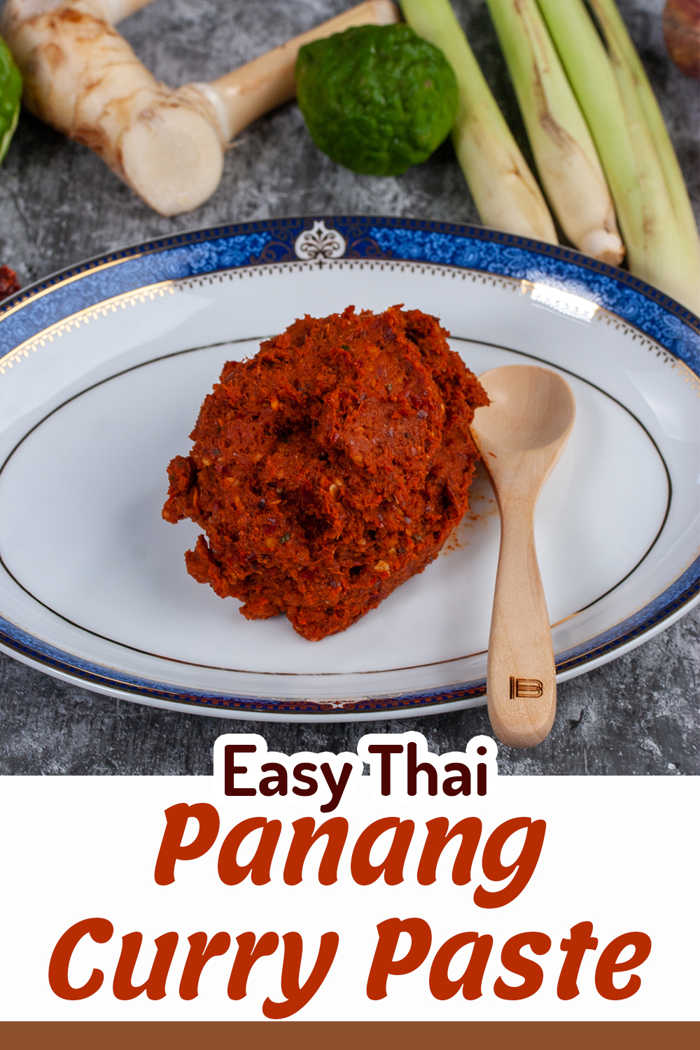 Step 2 – Prepare the Aromatics
We use two types of chili for this recipe, Jinda chili which is commonly known as Thai chili internationally – a hot chili that adds most of the spiciness – and Spur Chili which is a larger but similarly shaped chili and much milder. The links in the previous sentence take you to our chili substitutes page if you have trouble finding the ones we specify.
The dried red Spur Chili is there mainly to add color but they also add a little spiciness. You can reduce spiciness overall by removing the seeds and white parts of both the Jinda and Spur chilies but it is not advised to reduce the number of chilies overall as you will end up with a less vibrant colored paste which will affect the color of the final dish.
As for the dried chilies you can choose to soak them in tepid water for 30-60 minutes and make them softer and so easier to pound into the paste – this is recommended if you intend to use just a mortar and pestle. Drain after soaking and before use.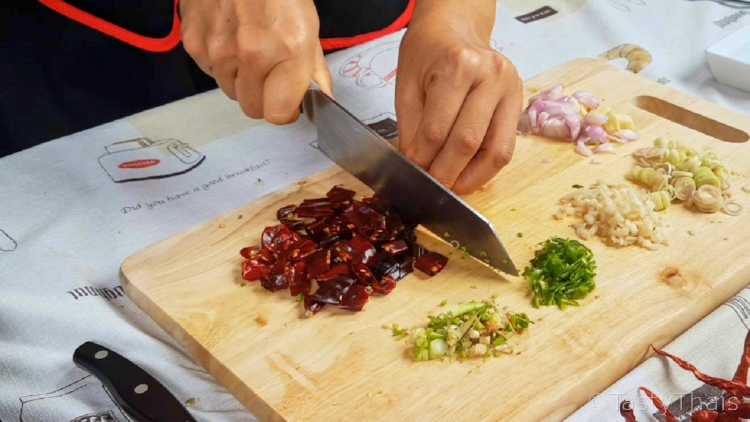 Chop the chilies into small pieces.
Or you can just use them dry which is more convenient if using the mini blender method but you will need a bit more water to compensate and get the blender to function properly.
The ginger should be scraped with a spoon to remove most of the skin and then chopped along with the coriander (or cilantro) root and shallots. The kaffir lime zest should be removed carefully and avoid taking off the bitter white pith which is not wanted and will add a bitter taste to avoid.
The lemongrass should be sliced thinly.
It is important to chop the ingredients quite small to assist in turning them into a paste. This applies especially for the mortar and pestle method but is also relevant for the mini blender method as it helps the ingredients to move in the blender vortex and so you will need less water to keep your blender functioning properly.
Step 3 – Blend or Pound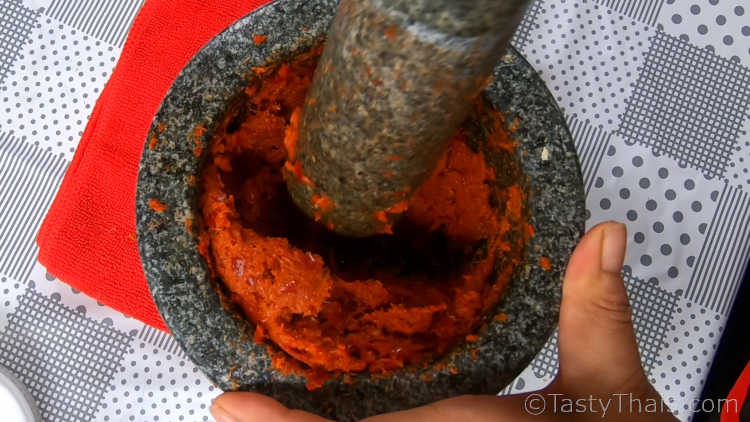 Using a Mortar and Pestle
If using the mortar and pestle start with the lemongrass and other hard ingredients. Use a light pounding motion with a twisting grinding action on the pestle to grind the ingredients against the side of the mortar. It will take some time but get the ingredients well broken down before adding the next ingredient and continuing the process.
Add the ingredients one by one and grind into a paste before adding the next ingredient.
You should not have to add water if you soaked the chilies so resist the urge to add it as the paste should be fairly stiff when finished. In most cases, if the dried chili is properly soaked then you should not need to add water.
Using a Mini Blender
Simply add all the ingredients into the mini blender cannister and blend, starting with a pulse to get things going and increasing the length of pulse as the ingredients begin to form a paste. You'll probably need to adjust water content to keep the ingredients mixing.
If the ingredients are too big or too dry then they tend to stick in the blender – you will know as the blender sound will turn into a higher and constant pitch sound as the motor turns the blades that chop nothing as the ingredients do not move into the blade area.
If this happens then remove the blender container and reposition the ingredients adding an extra tablespoon of water to help things move around as the blender requires to do its job.
Homemade Panang Curry Paste Recipe
Homemade Panang Curry Paste
The Video showing this recipe being cooked is near the top of the page – A convenient Jump Link to the video is below the description under here.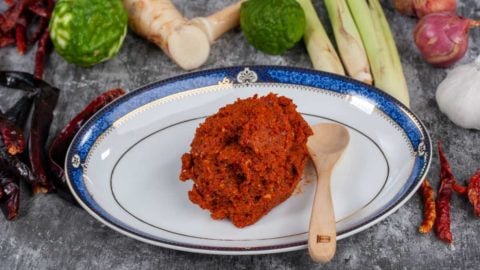 You can buy shop bought panang curry paste but making your own is pretty simple if you have a mini blender available. You can make up a freshly made small quantity in just a few minutes and the taste in your dishes will be much improved.
Panang curry paste is a variation of red curry paste which you can also make at home. So you may want to make a batch of red curry paste, divide it and add an appropriate ratio of peanuts, and crushed roasted cumin and coriander seeds thus ending up with two pastes for different dishes in the week and saving on leftovers.
NOTE: Any In-recipe images can be toggled on and off with the camera icons next to the Instructions header.
Equipment
Mini Blender

Mortar & Pestle
Ingredients  
6

Dried Jinda Chilies

soaked to soften

7

Dried Spur Chilies

soaked to soften

1

stalk

Lemongrass

slice thinly

3

Shallots

2

Cloves

Garlic

peel and slice

2

tsp

Galangal

chopped

2

tsp

Coriander Root

chopped

1

tbsp

Karffir Lime Zest

or regular lime zest with a few sliced kaffir lime leaves

1

tbsp

Shrimp Paste

1

tsp

Coriander Seeds

1

tsp

Cumin Seeds

2

tbsp

Peanuts

roughly chopped

2

tbsp

Water
Instructions 
Preparing the Mise En Place for Panang Curry Paste
Soak the dried spur chilies in plain water for 30-60 minutes to help with processing or pounding. You can also soak the jinda chilies but these tend to break up more easily so it is not absolutely necessary.

Chop the soaked chilies into small pieces. Remove seeds for a less spicy finished paste.

Toast the cumin and coriander seeds lightly in a medium hot dry pan until the cumin seeds start to jump and the aroma is realease.

In order of preference pound, crush or mill these into a powder.

Peel the shallots and garlic and cut into small pieces along with the cilatro or coriander root, kaffir lime zest (or leaves if subbing with regular lime zest), galangal and slice the lemongrass as thin as you can. Roughly crush the peanuts.
Making Panang Curry Paste – Mortar & Pestle Method
Place the lemongrass into the mortar and grind into a pastelike consistency. Add the galangal and pound until pastelike too.

Add the dried chilies and pound into paste and continue adding in the ingredients one by one, harder ones before softer ones, pounding each time to paste.

If you try to add all at once you will find it much harder!
Making Panang Curry Paste – Mini Blender Method
Add all the ingredients into the mini blender cannister along with two tablespoons of water to assist blending operation. Pulse to get the ingredients chopped.

If you notice the ingredients are too stuck to allow the machine to blend then stop, reposition ingredients with a spoon and add another tablespoon of water and try again. Repeat as needed adding only as much water as absolutely encessary to get the machine to process.
Notes
When making the paste you can pound or process to a smooth consistency or a rougher consistency with small pieces of ingredients not completely incorporated.
If you use a paste with a rougher consistency then the resuling dish it is used in will have a little more variability in mouthfeel between mouthfuls which can add interest and which some prefer according to taste.
Nutrition
Serving:
1
tbsp
Calories:
22
kcal
Carbohydrates:
3
g
Protein:
1
g
Fat:
1
g
Saturated Fat:
1
g
Cholesterol:
11
mg
Sodium:
37
mg
Potassium:
44
mg
Fiber:
1
g
Sugar:
1
g
Vitamin A:
115
IU
Vitamin C:
1
mg
Calcium:
10
mg
Iron:
1
mg
Planning on Making this Recipe?
It would be great if you could take a picture of your finished creation and share it out on Instagram. Tag me with #TASTYTHAIEATS – I love to see your ideas!
I am a Thai mum and love cooking for my children. Over the years, I have taken my family recipes as well as ones borrowed from friends and adapted them to make them even tastier. I publish my authentic Thai Food Recipes here for all to enjoy around the world. When I get a chance to travel I publish information to help others visiting Thailand.