The thing that is most satisfying with fried mushrooms is the crispy, crunchy coating as much as the flavor of the mushrooms. The next most important thing is the consistency of the mushrooms and the dipping sauce you serve them with.
Video on How to Make Fried Mushrooms With Sweet Chili Sauce
Fried Mushrooms with Thai Sweet Chili Dipping Sauce
Crispy Fried Mushrooms with Sweet Chili Sauce Video link if it is not loading.
The great thing about battered and breaded mushrooms is that they are really easy to make and there is a whole range of dipping sauces you can serve them with for a delicious finger snack at parties or with drinks while watching the football.
Links Disclosure: Some links on this page go to affiliate partners where, without cost to you, we may receive a commission if you make a purchase.
Ingredients You Need for Fried Mushrooms with Thai Sweet Chili Dipping Sauce
Button Mushrooms
Enoki Mushrooms (Optional)
Spur Chili
Dried Spur Chili
White Sugar
Vinegar
Plain Flour 1 cup
Rice Flour 1/4 cup
Tapioca Flour 1/4 cup
Baking Powder (tsp)
Ice Cold Soda Water
Ice Cold Water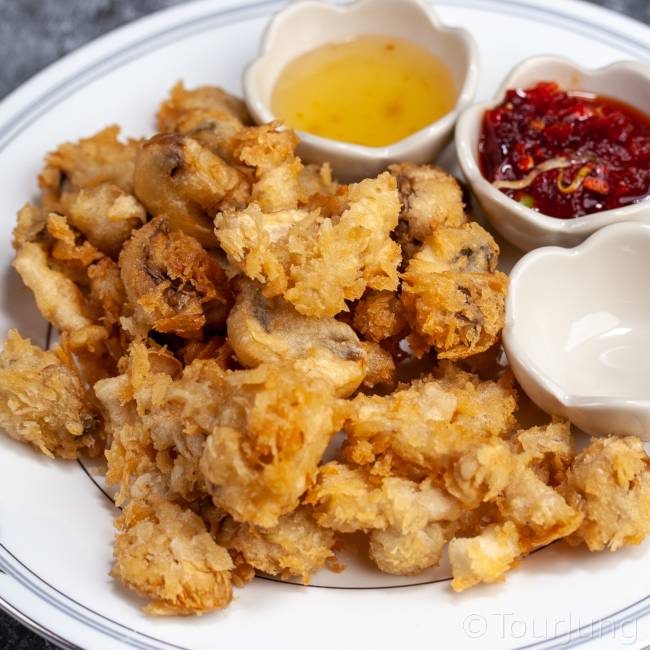 Why You Want to Make Fried Mushrooms With Sweet Chili Sauce
Very easy to make
Goes well with many types of dipping sauces
Great for parties since it's quick to prepare
Crispy, healthy and delicious
Making The Sweet Chili Dipping Sauce Step by Step
Step 1 Preparing the Chili
Soak the dried chili pieces in water for about 15 minutes to soften the skins. Meanwhile…
Wash the chili spur, slice in two lengthwise and remove the seeds for a slightly milder heat level suitable for this sweet chili dip.
Cut your halves into strips and then in half and then chop into small pieces.
Place into a mortar and pound with your pestle until it forms a rough paste.
Step 2 Making the Dip
Put the sugar and vinegar into a saucepan and heat, stirring to thoroughly dissolve the sugar.
Bring the sweet vinegar to a simmer and then add in the spur chili and dried spur chili paste and simmer for 5 minutes.
Set aside to cool until ready for serving.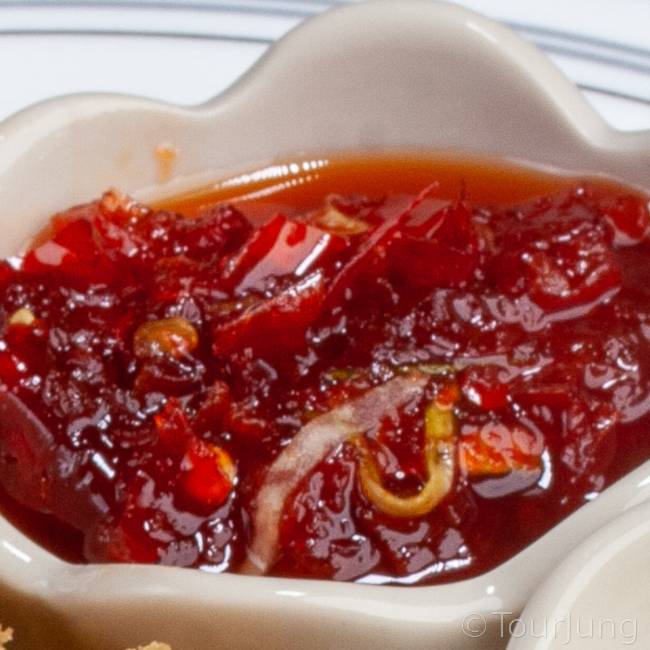 How to Make Light Crunchy & Crispy Fried Mushrooms Step by Step
Step 1 Preparing the Mushrooms
The best-tasting mushrooms for me are western-style button mushrooms. We have Enoki mushrooms and other types of mushrooms in Thailand but there is something about the taste of button mushrooms that is just perfect for this little appetizer.
Chop off the bottom of the mushrooms to the level of the base of the domed head. You should be using small to medium-sized mushrooms and larger sized ones should be sliced into 3-4 pieces top to bottom for bite-sized pieces that are not too thick.
Step 2 Preparing the Flour
If you are unable to source crispy flour for frying then make your own. Use approximately 4 parts plain flour to 1 part tapioca flour and 1 part rice flour plus 1/2 teaspoon baking powder per cup of mix.
This recipe calls for 1 1/2 cups of crispy flour which would be 1 cup plain flour, 1/4 cup tapioca flour, and 1/4 cup rice flour and between half and 1 teaspoon of baking powder.
You can replace either the rice flour or tapioca flour with cornstarch or cornflour for similar results.
Add in the mushroom seasoning or salt and pepper seasoning (whichever you choose to use) and mix thoroughly.
Step 3 Mixing the Batter
The key to the batter is Ice Cold Water & Soda Water. Put the flour mix into a bowl and pour in equal parts of ice-cold soda water and drinking water. Add it a bit at a time and mix together to incorporate before adding more.
Continue to add soda and plain water bit by bit and mix to a slurry and then hand whisk to a thick cream consistency.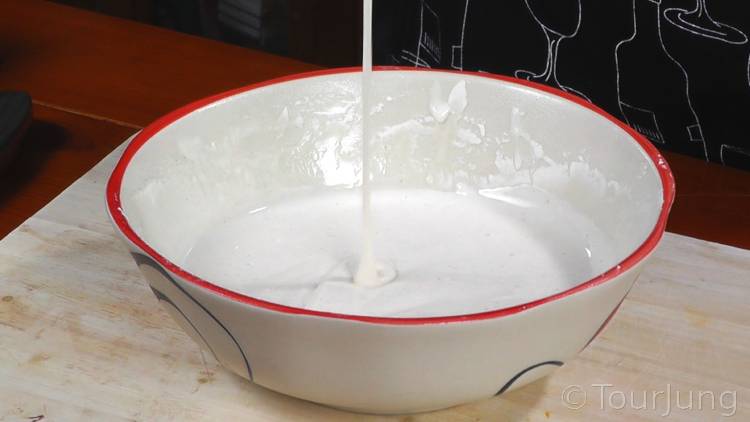 Step 4 Batter & Breadcrumb the Mushrooms
Start heating up your frying oil over medium heat. Test with a wooden stick by immersing it in the oil – it will produce small bubbles on the bottom of the stick when the oil is hot enough.
Drop your sliced mushrooms into the batter and coat thoroughly. If your batter is the correct thickness then the batter will not be too thick but will cleanly coat the mushrooms.
Drop the battered mushrooms into breadcrumbs and move around to coat evenly and then immediately drop into the hot frying oil and cook until golden brown which will take about 3 minutes or so.
Remove and drain off the excess oil by placing on a kitchen towel before serving.
Serve with the sweet chili dip alongside any other favorite dipping sauce your guests might like. These crispy fried mushrooms are really versatile and so you have some leeway with suitable dips.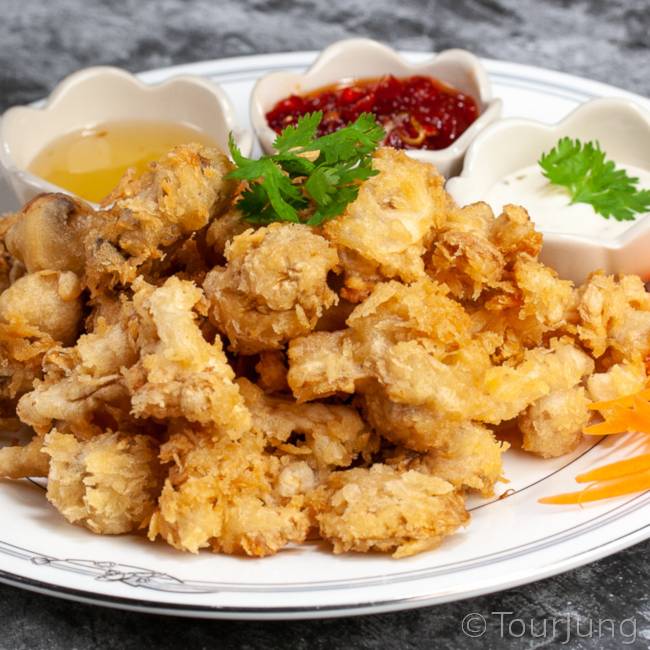 Crispy Fried Mushrooms & Thai Sweet Chili Dip Recipe
Fried Mushrooms Recipe with Thai Dipping Sauce
The Video showing this recipe being cooked is near the top of the page – A convenient Jump Link to the video is below the description under here.
These battered and breaded deliciously crispy fried mushrooms are a fantastic appetizer and go with so many dipping sauces. A sweet chili dipping sauce recipe is included.
NOTE: Any In-recipe images can be toggled on and off with the camera icons next to the Instructions header.
Ingredients  
Ingredients For Dipping Sauce
1/2

Cup

Vinegar

3

Tbsp

White Sugar

1

Spur Chili

1

Dried Spur Chili

1

Cucumber

Flesh Sliced
Ingredients For Fried Mushroom
8

Oz

Button Mushroom

8

Oz

Bread Crumbs
Crispy Flour is Available but you can make at home as below
1

Cup

Plain Flour

1/4

Cup

Tapioca Flour

Acceptable Sub Cornstarch

1/4

Cup

Rice Flour

Acceptable Sub Cornstarch

3/4

tsp

Baking Powder

1/2

Cup

Cold Water

1/2

Cup

Soda Water

2

Tsp

Mushroom Seasoning
Instructions 
Preparing the Sweet Chili Dipping Sauce
Prepare the dried chili by soaking in water to soften for 15 minutes. If not in smallish pieces then cut into pieces less than an inch long.

Wash the chili, halve lengthwise and then slice into strips and then chop into small cubes.

Put the fresh and dried chili into a mortar and pound until it forms a rough paste.

Place the vinegar and sugar into a saucepan and heat to a simmer, stirring the sugar to thoroughly dissolve.

Add in the pounded chili mix and simmer for a few minutes, stirring to mix. Then tip into a serving bowl and allow to cool a little.
Preparing the Mushrooms
Prepare the mushrooms by washing and trimming the mushroom stems flush with the mushroom head.

If the mushrooms are medium-sized then slice top to bottom into several bite-sized pieces. If small then they are already bite-sized so no need to slice.
Preparing the Flour
If you cannot obtain crispy flour then create your own using the proportions given. The tapioca starch and rice flour work brilliantly but you can replace either with cornstarch with minimal difference.

If mixing your own then put the flours together with the baking powder and mix thoroughly. If you buy crispy flour then it already contains the baking powder so no need to add more.

Mix in the mushroom seasoning or simply use an equal amount of salt and pepper.
Making the Batter
Ensure you are using ice cold water and soda water.

Put your mix of flours into a bowl and gradually add equal parts plain water and soda water, mixing the flour and water into a paste.

Continue to add plain and soda water and mix until the batter does not contain many lumps and is the consistency of heavy cream.
Battering, Breading & Frying
Heat enough cooking oil to fry the mushrooms in a frying pan or deep fryer if using. You will know the oil is hot enough when a wooden skewer produces lots of little bubbles at the bottom when immersed in the oil.

Place your mushrooms into the batter in batches – enough to float in a single layer covering about 75% of your frying oil pan. This gives you room to turn the mushrooms, helps them fry evenly and makes it easier to stop them sticking together.

Coat each mushroom piece evenly with the batter then drop into breadcrumbs moving them about to coat evenly.

As soon as they are coated with batter and breadcrumbs, drop into your hot frying oil and fry until golden brown.

Carefully remove the cooked mushrooms with a sieve or slotted spoon and lay on a paper towel to absorb any remaining oil. Then batter, breadcrumb and fry your next batch until done

Serve the golden brown crispy and tasty mushrooms without delay accompanied with the chili dip and any other dip you like. Suggestions in the recipe notes.
Notes
Buying crispy flour is a great idea but it is not available everywhere. If you have difficulty just make your own as I show int the above recipe.
Always use Ice Cold water and soda.
Breaded mushrooms work much better than just battered ones.
Button mushrooms have a great taste what works really well.
Other dips include: tzatziki, ranch, yoghurt and cucumber, sweet thai plum and many many more.
Nutrition
Calories:
860
kcal
Carbohydrates:
169
g
Protein:
30
g
Fat:
9
g
Saturated Fat:
2
g
Sodium:
2001
mg
Potassium:
847
mg
Fiber:
16
g
Sugar:
28
g
Vitamin A:
280
IU
Vitamin C:
34
mg
Calcium:
244
mg
Iron:
9
mg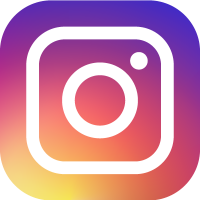 Planning on Making this Recipe?
It would be great if you could take a picture of your finished creation and share it out on Instagram. Tag me with #TASTYTHAIEATS – I love to see your ideas!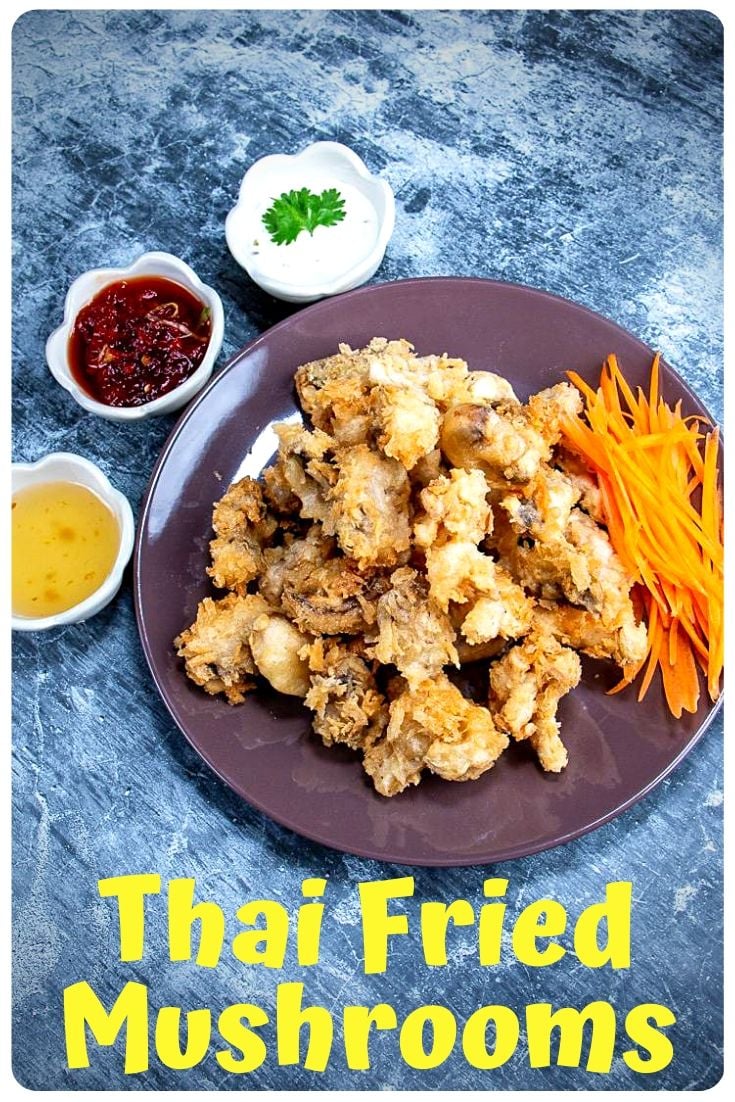 I really hope you enjoy this dish and if you cook it I would love to hear your comments below so please come back and let me know how it turned out for you.
I am a Thai mum and love cooking for my children. Over the years, I have taken my family recipes as well as ones borrowed from friends and adapted them to make them even tastier. I publish my authentic Thai Food Recipes here for all to enjoy around the world. When I get a chance to travel I publish information to help others visiting Thailand.