The secret to Thai chicken cashew nut stir fry is deliciously tender chicken on the inside with a little crispy outer layer. If you want stir fried chicken and cashew nuts like takeout but tastier and better then you are in the right place.
You might also like a spicy cashew nut snack recipe or check out our stir fried beef recipe which is great too!
Video Showing How to Make Thai Chicken and Cashew Nut Stir Fry
Thai Style Stir Fried Chicken with Cashew Nuts
Link to the video in case it does not load for you.
You don't need any special equipment to make this dish and the ingredients are quite straightforward but there are a few tips along the way so be sure to read on!
Stir frying is a quick cooking method so a tip that will stand you in good stead whenever you are preparing a stir fry is to make sure you have all your prepping done before you start cooking. Once you start cooking everyling goes like an express train!
Links disclosure: Some links on this page go to affiliate partners where, without cost to you, we may receive a commission if you make a purchase.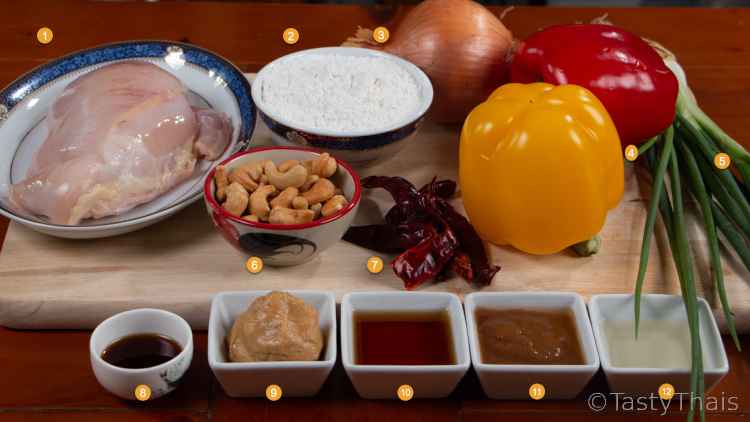 Ingredients You Need to Make Thai Cashew Chicken
boneless skinless chicken breast
cashew nuts
plain flour
dried chili
tamarind paste
fish sauce
palm sugar (can sub brown sugar)
soy sauce (for marinade)
chicken stock (to adjust sauce thickness – could use water)
red bell pepper
yellow bell pepper
green onions or scallions or spring onions (tops & bottoms)
regular brown onion
vegetable oil for frying
Note: You can use chicken thigh as well but boneless skinless chicken breast is easier to work with.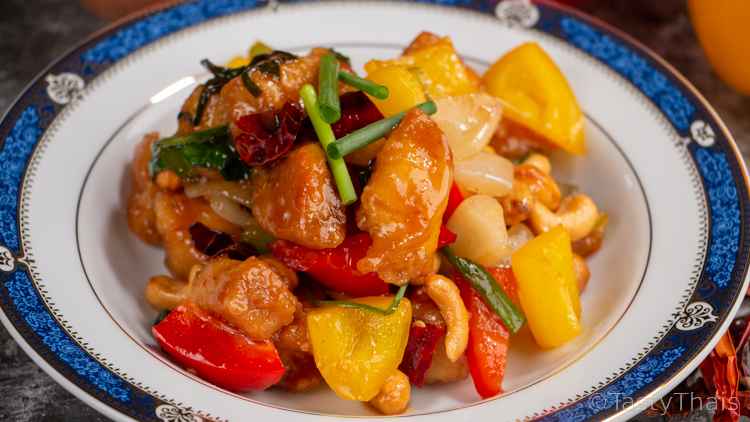 How to Make Thai Chicken with Cashew Nuts Step by Step
Step 1 Preparation
If you like super crispy cashews then you can bake them for about 5 minutes in a high oven beforehand or put them in a pan and toast dry for a few minutes. The nuts will get crispy once they cool.
If using tamarind pulp then you will need to sak with a little water and allow to sit. Give it a mix up and you will end up with tamarind paste. Or just buy paste to start with.
To be honest I don't usually bother because it is the creaminess and slight crunch the cashews add to the dish which is their reason for being. If I do toast them then it is always in the pan – I mean who wants to heat up the oven to toast a few cashew nuts?
Chop the dry chili spur into short pieces between 1/2 inch and 1 inch long (about 20mm). Remove most of the seeds by shaking them out or with the end of a knife to ease them free.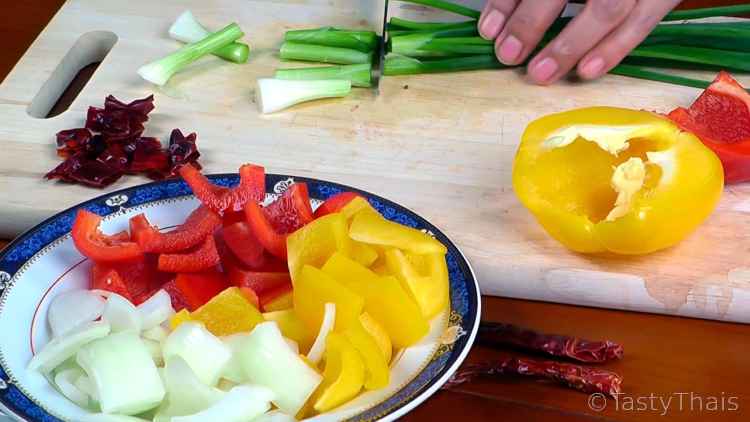 Cut the bell peppers to remove the seeds and pith and then cut into bite sized segments. Peel the brown onion and cut into biute sized segments as well.
Remove the root bottoms of the spring or green onions, also called scallions, then cut into thumb length segments, keeping the bottom white parts separate from the green tops.
Once your vegetables are prepared take the chicken breasts and cut into cubes a little less than 1 inch (25mm) square. They wont actually be square but the point is you want them a regular medium size so they cook evenly. Too thin and the meat will get hard as we will double cook the chicken.
Place the chicken cubes into a bowl and tip over the soy sauce to marinade. Give the chicken meat and sauce a rub together with your fingers to get the meat well coated and allow to sit until ready.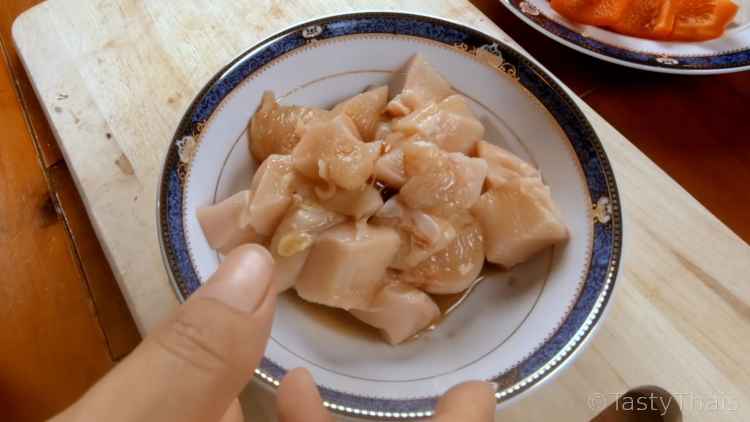 Step 2 Making the Tamarind Stir Fry Sauce
The sauce is what differentiates Thai cashew chicken stir fry from the Chinese version you migh have had as take out.
It is well worth getting hold of tamarind for this dish and it's readily available both online and from good Asian stores. The fruity, savory, tangy, and sour taste is unique and cannot really be recreated with other fruits and vinegar as many recipes suggest.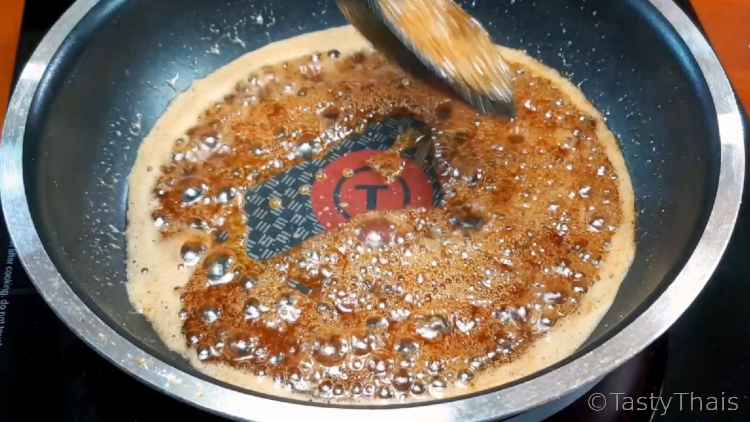 Your tamarind paste should be the consistency of a slightly runny apple puree and you can adjust by adding a little more water if necessary. If you think it is too runny don't worry because you can simmer any excess off in a few minutes.
Add the 'fish sauce and tamarind paste to a pan on a medium heat and mix with the palm sugar to balance the sourness of the tamarind but not ovepower it. The sauce should be smooth like runny honey, piquant, a little savory, a little sour and a little sweet – best experienced by tasting and adjusting.
Remove from the heat – the sauce will thicken as it cools but again dont worry – that is what our chicken stock is for.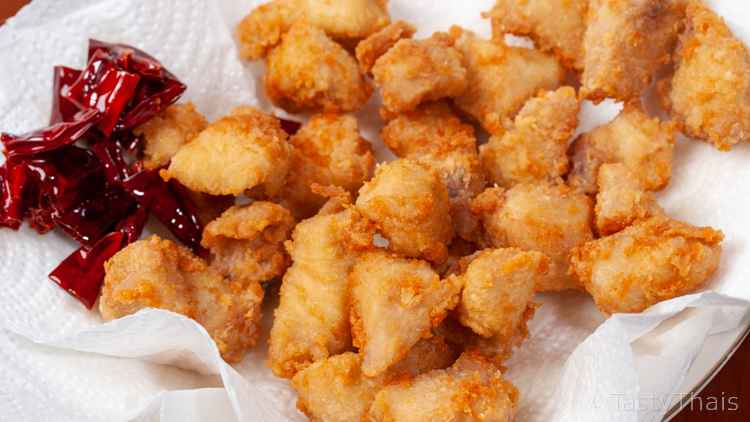 Step 3 Fry and Crisp the Chicken
Add plenty of oil to your pan and heat up until the oil is at a decent frying temperature, nice and hot.
Immediately before frying coat your chicken cubes by dropping and rolling in plain flour and then lower into the pan to fry. Don't waste time between flouring and frying as the result will be a less crispy outer finish and not what we are trying to achieve.
As soon as the chicken is golden brown it should be cooked through. So use a slotted spoon or sieve to remove the chicken pieces and drain them off. If you are not confident then simply cut a larger chicken piece and look inside to make sure the meat is cooked through. If not fry a further minute or two until it is.
Drop the dried chili into the hot oil and fry for a minute as well and then remove and drain off the oil.
Step 4 Stir Fry the Vegetables
Add a tablespoon of oil to a pan and stir fry the onions and bottoms of the spring/green onions to cook until they start to go transluscent which will take a couple of minutes.
Add in the chopped peppers, green onion tops, fried chicken and the tamarind sauce you made earlier (which may be quite thick depending how cool it has become). Stir fry along with a little chicken stock added as necessary to adjust the consistency of the sauce.
Immediately before serving add in the cashews and stir fry quickly to prevent the cashews becoming soft.
Serve with freshly steamed jasmine rice.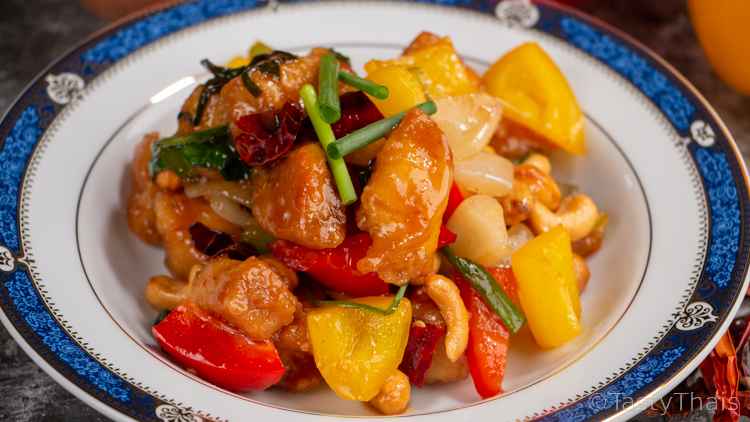 Best Thai Chicken Cashew Nut Stir Fry Recipe
Stir Fried Chicken With Cashew nuts
The Video showing this recipe being cooked is near the top of the page – A convenient Jump Link to the video is below the description under here.
A deliciously tasty succulent yet crispy chicken stir fry made the only way Thais know how. The piquant tamarind sauce that gently coats the chicken explodes with taste while the creamy cashews just meld it all together in your mouth.
An amazingly quick and easy dish anyone can make and healthy too with lightly stir fried fresh vegetables. You can buy tamarind pulp to make into tamarind paste. It lasts a long time in the fridge and even longer in the freezer.
NOTE: Any In-recipe images can be toggled on and off with the camera icons next to the Instructions header.
Ingredients  
Ingredients For Tamarind Sauce
Ingredients For Stir Fry
12

oz

Chicken Breast

1

cup

Cashew Nuts

1

tbsp

Soy Sauce

1

cup

Onion

3

stem

Spring Onion

1

cup

Red Pepper

1

cup

Yellow Pepper

2

Dried Chili Spur

⅓

cup

Flour

1½

tbsp

Cooking Oil

Oil For Deep Fried chicken
Instructions 
1. Prepare Vegetable
Chop the dried chili spur into 1 inch (25mm) pieces. Chop the onion, red pepper, yellow pepper, and spring onions. Set aside.

Cube the chicken breast and mix with the soy sauce. Set aside.
2. Crisp & Cook the Chicken
Heat the oil in a pan until hot. Roll the chicken in the flour then lower into the hot oil. Stir to avoid the chicken from sticking to the pan bottom.

When chicken is a golden brown color, turn the heat off and remove from the pan. Fry the dried chili in the hot oil for a few seconds then put in with the chicken in the sieve and drain.
Stir Fry to Finish
Add cooking oil in a pan and heat until it is hot.

Once hot add the brown onion and cook onion until it goes a little transluscent. Then add fried chicken, chopped peppers and chopped spring/green onion tops.

Then add tamarind sauce, stirring to mix the sauce well and adjusting the sauce thickness with chicken stock as necessary. After stir frying for a few minutes and ready to serve, add in the cashew nuts and stir to coat with the sauce and then serve immediately.
Nutrition
Calories:
907
kcal
Carbohydrates:
80
g
Protein:
55
g
Fat:
44
g
Saturated Fat:
7
g
Cholesterol:
109
mg
Sodium:
2196
mg
Potassium:
1706
mg
Fiber:
7
g
Sugar:
33
g
Vitamin A:
2665
IU
Vitamin C:
241
mg
Calcium:
87
mg
Iron:
8
mg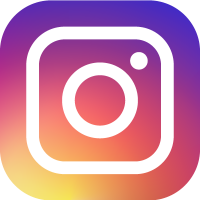 Planning on Making this Recipe?
It would be great if you could take a picture of your finished creation and share it out on Instagram. Tag me with #TASTYTHAIEATS – I love to see your ideas!
I am a Thai mum and love cooking for my children. Over the years, I have taken my family recipes as well as ones borrowed from friends and adapted them to make them even tastier. I publish my authentic Thai Food Recipes here for all to enjoy around the world. When I get a chance to travel I publish information to help others visiting Thailand.