Shrimp Pad Thai is one of the famous Thai street food dishes that keeps people coming back again and again. Try our authentic recipe and we're sure you'll be cooking it up often!
Authentic Shrimp Pad Thai - Thai Street Food Noodles with Shrimp
If the video isn't loading, you can watch it by clicking this
Pad Thai is basically a dish of stir-fried 'chan noodles' which are rice noodles that came over from China via Vietnam as these noodles resemble Pho – a classic Vietnamese dish. Chan noodles are a thin flat noodle, a few millimeters wide – and the size is actually quite important. 
There's a whole bunch of different types of noodles so if you are in your Asian grocery store just ask for pad thai noodles and you should be given the right sort.
Ingredients You'll Need
Dried Spur Chili
Shallots
Fermented Soybeans
High Smoke Point Oil for stir-frying
Tamarind Paste
Palm Sugar or Brown Sugar
Fish Sauce or Vegan Fish Sauce Substitute
Dry Pad Thai Rice Noodles
Garlic Chives
Bean Sprouts
Firm Tofu
Eggs
Oil for Stir-Frying
Large Shrimp
Lime
Crushed Dry Roasted Peanuts
Banana Flower(Traditional.. and Optional)
Why You Want to Make It
It's Vegan-adaptable
Super easy to make
Absolutely delicious
The dish can also be made using 'sen lek' which is a smaller, rounder noodle but the end result will be a stickier and less yummy dish. So do try to get the right noodles for the best results. 
The preparation of the noodles also plays a large part in getting the right texture for the finished Pad Thai – too dry and they will not stir fry well and be too chewy – too wet and they will end up a sticky mess.
Thai Street Food is well known for its amazing taste at very affordable prices and Pad Thai is one of the most common offerings from Thai street food vendors. With everything prepared it's quick to cook and serve up – good for output and just what the customer wants.
Although precise ingredient amounts vary, every Pad Thai Recipe will include noodles, bean sprouts, Pad Thai Sauce, tofu, egg, peanuts, tamarind, and usually chopped garlic chives and fermented soybeans for a bit of color and taste. 
Step by Step Instructions
It's well worth watching the video and you'll see why you need to get everything ready before you start cooking.
Step 1 – Prepare the Pad Thai Chilli Paste
You can make the Pad Thai Chilli Paste ahead of time and just keep it in the fridge. But it takes no time apart from soaking the dried chili for half an hour so you can just do it all at once if you prefer. That is what I do.
For the best taste rinse your soy beans to get rid of excess salt – then just drain them and set aside.
You will also need to cut the dried chili into short lengths and soak in a little warm water for about 30 minutes or so to soften them up a little.
Chop the shallots into rough pieces to help your food processor and set these aside too.
You want to use some of the water the chili has been soaked in (just enough to cover the chili pieces) so get that ready along with the oil to fry with.
Place the shallots, chili with its water, oil and fermented soybean in the processor and pulse to chop into a paste. You want the paste to be a medium fineness but still leaving small pieces of the ingredients visible.
Scrape out the Pad Thai Chilli Paste and set aside for cooking.
Step 2 – Prepare the Pad Thai Sauce
This sauce along with the chilli paste above, is the backbone of this recipe, giving it the classic, authentic taste you are after.
Take the tamarind paste, or use tamarind pulp soaked in a little water (enough to cover it) for ten minutes or so and squish it together. Add the tamarind, palm sugar, and fish sauce and put it in a small saucepan to heat. You can substitute palm sugar for brown sugar if needed.
Heat the ingredients over a medium-high heat up to a simmer and then turn down to simmer gently while stirring until the palm sugar has dissolved. Set aside to cool.
While this is going on you can be soaking the noodles to soften them up a little. They only need 5-10 minutes or so.
Step 3 – Getting Prepared for the Stir Fry.
Grab your bean sprouts and give them a good wash and then rinse and drain in a colander. Wash, drain, and chop up the garlic chives, mixing them up with the bean sprouts so they distribute nicely when cooking.
Wash the firm tofu slab gently and dab it with a kitchen paper towel to dry it off. Then slice it into small, french fry sized sticks and then cut into small cubes ready for frying.
Get your roasted peanuts and give them a pound into small pieces using a mortar and pestle. These are added to the finished dish and extra are served for the diner to add if they wish.
Wash, shuck and devein your shrimp or prawns, leaving the heads on as well as the end tail section.
Step 4 – Cooking your Shrimp Pad Thai
You need to have everything to hand now because this stage will go very quickly. It is best to cook one or two portions at a time as the noodles will clump together and be hard to separate if you try to cook too many at one time.
Put a tablespoon of oil into a large frying pan or wok with enough space for all the ingredients eventually. As soon as the oil is hot add the shrimp, cooking until barely pink. These will cook further later. Set aside.
Add the remaining oil and heat it up until hot but not smoking. Add the tofu, and stir fry until golden brown – this will take a minute or two.
As soon as the tofu is golden add the egg and break it around in the pan. Then as soon as the egg starts to set (10-20 seconds later) add the noodles and give everything a stir fry.
It is important not to overcook the egg before you add the noodles and not to under or overcook the noodles – you do not want cooked noodles yet.
Since you have other ingredients to add, you fry the noodles al dente, so they will not be overcooked at the end.
After about two minutes the rice noodles will have softened a bit. Add one tablespoon of the Chili Paste you made earlier and two to three tablespoons of the Pad Thai Sauce along with the shrimps or prawns.
Stir fry everything together and coat all the ingredients with the sauce mix and then add the bean sprouts and garlic chives and stir fry for a few seconds to coat with the sauce. These will be warmed through by the time you are finished.
Serve it up immediately with a few crushed peanuts on top (unless your diners have a peanut allergy of course) and some extra garlic chives to make it look awesome.  
Offer some extra roasted peanuts, lime segments for squeezing out lime juice over the dish and dried red pepper flakes so your diners can adjust the spiciness.
Also, provide a small bowl with some extra bean sprouts to make everyone eating your amazing Pad Thai feel special!  
Do take a minute to watch through the video at the top of the page and please do try this dish – it is awesome!
Shrimp Pad Thai Recipe
Shrimp Pad Thai Recipe
The Video showing this recipe being cooked is near the top of the page – A convenient Jump Link to the video is below the description under here.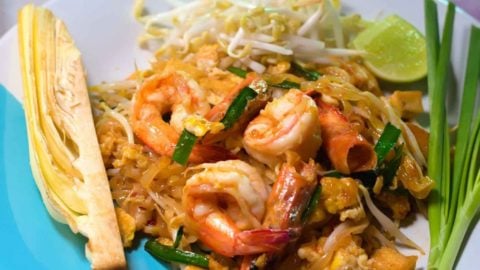 Find already prepared fermented soy beans then prep time is only about 15 minutes.
This recipe can be used to make the authentic and classic Thai street food dish of pad thai with shrimp which you can easily swap out for the protein of your choice.
NOTE: Any In-recipe images can be toggled on and off with the camera icons next to the Instructions header.
Ingredients  
Pad Thai Basic Recipe (for everyone)
Chili Paste
4

Dried Spur Chili

Cut into small pieces

4

Shallots

Peeled & chopped

1½

tbsp

Fermented Soy Beans

3

tbsp

Refined Coconut or Pure Virgin Olive Oil

Use vegetable oil if that is all you have
Noodles
1

oz

**Dry Pad Thai Rice Noodles

**Available gluten free and vegan

1

cup

Garlic Chives

2

cups

Bean Sprouts

6

oz

Firm Tofu

4

Eggs

1

cup

Oil for stir frying
Non-Vegetarian Additions
16

Large Shrimp

Peeled and deveined
Garnish
4

Fresh Garlic Chives

4

slices

Lime

2

cups

Bean Sprouts

4

tbsp

Crushed Dry Roasted Peanuts
Instructions 
Making the Pad Thai Chilli Paste
Cut the dried chili into 1-inch pieces and soak in drinking water enough to cover the chili. Soak for about half an hour.

Peel the shallots and chop up for processing.

Add the cooking oil, dried chili together with the water used for soaking, soybeans, and shallots into a small blender and blend until you have a rough paste. You are looking to have small pieces of the ingredients visible rather than a completely smooth paste.
Making the Pad Thai Sauce
Add tamarind paste, palm sugar and fish sauce, into a small saucepan. Simmer together, mixing until the sugar has dissolved. Set aside to cool slightly.
Preparing and Cooking the Noodles
Soak the dried noodles in plain water at room temperature for about 5 minutes or so to loosen.

Wash and cut the chives into 1-inch or so lengths. Wash the bean sprouts and remove any black husks, mix with the chives and set aside.

Wash and dry the tofu. Cut into slices off the slab about the thickness of your little finger. You will have stips the thickness and length of the block about 1/4-inch thick. Slice again across the width lengthwise into two. Cut these thin strips of tofu again into 1-inch long, bite-sized, pieces. Watch the video if you are unsure.

Work in 1-2 portion size batches to stir fry.

Stir-fry the tofu until light yellow color to remove the sour taste you would otherwise get.

Add one egg, immediately breaking the yolk and gently spreading out over the tofu and as the egg just begins to set add the noodles so they blend with the unset egg. Do not scramble the egg together – watch the video if you need visualization of this.

As soon as the noodles are softened then add one Tablespoon of Pad Thai Chili Paste and three to four tablespoons of Pad Thai Sauce. Also, add the peeled and deveined shrimp at this stage if using and stir fry to coat for a minute or two.

Add the bean sprouts and chives and stir-fry gently to warm through. Serve immediately.

Garnished with banana flowers (optional), more fresh bean sprouts, sliced lime, crushed peanuts, more fresh garlic chives and small amount of dry chili flakes . Each diner can choose to add into their dish to their preference.

Crush your peanuts up roughly using a mortar and pestle. Some to garnish the finished dish as well as served as a complimentary side toghether with extra bean sprouts.
Notes
If using tamarind pulp instead of paste, you will need to add enough water cover and soak for about a quarter of an hour to unbind it a little for consistency. Then press it into a paste with your fingers.
Palm sugar has a wonderful taste and it is worth buying it if you cook Thai food often. You can substitute with brown sugar which works well.
Nutrition
Calories:
599
kcal
Carbohydrates:
68
g
Protein:
25
g
Fat:
28
g
Saturated Fat:
15
g
Cholesterol:
224
mg
Sodium:
2701
mg
Potassium:
700
mg
Fiber:
6
g
Sugar:
44
g
Vitamin A:
849
IU
Vitamin C:
26
mg
Calcium:
189
mg
Iron:
5
mg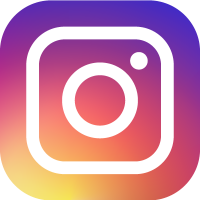 Planning on Making this Recipe?
It would be great if you could take a picture of your finished creation and share it out on Instagram. Tag me with #TASTYTHAIEATS – I love to see your ideas!
I really hope you enjoy this dish and if you cook it I would love to hear your comments below so please come back and let me know how it turned out for you.
Other posts you might like:
I am a Thai mum and love cooking for my children. Over the years, I have taken my family recipes as well as ones borrowed from friends and adapted them to make them even tastier. I publish my authentic Thai Food Recipes here for all to enjoy around the world. When I get a chance to travel I publish information to help others visiting Thailand.