This toasted rice powder recipe for homemade Thai roasted rice powder is really easy. It's a Thai seasoning used mostly in north-eastern Thai dishes to provide flavor as well as a mild thickening agent. Interestingly, it is also used in some matcha green tea drinks – we have to try one!
This seasoning can be pretty pricey in the West but you might be able to find it in a good Asian store or possibly among the other spices in the supermarkets.
It might take a year to use a bottle and it will lose its aroma and flavor quickly once opened, so making roasted rice at home is a no brainer, and thankfully it's pretty easy.
Video Showing Us Making Toasted Rice Powder
Toasted Rice Powder Recipe - Homemade Aromatic Roasted Rice Powder
Link to How to Make Roasted Rice Powder in case the video above does not load for you.
Links disclosure: Some links on this page go to affiliate partners where, without cost to you, we may receive a commission if you make a purchase.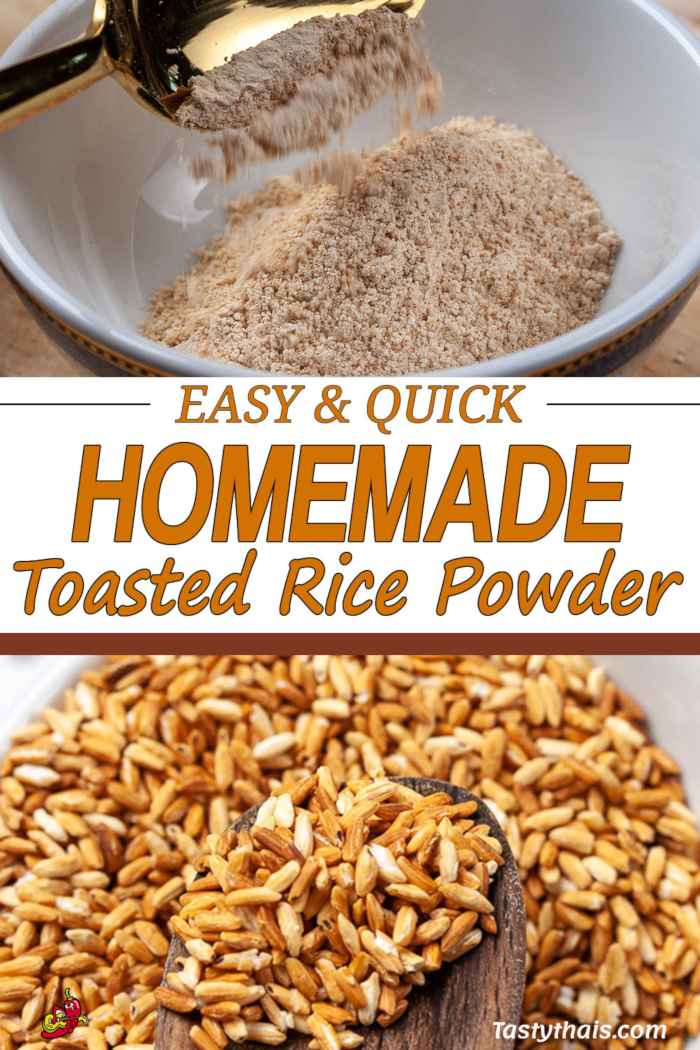 Why Make This Homemade Roasted Rice Recipe
It is really easy and super cheap to make plus homemade roasted or toasted rice powder just smells delightful and has a much better taste than the stuff that has been laid to rest in a glass jar for who knows how long, years maybe!
Any recipe benefits from homemade, just-ground spices and this is no exception.
Plus let's just reiterate the savings your wallet will appreciate, the extra fresh taste and not having to throw away a half used, year-old jar that you didn't finish up or worse still use it up stale because you can't bear to throw it out!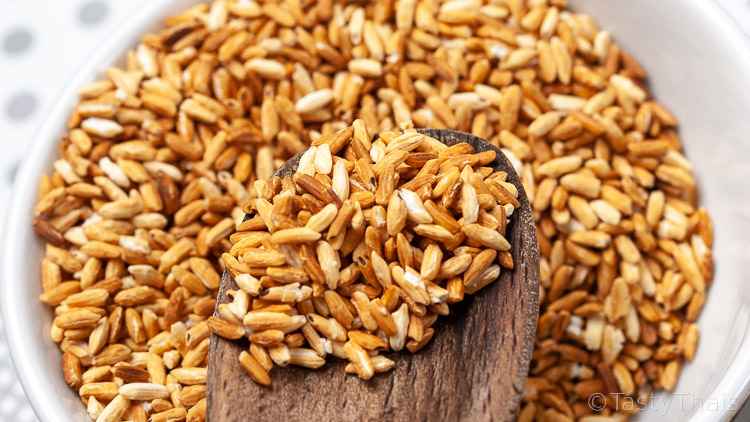 What is Toasted Rice and How does it Taste?
Let's just clear the obvious – roasted and toasted rice are pretty much the same thing although you could make some semantic differences. Basically, we are talking about dry rice that is heated in a dry pan until it is a beautiful golden brown.
As it cooks, the rice releases a lovely smell too which is sort of nutty and that carries through to the taste. The rice is then allowed to cool down before turning into powder. Although this rice seasoning is used in a select number of dishes it does make quite a difference to taste.
Traditionally the rice is ground in a mortar and pestle and you can certainly grind away if you please. The easier way is to use a spice grinder or very small food processor or grinding mill. If you watch the video you will see our mini-chopper, processor machine is past it's sell by date and rather inefficient but you can finish off using a pestle and mortar or just buy a better grinding machine.
Looking at what's available for the home kitchen it seems grinders for grains are either the spinning blade things, which are really small choppers, or manual grinders.
The problem with the spinning blade machines, especially cheap ones, is that once the blade sharpness dulls you may end up with grains being only partially powdered with larger pieces left, exactly what happened to our rice. Grain mills do not have this drawback but are less versatile. If you are looking to grind grains beyond just making occasional rice powder you may want to take a look at these we are considering for ourselves.
What Rice to Use
Raw glutinous or sticky rice is the best rice to use because the higher starch content makes it brown rather better. Some suggest that using Jasmine Rice will produce the same taste but the reality is that the lower starch content will not produce quite the same result.
You CAN use Jasmine Rice but it is much better to stick with glutinous rice if you have it, if not then go with the Jasmine Rice which is better than just omitting the ingredient from the Thai dishes that call for it.
How Long will it Keep
The simple fact of the matter is that fresh is best. For that reason you only want to roast up a few tablespoons of rice at time. The ground rice powder will keep fresh for several days at room temperature in an air proof container or jar after which it will loose its aroma and taste and defeat the object of using it. The powder will keep much longer but just not be fresh!
There are quite a few Thai dishes that use toasted rice. For example Thai Herbal Soup – Kaeng Om, Thai Minced Chicken Salad – Laab Gai, Thai Sliced Beef Salad – Namtok Nua and in a lot of Thai dipping sauces such as Nam Jim Jaew.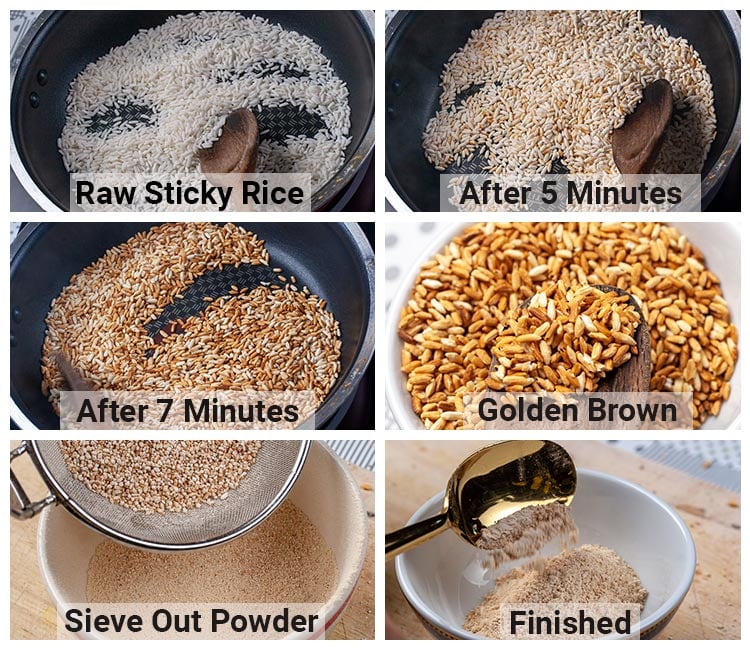 How to Make Toasted or Roasted Rice Powder at Home
Step 1 Roasty Toasty the Rice
Take a thick bottomed pan (holds and distributes heat mroe evenly for toasting) and heat it dry over a medium heat, without oil. Tip in your dry glutinous rice and swirl it around in the pan until golden brown. You are better cooking small quantities at a time, no more than maybe 1/4 cup or 1/3 cup as the rice will sit in a single layer on the pan bottom and be easier to brown uniformly.
When you start cooking the rice, it looks like nothing much is happening but you will soon notice the rice begin to change color at some point after which it browns rapidly. It took us about seven minutes but how long you need to toast it for will depend on the heat you use as well as the characteristics of your pan.
Whatever, you need to ensure that you keep those grains moving with a wooden spoon or shaking your pan to make sure they brown evenly all over.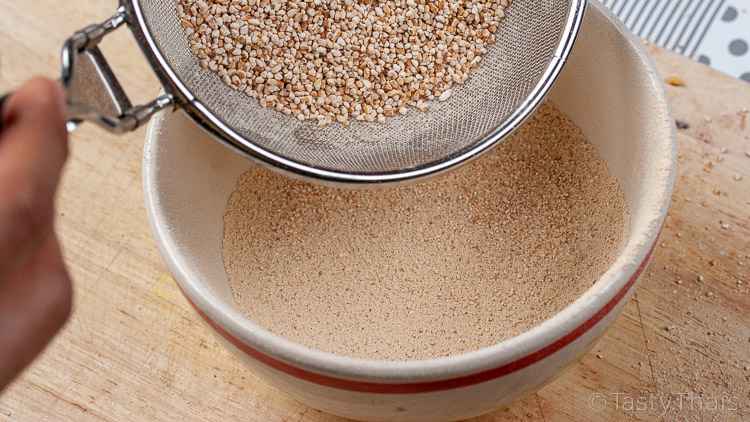 Step 2 Grinding the Toasted Rice
Once your rice is roasted and a nice golden brown, tip it into a grinder. You can use a heavy granite mortar and pestle (hard work but the best), an electric grinder (easy but sometimes the powder is a bit inconsistent) or a grinding mill (brilliant option).
Grind the toasted rice into a fairly fine powder and don't forget to take a few seconds to enjoy the smell. The consistency should be quite fine but still feel a little gritty.
Homemade Toasted Rice Powder Recipe
Homemade Toasted Rice Powder (Roasted Rice Powder)
The Video showing this recipe being cooked is near the top of the page – A convenient Jump Link to the video is below the description under here.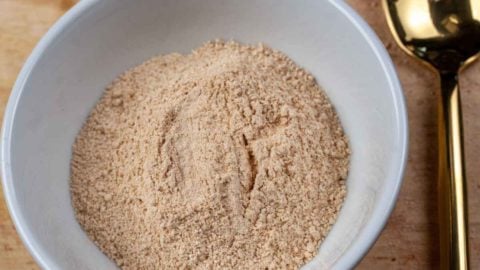 Homemade roasted rice powder is so much tastier than shop bought because you can make it fresh. It has a great nutty smell and taste and is used in quite a few Thai recipes especially those from the northeast.
It is also used as a binder and thickening agent to improve taste and texture in Thai dips.
NOTE: Any In-recipe images can be toggled on and off with the camera icons next to the Instructions header.
Equipment
Mortar and Pestle OR

Grinding Device
Instructions 
Instruction
Add raw glutinous rice in a pan and roast over a medium high heat until the grains become a golden brown colour, Stir continuously to ensure even browning of the grains.

When the rice is the desired golden brown color remove from the heat and allow to cool down.

Grind the roasted rice into a powder using a grinder, mortar & pestle or other griding device. Bear in mind the small quantity will, most likely, not grind properly in a larger blender or processor unless using a grinding attachment meant for spices.

Store in a jar with the lid on or air tight container. Store at normal temperature and use within a few days for the best taste.
Nutrition
Calories:
57
kcal
Carbohydrates:
13
g
Protein:
1
g
Fat:
1
g
Saturated Fat:
1
g
Sodium:
1
mg
Potassium:
12
mg
Fiber:
1
g
Iron:
1
mg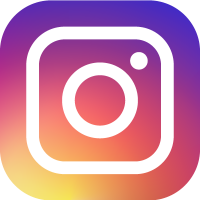 Planning on Making this Recipe?
It would be great if you could take a picture of your finished creation and share it out on Instagram. Tag me with #TASTYTHAIEATS – I love to see your ideas!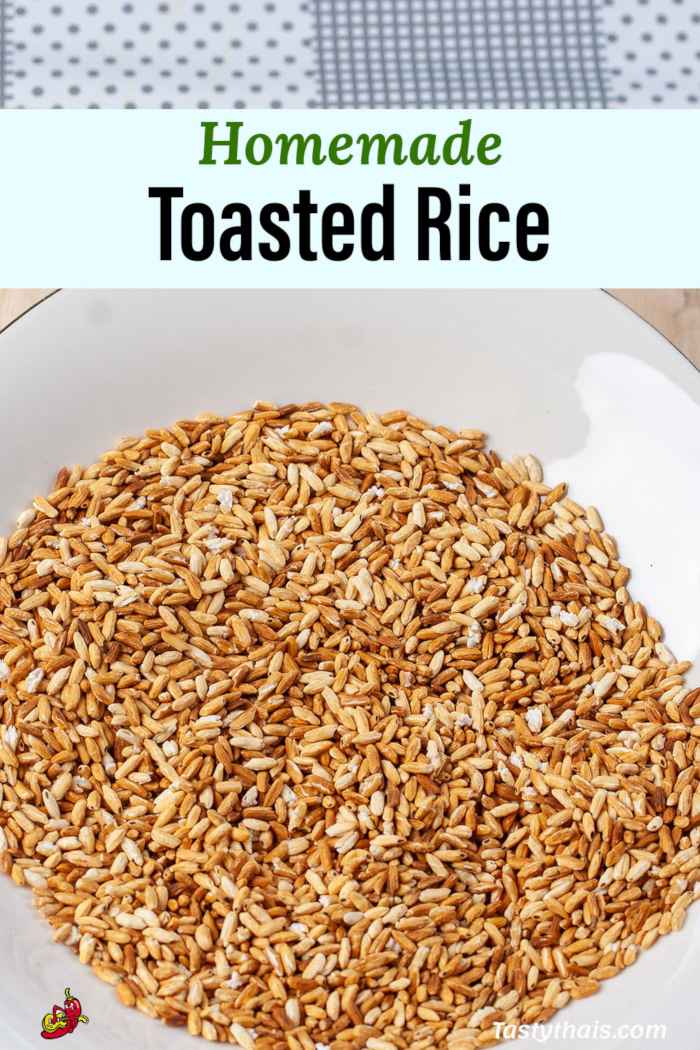 I am a Thai mum and love cooking for my children. Over the years, I have taken my family recipes as well as ones borrowed from friends and adapted them to make them even tastier. I publish my authentic Thai Food Recipes here for all to enjoy around the world. When I get a chance to travel I publish information to help others visiting Thailand.