Making homemade chocolate emoji truffles is a bundle of fun for kids and is a creative activity they can join in with for some quality family time. Not only that they taste great, so are great ethical bribes for later.
Don't tell your kids I told you that though!!
And if you want some other things to occupy the kids then how about making homemade boba or some jello coconut art deserts – both a heap of fun.
Video of Us Making Homemade Chocolate Emoji Truffles
Delicious Chocolate Fun for Kids & Adults - Homemade Emoji Chocolate Truffles
Link to Chocolate Emoji Truffle Making at Home Video in case it fails to load for you.
Equipment & Ingredients You Will Need for Homemade Chocolate Emojis
Emoji Molds
Standard Plain Chocolate (Milk or Dark)
Nutella or similar chocolate spread
Links disclosure: Some links on this page go to affiliate partners where, without cost to you, we may receive a commission if you make a purchase.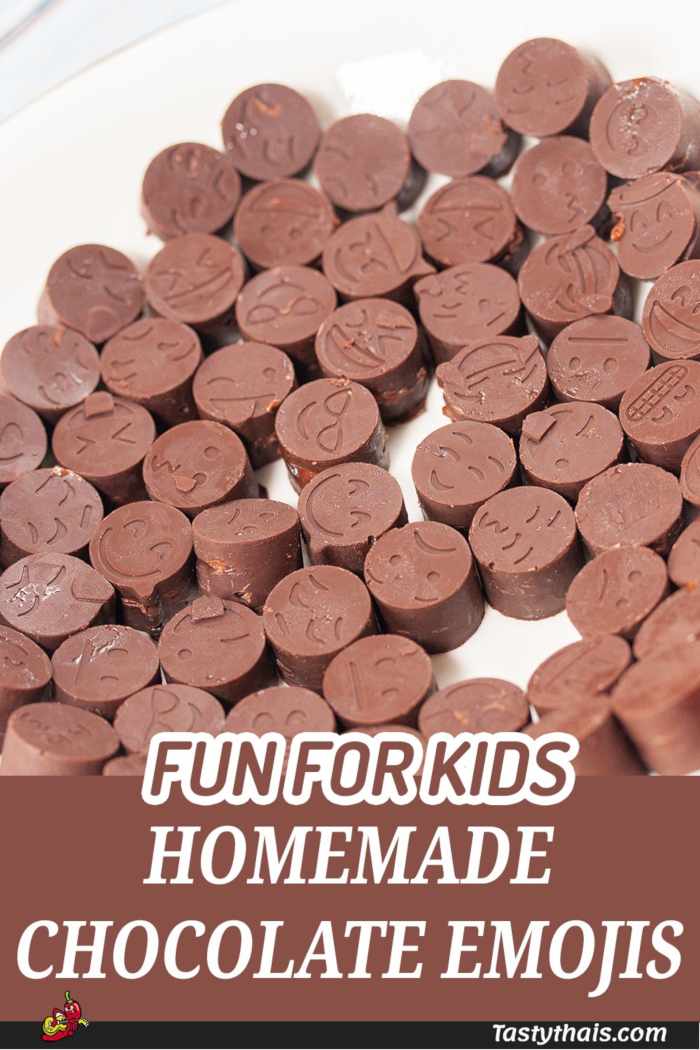 Tips on How to Make Homemade Chocolate Emojis
If you want to know how to make chocolate emojis as easy as possible. There are just a couple of tips to bear in mind.
Firstly be prepared for a mess. Part of the fun of making stuff with kids – well for them at least – is the mess.
It's quite easy to clean up afterward but you might want to take precautions for your worksurfaces if it's a worry.
You can make things easier with slightly older children if you have a couple of icing kits. These are excellent at better controlling the chocolate dispensing into the molds.
Younger kids will find it hard to squeeze and position all at the same time but they can still help you with one or the other right?
Warm your chocolate to soften in the microwave under reduced power and remember it will continue heating a bit after it comes out of the microwave.
You can also soften the chocolate in a double saucepan if you have such a thing but the microwave is easier. If you try to soften under direct heat you will most likely end up with problems!
Nutella chocolate spread is great to provide a texture contrast in your little chocolates. Even after refrigeration, the centers of your chocolates will be slightly soft to contrast with the crisp chocolate coverings.
If you are in a warm country the Nutella will be soft enough to pipe out of an icing set at room temperature. If you are not using an icing set or live in a cooler climate then you may have to warm a little in the microwave for a few seconds to soften enough to fill the molds.
How to Make Emoji Chocolate Truffles Step by Step
Step 1 Softening Chocolate
The first thing you will need to do is get prepared. Lay out any protection to make cleaning up any mess easier if you feel the need.
Get your emoji molds ready along with the chocolate and spread, preferably at room temperature.
Break the chocolate into small pieces or better still cut with a knife to help with softening.
Place in a microwave suitable bowl and warm at reduced power for about a minute. Timings will vary with the starting temperature of the chocolate, characteristics of the chocolate and your own equipment.
Microwaves vary in efficiency but we used 640W power for 1 minute starting with chocolate at about 28°C to soften it up.
Keep an eye on the chocolate as it waves; remove it before it's completely soft as it cooks on a bit after removal.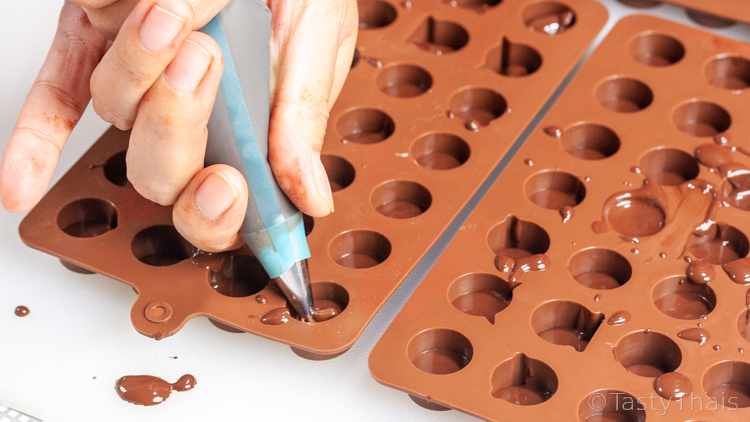 Step 2 Pipe or Spoon Chocolate into Molds
Filling the molds to make the emoji chocolates is a three-step process. Part filling with chocolate, adding the softer inside spread, and finally topping off the mold with more chocolate to encase the filling.
So with your chocolate nice and soft use a spoon or a piping bag to add a little chocolate into the bottom of each mold.
Do not overfill as you need space for the filling and to seal what will be the bottom of the chocolates.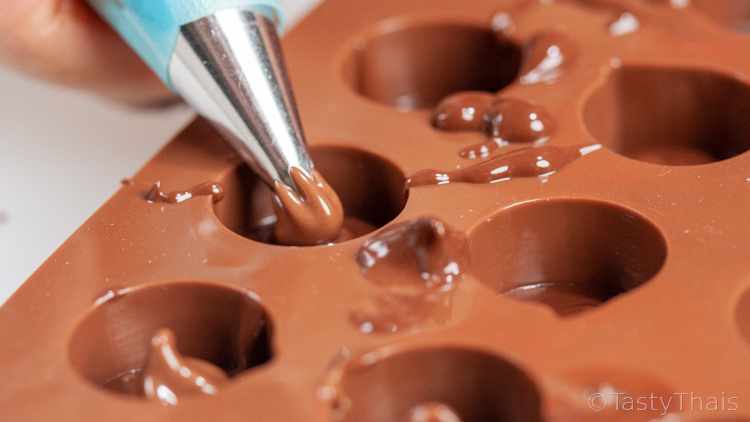 Step 3 Adding the Filling
Next is adding the Nutella or other soft filling. Once again it needs to be workable so soften in the microwave for a few seconds if you need to in order to make it runny enough to pipe – but not too runny. Check out the video of our example.
Although you can use a spoon for this, it is much easier to use an icing bag or piping set. This lets you get the nozzle poking into the chocolate you added in the first step which will be pushed out and up the sides of the mold to encase the filling.
Squeeze enough filling in to 80% fill the mold.
When done place the molds in the refrigerator for 15-30 minutes to let the chocolate harden and settle.
Step 4 Topping off the Molds
After the chocolates have cooled in the fridge, take the part filled molds and top them up with more chocolate. You will have to warm the chocolate again to make it workable.
Don't bother trying to get the amount perfect, just fill about right and use a straight edge to run across the top of the emoji molds at the end to fill in any gaps and level off any ridges.
Place the emoji molds in the refrigerator and chain the doors for at least 60 minutes to allow the chocolate to harden on the outside so they will pop out of the molds.
Step 5 Popping Out Your Chocolate Truffles
Once the chocolate emojis have properly hardened in the fridge, remove them and push the bottoms of the molds with your thumbs to pop out the chocolates.
Be sure to get the kids to help here as watching the chocolates come out with the faces of the emojis is real fun!
They are ready to eat right away.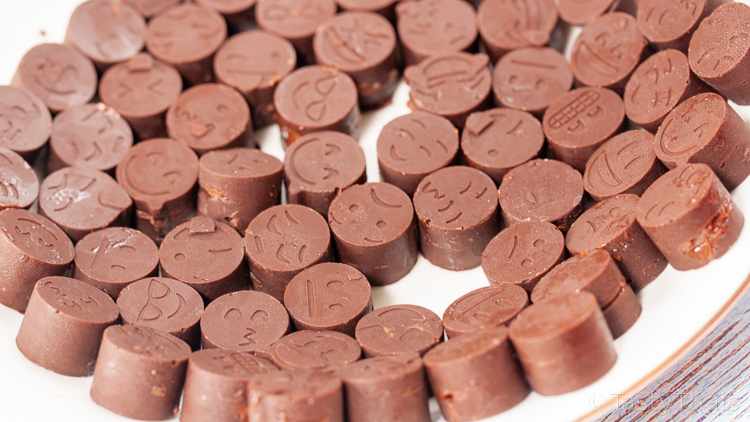 How to Make Homemade Emoji Chocolates with the Kids
Homemade Emoji Chocolate Truffles – Kids Fun
The Video showing this recipe being cooked is near the top of the page – A convenient Jump Link to the video is below the description under here.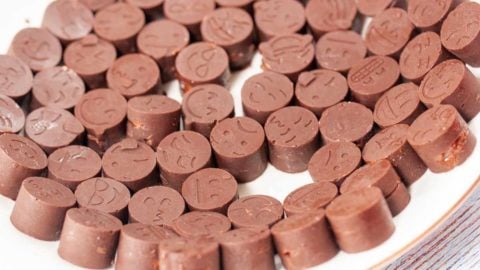 Delicious homemade chocolate truffles which you cna have fun making at home with the kids with just a couple of ingredients.
Take time out to enjoy life and teach your children how to make things as well as making a big mess. You gotta love it!
NOTE: Any In-recipe images can be toggled on and off with the camera icons next to the Instructions header.
Equipment
Emoji Mold

Nozzle

Icing Bag
Ingredients  
Ingredients
4

oz

Milk Chocolate

4 oz (100g) per mold

2

tbsp

Nutella
Instructions 
Instruction
Break the chocolate into small pieces and put into a microwave proof bowl. You can opt to cut even smaller to make life even easier. Microwave on reduced power (640 W) for about 60 seconds. The chocolate should be starting to melt as it will continue to melt more after you take it out.

Stir up the chocolate until creamy smooth and a little runny. You can microwave a few more seconds as necessary but remember it will continue to melt more after removing from the microwave and you don't want overdo it.

Use a spoon to dribble the melted chocolate into the mold, filling less than half way up.

Spoon in 2 tablespoon of Nuttela into an icing bag with a nozzle. Use Nuttela at a room temperature not straight from the fridge as that it too hard. If it does not flow (see video) then just warm for a few seconds in the microwave.

Use the piping bag to squeeze Nuttela into the centre of each mold so the chocolate rises at the side, close to but not up to the top. Bang the mold a few times on teh tabletop to settle the contents so that the chocolate / Nuttela mixture levels out. Put in the fridge for about 15 minutes.

Rewarm the chocolate if necessary and spoon more milk chocolate in to fill the mold and then tap again on the table to level. You can use a straight edge like the back of a large knife or a spatula to run across the top of the mold filling in any gaps in the chocolate and making level bottoms of your chocolates.

Put in the fridge for 60 minutes or more and then use your thumb to push the cocolate treats out from the back side of the mold.

Have a laugh at the faces and hand your child the angel. On second thoughts you probably deserve that one yourself!
Nutrition
Calories:
258
kcal
Carbohydrates:
30
g
Protein:
2
g
Fat:
17
g
Saturated Fat:
11
g
Sodium:
11
mg
Potassium:
160
mg
Fiber:
3
g
Sugar:
26
g
Calcium:
22
mg
Iron:
2
mg
Planning on Making this Recipe?
It would be great if you could take a picture of your finished creation and share it out on Instagram. Tag me with #TASTYTHAIEATS – I love to see your ideas!
I am a Thai mum and love cooking for my children. Over the years, I have taken my family recipes as well as ones borrowed from friends and adapted them to make them even tastier. I publish my authentic Thai Food Recipes here for all to enjoy around the world. When I get a chance to travel I publish information to help others visiting Thailand.