This authentic Thai steamed fish with lime sauce recipe is so easy to make. You can use the whole fish or fillets of fish depending on the size of your steamer – we cover both methods in this article.
Awesome Thai Steamed Fish with Lime Broth Recipe - Pla Krapong Neung Manao
Link in case the Steamed Fish with Lime Sauce Video does not load for you.
The fish that you find in the local Thai markets and served up at restaurants is a locally farmed variety of white fish called pla krapong from the same family as Australian Barramundi and Sea Bass and also known as Asian Sea Bass.
The thing is you can use any mild tasting large flaked white fish to make the dish – just find a readily available similar fish that is local to your locale. Have the insides of the fish removed and the scales scraped off.
Ingredients for Steamed Thai Fish with Lime Sauce Recipe
Whole White Fish or Fish Fillets
Lime
Palm Sugar
Fish or Vegetable Stock
Lemongrass
Coriander / Cilantro with Roots
Chinese Celery
Chili – Quite spicy chili is authentic but you can use less or a milder chili for less spiciness
Garlic
Fish Sauce – the Umami king.
How to Make Authentic Thai Steamed Fish with Lime Sauce Recipe Step by Step
Step 1 Prepare the fish
I hope you have a friendly fishmonger who can remove the insides of the fish and descale it for you. If not you will need to do that yourself.
You can cook the fish whole, with the head and tail is traditional; you can cook it minus the head and tail, for the squeamish; you can cook it in fillets.
If you are going to cook the fish whole with or without the head, then score the fish 3 or 4 times on either side after washing it. You score through to the bone but not through the bone!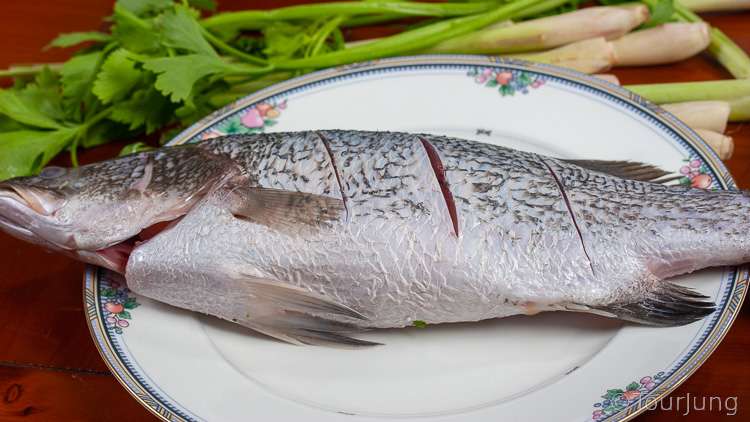 Stuff the insides of the fish with lemongrass that you have crushed, in a mortar is easiest. This improves both the taste and aroma of the finished fish dish.
Season both sides of the fish with a little salt.
If you are just cooking fish fillets then you will just wash and season both sides with a little salt.
Step 2 Steaming the Fish
Get your Jasmine rice steaming as you will be eating your fish with that – right?
Place some lemongrass on a heat proof plate to form a little bed for your whole fish or your fish fillets to relax on while you steam it.
The lemongrass adds more aroma, helps reduce the fishy smell in your house and keeps the fish above the plate for more even cooking.
Steam for 15 minutes and then check the flesh flakes easily which demonstrates the fish is cooked. If not steam a little longer.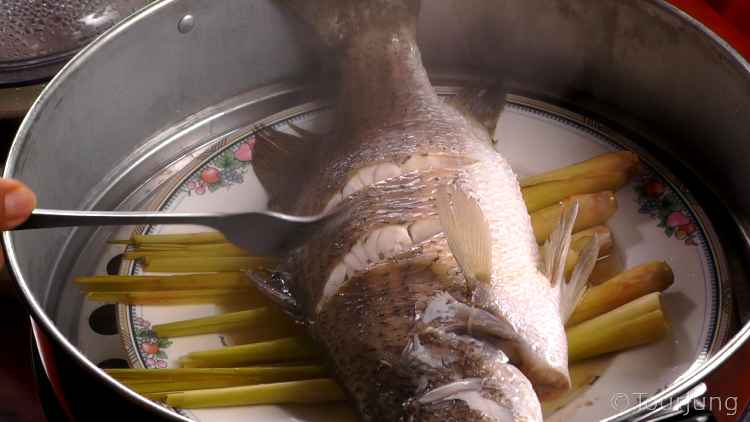 If you are using a Thai style serving plate and intend to poach the fish in the lime sauce at the table then you can afford to cook a little less as it will poach in the lime sauce.
It is not recommended to serve in this style indoors unless you have a source of heat that does not give off fumes. Most Thai restaurants are open air where this is not a problem – but you could serve like this at a BBQ party for example with suitable precautions about the hot broth!
On the other hand if you only have a small steamer then you may be better off steaming fish fillets. They'll come out just as well, especially with the super wonderful spicy sauce that goes along with this dish and included in the recipe.
For fillets, the method is the same though you will be spooning a little lime broth over the fillets rather than them swimming in it which would be overkill for a fillet.
Just pop them on a plate sitting on crushed lemongrass and cook for 15 minutes.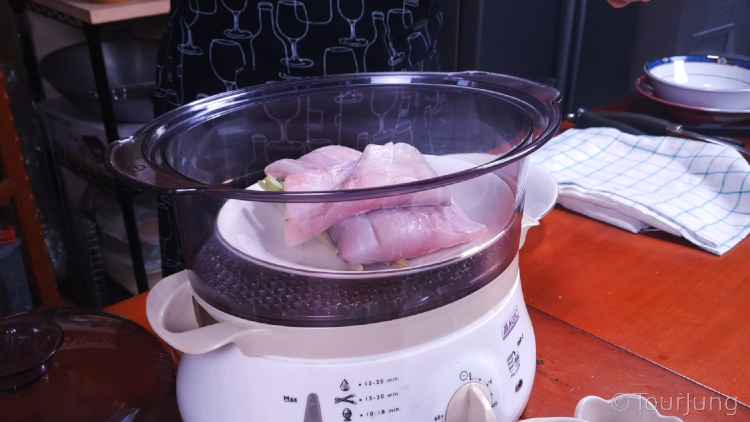 Step 3 Making the Lime Soup/Sauce
There are two types of sauce you can use.
Whole fish is usually served swimming in a lime broth which you can ladle over the fish and scoop up as you eat it. Diners may also dip into a spicy seafood sauce which is called 'nam jim' and comes in a few different varieties.
Fish fillets can also be served with this type of soupy, lime broth sauce or alternatively served with a lime & herb 'nam jim' which we feature in the video and this recipe.
You can use this 'nam jim' to serve with the whole fish too.
For the soupy lime broth chop plenty of garlic into small pieces, thinly chop green and red chili into slices adjusting quantity for your desired spice level. Add your chopped garlic and chili into fish stock. You can sub fish stock for vegetable or even chicken stock.
Add lime juice, fish sauce, palm sugar and stir to dissolve and incorporate. Taste and adjust for sweetness and sourness. The broth should taste quite strongly of lime.
Heat the lime broth while the fish is steaming away.
Step 4 Making the Spicy Topping Sauce or 'Nam Jim'
For the 'nam jim' take coriander root and crush well in a mortar. Add garlic and do a bit more crushing with your pestle.
Add a little salt into the mix which adds abrasion before adding chili and galangal and give those herbs a good pounding until they are in small pieces.
Then add palm sugar, fish and lime juice and mix together to make a coarse sauce to serve with the fish. That is 'Nam Jim' done
Serve your Thai steamed fish with lime broth ladled over the top and eat with freshly steamed Jasmine rice and the 'Nam Jim' spicy sauce. Totally yummy & healthy!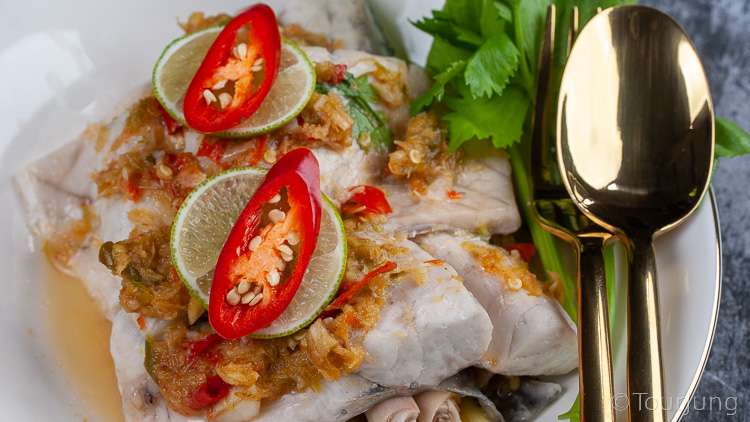 Authentic Thai Steamed Sea Bass Fish with Lime Sauce Recipe
Thai Steamed Sea Bass with Lime Sauce Recipe (Pla Krapong Neung Manao)
The Video showing this recipe being cooked is near the top of the page – A convenient Jump Link to the video is below the description under here.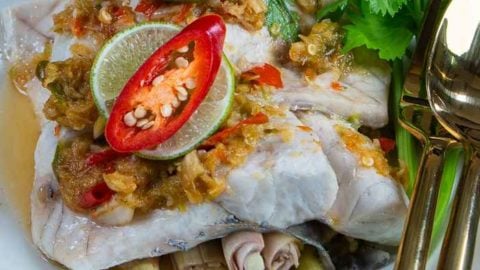 A tangy, little spicy sauce brings steamed fish to life in this classic Thai recipe which we call Pla Krapong Neung Manao.
We cover two methods of steaming depending on your available equipment and a great sauce to serve alongside. You have definitely got to try this recipe.
NOTE: Any In-recipe images can be toggled on and off with the camera icons next to the Instructions header.
Equipment
Steamer

Pot with steam tray

Plate
Ingredients  
Thai Style Herb Sauce Ingredient
2

Spur Chili

2

Jinda Chili

or hot chili equivalent

4

Cloves

Garlic

2

Cilantro Root

3

Slices

Galangal

1

dsp

Palm Sugar

2

dsp

Fish Sauce

2

dsp

Lime Juice
Lime Broth Ingredients
2

cups

Fish Stock

Chicken Stock or Vegetable Stock better than water

10

cloves

Garlic

6

Jinda Chili

Red

1

dsp

Palm Sugar

2

tbsp

Lime Juice

3

tbsp

Fish Sauce

1

Cilantro
Steamed Sea Bass
2

lb

Sea Bass

or

3

Fillet

Sea Bass

10

Stalks

Lemongrass

Water

For Steaming
Garnish
4

Stems

Chinese Celery

2 each

2

Leaves

Lettuce

Garnish for a whole fish

6

Slice

Lime

3 each

6

Slices

Chili Spur
Instructions 
Lime Broth Instruction
Heat the fish stock to boiling then add chopped garlic, chopped chili and season with palm sugar and fish sauce. Add chopped cilantro last or when served. Set aside
Herb Sauce Thai Style Instruction
Pound cilantro root, galangal, garlic, a pinch of salt and chili in a mortar. Season with palm sugar, fish sauce and lime juice. Set aside
Steamed Fillet Sea Bass
Pre-heat steamer to boiling. Place crushed lemongrass on a plate. Sprinkle a little salt on both sides of the fillet then place the fillet on top of some lemongrass stalks on a plate. Steam for 10 minutes then Herb Sauce Thai Style on the fillet, continue steam for a couple minutes.

Serve on a fresh plate and garnish with sliced lime, chili spur and Chinese celery.
Steamed Whole Sea Bass
Pre-heat water on a steamer pot to boiling. Place crushed lemongrass on a plate. Sprinkle a little salt on both sides of the fish. Then put the fish on top of lemongrass and steam 15 minutes.

Garnish with lettuce and Chinese celery on a fish plate and put the steamed fish on top, Top up lime broth.
Serving Suggestion
Serve with freshly steamed Jasmine rice and lime herb sauce from this recipe.
Nutrition
Calories:
340
kcal
Carbohydrates:
35
g
Protein:
39
g
Fat:
6
g
Saturated Fat:
1
g
Cholesterol:
136
mg
Sodium:
2123
mg
Potassium:
1542
mg
Fiber:
3
g
Sugar:
10
g
Vitamin A:
1762
IU
Vitamin C:
232
mg
Calcium:
166
mg
Iron:
8
mg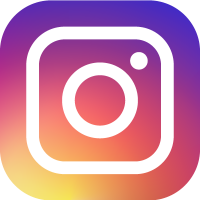 Planning on Making this Recipe?
It would be great if you could take a picture of your finished creation and share it out on Instagram. Tag me with #TASTYTHAIEATS – I love to see your ideas!
I really hope you enjoy this dish and if you cook it I would love to hear your comments below so please come back and let me know how it turned out for you.
I am a Thai mum and love cooking for my children. Over the years, I have taken my family recipes as well as ones borrowed from friends and adapted them to make them even tastier. I publish my authentic Thai Food Recipes here for all to enjoy around the world. When I get a chance to travel I publish information to help others visiting Thailand.