This Hor Mok Pla Salmon or Thai Salmon Curry recipe is the best salmon curry in the world – it is simply amazingly delicious. Steamed with coconut milk, red curry and basil it smells as delicious as it tastes too!
Video on How to Make Thai Salmon Red Curry
Thai Salmon Curry Steamed with Coconut Cream & Basil Recipe
Link to Video on How to make Hor Mok Pla Salmon in case it does not load for you.
Hor means wrap in Thai and Hor Mok is Thai for fish curry that is wrapped in (usually) banana leaf.
This Southern Thai dish is cooked with coconut milk with added fish, shellfish, squid, or in this central Thai adaptation, salmon. Whilst salmon is not a fish native to Thailand, it is readily available and works just perfectly with Thai Red Curry.
I really, really want you to try cooking this recipe because I believe once you taste it you will be hooked on cooking Thai food for life. It's really that good!
You might also like to try the recipe for chicken Panang curry or our simple chicken coconut red curry with pumpkin which are both curries cooked with coconut though significantly different in texture.
Links Disclosure: Some links on this page go to affiliate partners where, without cost to you, we may receive a commission if you make a purchase.
Ingredients You Will Need for this Salmon Curry Recipe
salmon
sweet Thai basil
red curry paste
coconut cream
fish sauce
spur chili
palm sugar
kaffir lime leaves
egg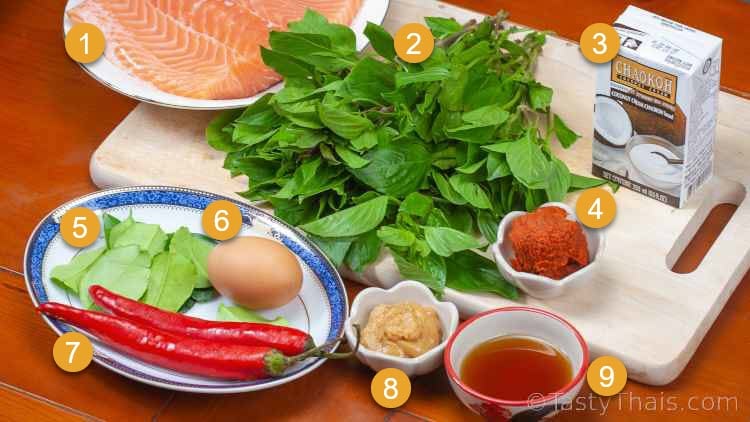 Why You Should Cook Hor Mok Pla Salmon
Salmon is a very good fish to eat because of the healthy fish oil and low calories it contains not to mention an amazing taste.
The red curry for this dish is traditionally quite hot but it does not need to be. The coconut cream balances the chili and takes the edge off the spiciness. Plus you can easily regulate the spice level without changing the taste dramatically by simply reducing the amount of red curry paste that you use.
It is hard to quanitfy the amount of curry paste you should use because red curry pastes have a wide range of spiciness depending on the brand of bought paste or the recipe used for fresh pastes. Therefore start off with a little and add more to the sauce to your taste.
It is a great recipe as an introduction to Thai food because it is so easy and relatively quick to make and is truly a different taste to anything you are likley to have had before.
Although it is traditionally steamed inside a little bowl made of banana leaves, you can easily make it mroe conveniently using oven proof ramekins. If you can get hold of banana leaves though, do try it as they add authenticity.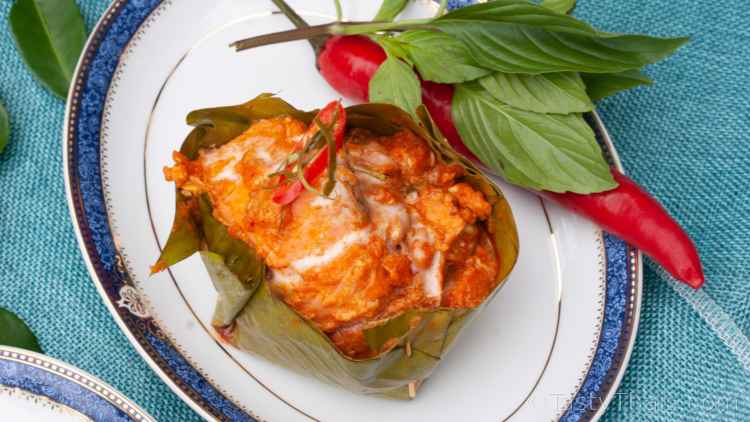 How to Make Salmon Thai Red Curry or Hor Mok Pla Salmon Step by Step
Step 1 Preparing the Ingredients
Remove the bones from the fresh salmon cutlet and cut into good sized cubes. Remove the center spine from the Kaffir leaves and cut finely.
Slice the spur chili diagonally saving some for garnish. Remove the basil leaves form their stems.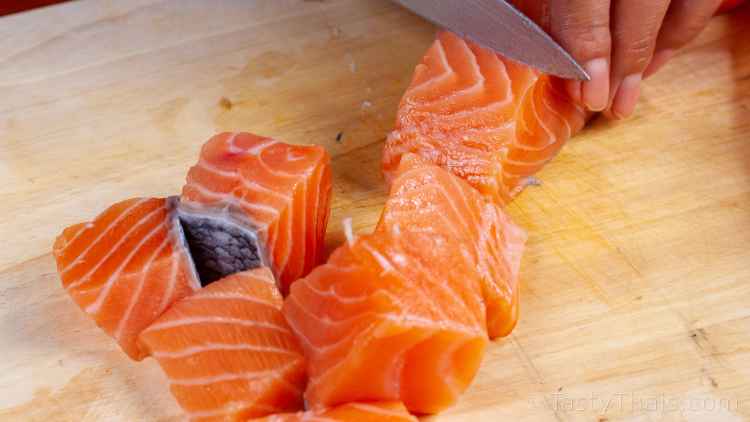 Step 2 – Making the Red Curry Base
Under a medium heat warm the coconut cream and then add in the red curry paste.
Stir well to mix the paste and coconut cream into a smooth sauce before adding in the fish sauce and palm sugar.
Taste and adjust sugar and fish sauce to taste.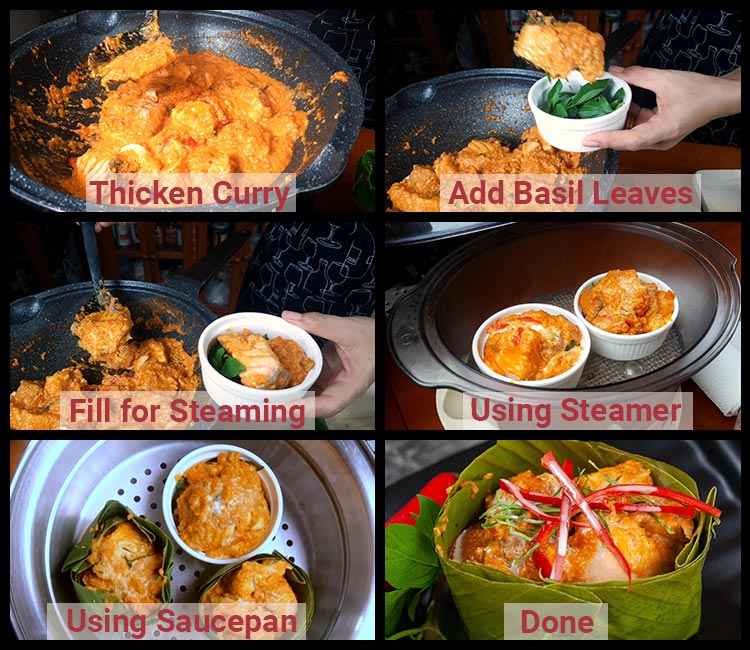 Step 3 Completing the Salmon Red Curry Cooking
When the sauce is to your taste add the salmon chunks and sliced chili spur and continue to cook for about 3 minutes, stirring gently to coat the salmon throughly in the red curry sauce.
Break the egg and sprinkle in the kaffir lime leaves. Stir in throughly and cook for another 3 minutes until the salmon is about 50% cooked through.
Add in the rice flour (or cornflour as a sub) mixed with a little cold water to thicken the curry to a thin mousse like consistency and then turn off the heat.
Step 4 Steaming the Salmon Curry
Line the ramekins, or banana leaf bowls if using, with basil leaves about half the height when dropped in loose. To learn how to make the banana leaf bowls you'd be best watching the video above as it is easier to see than for me to explain.
Lay the salmon curry mousse on top of the basil leaves which will compress as you layer up the curry mousse until it forms a rounded top.
Place the ramekins or banana leaf bowls into a steamer and steam for 10 minutes.
Decorate with a couple of thinly sliced chili spurs and a couple of leaves of basil to garnish. Serve with freshly steamed Jasmine rice
Recipe for Thai Salmon Curry or Hor Mok Pla Salmon
Hor Mok Pla Salmon – Steamed Salmon Curry With Coconut Milk
The Video showing this recipe being cooked is near the top of the page – A convenient Jump Link to the video is below the description under here.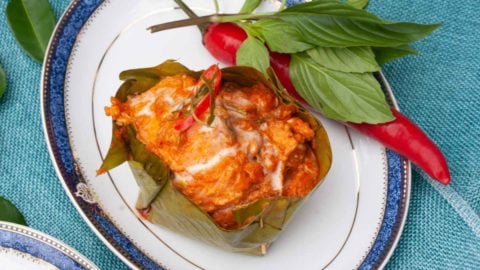 This is the best salmon curry in the world. A bold statement for this wonderful red curry based salmon curry that bursts with flavor without overpowering the wonderful taste of the salmon.
It is easy to make and doesn't take long so you can serve up something truly different for a change.
NOTE: Any In-recipe images can be toggled on and off with the camera icons next to the Instructions header.
Instructions 
Preparation
Remove the sweet basil leaves from stem. Julienne the leaves and slice the spur chili.

Cut salmon into large chunks.
Instructions
Heat coconut milk over a medium heat and when warmed add the red curry paste to the pan. Stir constantly until you have a smooth sauce. Season with fish sauce and palm sugar to taste.

Add the chunks of salmon, sliced spur chili, julienned kaffir lime leaves, and eggs. Mix well and cook for a few minutes. Add rice flour that has been mixed with a little water to thicken the curry, cook for a minute or two and then turn the heat off.

Place salmon curry into ramekins or banana leaf bowls and put in the steamer tray.

Steam over boiling water for 10 minutes and then serve with freshly steamed Jasmine Rice.
Nutrition
Calories:
646
kcal
Carbohydrates:
22
g
Protein:
50
g
Fat:
41
g
Saturated Fat:
24
g
Cholesterol:
273
mg
Sodium:
2303
mg
Potassium:
1483
mg
Fiber:
2
g
Sugar:
10
g
Vitamin A:
3804
IU
Vitamin C:
67
mg
Calcium:
111
mg
Iron:
7
mg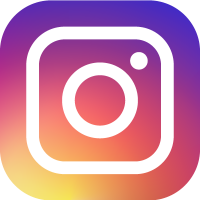 Planning on Making this Recipe?
It would be great if you could take a picture of your finished creation and share it out on Instagram. Tag me with #TASTYTHAIEATS – I love to see your ideas!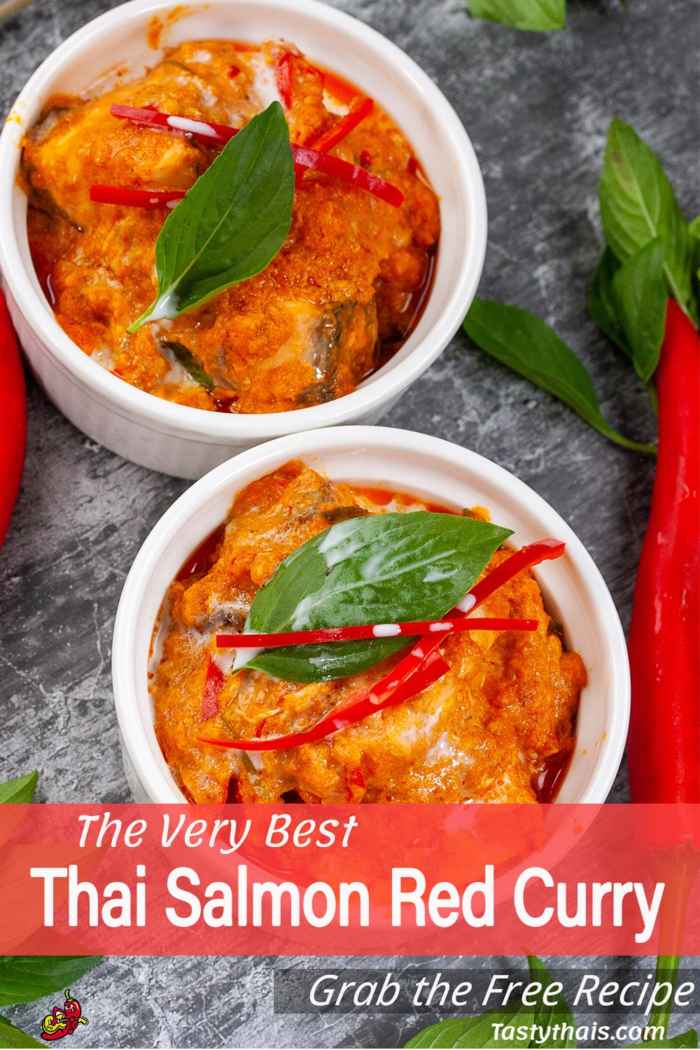 I really hope you enjoy this dish and if you cook it I would love to hear your comments below so please come back and let me know how it turned out for you.
I am a Thai mum and love cooking for my children. Over the years, I have taken my family recipes as well as ones borrowed from friends and adapted them to make them even tastier. I publish my authentic Thai Food Recipes here for all to enjoy around the world. When I get a chance to travel I publish information to help others visiting Thailand.