This pandan drink is a simple Thai recipe using pandan leaves, boiled water, and sugar. It is not the Filipino Buko Pandan which is a jelly made with young coconut and is a dessert rather than a drink.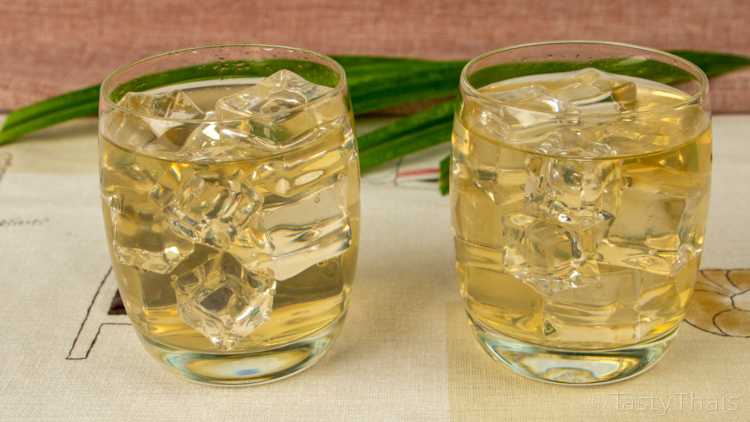 How to Make This Refreshing Thai Pandan Drink
Pandan Drink - Refreshing Thai Cooler - 3 Ingredients - 5 Minutes
Link to How to Make Thai Pandan Drink Video if it Fails to Load for You
Links disclosure: Some links on this page go to affiliate partners where, without cost to you, we may receive a commission if you make a purchase.
Uses of Panadan Leaf
Pandan leaf is to Asian cooking as vanilla is to Western dishes. Coming from the Pandanus group of plants, these free growing leaves are used for a variety of purposes.
In Thailand, one of the common uses for pandan leaves is to give a pleasant smell to rice and steamed dishes – especially fish. You'll see me adding it often in my videos.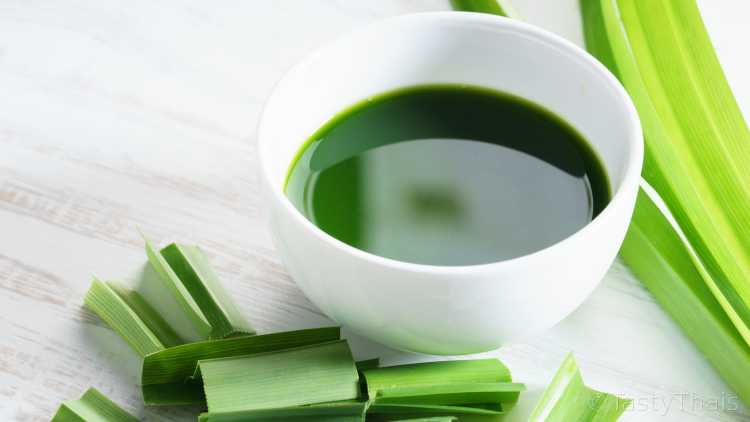 We crush the leaves and pulverize them to give a deep green natural food coloring, cut the leaves and mound them in a bowl in the kitchen as a natural freshener (one that cockroaches don't like much either), use them as a wrapping for cooking food.
As well as all that, we make this thirst-quenching drink which is served countrywide as a welcome drink to visitors.
If you are looking for some other Thai plant based drinks then check out our Butterfly Pea Tea and Cold Brewed Jasmine Tea Recipes as well.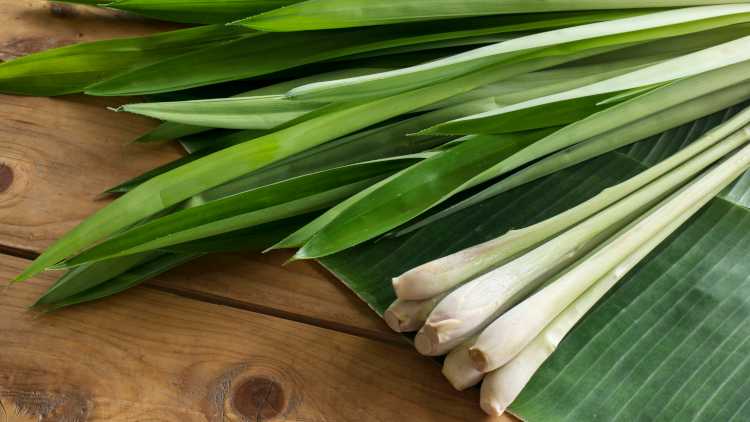 Pandan leaves need to be used fresh and can be found in good Asian stores or bought online, though, if you live in a sunny climate, you would be better off grabbing a packet of seeds and growing them at home.
Before you cut them up they don't smell much but after cutting into sections they give their best fresh smell. And you'll save a ton of money since pandan products carry a premium price in the West just as vanilla is horribly expensive here in Thailand.
Pandan – A Lovers Knot?
It was interesting to read Michelin writing that Thai boys or men used to weave pandan leaves into knots to form beautiful bouquets to woo their chosen Thai girl.
It is no longer a custom that we know about so don't bother working up your weaving skills! Money works far more efficiently 🙂
FYI, the pandan plant is commonly known as screwpine in the West.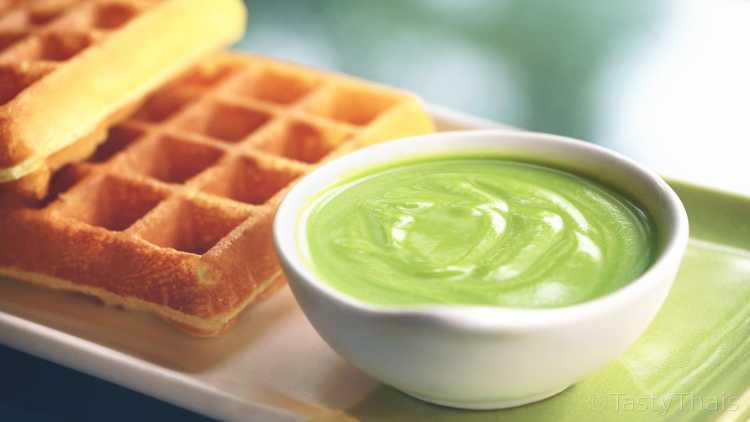 Pandan is also to be found as dried leaves but the process of drying loses much of the smell so dried pandan is only much good as a natural coloring as the pandan flavoring will be much weakened.
What Else to Do with Pandan
If you do find fresh pandan leaves then you will probably end up with a large bunch and be wondering what to do with them.
It is actually a versatile ingredient that you can use to color cakes (great for sponges), make into jelly, make into lod chong (a Thai dessert), colored ice cream, the drink featured in this recipe, mix with gelatin or agar agar to make into jello.
If you look at my coconut jello version in this recipe, you'll get the green idea. You can also add to dishes you steam to kill the smells a little or cut up the leaves and leave them around to make the room smell better.
Just don't be throwing them out for lack of knowing what to do with them now you can see it's a real crowd pleaser with a wide range of uses.
How to Make Thai Pandan Drink Step by Step
It's really easy to make! Just boil up some water, cut the pandan leaves into finger length sections and boil for 5 minutes
After boiling, remove the cut leaves with tongs and tip in the brown sugar and stir well to dissolve while the pandan tea is still hot. I use brown sugar or palm sugar as the flavor is a little nicer.
Allow the pandan infused water to cool to room temperature before putting it in your refrigerator to get nice and cold.
To serve just add some ice cubes in a glass and pour in the pandan drink and guzzle it down to quench your thirst.
Pandan Drink Recipe
Pandan Drink – Famous Thai Refreshing Cooler
The Video showing this recipe being cooked is near the top of the page – A convenient Jump Link to the video is below the description under here.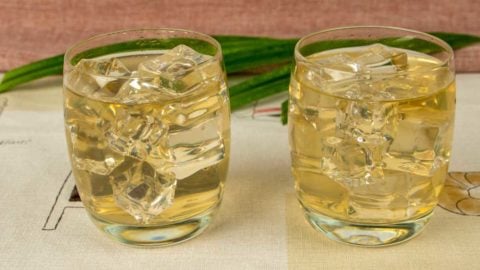 This Thai Pandan drink is super easy to make and is a real refresher that is common across the country.
Pandan has a wide range of uses so you'll have plenty of recipes to use up any left over.
Fresh leaves give much better aroma and taste than dried which largely lose their smell through the drying process.
You can buy the leaves in a big bunch and fairly inexpensively from good quality Asian markets and sometimes even online.
NOTE: Any In-recipe images can be toggled on and off with the camera icons next to the Instructions header.
Ingredients  
20

Pandan Leaves

8

cups

Water

½

cup

Brown Crystalline Sugar

Ice
Instructions 
Heat the water to a boil.

Cut the pandan leaves into small sections 2-3 inches (50-75mm) long and drop in the water.

Boil for 5 minutes and then strain off the water.

With the water off the heat, add in the sugar and stir to dissolve.

Allow to cool and transfer to the fridge.

Serve with plenty of ice.
Nutrition
Calories:
100
kcal
Carbohydrates:
25
g
Sodium:
24
mg
Sugar:
25
g
Calcium:
17
mg
Iron:
1
mg
Planning on Making this Recipe?
It would be great if you could take a picture of your finished creation and share it out on Instagram. Tag me with #TASTYTHAIEATS – I love to see your ideas!
I am a Thai mum and love cooking for my children. Over the years, I have taken my family recipes as well as ones borrowed from friends and adapted them to make them even tastier. I publish my authentic Thai Food Recipes here for all to enjoy around the world. When I get a chance to travel I publish information to help others visiting Thailand.