This easy pork stir fry recipe with egg noodles is a breeze to make a home in about 15 minutes. It has a great savory flavor that is not spicy (though you can add chili if you fancy) and the garlic-flavored, stir fried egg noodles to give an excellent balance to the dish.
Video Showing How to Make Simple Pork Stir Fry with Egg Noodles
Awesome Simple Pork Stir Fry with Egg Noodles Thai Style
Link to Pork Stir Fry with Egg Noodles Recipe Video in Case it Doesn't Load for You
You can make your own homemade egg noodles, which is a fun activity for kids, or you can buy them fresh from the Asian market or dried online or from the supermarket. The taste and satisfaction you get from making your own egg noodles are so much better than dried ones – trust me!
The pork chunks are super tasty and tender and the egg noodles provide a perfect balance to the quite prominent taste of the stir fried pork sauce.
Links disclosure: Some links on this page go to affiliate partners where, without cost to you, we may receive a commission if you make a purchase.
Ingredients You'll Need for Our Stir Fried Pork with Egg Noodles
Pork (shoulder)
Egg Noodles
Pork Seasoning Powder
Oyster Sauce
Cooking Seasoning Sauce
Dark Soy Sauce
Brown Sugar
Pounded or Minced Garlic
Cooking Oil
Green Onion Tops (chopped)
Coriander/Cilantro (chopped)
Step by Step Guide to Cooking Stir Fried Pork with Egg Noodles
Step 1 Choosing Ingredients
You have two main ingredients for this recipe plus plenty of seasoning and so it makes sense to use good quality base ingredients.
For the pork, the shoulder cut is quite good with a bit of fat to add taste but no too much as you would get with pork belly. But if you like a fattier cut then pork belly would work of course.
You would want to avoid the leaner cuts like leg and pork fillet because they do not have the taste and will likely cook up a little less moist.
Noodles are overlooked by most people who just pick up dried egg noodles and pasta and leave it at that. In contrast, you'll probably spend a few minutes trying to pick the freshest vegetables and fruit!
Fresh noodles are available from good Asian stores but will only last about three days in the fridge. On the other hand, dried noodles are mass-produced and really lack taste and texture even when cooked perfectly.
If you have the time or want to have some fun with your kids then I highly recommend taking a bit of time (and effort) to make fresh egg noodles the day before you want to cook them or on the day. They are fun and the taste is immensely better. They aren't difficult either.
I think people don't make them because they are fiddly, take a bit of time and some effort to roll out. They are missing out and the rolling is good exercise anyway!!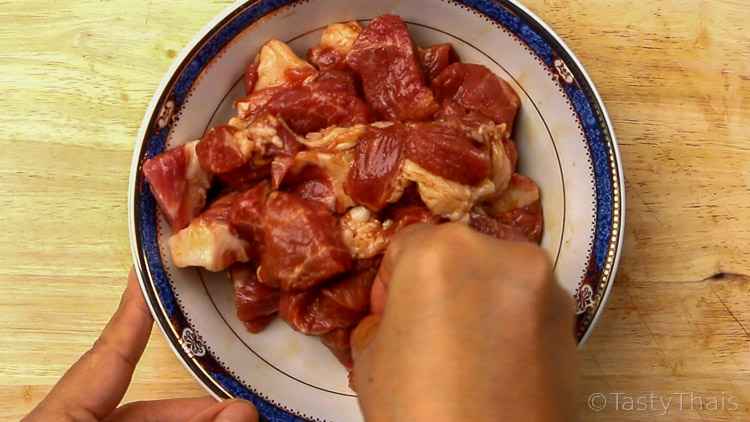 Step 2 Preparing and Seasoning Pork
Take the pork cut and slice it in 1 inch (25mm) thick slices across the grain. Then cut again into cubes, again across the grain – the preference as it makes the meat fibers shorter and the meat more tender cut this way.
Add the pork seasoning powder and cooking sauce seasoning and mix together to coat the pork cubes and then leave to marinate for a few minutes. The longer you leave it the more tender the pork and tastier too as the marinade will break down the meat fibers and soak further into the meat.
We used Maggi seasoning but you can easily sub this – see the recipe notes. The seasoning powder was Pork Knorr Seasoning but again you can sub this if you have your own seasoning mix.
Step 3 Cooking the Noodles
There is nothing to this step. Just boil up some water in a large pan first.
If using fresh homemade noodles or bought fresh noodles then you should shake off any excess flour used to keep the strands separate first. Then drop them into the boiling water to cook for about three minutes to cook.
Thicker noodles take a minute or two longer than thinner ones.
Just taste to check they are cooked and then scoop them out with a spider sieve or slotted spoon and shake off the excess water.
Set aside – you'll need them in a few minutes anyway.
Before stir frying the pork, peel the garlic and either mince or pound it with a mortar and pestle and mix with a little light or regular olive oil (not virgin). Stir this into the noodles and mix together – you can do this on the plate they are taking a rest on!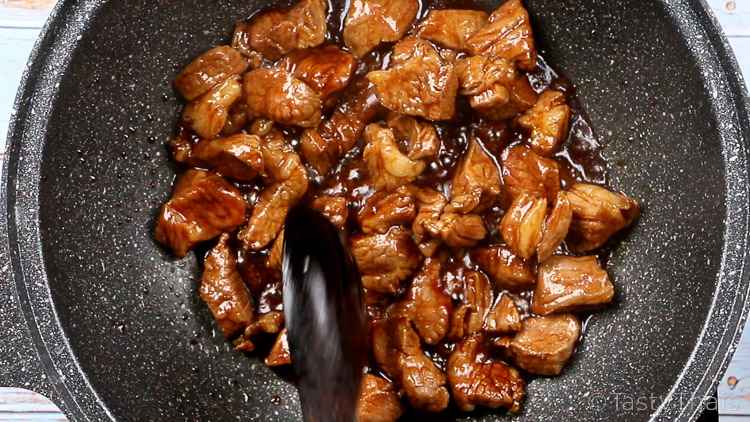 Step 4 Stir Fry Pork
Grab a large pan or wok big enough to eventually accommodate both the stir fried pork and the egg noodles.
Add cooking oil and heat until hot before adding the cubed pork. Stir fry to brown the meat cubes on all sides and cook partially through. About three minutes should be sufficient.
Add oyster sauce, dark soy sauce, and brown sugar or palm sugar to sweeten a little and continue to stir fry for a minute.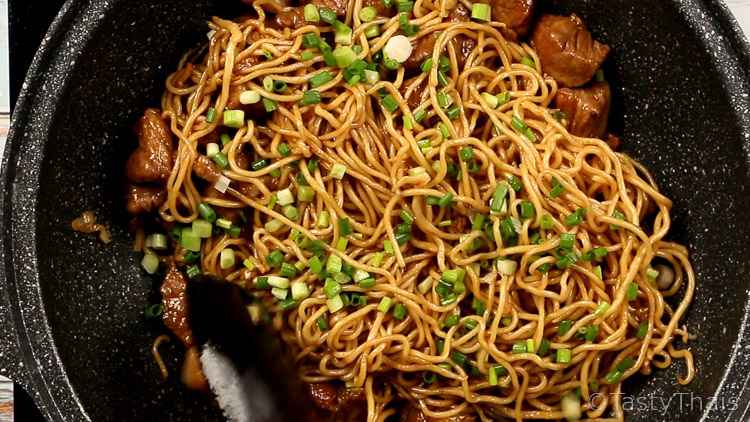 When the pork is nearly cooked through, add the garlic and oil coated noodles into the pan and stir fry with the pork for another two minutes.
Just before serving stir in a few chopped green onion tops and mix quickly.
Serve immediately along with some fresh chopped coriander or cilantro.
Pork Stir Fry with Egg Noodles Printable Recipe
Stir Fried Pork with Egg Noodles Recipe
The Video showing this recipe being cooked is near the top of the page – A convenient Jump Link to the video is below the description under here.
A simple but super tasty and quick stir fried pork recipe which you can make with your own homemade perfect egg noodles, fresh egg noodles form your local Asian market or dried ones if you are in a hurry.
It's really easy and an excellent one plate quick filling meal!
NOTE: Any In-recipe images can be toggled on and off with the camera icons next to the Instructions header.
Ingredients  
1

lb

pork neck or shoulder
Marinade Ingredients
1

tbsp

seasoning sauce

We used Maggi

1

tsp

pork seasoning powder

Such as Knorr
Stir Fry Sauce Ingredients
1

tsp

oyster sauce

1

tsp

dark soy sauce

1

tbsp

brown sugar

1

tbsp

cooking oil

for stir fry
Noodles
10

oz

fresh egg noodles

equates to 4 oz dried noodles

5

cloves

garlic

pounded or minced

1

tbsp

olive oil

2

pints

water for boiling
Instructions 
Marinating the Pork
Cut the pork across the grain into 1 inch (25mm) slices and then again into strips and finally bite-sized cubes.

Ass the marinade ingredients and mix well together, leaving to stand while you prepare the other ingredients.
Prepare the Noodles
Pound the garlic with a mortar and pestle or mince if you prefer.

This is a good time to chop the green onion tops into little rounds in readiness for adding at the end of the cooking. Also, chop up a little coriander for garnish.

In a medium or large, boil water and add the egg noodles to cook for about 2-3 minutes depending on the thickness of the noodles. If using dried noodles then follow the packet instructions to cook.

In a separate pan heat a little olive oil and stir fry the garlic until fragrant and golden colored. Remove from the heat.

Using a spider strainer or pasta server, strain the water from the noodles and shake to remove the excess before mixing with the stir fried garlic in the other pan to thoroughly coat. Set aside for later stir fry.
Stir Fry Pork
Heat the cooking oil in a large pan or wok big enough to hold the pork and noodles.

Saute the cubed and marinated pork to brown on all sides cooking for 4-5 minutes until browned.

Add the oyster sauce, dark soy sauce, and the brown sugar, stirring to thoroughly mix together.

Cook the pork in the stir fry sauce for two minutes and then add in the garlic and olive oil coated egg noodles and stir fry thoroughly for another minute

Sprinkle over the chopped onions and stir quickly then serve immediately, topping with a little chopped coriander or cilantro.
Notes
You can substitute Maggi sauce with eqaul parts worcestershire sauce and regular soy sauce if you wish. Tastes similar but not quite the same. Experimenting is fun though, right?
Nutrition
Calories:
552
kcal
Carbohydrates:
50
g
Protein:
34
g
Fat:
24
g
Saturated Fat:
5
g
Cholesterol:
135
mg
Sodium:
395
mg
Potassium:
556
mg
Fiber:
2
g
Sugar:
9
g
Vitamin A:
95
IU
Vitamin C:
3
mg
Calcium:
89
mg
Iron:
4
mg
Planning on Making this Recipe?
It would be great if you could take a picture of your finished creation and share it out on Instagram. Tag me with #TASTYTHAIEATS – I love to see your ideas!
I really hope you enjoy this dish and if you cook it I would love to hear your comments below so please come back and let me know how it turned out for you.
I am a Thai mum and love cooking for my children. Over the years, I have taken my family recipes as well as ones borrowed from friends and adapted them to make them even tastier. I publish my authentic Thai Food Recipes here for all to enjoy around the world. When I get a chance to travel I publish information to help others visiting Thailand.