This mango smoothie with honey & lime is the perfect partner if you are living in Thailand where it is summer every day.
With temperatures in Central Thailand around 30°C (86°F) all year long and getting up as high as the low 40°C (104°F) degrees centigrade in our summer we need drinks to cool us down.
Video on How to Make this Refreshing Mango Smoothie
Honey Mango Lemonade (Cool & Refreshingly Tasty)
If the Mango Smoothie video isn't loading, you can watch it by clicking this
When I wake up to the sun every morning it energizes me and brightens the mood but by 11 o'clock it is often so hot that it is not only the plants that start wilting!
If you think you might like this recipe then you just might fall in love with our Thai mango lassi recipe.
Links Disclosure: Some links on this page go to affiliate partners where, without cost to you, we may receive a commission if you make a purchase.
Ingredients for Making this Mango Smoothie with Honey & Lime
Ripe Mangoes
Honey
Lime Juice
Drinking-Water
Crushed Ice
Sprig Mint
Why You Want to Make This Cooling Mango Smoothie
Easy to make
Only requires a few ingredients
Delicious and refreshing, especially on a hot day
It looks like it's made in Hawaii
What is needed is a long ice-cold drink!
There is, of course, the option of a visit to one of the 7-11 convenience stores which tempts on every corner and in-between. They offer an air-cooled respite from the heat and some super cold drinks from their fridges which perhaps goes some way to explaining their success.
But I prefer my drinks homemade and so whilst there is an occasional visit to 7-11 to restock with ice when the fridge runs out, I typically rustle up a drink at home.
Thailand is awash with delicious fruits and vegetables and the place to get them is definitely at one of the local markets. I prefer the morning market, which is cool enough if you can get up early before the sun has wiped the sleep from its eyes.
You can get all manner of edible things at the market and one of my favorite purchases is a handful of sweet, juicy yellow mangos and a pocket full of limes.
Natural Fruit Puree (Mango)
You can use mango puree when mangos are out of season or not available.
How to Make this Mango Smoothie Step by Step
The whole family loves the taste of this mango smoothie which taste so much better with the added honey and lime. I can throw it together in a jiffy to cool us all down.
Since it is made with limes perhaps I should call it mango honey limeade, but let's not be picky about it because you can use lemons instead if it's easier. It will not taste so greatly different I think.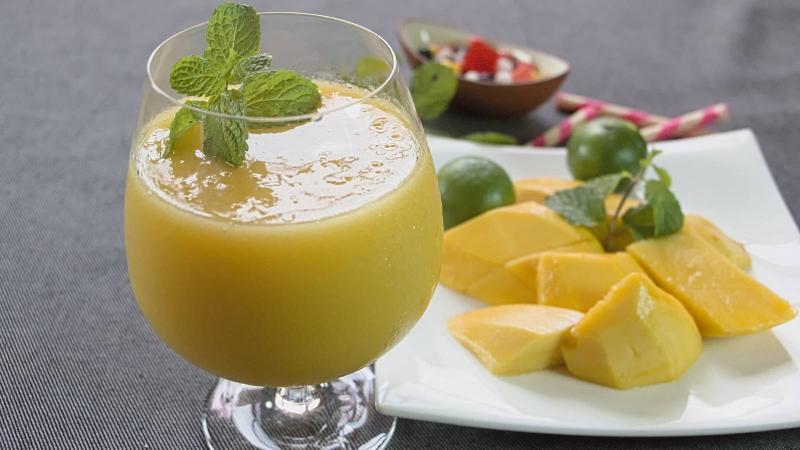 In contrast to Thai food which is often little bits of dozens of ingredients, this drink is deceptively simple.
It is just mango, lime juice, ice, and sweetener. Just put the ingredients in a blender and WHIZ!
If fresh mangos are not available to you then you can make this with shop bought mango puree instead.
And a sprig of mint because it's pretty. Thai people are fixated on making presenting things well so we need something to pretty it up and anyway I like the taste!
Talking about sweeteners, white sugar is not my favorite ingredient. Brown sugar is OK and coconut sugar is the thing to use in cooking. But for drinks, you cannot beat the taste of honey.  And so that is what I use for this drink.
Other Ways to Enjoy this Mango Smoothie
When you have blended up your drink it is best drunk straight away.
You will have a sort of mango smoothie type thickness to this elixir which I like as is but the kids prefer it thinned down a little with about 1 part soda to 4 parts mango lemonade. My husband calls this a mango spritzer. Spritzer sounds like a fizzy word so I suppose that's sort of apt.
If cocktails are your thing then you can mix it with something stronger but I'll leave you to experiment!
Health Benefits of Mango & Lime
Mango and lime are quite effective at helping with digestion with a good dose of dietary fiber to move things along.
The fiber in mangos comes in both a soluble and insoluble form. The soluble fiber forms a gel when dissolved and once inside you the gel binds with fatty acids and helps to reduce the absorption of cholesterol which is a plus. They also help to reduce the speed of sugar release into your blood.
Insoluble fiber helps bulk out your poop, making it easier to go and by some accounts may help reduce the onset of Type 2 diabetes. You can read up more on that here.
Half a mango tots up to nearly 3g of fiber so go grab a mango I say!
Not only that but mangos contain potassium to help reduce blood pressure and vitamin C which is a super anti-oxidant as well as vitamins A & E and many other antioxidants.
So, together, the mango and limes provide a good shot of vitamin C to keep you healthier as well as tantalizing your taste buds.
If you absolutely love mangoes, I am certain that our recipe for the very famous mango sticky rice and coconut milk will satisfy your sweet teeth.
Please check out the recipe and let me know what you think.
Homemade Mango Smoothie with Honey & Lime Recipe
Mango Smoothie with Honey & Lime – Homemade
The Video showing this recipe being cooked is near the top of the page – A convenient Jump Link to the video is below the description under here.
A refreshing mango smoothie – a summer drink to cool you down and give a little help to your digestion. You can make with limes or lemons and adjust sweetness to taste.
Drink as made or top up with soda for a mango honey lime spritzer.
NOTE: Any In-recipe images can be toggled on and off with the camera icons next to the Instructions header.
Ingredients  
12

oz

Ripe Mango

300g

1/4

Cup

Honey

1/4

Cup

Lime Juice

or lemon juice

1/2

Cup

Drinking or Mineral Water

1

Litre

Crushed Ice

1

Sprig

Mint

For decoration
Instructions 
Peel the mangoes and cut in a small pieces

Add ice, mangoes, sugar, lime juice, water into the blender, then blended well

Pour into a glass and decorate with mint on top

Enjoy your lovely drink with your family

Optionally – Top up with a little soda water for a super refreshing spritzer!!
Nutrition
Calories:
113
kcal
Carbohydrates:
30
g
Protein:
1
g
Fat:
1
g
Saturated Fat:
1
g
Sodium:
4
mg
Potassium:
155
mg
Fiber:
1
g
Sugar:
28
g
Vitamin A:
810
IU
Vitamin C:
31.8
mg
Calcium:
8
mg
Iron:
0.2
mg
Planning on Making this Recipe?
It would be great if you could take a picture of your finished creation and share it out on Instagram. Tag me with #TASTYTHAIEATS – I love to see your ideas!
Frequently Asked Questions About Mango Smoothies
Do Mango and Lime Go Together?
Mango is a fruit eaten sour and sweet depending how ripe it is. When it is sweet, mango compliments so many fruits and limes are one of them. The sweetness of the mango contrasts wonderfully with the tartness of the lime to fire off all your taste receptors.
Is Mango Nectar the Same as Mango Juice?
When you blend your mangos you are creating homemade mango nectar which contains the pulp, with its fiber benefits, as well as the juice with its vitamins. Mango nectar or blended mango is better than mango juice because it contains the fiber and being homemade contians no preservatives.
Is Mango Good for your Skin?
The best vitamins for skin are Vitamin D (which you get from sunlight), Vitamin C, Vitamin E & Vitamin K. Mangoes are rich in Vitamin C & have some Vitamin E which both help to keep skin healthy. The fiber content helps clean through your system preventing spots and other skin issues that arise if your digestive system is not working optimally. Mangoes also contain many antioxidants.
Is Mango Good for Losing Weight?
A medium sized mango contains about 150 calories, much of which is natural sugar. But the fruit also contains a lot of fiber which helps keep you feeling satisfied for longer and so less likely to eat so often. For these reasons Mango is a good addition to your diet for weight control.
I really hope you enjoy this dish and if you cook it I would love to hear your comments below so please come back and let me know how it turned out for you.
Information Sources:
Vitamins for Skin
Other Posts You Might Like:
I am a Thai mum and love cooking for my children. Over the years, I have taken my family recipes as well as ones borrowed from friends and adapted them to make them even tastier. I publish my authentic Thai Food Recipes here for all to enjoy around the world. When I get a chance to travel I publish information to help others visiting Thailand.