Making lemongrass tea is easy! Learn how to make lemongrass tea Thai style with added mint and lemon basil for a really tasty herbal drink that is common across Thailand. With health benefits as well as a great taste it is well worth the minimal effort.
How to Make Lemongrass Tea with Ginger - Thai Style Recipe
Link to How to Make Thai Lemongrass Tea if the video does not load for you
Lemongrass has several health benefits such as reducing inflammation and bloating and many more that are recognized in Asia but yet to be corroborated by large scale tests.
Lemongrass is a popular Thai cooking ingredient in various dishes such as Tom Yum Soup, Steamed Seabass with Lime and sometimes shredded and fried as a garnish such as Nua Daet Deow. It tastes good, does you good and iced lemongrass tea is a fantastic summertime cooler.
Links disclosure: Some links on this page go to affiliate partners where, without cost to you, we may receive a commission if you make a purchase.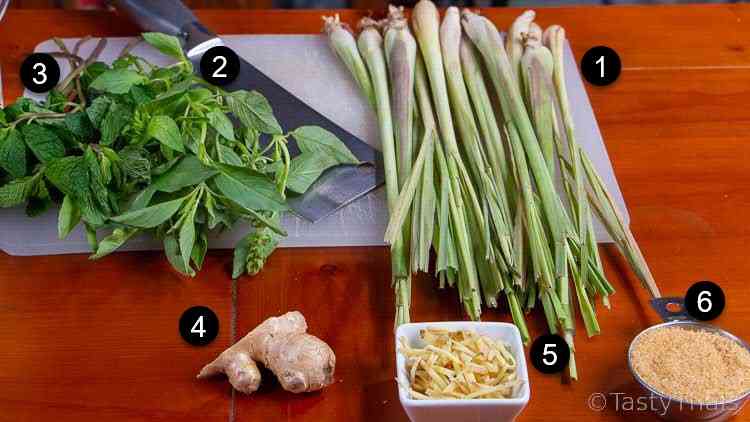 Ingredients for Lemongrass Iced Tea
Water
Lemongrass
Ginger
Mint Leaves
Lemon Basil Leaves
Sugar
You can substitute the lemon basil for holy basil, Thai Basil or sweet basil for an alternative taste. You can adjust the strength of the made tea by simply diluting with water.
How to Make Lemongrass Tea Step by Step
Step 1 Preparing the Ingredients
Cut off the ragged ends of the lemongrass stalk leaves as well as the end of the bulb at the base of each stem. Slice into small-sized pieces.
Pick off the leaves from the mint and the basil.
Scrape the ginger with the edge of a knife or fork to roughly remove the skin and then slice or julienne into small pieces.
Step 2 Making Lemongrass Tea
Boil water in a saucepan and add in the ingredients excluding the sugar.
Boil for 10 minutes and then remove from the heat. You can boil with the lid on to reduce evaporation or with the lid off which will reduce water quantity and make a stronger brew.
As soon as the heat is turned off add the sugar and stir to dissolve.
Allow to cool for at least 20 minutes before serving over plenty of ice or refrigerating. The tea will last for several days in the fridge but is better consumed fresh (and more likely won't be lasting long anyway)!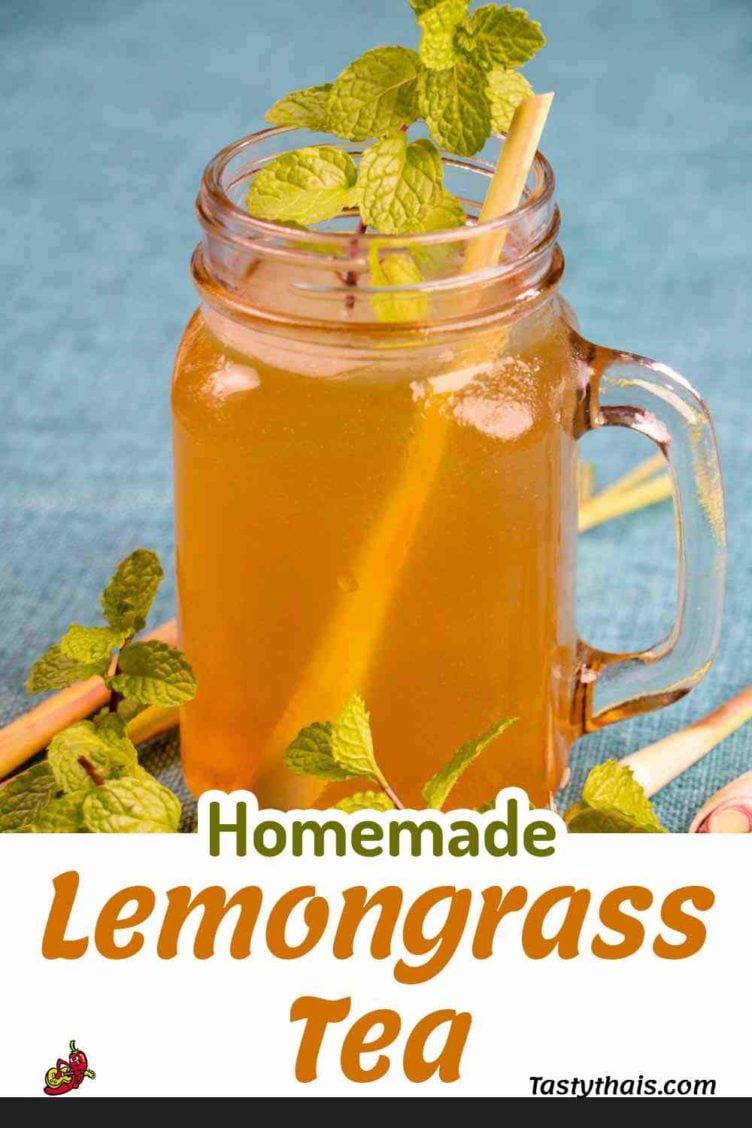 Thai Lemongrass Iced Tea with Ginger Recipe
Thai Lemongrass Drink Recipe
The Video showing this recipe being cooked is near the top of the page – A convenient Jump Link to the video is below the description under here.
This Thai lemongrass drink recipe is very easy to make and is great for cooling you down. Lemongrass drinks have plenty of health benefits too. Refreshing and with a lovely mild citrus taste it makes a great helthy drink alternative.
NOTE: Any In-recipe images can be toggled on and off with the camera icons next to the Instructions header.
Ingredients  
8

cups

water

4

cups

lemongrass

roughly chopped

1/4

cup

sugar

1/2

cup

mint leaves

1/2

cup

lemon basil leaves

1/2

oz

ginger

finely julienned

1

lime juiced (optional)
Instructions 
Remove the ragged tops of the lemongrass leaves and any discolored outer leaves. Cut off the very bottom of the white root top.

Roughly slice the lemongrass leaves.

Wash the mint and lemon basil and pull off the leaves.

If using fresh ginger root, scrape to peel the outer layer of skin and julienne into thin sticks. Ginger adds a slightly hot, mild spicy taste which you will need to adjust to your taste, working up from the suggested 1/2 ounce if you fancy a little more spicy taste.

Boil the water in a medium saucepan big enough to hold all the ingredients. Add the lemongrass, ginger, mint and lemon basil and reduce heat to simmer. Simmer for 10 minutes.

After simmering turn off the heat, add in the sugar and stir to dissolve.

Allow to cool for at least 20 minutes before serving over a glass of ice or refrigerating for later use.

Optionally stir in the juice from 1 lime and stir in for a slighlty sharper taste.
Notes
Lemon basil can be subbed with holy basil or sweet basil or Thai basil for a different taste complex.
Adjust ginger and herb quantities to taste or dilute with plain drinking water for a milder drink.
Nutrition
Calories:
85
kcal
Carbohydrates:
22
g
Protein:
1
g
Fat:
1
g
Saturated Fat:
1
g
Sodium:
21
mg
Potassium:
371
mg
Fiber:
1
g
Sugar:
9
g
Vitamin A:
265
IU
Vitamin C:
6
mg
Calcium:
55
mg
Iron:
4
mg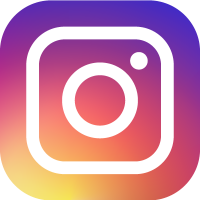 Planning on Making this Recipe?
It would be great if you could take a picture of your finished creation and share it out on Instagram. Tag me with #TASTYTHAIEATS – I love to see your ideas!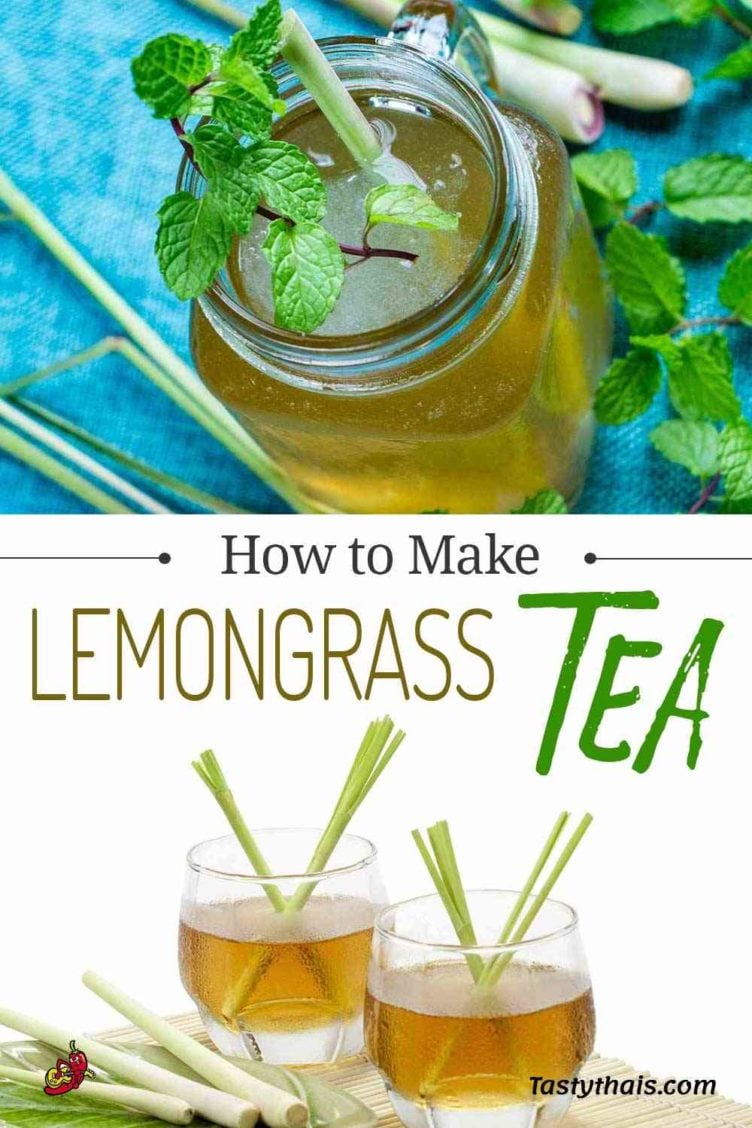 Frequently Asked Questions
Can you Drink Lemongrass Tea when Pregnant?
Lemongrass tea contains myrcene and citral in quite large concentrations, both of which have good as well as potentially harmful side effects in large quantities. There are no formal studies but you should avoid drinking lemongrass tea in large quantities while pregnant.
Can you Drink Lemongrass Tea Everyday?
For most people, drinking moderate amounts of lemongrass tea daily is fine and common practice in Asia. Some people can have adverse reactions to lemongrass though so start with a single cup of tea to see how your body reacts if you have never drunk it before.
What are the Health Benefits of Lemongrass Tea?
Lemongrass Tea is a mild diuretic which can help your body rid itself of toxins and is used to detox. It can lower blood sugar levels, is an anti-inflammatory and is helpful to reduce the symptoms of cold and flu if drunk hot. It is also an anti-bacterial that fights yeast infection and is good for oral hygeine.
Can You Freeze Lemongrass?
Yes. Lemongrass freezes easily. The most convenient practice is to slice first placing a single layer on a flat tray before transferring into a ziplock bag. Sticks should be trimmed before freezing but will be harder to slice when frozen.
How do You Choose Lemongrass?
Young lemongrass will have pale greenish white colored stems, smell and look fresh. The top ends of lemongrass is usually dry and a little brown but the lower sections should not look dry. Peel away any dried and browned outer leaves before use.
Katie in Action
While Dee was busy making the lemongrass tea, Katie was busy eating the strawberries we bought for testing out one of our next recipes. Luckily we had secreted away enough strawberries to get our testing completed.
I really hope you enjoy this dish and if you cook it I would love to hear your comments below so please come back and let me know how it turned out for you.
Other Recipes You Might Like: