Khao Tom means boiled rice in Thai but this Thai Chicken and Rice Soup recipe – what you might also call chicken congee recipe – is far from the bland tasting gruel that the words boiled rice soup might conjure up in your mind.
Video on How to Make Khao Tom Gai – Chicken Rice Soup
Easy Chicken Congee Recipe - Thai Rice Porridge - How to Make Khao Tom Gai
Link in case the Khao Tom Gai Recipe Video does not load for you.
Oh no, my friends, this Khao Tom Gai is amazingly tasty and has plenty of the good stuff your body needs. It is seriously good!
I know throwing some rice and water in a pot and heating it up is easy, but a few minutes extra effort and you'll make a rice soup that folks will queue up for and that will be gone in 60 seconds – faster than your car ha ha.
Links Disclosure: Some links on this page go to affiliate partners where, without cost to you, we may receive a commission if you make a purchase.
Ingredients Needed for Thai Chicken and Rice Soup or Khao Tom Gai
Minced Chicken
Chicken Stock
Water
Salt
Long Grain Rice
Coriander Root
Palm Sugar
Mushroom Seasoning
Eggs
Soy Sauce
Cooking Oil
Garlic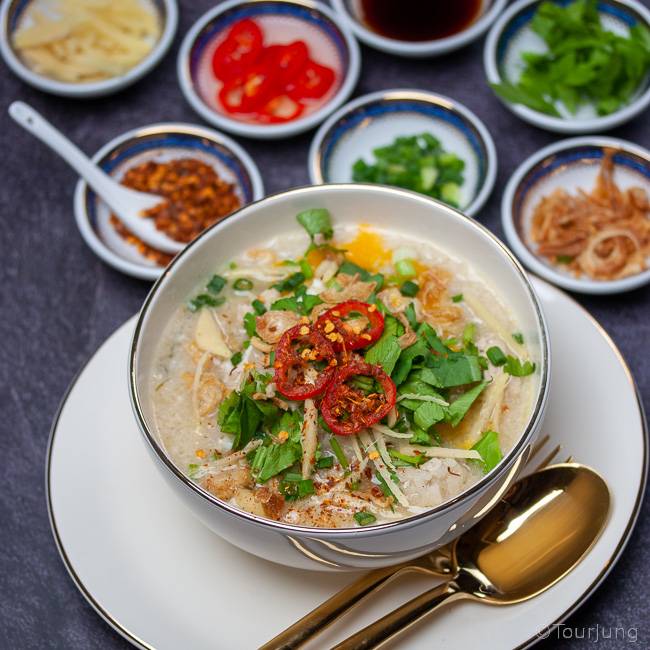 Why You Should Make this Khao Tom Chicken Congee Recipe
Rice soup with chicken is a bit like the chicken noodle soup – in your mind, attached to the stuff you have to eat if you are hospitalized or sick. Gentle on the stomach but otherwise definitely unexciting. There again if chicken noodle soup is your thing then try our Wonton version – seriously good stuff there!
Anyway Khao Tom deserves your attention and at least a try. It's not fair!
It's not fair because made properly, it can be an amazing soup. Filling, warming, comforting and the all-important TASTY!!
It's a great soup to cook to use up leftover rice too. You'll need to cook for a shorter time as your rice is already cooked. Also, use a little less chicken stock without added water to boost taste but otherwise super easy.
Don't go skimping the condiments either – they really add a huge amount to your enjoyment – I promise!
Don't confuse Khao Tom Gai with the Cantonese congee or Jook, called in Thailand Jok – the joke will be on you if you do! But then again you might like it.
I'm not poking fun at the Chinese though because they were probably the people who invented congee. Apparently congee dates back over 4,500 years to the reign of the god-like Yellow Emporer and medicinally in Chinese medicine for at least 2,000 years.
How to Make Khao Tom Gai Step by Step
Step 1 Cooking the Rice
Obviously, if you have leftover rice then skip this step.
Take your long grain rice and place it in a pan with chicken (or vegetable) stock and water to dilute the stock if it is salted. Bring to a simmer for about 20 minutes until the rice is just a little soft but still retains some bite.
Monitor during the cooking process and add more stock or water to adjust the soup for consistency. It is hard to describe the correct consistency but you don't want it too stodgy nor too liquid either – watch the video for an idea.
Stir frequently but gently to help avoid the rice sticking to the bottom of the saucepan.
If using leftover rice, add to a saucepan with a little chicken stock and reheat, stirring and cooking for about 5 minutes to incorporate flavor then proceed with the recipe steps below.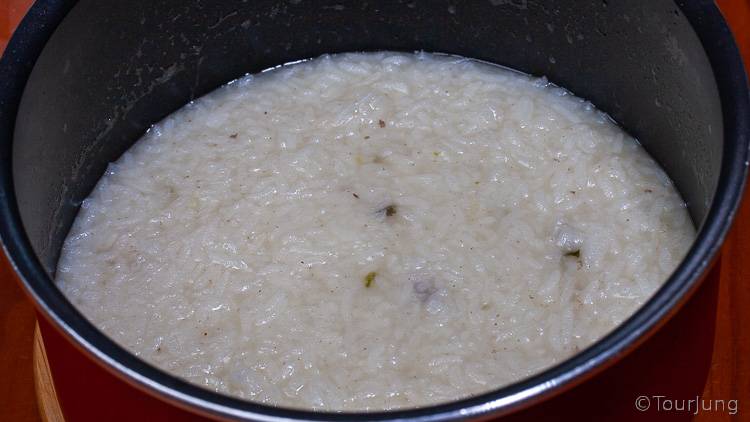 Step 2 Seasoning the Chicken
Pound the white pepper, coriander root, and garlic in a mortar to make a paste.
Remove half the paste and add the minced chicken and soy sauce to the remainder of the seasoning paste still in the mortar. Mix to incorporate the chicken and seasoning.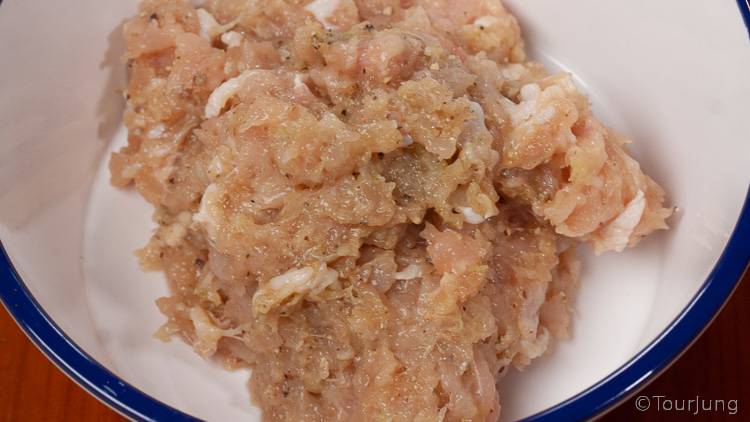 Step 3 Cooking the Soup
Cook the rest of the paste mix in a pan until you can smell the aroma and then add in a little chicken stock – sufficient to cook the chicken balls.
For the chicken balls, roll the minced chicken mixture between your fingers into the size of ping pong balls or large marbles.
Drop the chicken balls into the stock and paste mixture and cook for 3-4 minutes until the chicken is cooked. It cooks quickly because it is in small pieces!
Then add in the mushroom seasoning, palm sugar, soy sauce and mix together.
Taste test and add in more salt or sugar to get the balance you like.
Mix in the rice and stir. Break in two eggs, cover and cook for a few minutes to allow the egg to cook to your liking but remember that, unless you serve immediately, the egg will cook a little more after serving hot.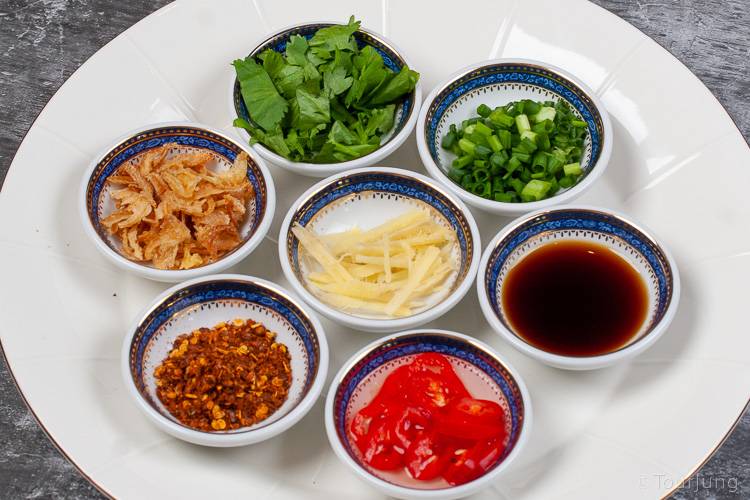 Step 4 Preparing the Condiments
Cut the spur chili into thin slices and place into a small condiment bowl along with some white vinegar.
Cut up the spring onion tops into small rings. Peel and slice the fresh ginger into thin sticks. Separate the celery leaves from the stems and chop roughly.
Also prepare a small number of dried chili flakes and crispy onions.
Place all these into small condiment bowls to serve with the soup.
Adjusting taste between salt, savory, sweet, acid and spiciness is the foundation of Thai food and in this dish, that balance is left up to the person eating it.
The person eating the soup can add as little or as much of each as they like. As they do, they will make the soup spicier with the dried chili flakes, change the acid balance with the chili spur in vinegar, add some taste with the vegetables and a little crunch and zing with the crispy onions and fresh ginger accordingly.
Everyone becomes the chef.
It's fun and it's tasty.
asy Khao Tom Gai – Chicken Congee Recipe
Rice Congee With Chicken – Khao Tom Gai
The Video showing this recipe being cooked is near the top of the page – A convenient Jump Link to the video is below the description under here.
A deliciously tasty rice soup with minced chicken and a selection of sides you can add for the taste as you want it.
NOTE: Any In-recipe images can be toggled on and off with the camera icons next to the Instructions header.
Ingredients  
Ingredients For Boil The Rice
1/2

Cup

Raw Jasmine Rice

1

cup

Water

Adjust for consistency

1 1/2

cup

Chicken Stock

1

tsp

Sea Salt

Or Ordinary Salt
Ingredients For Chicken Congee Soup
Side Ingredients
1

tbsp

Spring Onion Tops

finely chopped

1

tbsp

Celery Leaves

roughly chopped

1

Stem

Cilantro Leaves

roughly chopped

1

Spur Chili

thinly sliced

2

tbsp

Vinegar

2

tbsp

Chili Flakes

1

tbsp

Crispy Onion

1

tbsp

Ginger

finely julienned

1

tbsp

Soy Sauce

Sugar

Optional

Salt

Optional

Pepper

Optional
Instructions 
Cooking the Rice
Place the rice in a saucepan and add in the chicken stock and half the water.

Bring to a simmer and cook for 20 minutes, stirring occasionally to avoid the rice sticking tot he bottom of the pan. Add extra water or chicken stock to adjust consistency as the rice cooks and if necessary.

The right consistency is a matter of taste but the rice should be swimming in a minimum of cooking liquid when finished as more liquids are added with the chicken.

If using left over rice then add double the quantiy of chicken stock to rice and heat to a simmer to achieve a similar consistency to that described above.
Making the Soup
Pound together the white pepper, coriander root, and garlic into a rought paste using a mortar and pestle.

Split the paste into two equal portions, removing one portion from the mortar and leaving the other portion there.

Add the minced chicken together with the soy sauce to the paste in the mortar and mix together well to season the chicken.

Cook the paste you set aside in a little oil to release the aromo and oils and then add in chicken stock and incorporate, bringing to a simmer.

Add in the remaining ingredients and stir to dissolve the sugar and mix well. Simmer for a few minutes and then roll the soft and moist minced chicken into bite-sized balls, dropping them into the simmering soup base.

Proceed rolling the chicken and cooking in the simmering soup base for several minutes until the chicken is cooked.

When the chicken is cooked through add the rice mixture and stir well.

Taste and adjust for salt and sweetness by adding more sugar or more salt. Leave the savory flavour less then you expect your guests to like so they can adjust with the condiments you will serve with the soup.
Condiments for Khao Tom Rice Soup (Kruang Prung)
Prepare and serve by adding each item to a small kruang prung serving dish as you prepare them – do this just before serving for freshness.

Cut the spur chili into thin rings and add enough vinegar to the serving dish to cover. This is used to adjust acid balance.

Cut the top and bottoms from the spring onions to leave the green leaves and slice into very thin rings and serve as is.

Add crispy onions into a dish to serve. You can make these by cutting onions and deep frying until crispy but it is much easier to buy shop bought.

Cut the skin off a piece of fresh ginger and slice into small sticks about the size of match sticks.

Pull the leaves from the celery and chop them roughly.

Add some soy sauce into a serving dish to allow adjustment of the savory or umami flavor.

Place a teaspoon or so of dried chili flakes into a condiment dish to allow added spice. Note that there is no chili in the soup as served – this is added by and to the pleasure of the diner.
Notes
You can use left over rice for this recipe. Just omit water and warm through the rice with enough chicken stock to allow the rice to be surrounded by liquid then proceed with steps as for using uncooked rice.
Don't omit the side dishes – they are an essential part of Khao Tom and what finish off the taste and make the whole dish fun.
You can cook the eggs soft or more fully or even omit them altogether but you'll reduce the protein if you don't use them.
Nutrition
Calories:
393
kcal
Carbohydrates:
25
g
Protein:
36
g
Fat:
18
g
Saturated Fat:
5
g
Cholesterol:
267
mg
Sodium:
4342
mg
Potassium:
1207
mg
Fiber:
4
g
Sugar:
8
g
Vitamin A:
2858
IU
Vitamin C:
37
mg
Calcium:
96
mg
Iron:
5
mg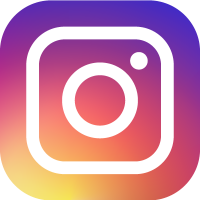 Planning on Making this Recipe?
It would be great if you could take a picture of your finished creation and share it out on Instagram. Tag me with #TASTYTHAIEATS – I love to see your ideas!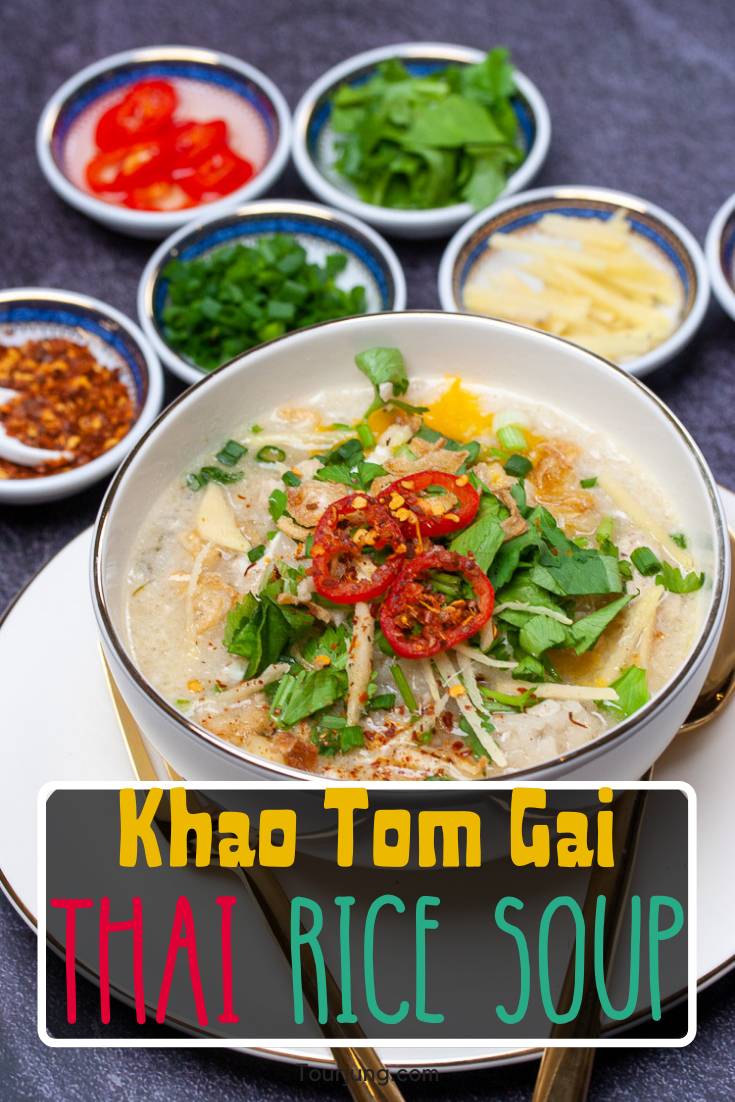 Is Congee the Same as Chinese Jook?
Jook or jok as it is called in Thailand, is cooked longer until the rice breaks down almost to a paste. Congee is a somewhat liquid, savory rice dish. Cooked for a shorter time so the rice maintains its shape and has bite like Khao Tom or longer like Cantonese jook for a more mushy congee.
Is Khao Tom the same as Rice Porridge?
Khao Tom is practically the same as rice porridge from the point of view of cooking but is served with a number of tasty condiments to make it so much more delicious and cooked wih stock rather than water and milk.

It is not strictly a porridge which is a dish cooked with oats although the name has stuck because of teh similarlity of the two dishes in method.
What kind of Rice is Used to Cook Thai Congee?
Thai jasmine rice is used most often because it retains its shape and structure better, leaving a little bite when eaten. You can use any long grain rice to make the dish.

Short grain rice can also be used but beware varieties such as those used for rissoto because they tend to release more starch and the dish then loses appeal. Short grain rice is often suggested for rice porridge but for Khao Tom would be a mistake.
Waht is congee made of?
Congee is rice boiled with water or stock. Chinese congee is typically associated with jook which is a semolina pudding like consistency.

Thai congee is cooked for a shorter time so the rice remains in shape, has a more soupy consistency which is enhanced with tasty condiments added by the diner.
Why is Rice Soup recommended when you are Sick?
Rice soup is good for you if it is cooked properly. It warms the stomach, is easy to digest and in Chinese medicine is believed to calm inflamed digestive organs, help the bowels and boosts metabolism.

It contains carbohydrates to give energy as well as protein, typically in the form of minced chicken which is also easy to digest. Taste can be altered by adding in condimetns.
I really hope you enjoy this dish and if you cook it I would love to hear your comments below so please come back and let me know how it turned out for you.
I am a Thai mum and love cooking for my children. Over the years, I have taken my family recipes as well as ones borrowed from friends and adapted them to make them even tastier. I publish my authentic Thai Food Recipes here for all to enjoy around the world. When I get a chance to travel I publish information to help others visiting Thailand.