Once you know how to make cold brewed tea your life will have taken a turn for the better. A bold statement but then cold-brewed jasmine green tea is an excellent beverage that can be drunk in some quantity and tastes way better than water.
Are you an avid tea drinker who drinks way too much hot tea? Does drinking tea and coffee leave you a little on edge? Do you want to drink something refreshing as well as your daily water rehydration?
Cold-brewed tea is the answer. Refreshingly easy to make, gently enlivening, rejuvenating your spirit, freshening your mood and quenching your thirst whilst cooling you down.
You might also like to check out our recipe for butterfly pea flower tea which is another almost zero calorie Thai style tea. And if you are not calorie counting then try the Lemongrass Tea or the Thai Matcha Green Tea for a really Thai style drink.
How to make Cold Brewed Tea Video
How to Make Cold Brewed Tea - Jasmine Green Tea Easy Cold Brew
Backup Link for How to Make Cold-Brewed Jasmine Tea Video in case it doesn't load.
Links disclosure: Some links on this page go to affiliate partners where, without cost to you, we may receive a commission if you make a purchase.
10 Reasons Why You Should Drink Cold Brewed Tea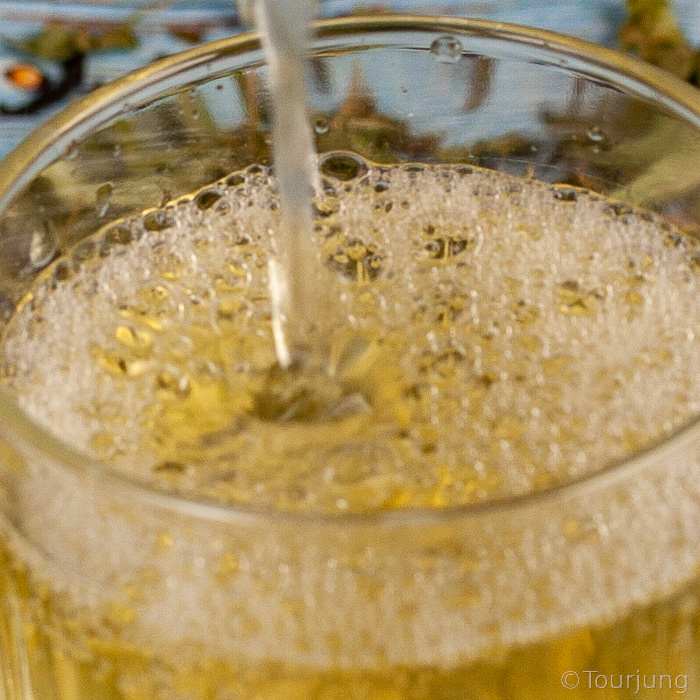 Helps to rehydrate your body
A mild diuretic but your body absorbs more than it flushes out
Flushes through your system, in turn, removing toxins
Less caffeine than hot tea or coffee
Easy to make
Stores easily in the fridge
A refreshing and thirst-quenching occasional alternative to water
Pleasant mild taste to encourage you to drink more
Won't go bitter like hot brewed tea that is allowed to cool
Refreshingly different daily drink
Caffeine and Antioxidants, Too Much of a Good Thing?
Hot tea is nice sometimes but too much is not so good for you.
Tea, like coffee, contains caffeine as well as antioxidants. When you add boiling water to tea and let it infuse, the caffeine and antioxidants are rapidly diffused into the water.
Too much caffeine affects your nervous system to make you feel a bit jittery even if more alert. More alert also means it is a little harder to sleep.
Antioxidants used to have a very good press but recent studies have found that too many of these might not be so good for you either. Everything in moderation right?
On the other hand, as humans, we need to keep hydrated for which we have to drink water. The problem with drinking the recommended 8 cups of water a day, is that is is just terribly boring.
Step up cold-brewed tea. Easy to make, zero calories, pleasant mild taste, less caffeine than hot tea if brewed properly, and more control on the levels of antioxidants.
You will rehydrate yourself and enjoy it much more than having to stick to cold water. Yes there is a slight diuretic effect from the caffeine but your body takes the water it needs for hydration and uses the rest to flush toxins out of your body when you pee – and that is good.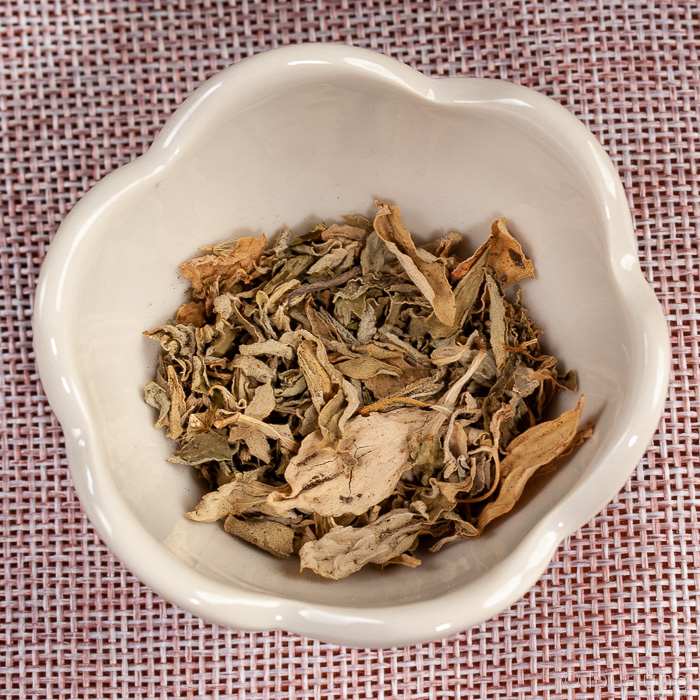 No Calorie Sweetening
Stevia is a wonderful natural plant, the leaves of which are much sweeter than sugar and contain many other beneficial ingredients.
Your body does need sugar but for most people, the food they eat is laden with sugar from processing and as a marketing ploy to make you consume more because most people like sweet stuff!
So using dried stevia leaves is a great way to improve the tea with a subtle sweetness that compliments the gentle floral taste of the jasmine tea.
Most cold beverages are very high in sugar but cold-brewed tea made to our fantastic recipe will give you no more calories than a glass of water. In fact none at all! Hooray!
How to Easily Make Delicious Cold Brewed Jasmine Green Tea Step by Step
Step 1 Make the Tea
Grab one tablespoon of good quality Jasmine Green Tea and two teaspoons of dried stevia leaves and drop them in a fine mesh container set into a suitable bottle. Adjust these quantities and the brewing time to suit your particular taste.
You will want to stop the brewing process after the tea has brewed to the strength you like – and you have quite a lot of leeway on how long that period is because the brewing process is gradual. But you do not want to leave the tea brewing for days at a time. That will increase caffeine and antioxidant levels higher than you want and the tea will not be so nice tasting either.
You can avoid using the fine mesh container but it is easier to just remove one container after the tea has brewed for as long as you like it than to try straining pints of tea out through a tea strainer and into another storage container to stop.
Anyway, top up with two pints of cold water from the fridge or at room temperature. The key here is to be somewhat consistent between brews since tea will brew faster with water that starts off warm than tea brewed with cold water.
The tea you use should not be tea bags. The reason for this is that tea bags were an invention for tea processors to get rid of the broken and poor quality tea by-product from top quality tea leaves.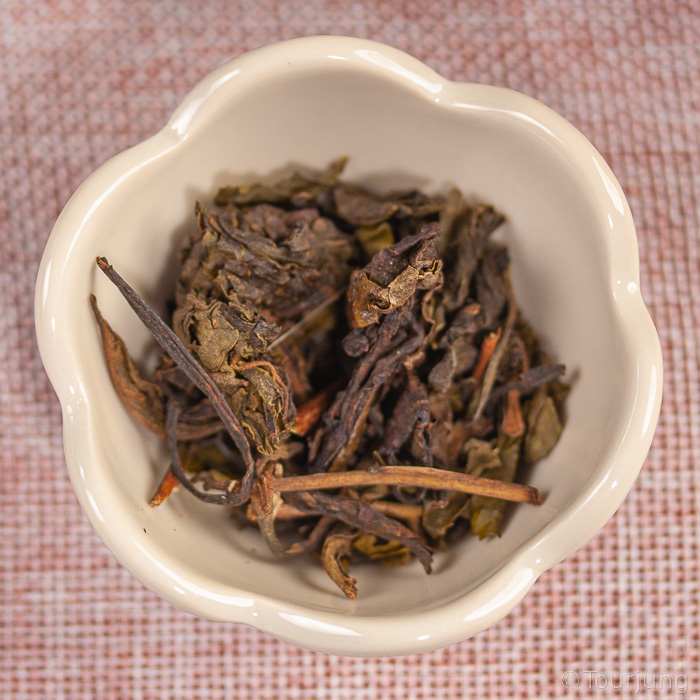 So loose tea will give you whole leaves that are of much higher quality and the quantity you will use is very small which will offset the higher cost of the better quality product.
I couldn't find the Thai Jasmine Tea version online but we tend to use several brands according to what we find available. The one below looks similar to the jasmine tea we use and is well-reviewed.
Step 2 Brewing the Tea
After adding the water stir the tea and stevia briefly and then cover and place in the refrigerator for about 8 hours or overnight.
If you want to brew at room temperature then these times will be much reduced. Four to five hours will be enough for jasmine green tea, and you will need to adjust if using stronger or weaker tasting teas.
Different brands of tea will use leaves from different tea plant varieties that may also be a factor so you should experiment when changing brands or first starting out to find out how long to brew for the taste you like the best.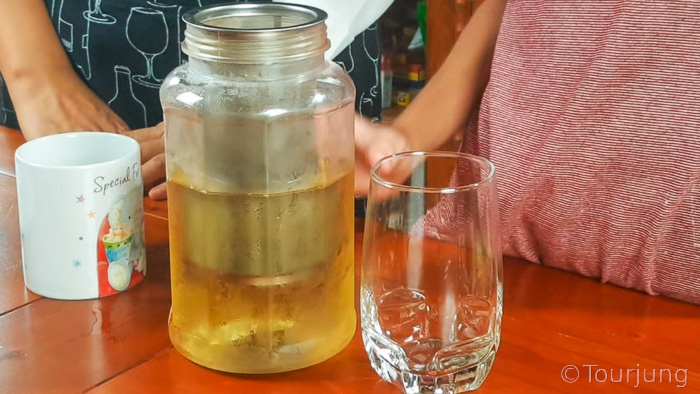 We prefer brewing in the refrigerator overnight, making a fresh batch after dinner every day, or make it in the morning to drink in the evening. Brewing in the cold fridge gives you much more scope to remove the tea leaves at a time that suits you as an hour or so either side of your optimum time will have little effect.
This is not the case with tea brewed at room temperature when an hour extra will result in a tea quite a bit more brewed and obviously not the case for hot brewed tea either.
Step 3 Stopping the Brewing Process
This is pretty simple – just remove the container or strain the tea leaves from the brewed tea if you are letting the tea leaves sit directly in the water.
To avoid washing up and the whole straining procedure just use a proprietary fine mesh container that you can simply whip out leaving your lovely fresh tea behind which you can pop straight back in the fridge.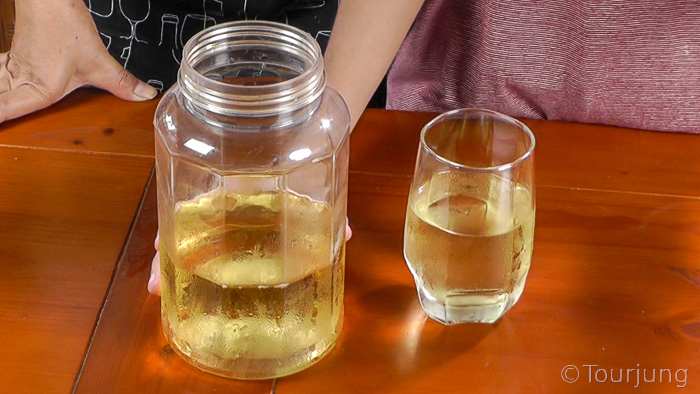 Step 4 Serving & Storing Cold Brewed Tea
Cold-brewed tea will keep for several days if stored, covered, in a refrigerator. If stored at room temperature then you should drink it within half a day before it begins to lose freshness.
To serve cold-brewed tea stored in the refrigerator simply pour it out into a nice clean glass and drink immediately. No need for ice!
If you are serving tea stored at room temperature then adding ice will make the cold tea much more refreshing. You should still drink the tea immediately as the ice will begin to melt and dilute the taste quite quickly.
It really is time someone invented a stay-cool glass that works to keep your drink ice cold without the icy dilemma of melting cubes!
Mmmm – would work pretty well for white wine too – off to the drawing board!
A Look at Stuff Relevant to This Recipe
Cold Brewed Jasmine Tea Recipe
Cold brewed Jasmine Green Tea Recipe
The Video showing this recipe being cooked is near the top of the page – A convenient Jump Link to the video is below the description under here.
This wonderfully refreshing drink is a great hydrator and a wonderful mild and slightly sweet tasting tea you can drink plenty of at any time.
NOTE: Any In-recipe images can be toggled on and off with the camera icons next to the Instructions header.
Instructions 
How to Make Cold Brewed Tea
Prepare yourself with a jug capable of holding about 2 pints or 1 liter of tea. It is also helpful to have a fine mesh container that will fit into the jug or bottle to make for easy removal of leaves when brewing should stop.

If you do not have the necessary fine mesh container then you will need a tea strainer and second bottle to decant your tea into in order to store.

Place 1 tablespoon of loose tea leaves and about 1 dessertspoon of dried stevia leaves into the fine mesh container. Place mesh container into the jug or bottle (or loose leaves if not using a mesh container).

Top up with cold water and refrigerate for about 8-10 hours or overnight.

If you intend to brew at room temperature then use room temperature water and brew for about 5-6 hours.
Notes
Brewing times depend on how much tea you use and the temperature of the water used as well as the temperature of the environment in which the tea will be left to steep. 
If not using green tea then brew times or quantity of tea used will need a little adjustment – longer for weaker teas like White Tea and shorter for stronger teas like Black Tea.
For best results use a consistent type of tea and experiment with timings and quantity because each person will have a definite preferred strength. Use the quantities and timings given and adjust.
If using tea bags you will find residue from the tea in the bottom of the brew because of the poor quality tea used for tea bags. In this case strain off the tea into a seperate container leaving these behind as you do so. If you leave this dust in the bottle you will end up tipping them into the last glass. Not optimal!
Nutrition
Calories:
1
kcal
Sodium:
12
mg
Calcium:
7
mg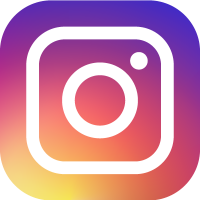 Planning on Making this Recipe?
It would be great if you could take a picture of your finished creation and share it out on Instagram. Tag me with #TASTYTHAIEATS – I love to see your ideas!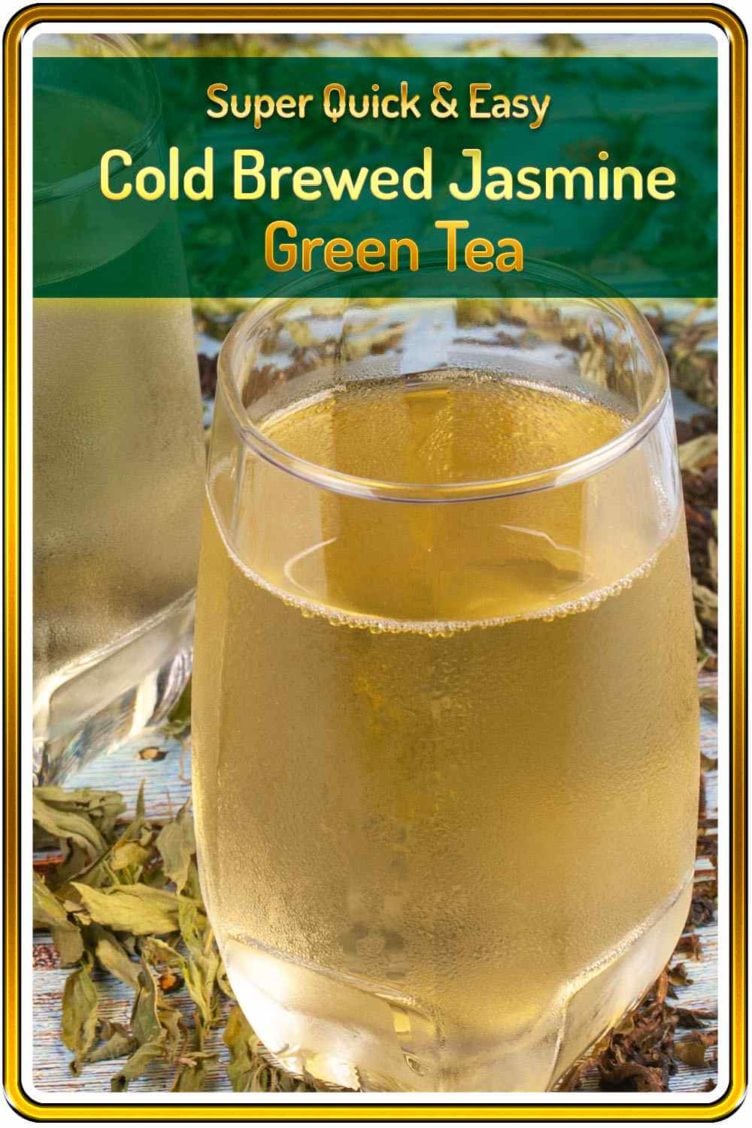 Frequently Asked Questions on Cold Brewed Tea
Are Tea Bags or Loose Tea Better?
Loose tea is much better than tea bags. The tea in tea bags is mostly the finer dust and broken leaves that is produced whilst processing quality loose tea. Tea bags were invented as a way to market tea that consumers would not tolerate in a loose tea product.

Not only is the tea quality lower in tea bags, but the tea has less room to move around which hampers the infusion process.

For cold brewed tea you will use relatively small amounts of tea leaves anyway since the best cold brewed tea does not need to be strong. This means the higher cost of the loose tea leaves is spread over a longer period which reduces the importance of cost. And you will enjoy your cold tea much more.

Is Cold Brewed Tea Good for You?
Cold brewed tea infuses more slowly and is much more tolerant to how long you brew for comapred to hot tea. Cold brewed tea releases less tanin, caffeine and antioxidants than hot tea unless brewed for very long periods.

As it is much weaker than hot tea you can and will drink more which can help keep you hydrated if you don't like drinking water.
What is the Difference Between Cold Brewed Tea and Hot Brewed Tea?
Cold brewed tea is brewed and left to steep in cold water for hours. Hot brewed tea is steeped in hot water for a few minutes. Hot brewed tea will go bitter if not drunk immediately because of the quick release of tannins as the hot water 'cook' the leaves.

Much less tannin is drawn out by the cold brewing process with a better tasting, bitter free taste even if drunk a long time after brewing.
Can You Steep Tea in Cold Water?
Absolutely. The process of steeping cold tea over several hours is much longer than with hot tea and will extract the taste, tannin and antioxidants much more slowly.

This gives you a much longer window of opportunity to remove the leaves at the optimum time and results in less tannin in the tea and so a smoother, purer taste.
How Long Should You Brew Cold Tea For?
How long you brew cold tea for depends on several factors.

1. Stronger tasting teas, like black tea, will develop flavor quicker than weaker teas like green tea or white tea.

2. The hotter the water temperature the quicker teas release flavor. Cold brewed teas take hours to steep whilst tea made with boiling water take jut minutes.

3. How strong do you like your tea? The stronger your preference the longer the brew time.

Hot tea is brewed with close to boiling water for 3-4 minutes after initial stirring.

Cold brewed tea at a room temperature of around 70°F or 20°C is typically 3-5 hours depending how strong you like it.

Cold brewed tea in the refrigerator takes 7-10 hours after which leaves should be removed to stop the infusion of more tannin.
I really hope you enjoy this dish and if you cook it I would love to hear your comments below so please come back and let me know how it turned out for you.
Other Recipes You Might Enjoy:
I am a Thai mum and love cooking for my children. Over the years, I have taken my family recipes as well as ones borrowed from friends and adapted them to make them even tastier. I publish my authentic Thai Food Recipes here for all to enjoy around the world. When I get a chance to travel I publish information to help others visiting Thailand.