Who doesn't love a deliciously cold, fruity strawberry ice cream too cool down on a hot day?
Short Video Showing How to Make Homemade Strawberry Ice Cream
Seriously Good Easy Homemade Strawberry Ice Cream - Delicious!
Link to Homemade Strawberry Ice Cream Video in case it fails to load for you.
Now some people love full cream ice cream and others prefer a fruitier and less creamy taste and we fall into the second category.
This homemade strawberry ice cream contains both dairy and coconut cream but there is absolutely no reason you cannot replace the dairy cream with extra coconut cream instead. An easy and direct replacement!
Links disclosure: Some links on this page go to affiliate partners where, without cost to you, we may receive a commission if you make a purchase.
Ingredients You'll Need For This Strawberry Ice Cream
Strawberries (fresh or frozen)
Coconut Cream
35%+ Fat Dairy Cream
Sugar
Lime Juice
Vanilla Essence / Flavor
Salt
Note that you can swap the dairy for extra coconut cream. It is coconut cream NOT coconut milk that you need!
How to Make Homemade Ice Cream without an Ice Cream Maker
The process of making ice cream involves making up the ice cream in liquid form, introducing air to lighten the frozen completed ice cream after freezing and mixing the ice cream as it freezes to keep ice crystals small.
If you do not have an ice cream maker you can still make ice cream but you have to do a bit more manual work to do what the ice cream maker does for you which means mixing up the ice cream and breaking up ice crystals as it freezes.
You'll whisk up the ice cream liquid well before you start to freeze it. The whisking process introduces air. Or you can use a blender or electric hand whisk depending on what ice cream you are making.
If making fruit ice cream, you need to puree the fruit which is hard to do by hand – which is where the blender comes in. You can do this with the vertical handheld drinks whisk type tool or food processor as well but a blender is definitely the best tool of the bunch.
Ice cream makers come in two basic types. The pre-frozen bowl with electric paddle to churn and partially freeze and the full blown ice cream machine with inbuilt feezer which are pretty expensive.
These machines churn the ice cream whilst also freezing it which you cannot replicate exactly by hand since you can't physically sit in your freezer turning over the mix as it freezes.
So if you've no machine, the next best thing is to whip the ice cream out through the freezing process to give it a whisk or mix with a fork without letting it warm up too much.
Some recipes call for physically taking the ice cream out of its container and putting it back into a blender to whisk up part way through. We think this is nuts because it warms up way too much, you lose too much of the ingredients moving the ice cream from container to blender and back and who want to do all that washing up?
Just remove the ice cream from the freezer, mix it up quickly with a fork or handheld whisk and put it back. Continue doing this hourly until the ice cream has stiffened sufficiently.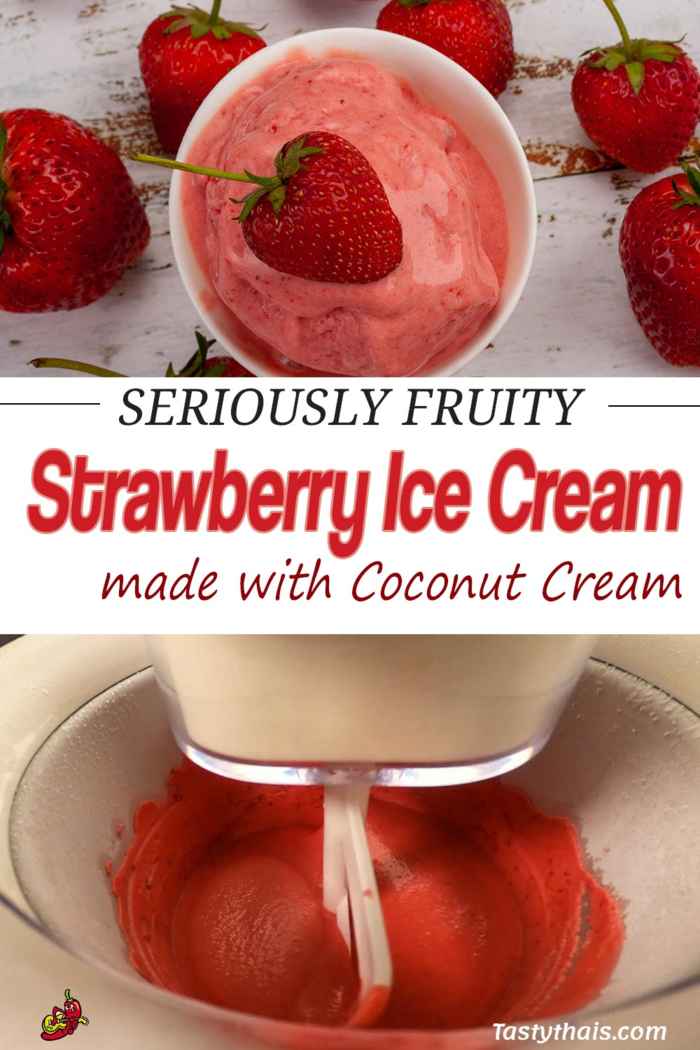 Making Ice Cream With an Ice Cream Maker
An ice cream maker certainly makes things easier. The easiest to use is a machine with a built-in compressor but they are quite pricey. The next easiest is the frozen bowl type unless you want to make a lot such as for a party in which case you might prefer to use an ice and salt model.
Check out our post on ice cream making tools and equipment.
The method for making ice cream is pretty much the same either with or without a machine. The machine will either make the ice cream complete such as the on-board compressor models or it will make it partially requiring much less mixing during the freezing process.
How to Make Homemade Strawberry Ice Cream
Take fresh strawberries and wash them and then remove the stems at the top. Cut out any parts that are dark or badly bruised.
Puree the strawberries with sugar and then add in the coconut cream and dairy heavy whipping cream as well as the vanilla essence or flavoring. These creams should be at least 35% fat to ensure a nice, creamy ice cream and fruit juice emulsification which gives softness.
Using a Compressor Type Ice Cream Maker
If using a compressor type ice cream, simply add the ingredients in and follow the manufacturer's instructions for timing – let the machine do all the work.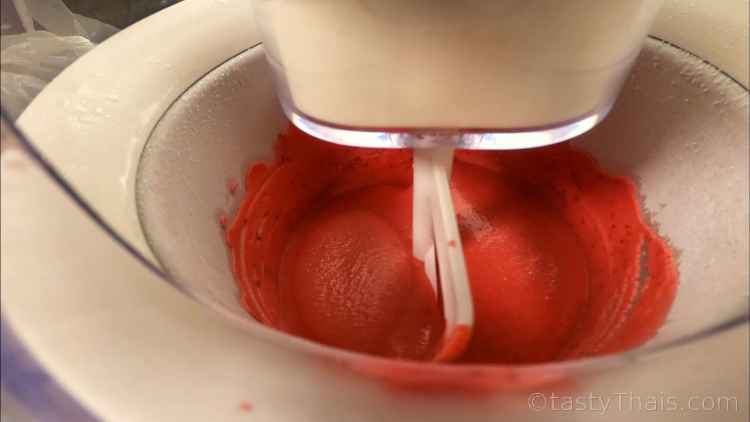 Using a Frozen Bowl Type Ice Cream Maker
If using a frozen bowl type machine then ensure the ice cream machine bowl has been freezing for at least 12 and up to 24 hours – again follow the manufacturer's instructions on this.
Regardless it is a good idea to place your mixed ingredients in the fridge or freezer to get them super cold before use. Set up the machine with the frozen bowl and paddle and turn on before adding in your cold ice cream strawberry cream puree. Allow to run for around 20-30 minutes before transferring into a freezer container.
After an hour or two freezing, when the surface is solid but still gives to the touch, remove from the freezer and give a quick whisk or mix with a mixer, whisk or fork to break up the ice crystals.
Return to the freezer for another hour and repeat, and then another hour repeat again.
Using Your Hands and Not Using a Machine
If making the ice cream by hand without a machine then put the mix from the blender straight into a freeze-proof box and into the freezer.
Every hour remove the ice cream and stir with a fork, whisk or mixer and put back in the freezer. Do this as quickly as possible to reduce the amount of warming that occurs. Repeat every hour until the ice cream cannot be whisked any more.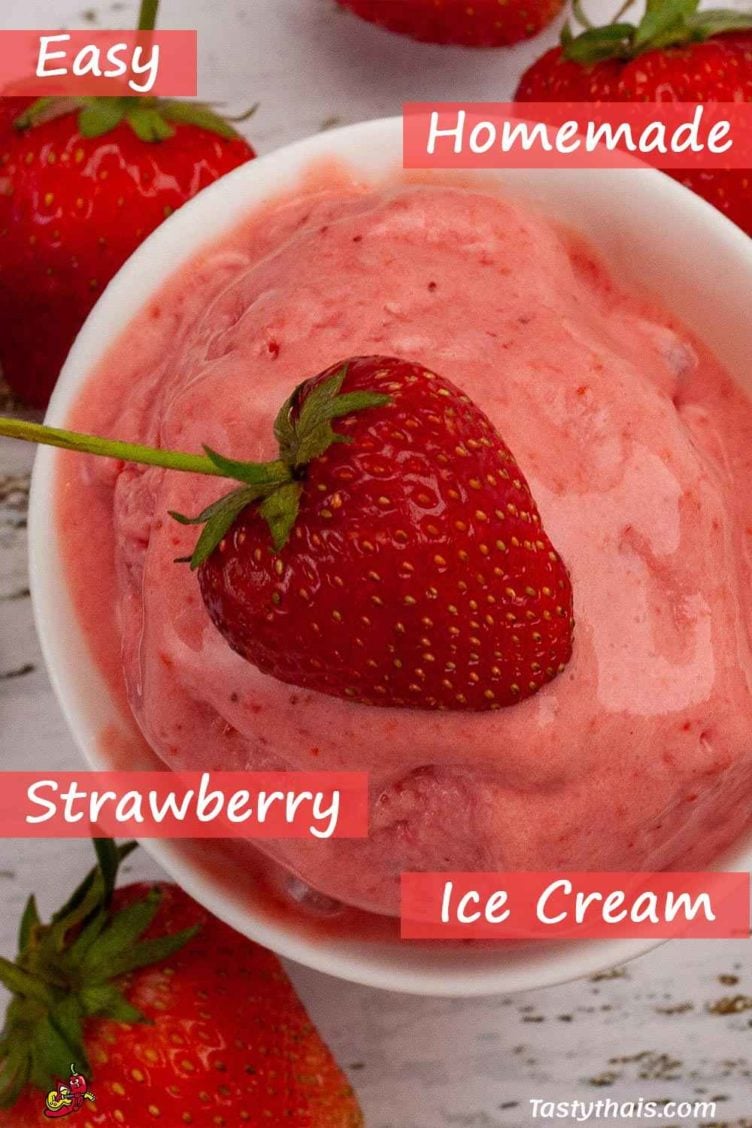 Homemade Strawberry Ice Cream Recipe
Strawberry and Coconut Ice Cream
The Video showing this recipe being cooked is near the top of the page – A convenient Jump Link to the video is below the description under here.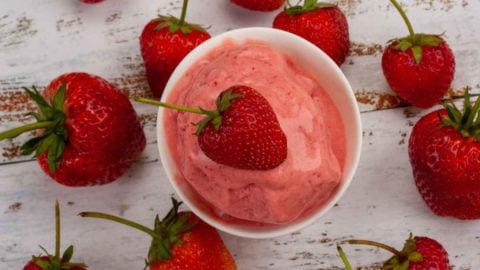 A deliciously fruity strawberry ice cream made with coconut cream which is full of taste and really easy to make.
NOTE: Any In-recipe images can be toggled on and off with the camera icons next to the Instructions header.
Ingredients  
1

lb

(450g) fresh strawberries

1

cup

white sugar

1

cup

coconut cream

½

cup

whipping or heavy cream

can use coconut cream in place

½

tsp

vanilla flavoring

1

lime (juice)

½

tsp

salt
Instructions 
Wash and shuck the strawberries and toss into your blender. Add in the sugar and blend to a puree for a few minutes.

Add the coconut cream, whipping cream, lime juice, vanilla flavoring, and salt and blend for a few more minutes finishing on high speed.

Transfer to a container with a cover and refrigerate for at least two hours, preferably more.

When the mixture is very cold, place into your ice cream maker and churn until it has partly frozen. Place into a covered freezerproof container and freeze.

If you do not have an ice cream maker then transfer into a shallow covered container and freeze for at least one hour. Remove and whisk to break up ice crystals and introduce air using a small whisk, hand whizzer or fork. Repeat the hourly freezing and whisking process at least two more times.

Just before serving, remove from the freezer and allow to warm a little until scoopable and serve immediately.
Notes
For a non-dairy version suitable for vegans and anyone dairy averse just use more coconut cream in place of the heavy whipping cream in this recipe. The result will be almost the same with a slightly more coconut in the flavor.
Give the ice cream an extra mix during freezing too as coconut cream is marginally less fatty than most dairy whipping cream and the extra whisk will break up the additional ice crystals for the same smooth taste. 
Nutrition
Calories:
447
kcal
Carbohydrates:
62
g
Protein:
3
g
Fat:
23
g
Saturated Fat:
18
g
Cholesterol:
41
mg
Sodium:
311
mg
Potassium:
320
mg
Fiber:
2
g
Sugar:
56
g
Vitamin A:
451
IU
Vitamin C:
69
mg
Calcium:
48
mg
Iron:
2
mg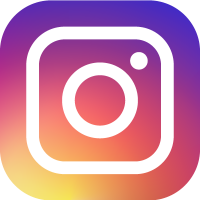 Planning on Making this Recipe?
It would be great if you could take a picture of your finished creation and share it out on Instagram. Tag me with #TASTYTHAIEATS – I love to see your ideas!
I really hope you enjoy this dish and if you cook it I would love to hear your comments below so please come back and let me know how it turned out for you.
I am a Thai mum and love cooking for my children. Over the years, I have taken my family recipes as well as ones borrowed from friends and adapted them to make them even tastier. I publish my authentic Thai Food Recipes here for all to enjoy around the world. When I get a chance to travel I publish information to help others visiting Thailand.