This easy wonton noodle soup recipe is so much more than the chicken noodle soup you can buy in the can. You know – chicken broth with a few short noodle bits swimming around in the bottom.
Video on How to Make Wonton Noodle Soup
Wonton Noodle Soup Recipe - Thai Chicken Noodle Soup - Bar Mee Kiew Nahm
Link to Thai Wonton Noodle Soup Video if it Does Not Load Above
With a few added vegetables and deliciously soft wonton added to long egg noodle strands and plenty of seasoning to your taste, you actually have soup for a complete small meal. You can even add a few slices of cooked meat!!
An excellent soup whether you're are fighting fit or recuperating because it is easy to digest. Bar Mee Kiew is a classic Thai variation of the Chinese wonton noodle soup that is usually just the wonton without the extra noodles and vegetables.
Making homemade egg noodles is a breeze too and such a lot of fun with kids as well as a great introduction to cooking, not to mention that they taste amazingly better. You might also like to check out our recipes for Tom Yum Kung Soup – a spicy Thai favorite or Tom Kha Gai which is a creamy Thai coconut milk-based soup.
Links disclosure: Some links on this page go to affiliate partners where, without cost to you, we may receive a commission if you make a purchase.
Ingredients for Thai Wonton Noodle Soup
Don't be fooled over the list of ingredients – it's really easy to make I promise. If you want to make it even easier on yourself then use a shop-bought chicken broth – it won't taste quite as nice though.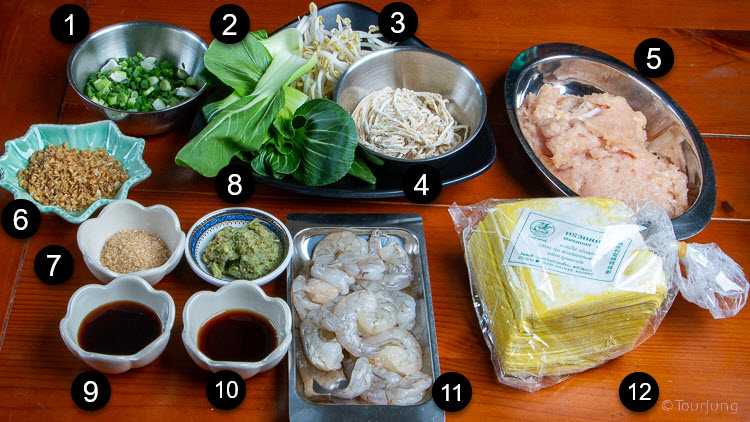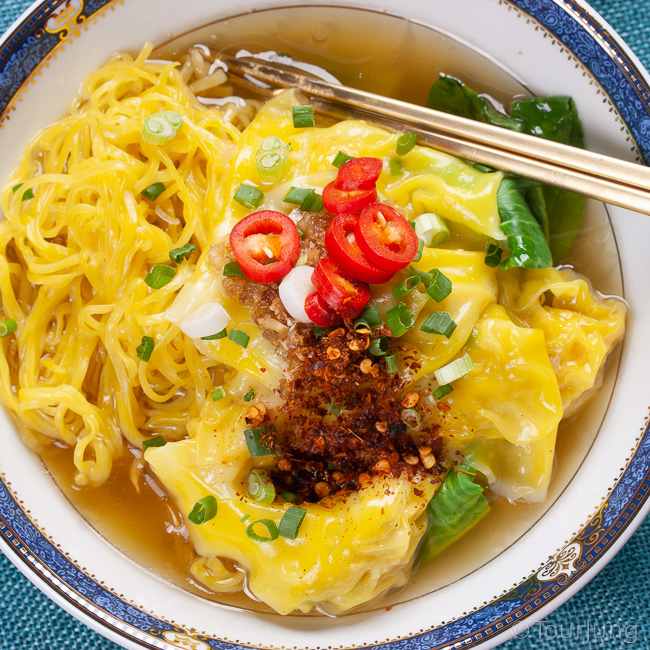 For Wonton Filling
Flat Wonton Wrappers
Egg Noodles
Minced Shrimp / Prawns
Minced Chicken or Pork
Chopped Green Onion Tops
Soy Sauce
Oyster Sauce
Brown Sugar
Coriander Root
Garlic
White Pepper
For the Extras and Options
Bok Choy
Bean Sprouts
Chopped Onion Tops (garnish)
Sliced Spur Chilli (Garnish)
Dried Chili Flakes (for spice)
Chili Oil (for spice)
Pickles in Vinegar (for acid)
Sliced Meats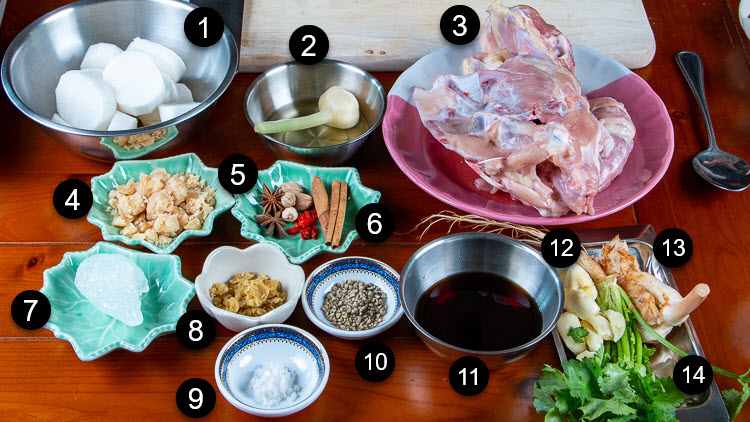 For Clear Chicken Broth
Chicken Carcass
Garlic
White Pepper
Coriander Root (Crushed)
Galangal (Crushed)
Pickled Garlic with Pickling Liquid
Tung Tsai (Optional)
Salt
Soy Sauce
Palm Sugar
Cinnamon Stick
Star Anise
Cardamon Pods
Goji Berry
Rock Sugar
White Radish
Water
The beautiful thing about Thai wonton noodle soup (Bar Mee Kiew) is that you can load it up or skinny it down, spice it up or leave it mild, according to how you like it.
What are Wonton Wrappers and Egg Noodles?
Both are made from soft wheat or rice flour, salt, eggs, and a little water mixed together and shaped. Wonton wrappers are rolled into sheets and cut into small squares or other shapes. Noodles are the same dough pressed into long lengths.
They are the Asian version of pasta sheets (lasagna) and spaghetti.
What is the Difference between Pasta and Asian Noodles?
Italian pasta is traditionally made with durum wheat flour which is ground semolina and quite a lot coarser than the softer wheat and rice flours.
The coarser durum wheat is processed with minimal to no salt and forms a thick dough that is rolled or extruded and when cooked has a moderately soft exterior but an interior with some bite.
Asian noodles are produced with finer regular wheat or rice flour which produces a thinner dough. Salt is used to break down the glutens so producing a much softer finished product without bite when eaten.
How to Make Wonton Filling
The filling for our wontons is somewhat flexible.
You can use chicken, prawn/shrimp, pork or other protein or a mixture and then season to your liking.
All that is really required is to finely chop whichever meat you are using into a fine mince – you can also use a food processor for this or just be handy with your knife.
Also finely chop any added vegetables like green onion tops that I use or other onion. If using prawns/shrimp then I prefer to chop these a little larger but still quite small – enough to give the taste and a bit of bite when you eat them.
Mix together the finely chopped ingredients and season with soy sauce and oyster sauce – again you can sub out for mushroom sauce or even Worcestershire Sauce depending.
Add some salt, pepper, and other spices and then mix everything together thoroughly, cover and stick in the fridge for a few hours or better still overnight.
That's it!
How to make the Chicken Broth
You probably don't need me to tell you how to make chicken broth since it is so simple.
In case you need persuading how easy it is you just bung a chicken carcass in a pot, add spices and herbs and cover with water. Adding some radish is a nice touch and you can also add other vegetables.
There are a gazillion variations of ingredients and it is hard to go wrong if you avoid anything too strong tasting and go easy on the salt – you can add that later.
Bring to a simmer and simmer away for about 20-30 minutes. My ingredients list will give you a great base but feel free to experiment. I do like the Star Anise and Goji Berry though as they add a nice touch and aroma.
Not only that Goji Berries are quite famous in Chinese circles for having great health benefits!
Making Up the Wonton and Noodles
As for the egg noodles, all you need to do is pull them apart a little and shake off any loose flour which they come coated in to stop them sticking if they are fresh. They are now ready – told you it was easy!
For the wonton, just take one of the wrappers, add a little of your protein mixture you made earlier, dab the edges to be joined with a little water to help stick and fold into shape.
You can make half-round ones, triangle ones, rectangular ones and even play around after you've folded them into parcels to make little hat shapes.
Don't stress over the shapes though as they will loosen up a little cooking anyway.
You can add a little flair by pressing the sides with a fork if you like – a bit like a pastry crust pattern.
Making Thai Wonton Noodle Soup or Bar Mee Kiew
You will need to cook the wonton and egg noodles and blanche the bok choi and bean sprouts. By far the best way is to use the chicken broth to do this although you can also use hot water if you like.
Or use a stock cube to make the lower quality broth for cooking and blanching.
You need to separate this broth from the broth you will serve for the soup because even though you may brush off the flour dusting on the noodles, some will remain which will cloud up the soup.
It's best to heat up the bok choi, beansprouts and any other vegetables first by submerging into the blanching broth and blanching for a couple of minutes. Then do the same with the egg noodles (bar mee) – again for just a minute or two.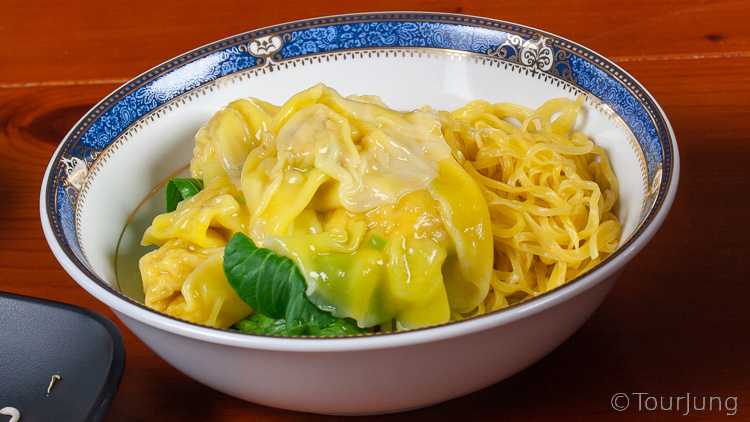 Finally, take the wonton and place in your blanching broth simmering for 3-5 minutes depending on the filling ingredients – it is the filling that is hidden that needs cooking don't forget.
Place the egg noodles into a serving bowl, then the beansprouts, cooked wonton, bok choi and finally ladle in the hot soup broth.
Serve with condiments such as dried chili flakes, sliced spur chili in vinegar (you can blend this for an orange colored version or just slice chili spur into white vinegar), crispy onions, sugar, and chili oil.
Quick Tip – Make up extra wonton to use up the wonton wrappers – put those you don't need on a tray and freeze, transferring into ziplock freezer bags once frozen. You can also freeze any excess soup broth. An instant meal awaits when time is short.
Recipe for How to Make Thai Wonton Noodle Soup
Thai Wonton Chicken Noodle Soup Recipe
The Video showing this recipe being cooked is near the top of the page – A convenient Jump Link to the video is below the description under here.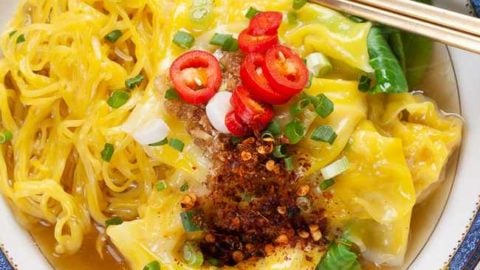 This easy to make and delicious Thai Wonton with Egg Noodle Soup Recipe is so much more than the chicken noodle soup you might be thinking of.
You can make it simply with wonton or add in the egg noodles, sliced meats and vegetables to make it a complete meal. try it!
NOTE: Any In-recipe images can be toggled on and off with the camera icons next to the Instructions header.
Ingredients  
Ingredients For Wonton Filling
1

Pack

Wonton

4

Egg Noodles

8

oz

Minced Chicken

4

oz

Chopped Shrimp

1/4

cup

Chopped Spring Onion Tops

1

tbsp

Soy Sauce

1 1/2

tbsp

Oyster Sauce

1

Brown Sugar

1

Coriander Root

pounded

2

Cloves

Garlic

pounded

1/2

tsp

White Pepper

pounded
Ingredients For Noodle Soup
1

Chicken Carcass

4

cloves

Garlic

2

tsp

White Pepper

1

Coriander Root

1

Crushed Galangal

2

tbsp

Pickled Garlic Water

2

tbsp

Tung Tsai

An optional

1/2

tsp

Sea Salt

1/4

cup

Soy Sauce

1

tbsp

Palm Sugar

2

stick

Cinnamon stick

4

cardamoms

1

pinch

Goji Berry

1

Small Rock Sugar

An Optional

2

littler

Clean Water

1

Medium White Radish
Garnish & Vegetables
Bok Choy

Bean Sprouts

Crispy Garlic or Onions Pieces

Sliced Spur Chili

Dried Chili Flakes

Other Condiments
Instructions 
Instructions For Wonton Filling
Pound white pepper, coriander root and garlic and mix with the rest of the marinade ingredients. Add minced shrimp and chicken and some chopped spring onion. Mix well then cover and put in the fridge for at least 30 minutes or better still overnight.
Instructions For Noodle Soup
Add chicken carcass, crushed galangal, pickled garlic, crushed garlic, crushed coriander root, crushed white pepper, chopped radish, tang tsai, cinnamon, cardamom, star anise, goji berry in a soup pot. Add clean water to cover.

Turn the heat on once the soup is simmering add soy sauce, palm sugar, rock sugar and salt. Simmer for 20-30 minutes.
Making Wonton
Take a wonton wrapper and lay out on a flat surface. Add a teaspoon of wonton filling you made earlier into the center of the wonton wrapper. Dampen the edges of the wrapper with a little water and fold the wonton into shape.

Press down the edges of the wonton to seal.
Finish & Serve
The wonton and noodles need to be boiled in either some of the broth, lower quality broth made with a stock cube or plain water – blanche vegetables first.

Simmer your blanching liquid and submerge the vegetables such as bok choi or beansprouts and swirl around for a few minutes to thoroughly heat through – you are not trying to completely cook these.

After blanching your vegetables, submerge your wonton to cook and stir very gently for several minutes to cook through the filling. Most fillings will cook in about 4-5 minutes.

After the wonton, take the egg noodles, shake off any excess flour and swirl around in the blanching liquid for about two minutes.

Gather together and arrange all teh solid ingredientes in your serving bowl and then ladle in hot soup from your reserved prime broth.

Serve with condiments for spice, pickle and sugar, chili oil and dried chili flakes for each diner to add to their preference.
Notes
Goji Berries are an excellent source of antioxidants, Vitamin A & C, Iron, Zinc and full of protein and fiber. Sprinkle a few into your recipes!
Nutrition
Calories:
558
kcal
Carbohydrates:
91
g
Protein:
31
g
Fat:
7
g
Saturated Fat:
2
g
Cholesterol:
131
mg
Sodium:
2462
mg
Potassium:
709
mg
Fiber:
6
g
Sugar:
12
g
Vitamin A:
192
IU
Vitamin C:
24
mg
Calcium:
162
mg
Iron:
6
mg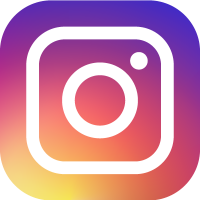 Planning on Making this Recipe?
It would be great if you could take a picture of your finished creation and share it out on Instagram. Tag me with #TASTYTHAIEATS – I love to see your ideas!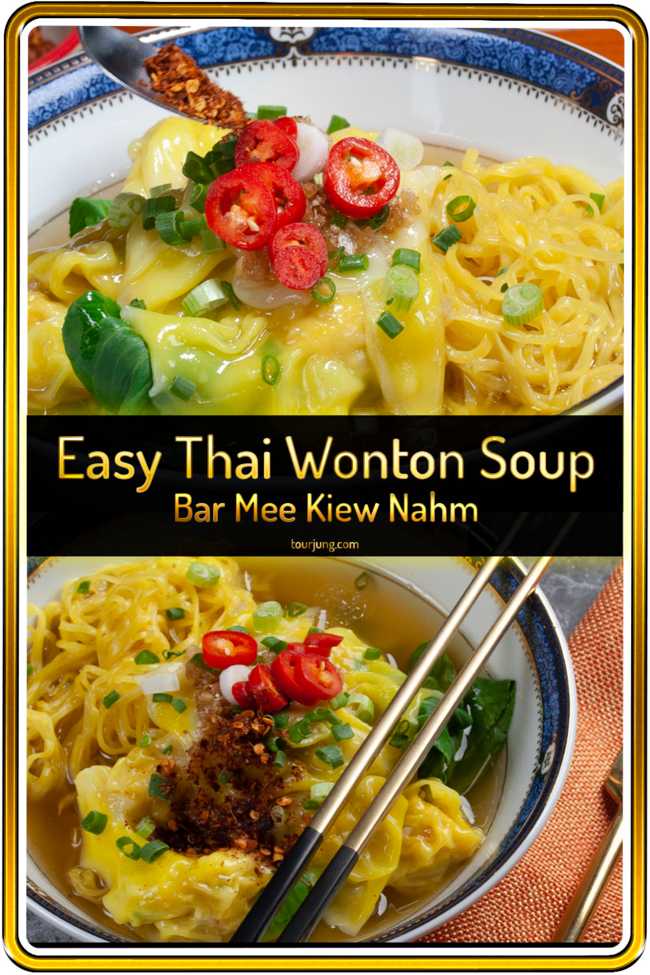 Frequently Asked Noodle and Dumpling Questions
Can you make Asian noodle soup with pasta?
Pasta is mostly made from durum wheat with little salt used which would break down the chewy gluten structures. So you can use pasta but the noodles in the soup will have more bite.
What is Asian Noodle Soup?
There are many different soups from Asia such as Soba, Miso, Ramen & Udon soups from Japan, Pho from Vietnam, Kuy Teav from Cambodia which is similar to Kuay Tiew in Thailand, and dozens more from across the region.

Most of these soups use soft rice based noodles although soft wheat flour is used more in Japan and then there are the gluten free mung bean vermicelli noodles called wunsen as well as this Wonton Noodle Soup featured here.
What is Wonton Soup Broth?
Wonton Soup Broth is usually pork or chicken broth (bones simmered in water with a few vegetables, spices and seasoning) which are used quite interchangeably. If you are making soup containing chicken though we recommend using chicken broth and for those with pork as a main protein, use broth made with pork bones.
How do you Add Noodles to Soup?
You don't! Heat the noodles by swirling around in some broth separated apart from your soup broth for the purpose (or just use hot water). After heating add to the bowl and ladle over the hot soup.
What is Wonton Soup Made From?
Wonton soup is made from thin egg or rice noodles shaped into 'wrappers'. These are filled with a small amount of minced pork, chicken, and/or shrimp and sealed, folding and pressing the wrapper together. These wonton are boiled to cook and added to chicken or pork broth to match the filling.
What is the Difference between Wonton & Dumplings?
Both wonton& dumplings are made from dough. Wonton is a form of dumpling made from thin sheets, cut to shape and filled to form little parcels. Other dumplings sometimes use thicker dough and are often collectively called dim sum.
I really hope you enjoy this dish and if you cook it I would love to hear your comments below so please come back and let me know how it turned out for you.
Katie in Action
Apart from the reward that everyone gets from the awesome food we discover and enjoy sometimes a little sweet is nice!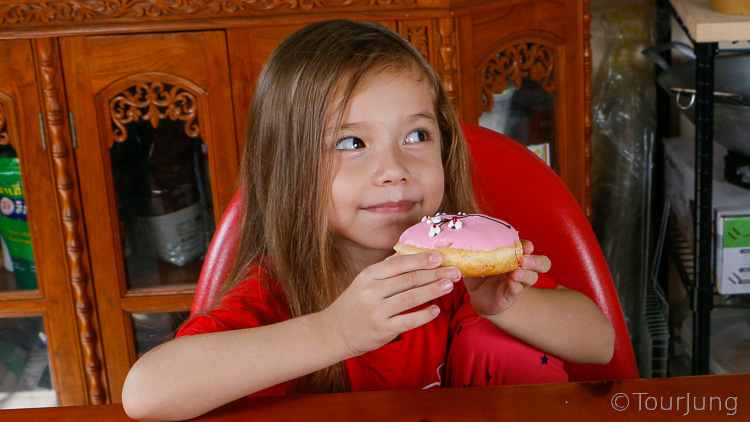 I am a Thai mum and love cooking for my children. Over the years, I have taken my family recipes as well as ones borrowed from friends and adapted them to make them even tastier. I publish my authentic Thai Food Recipes here for all to enjoy around the world. When I get a chance to travel I publish information to help others visiting Thailand.