Our perfect Thai easy chicken fried rice recipe assumes that you are using already cooked rice, in which case 15 minutes is more than enough time to prep and cook this simple recipe that anyone can cook perfectly.
Video Showing How to Cook Thai Easy Chicken Fried Rice
Perfectly Easy Thai Chicken Fried Rice in Under 15 Mins
Link to recipe showing how to cook Thai Chicken Fried Rice in Under 15 minutes in case it does not load for you.
There is a reason that fried rice is a favorite dish for Thai street food vendors, and that is because it is very quick to make, especially if you are prepared in advance which they are.
Also, the ingredients are inexpensive and easily obtained and it is a great way to repurpose steamed rice that is leftover from the day before. Street food vendors need a plentiful supply of steamed rice since it is served with most of their other menu dishes.
For the home cook, the same plus points apply but you should not only think of it as a dish to use up rice leftover from last night's excellent Thai Duck Red Curry, but also consider it as a quick meal to whip up anytime.
It's quick, it's easy. it's filling. What's not to love? And if you like fried rice you might also like our Thai version of Sweet & Sour Chicken with Cashews
Links disclosure: Some links on this page go to affiliate partners where, without cost to you, we may receive a commission if you make a purchase.
Ingredients You Will Need for Thai Chicken Fried Rice
Chicken Meat (Breast or Thigh)
Cooked Steamed Rice
Eggs
Soy Sauce
Brown Sugar
Mushroom Seasoning
Garlic
Cooked Corn
Carrot
Spring/Green Onions/Scallions
Coriander/Cilantro
Lime
Frying Oil
Tips on Cooking Thai Chicken Fried Rice
There are a few tips to follow if you want perfect fried rice.
Ensure the rice is properly cooked, not overly dry or wet. If it is too dry then it will feel hard when eaten. If too wet the rice grains will tend to clump together and the seasoning will not distribute well. You can use rice leftover from an earlier meal (and it's a great way to use that up) or freshly steamed Jasmine Rice. Jasmine Rice is much much better than plain white rice.
The chicken meat should be sliced thinly rather than in cubes as most people do. This way the marinade will soak into the chicken meat quickly and the chicken will also cook quickly. Use breast or boned chicken thigh.
The seasoning should be added to the rice before cooking – it's just easier and my habit so don't stress it. You can sub the mushroom seasoning for another if you prefer.
Be careful not to overcook the egg or the chopped green onions.
Serve with fresh lime (lemon is not quite the same but it will do if you can't get hold of lime).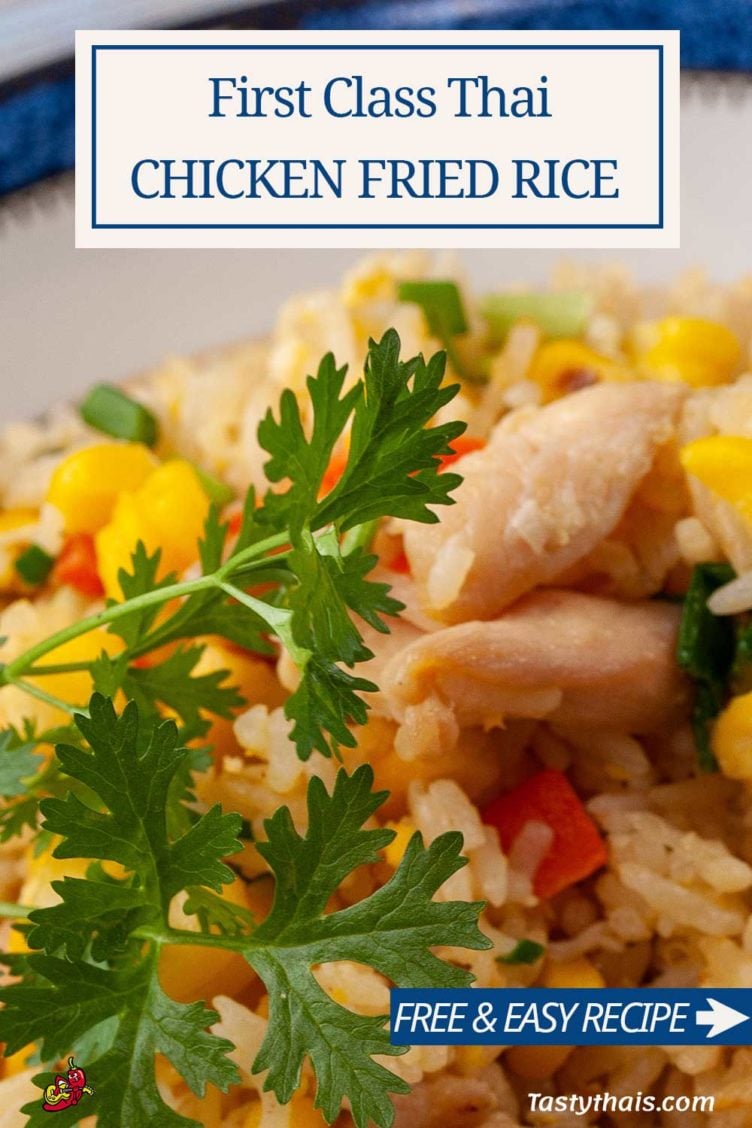 Perfectly Easy Thai Chicken Fried Rice in Under 15 minutes Step by Step
Step 1 Prepare Ingredients
If using tinned/canned corn then drain and set aside. If using chicken thighs then take the bone out. Remove chicken skin.
Slice the chicken meat quite thinly for quick marinating and cooking. Add the marinade ingredients and mix together to disperse well.
While the sliced chicken is marinating, chop the carrot into quite small cubes, and cut the tops of the green onions into small rings.
Peel the garlic and mince or pound with a pestle and mortar.
Step 2 Part Cooking the Chicken and Carrots
Heat oil in a pan or wok large enough to hold all the ingredients. When the oil is hot, add the garlic and cook for about a minute until the aroma is released stirring as you go.
Add in the chicken and cubed carrots and stir around to cook for about 3 minutes. The idea is to cook the chicken through about 50% and to slightly soften the carrots. The carrots should still have a bite and crunch in the final dish.
Crack the eggs into the carrot & chicken mix and quickly stir to break up the whites and yolks. Stir quickly to mix the egg through until it is softly set and scrambled with the chicken & carrot. This will take about one minute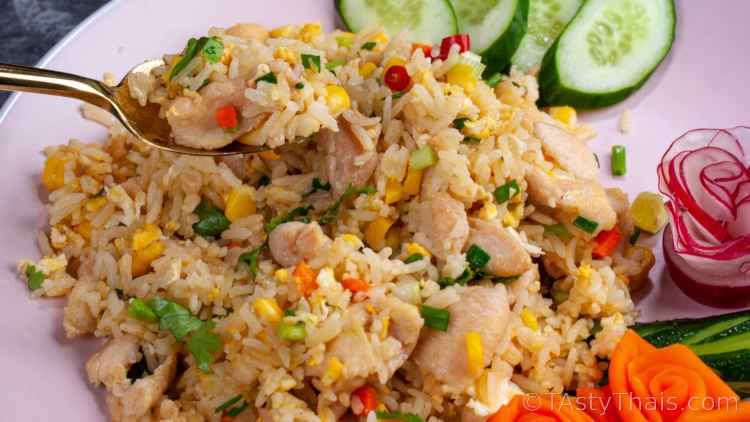 Step 3 Finish cooking the Chicken Fried Rice
Immediately the egg is mostly set add in the rice and corn, stirring rapidly to mix everything together and heat through the rice and corn.
Heating through will take about three or four minutes and you should be stirring all the time.
Serve out into a serving bowl or out onto plates to eat immediately. Serve garnished with chopped cilantro/coriander and a good slice of lime. The lime should be squeezed onto the rice before eating.
As an option serve with prik nam pla or nam pla prik which you make as follows:
For each person, use 4-5 teaspoons of fish sauce into which add a few small slices of chopped Thai red chili, small pieces of chopped washed lime (flesh and skin) and small, thin slices of garlic. The picture below gives you the idea. Yummy!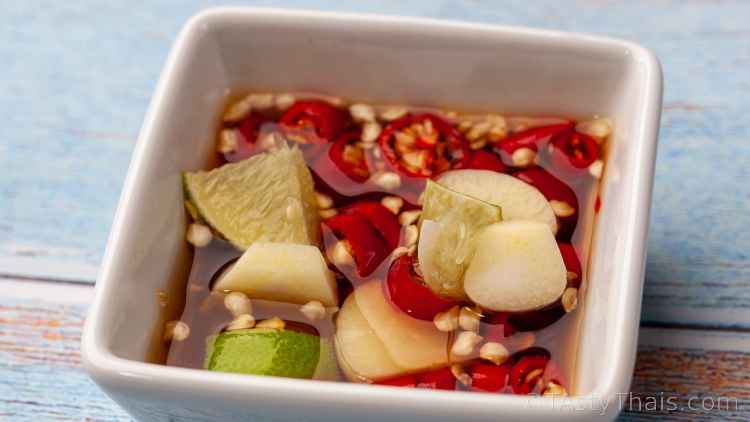 Perfectly Easy Thai Stir Fried Chicken Recipe in Under 15 Minutes
Perfectly Easy Thai Chicken Fried Rice Recipe
The Video showing this recipe being cooked is near the top of the page – A convenient Jump Link to the video is below the description under here.
A delicious moist and yummy Chicken Fried Rice as is cooked by Thai Street Food vendors and brought to your home.
This recipe is great for using up leftover rice or you can use freshly steamed Jasmine Rice.
Serve as a meal in itself or as a side plate as part of a bigger meal.
NOTE: Any In-recipe images can be toggled on and off with the camera icons next to the Instructions header.
Ingredients  
Chicken & Marinade
8

oz

Chicken meat

Breast

1

tsp

Mushroom seasoning powder

1

tsp

Brown sugar

1

tsp

Soy Sauce

Not Dark!
Rice & Seasoning
12

oz

Cooked Jasmine Rice

White rice Ok but not as nice

1

tsp

Mushroom seasoning powder

1

tsp

Brown sugar

1

tbsp

Soy Sauce

Type as above
Other
2

tbsp

Frying Oil

Sesame Oil adds an extra touch

6

cloves

Garlic

½

cup

Cooked Corn

2

Eggs

½

cup

Carrot

⅓

cup

Green Onions/Scallions

⅓

cup

Coriander/Cilantro

for garnish

1

slice

Lime

For the diner to squeeze

1

Cumcumber

Sliced for garnish
Prik Nam Pla
6

tsp

fish sauce

2

clove

garlic

Sliced thinly

2

Jinda Chili

Or Similar hot chili sliced finely

¼

Lime

Chopped into small pieces
Instructions 
Marinating the Chicken
Remove any skin and slice the chicken meat thinly.

Add in the brown sugar, soy sauce, and mushroom seasoning powder and mix well,

Allow to stand as you continue preparations.
Preparing the Other Ingredients
Peel the garlic and mince or pound using a mortar and pestle.

Peel the carrot and cut into strips and then crosswise to form small cubes.

Slice the cooked corn vertically to cut off the kernels. If using tinned corn then drain off any canning liquid.
Prepare the Rice & Cooking
With the cooked rice in a bowl, add the mushroom seasoning, soy sauce and sugar, and the corn ready for cooking.

Heat the oil in a pan until hot and then stir fry the garlic until it releases its aroma. Add in the marinated chicken and cubed carrots and stir fry to cook about 50% over about 3 minutes stirring continuously. Then crack in the eggs and rapidly stir to distribute and soft set the eggs with the chicken and carrots, cooking and stirring for another 2 minutes.

As soon as the egg looks mostly set add in the seasoned rice and corn and stir rapidly to heat through. Just before serving add the chopped green onions and stir through quickly.

Serve out onto individual plates or communal bowl and garnish with chopped coriander/cilantro. Provide each diner with a generous slice of lime for squeezing and a small or communal dish with prik nam pla
Making Prik Nam Pla or Chili Fish Sauce
Chop the chili into small slices and remove the seeds if you want reduced spice or leave them in, Thai style.

Peel the garlic and slice into thin slices that are about as big as your little fingernail.

Take the lime with the skin (washed) and cut into small little chunks with flesh and skin complete.

Place the fish sauce into a serving bowl and add in the chopped garlic, lime, and chili.
Nutrition
Calories:
605
kcal
Carbohydrates:
68
g
Protein:
31
g
Fat:
26
g
Saturated Fat:
12
g
Cholesterol:
166
mg
Sodium:
1564
mg
Potassium:
1867
mg
Fiber:
6
g
Sugar:
11
g
Vitamin A:
5970
IU
Vitamin C:
206
mg
Calcium:
432
mg
Iron:
14
mg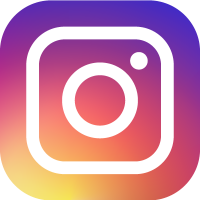 Planning on Making this Recipe?
It would be great if you could take a picture of your finished creation and share it out on Instagram. Tag me with #TASTYTHAIEATS – I love to see your ideas!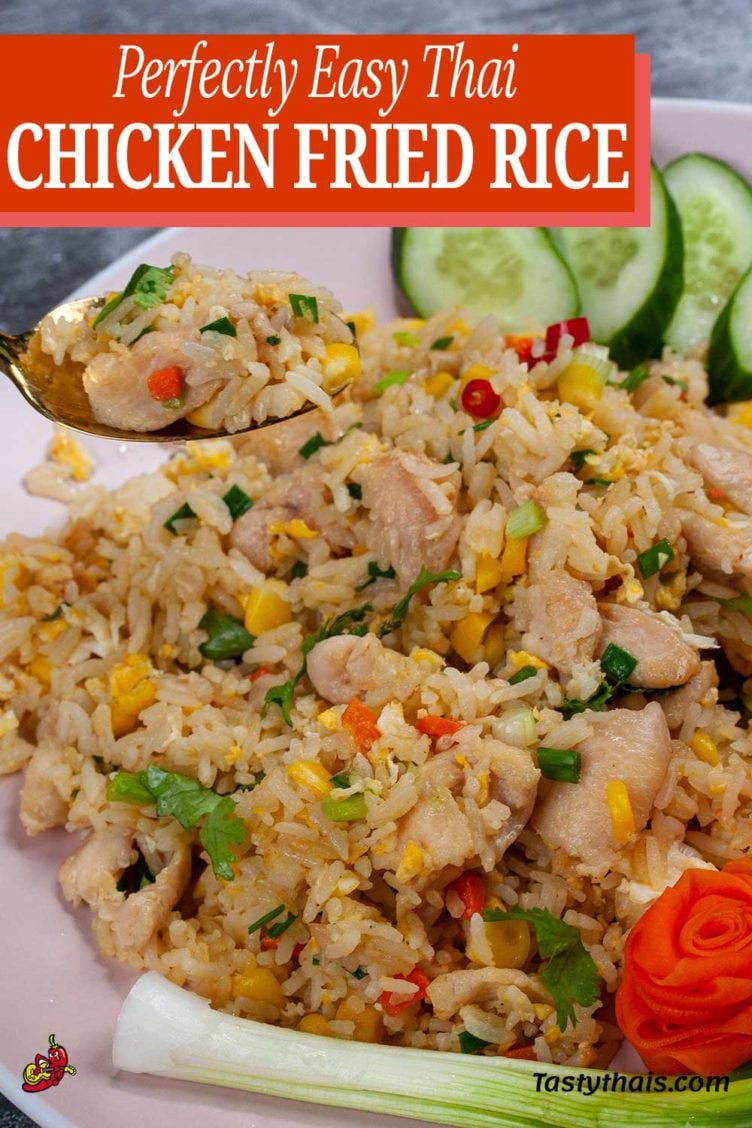 I really hope you enjoy this dish and if you cook it I would love to hear your comments below so please come back and let me know how it turned out for you.
I am a Thai mum and love cooking for my children. Over the years, I have taken my family recipes as well as ones borrowed from friends and adapted them to make them even tastier. I publish my authentic Thai Food Recipes here for all to enjoy around the world. When I get a chance to travel I publish information to help others visiting Thailand.