If you are in a hurry then follow our best microwave rice recipe for a great way to get excellent tasting rice in a little less time. You will not occupy your stovetop with a steamer pan and perhaps you don't have a dedicated steamer or rice cooker.
Short Video Showing How to Cook Jasmine Rice in a Microwave
How to Cook The Best Microwave Rice in a Bowl - Thai Jasmine or White Rice
Link to the Short Video – How to Microwave Rice in case the video does not load for you
Another reason to microwave rice is if you are simply cooking a single portion. Getting out a steamer or rice cooker for one probably is not worth the hassle, and some rice cookers have a minimum of two cups which would be too much.
So there will definitely be times that cooking rice in the microwave might be the best method.
Links disclosure: Some links on this page go to affiliate partners where, without cost to you, we may receive a commission if you make a purchase.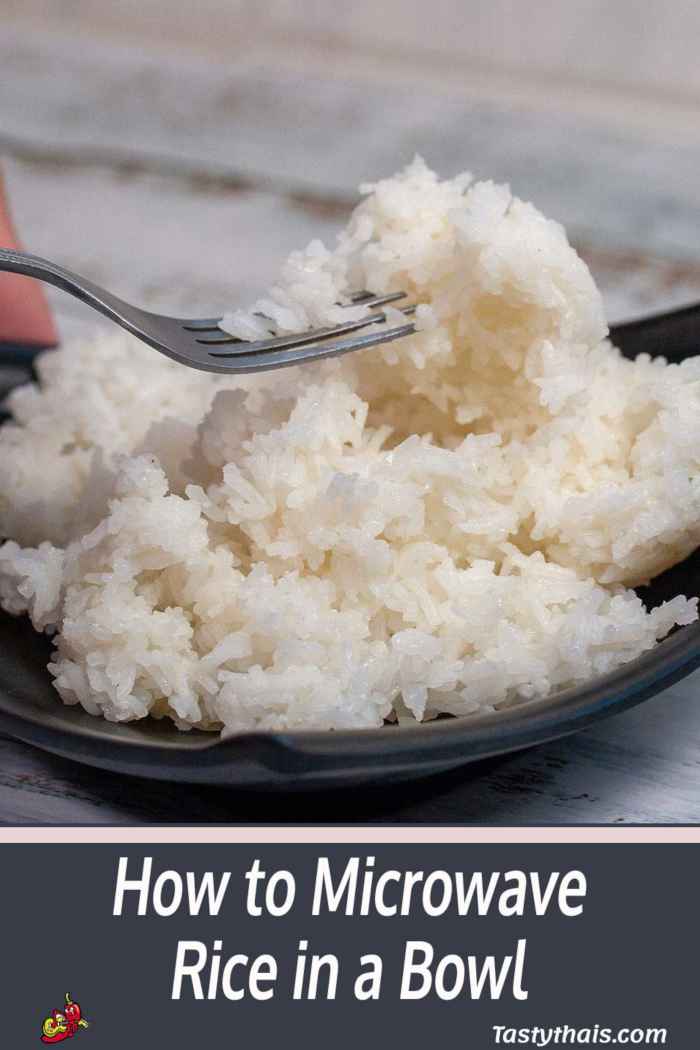 Reasons to Consider Microwaving Rice
There is no free space on your stovetop
You do not have a rice cooker or are cooking only a small quantity
You want to cook rice a little quicker
You want less stuff to clean afterwards (easier)
You only have a microwave available (college, camping, short term renting etc.)
You are fascinated watching stuff rotate and cook apparently by magic!
What Types of Rice Does This Recipe Work For
This recipe is optimised for new crop Jasmine Rice or fragrant rice which is the rice we strongly recommend for rice to accompany Thai main courses.
Brown rice, which is rice that retains part of its skin or husk, needs longer to cook so this recipe will result in undercooked rice. You will need to adjust timings and power settings.
Glutinous or sticky rice is another popular rice which needs a different recipe which you can find here.
Sushi rice, basmati rice and similar long and medium long grain rices will probably need little adjustment but we have not tested them yet with the precise method outlined here.
Risotto rice, wild rice and other rice types are outside our testing parameters as well.
If you are interested in Types of Rice and what to do with it then check out the post.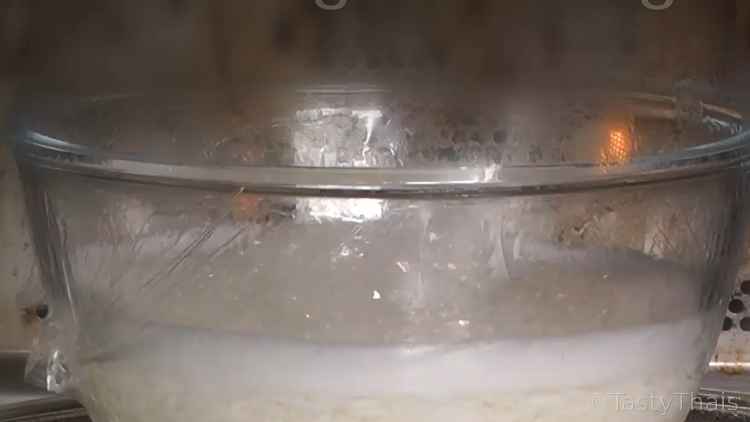 A Word on Microwave Settings
Microwaves vary greatly in features and power and so you do need to adjust settings to match the power level that we have used.
Many online recipes tell you to microwave on full power for x minutes but that is a poor method.
Firstly, you will end up with the water used to cook the rice all over the bottom of your microwave. Secondly the rice will be blasted with microwaves and cook from the inside out making for a poor taste and consistency.
It's simple and quick but a sub-standard method – at least every version we tried during our testing.
Full power for our microwave (which is pretty old) is 800W, half power is 400W. Since most microwaves have adjustable power settings you should be able to match these. If not then use our microwave conversion calculator to pick the nearest available setting and adjust time to suit.
What Microwave Bowl to Use
If you are cooking for a number of people then you will be best to use a proprietary microwave cooking bowl such as the Joseph Joseph Microwave Rice Cooker.
These rice cooking bowls are made of plastic (but get a BPA free one), and can successfully cook a lot of rice. For us, unless there are special reasons for microwaving, using one of the steaming methods for rice will be easier and give better results – especially if cooking for guests.
Anyway, this post is dedicated to cooking 1-2 cups of raw rice which will produce 2-4 cups of cooked rice and enough for four people.
So for this smaller amount you should use a Pyrex bowl made from special heat resistant glass or a plastic microwave suitable bowl that plastic wrap will cling to. Lidded plastic bowls without vents will buckle and become pressured as the rice cooks and ventilated lids will usually let the steam escape too much.
How the Recipe Cooks Rice in the Microwave
Rice has been cooked by steaming for millenia which passes hot steam through the grains, permeating them all as it heats, hydrates and cooks the rice through. The rice absorbs the water and you end up with nice fluffy rice if you are using a good quality grain.
If you cook under direct heat, as many people still try to do, then you will boil the water into the grains more than steaming them gently. You will often be repaid with burnt rice stuck to the bottom of your pan and a load of hassle trying to wash it off. Worse still, your rice will more often than not be wet or undercooked and rather unappetising.
Microwaves cook by the tiny waves magically invading the center of your food and cooking it from the inside out and the stronger the power the more the inside will cook first. The result can be mushy overcooked rice or if underpowered then the uncooked centers of teh rice grains as the water is not given enough time to penetrate.
So most recipes call for blasting the rice on full power but we found this method to be sub-par.
The Answer to Successful Microwaved Rice
We are assuming here that you already know that regular rice needs to be thoroughly washed under running water to remove any dirt, dust and excess starch. So wash thoroughly first to ensure you do not end up with a load of rice grains all stuck together.
Cooking on high power boiled the water so agressively it escaped the bowl and left water all over our microwave bottom and rice that was inedible as a result. Cooking the rice on a lower power took ages to boil the water and produce any cooking heat at all.
The answer was to get the water boiling as quickly as possible and trap steam to mimic the steaming method. Then reduce the power for the main cooking period the water steaming effectively. Then to finish off by a shorter low power session to allow steam to escape and the rice to finish cooking.
Four Simple Steps to Perfect Microwave Rice
Step 1 Washing the rice
Measure out your dry rice – 1 or 2 cups and put it into the microwave safe cooking bowl. Wash in clean water, agitating and rinsing three or four times draining and refreshing with clean water until the water looks semi-clear.
Step 2 Microwave Cooking Part 1
Add 1 cup plus 2 tablespoons of water for one measured cup of dry rice (2 cups plus 4 tablespoons if cooking 2 cups of rice) and swirl around a bit. Cover with microwave suitable plastic cling wrap to seal.
Place the covered bowl and microwave until the water boils and bubbles up to the underside of the then domed shaped cling wrap. For us this was 3 minutes at 800W but the point is you want to cook at full power until the water boils up to the underside of the wrap and then stop.
Adjust as necessary for higher or lower powered microwaves and for cooking more than one cup of rice since you will need more time for the water to boil. Stage 1 complete.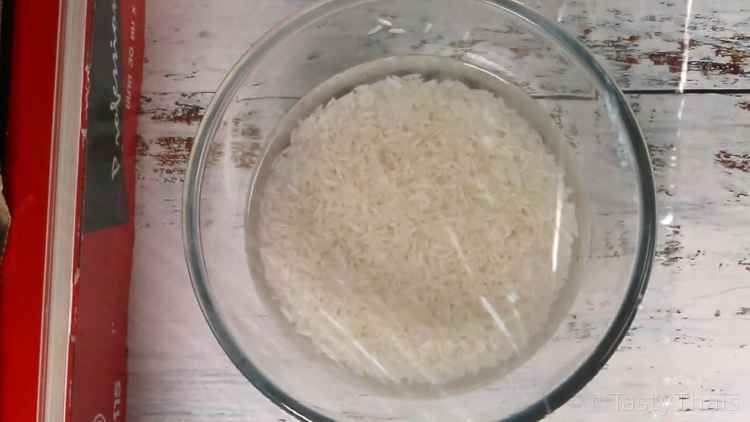 Step 3 Microwave Cooking Part 2
With stage 1 complete, take the bowl out of the microwave – it will be very hot so take care. Loosen enough of the plastic wrap to get a fork or spoon in to mix the rice well and then recover to seal again.
Be careful when releasing the plastic seal as the steam will flow out and be very hot so use a cloth to protect yourself from scalding. Allow the rice to stand covered after mixing for a couple of minutes.
Place the sealed bowl back in the microwave and cook at 400W (half power for us) for seven minutes. The power should be sufficient to keep the plastic wrap dome shaped but not so much as to overflow the water. In the process the water will be hot enough to steam the rice at the same time as the microwaves cook the rice from within.
You may need to adjust the power to maintain steam but not overboiling but the time should not need to be changed whether you started with 1 or 2 cups of rice!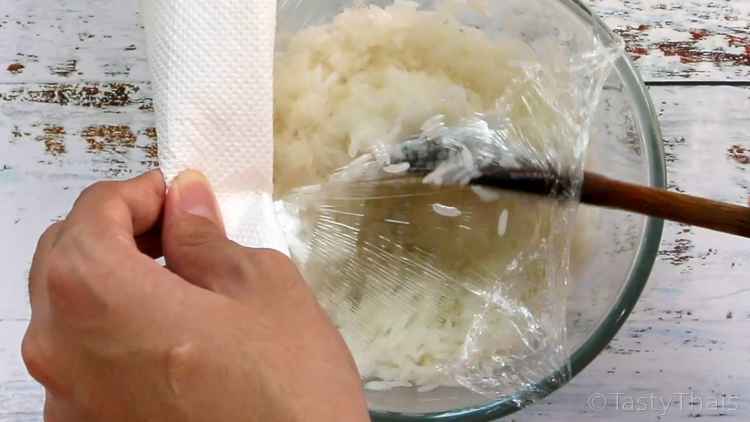 Step 4 Microwave Cooking Part 3
Remove the covered bowl from the micorwave and remove the plastic wrap completely, again taking care that any steam released does not scald you. Mix the rice again.
At this point the rice is mainly cooked but should look slightly wet which is exactly what we want.
Leave to stand uncovered for a few minutes and then put the bowl back in the mircowave at 400W (our half power) for another 4 minutes.
This last cooking time allows the rice to finish cooking, allows any excess steam to mostly escape and leave nicely cooked rice.
After the cooking time is up, remove the rice and immediately transfer to a second serving bowl to help the rice 'breathe' and any remaining excess steam to escape.
Perfect microwaved rice!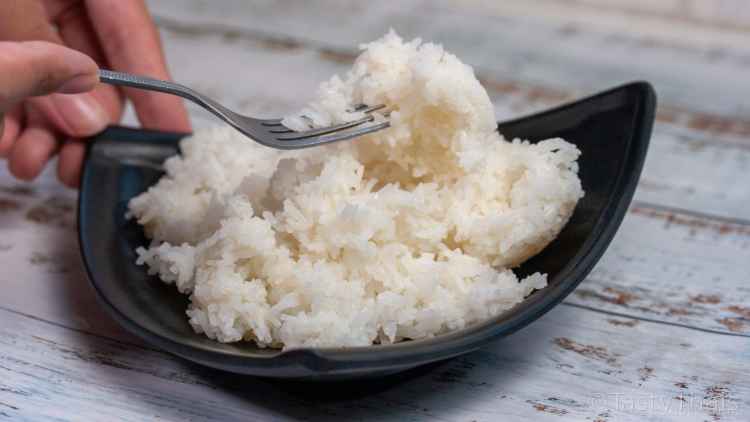 How to Microwave Rice in a Bowl Recipe
Perfect Microwave Rice in a Bowl
The Video showing this recipe being cooked is near the top of the page – A convenient Jump Link to the video is below the description under here.
Cooking a small quantity of rice for 1-4 people can be achieved with great results in a microwave just using a regular bowl.
Less cleaning up, extra stovetop space, quicker and easier with results similar to steamed rice.
Just double quantities for 3-4 people and monitor the frist stage water boiling time needed.
NOTE: Any In-recipe images can be toggled on and off with the camera icons next to the Instructions header.
Equipment
Microwave

Microwave suitable bowl

Plastic cling wrap
Ingredients  
1

cup

Jasmine Rice

1

cup

Drinking water

2

tbsp

Drinking water extra
Instructions 
Washing the Rice
Measure out the dry rice and add to your microwave suited bowl. Check plastic wrap will cling properly to the bowl which may be an issue if it is plastic. If using glass make sure it is heatproof such as a Pyrex type bowl

Wash the dry rice thoroughly three or four times by adding fresh water, agitating the rice with your fingers and draining and refreshing the water to repeat until the water is quite clear. Drain.
Microwaving Step 1
Add the water to the rice and swill then cover with cling plastic film to seal

Microwave on full power until the water boils up to the undside of what will be domed plastic wrap. For 1 cup and an 800W microwave this will take around 3 minutes but adjust for your machine. The point is to get the water just boiling without it forcing off the wrap and boiling over.

Remove the bowl and release an opening in the plastic wrap cover to stir and mix the rice up then recover and stand for a few miunutes
Microwaving Step 2
Place the bowl back in the microwave and cook at 400W for seven minutes. You may need to adjust your microwave power setting to achieve the water steaming and simmering but without boiling over. Power settings for this are microwave dependent.

You are aiming to keep the water producing steam without too much boiling that will cause the water to boil over and also to cook the rice slow enough through steam that it is not overcooked in the center.

When finished, again remove the bowl but this time remove the plastic cover and discard. Mix the rice up and allow to stand a couple of minutes.
Microwaving Step 3
Place the uncovered bowl back in the microwave and cooka t 400W for a further 4 minutes and then immediately transfer to a second bowl, fluffing the rice as you do so to release excess trapped steam
Nutrition
Calories:
338
kcal
Carbohydrates:
74
g
Protein:
7
g
Fat:
1
g
Saturated Fat:
1
g
Sodium:
12
mg
Potassium:
106
mg
Fiber:
1
g
Sugar:
1
g
Calcium:
26
mg
Iron:
1
mg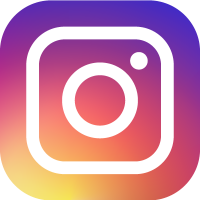 Planning on Making this Recipe?
It would be great if you could take a picture of your finished creation and share it out on Instagram. Tag me with #TASTYTHAIEATS – I love to see your ideas!
I really hope you enjoy this dish and if you cook it I would love to hear your comments below so please come back and let me know how it turned out for you.
I am a Thai mum and love cooking for my children. Over the years, I have taken my family recipes as well as ones borrowed from friends and adapted them to make them even tastier. I publish my authentic Thai Food Recipes here for all to enjoy around the world. When I get a chance to travel I publish information to help others visiting Thailand.